Here's a Beef Bourguignon recipe that's adapted from Julia Child's famous recipe. Hunks of beef are oven-braised in rich robust red wine, with shallots, mushrooms and bacon, until exceptionally tender. A meaty, rich and saucy beef stew with deeply satisfying flavors in every blissful bite.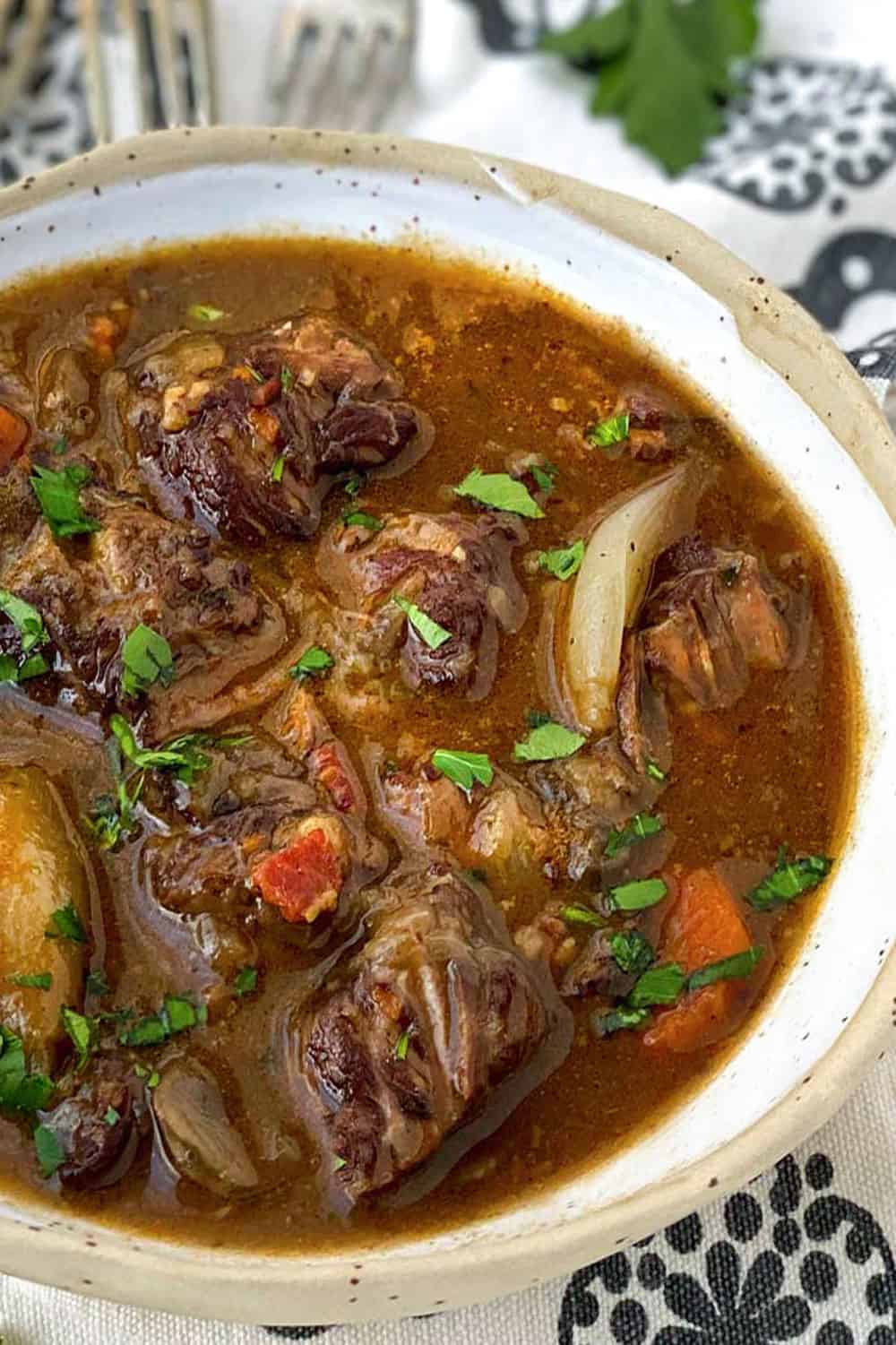 Many of us associate Beef Bourguignon with Fancy French haute cuisine but you may be happy to know that you don't have to be an experienced cook and you don't need super expensive wine or hard-to-source ingredients to make excellent Beef Bourguignon. For those of us who want this incredible French stew in our regular cooking repertoire, here's a Beef Bourguignon recipe inspired by Julia Child but with some shortcuts that will save you tons of time without compromising flavor.
Julia Child describes Beef Bourguignon as "one of the best beef dishes ever concocted by man" and I agree! That's why we all need a great Beef Bourguignon recipe in the repertoire. Also because Beef Bourguignon is the BEST dinner party dish, an exceptionally tender, flavorful and elegant stew, that needs only a side salad and some good bread to complete the meal. An ideal dish from the cooks perspective too, because it can be (and should be), prepared a day or two ahead to give the flavors a chance to meld. So on the day of your dinner party, you can relax and enjoy an epic meal with your guests.
Beef Bourguignon has an interesting history
Beef Bourguignon, also called Beef Burgundy and, (in French), Boeuf à la Bourguignonne, is named after the Burgundy region of France where it originated. It makes total sense this world-renowned beef stew in red wine sauce comes from a region that produces some of the world's most excellent wines and most prized beef cattle.
The first Beef Bourguignon recipe
I've read that Beef Bourguignon dates back to the Middle ages and was, at that time, a simple peasant dish. However it wasn't until 1903 that the first beef bourguignon recipe appeared in print, in a cookbook called Le Guide Culinaire authored by celebrated French chef Auguste Escoffier. Escoffier elevated Beef Bourguignon to haute cuisine status and it began appearing on the menu in fancy French restaurants.
Escoffier's beef bourguignon recipe gives us an interesting window into the past. It calls for one large piece of beef rather than beef cubes, and begins with the instruction: "Lard the piece of beef with large strips of salt pork fat...then marinate the whole piece in red wine..."
I had to google "larding beef," imagining that it meant to drape bacon all over it. Boy was I was wrong. Larding beef is a laborious process of injecting long strips of fat into a lean hunk of beef, using a larding needle to thread the fat through. The goal is to create artificial marbling. This technique was popular back before farmers figured out how to raise cattle with marbleized meat. The larded beef would stay moist and tender during a long braise, as the injected fat slowly melted.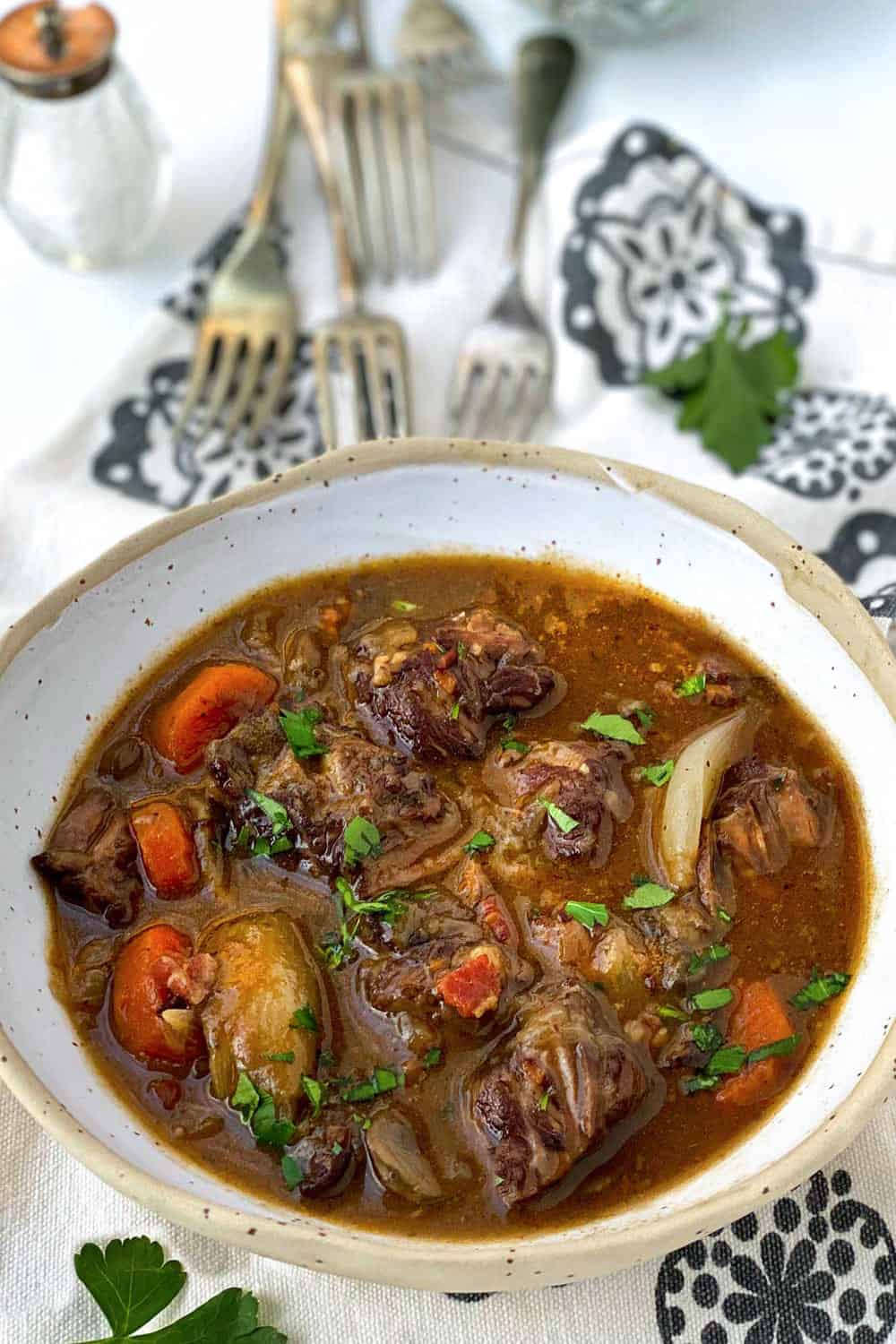 Julia Child's Beef Bourguignon Recipe
Julia Child's introduced Beef Bourguignon to American home cooks in 1961 when she published the recipe in her cookbook Mastering The Art of French Cooking. Julia's Beef Bourguignon recipe is world-famous and by all accounts that I've come across, including my own experience, Julia's Beef Bourguignon is absolutely incredible!.... but it's also notoriously difficult. In fact it's actually 3 fancy French recipes packed into one very complex multi-step recipe, and would certainly be intimidating to some home cooks (including me!).
If you want to follow Julia Child's Beef Bourguignon recipe, you can find it here, and I'm sure you'll find it worth the effort. However, if you want to save time, without compromising deliciousness, I've got you covered. Excellent Beef Bourguignon doesn't have to be that complicated or time consuming to make. This version of Beef Bourguignon is very similar to Julia's with almost the same ingredients but with far less fussing over the vegetables and no straining of the sauce.
You'll save at least an hour in the kitchen and you'll have way less pots and gadgets to wash, and the end result is absolutely divine! If you're feeling a little sheepish about taking an easier route, maybe it will help to know that Julia Child herself tells us in the notes before her recipe, "There are more ways than one to arrive at a good boeuf bourguignon."
5 Steps to excellent beef bourguignon
Pick a cut of beef well suited for long slow cooking. Beef chuck is my favorite choice. It's a relatively inexpensive cut of meat and it has plenty of marbled fat and connective tissue, which makes it perfect for stew. Go with chuck or choose something from this great article by serious eats: What Are The Best Cuts of Beef for Stew.
Give the beef a proper sear before braising: The most laborious but crucial part of any beef stew recipe, is browning the beef in small batches. There are no shortcuts for this process. If too much beef is crowded into the pot, moisture will be released faster than it can evaporate, and the beef will boil and steam in its own juices and become tough and grey. When given enough room to brown properly, beef gets a beautiful brown flavorful crust. Then, when you add the wine and scrape up the caramelized brown bits of meat from the bottom of your pot, you release them into the stew, adding deep rich flavors to your Beef Bourguignon.
Select a good dry red wine. The wine you use for Beef Bourguignon doesn't have to be expensive but it should be something you'd enjoy drinking. In fact, if you want the perfect wine pairing for your Beef Bourguignon, buy two bottles - one for the stew and one to accompany the meal. Burgundy wine is a clear choice but it often has a high price tag. Pinot Noir is an excellent choice at a lower price tag. (see below for more on how to choose wine for Beef Bourguignon)
Include bacon and lots of delicious mushrooms and onions. Classical beef bourguignon is associated with pearl onions however many chefs substitute chopped onions or shallots. I have a strong preference for shallots in this recipe,

which are way easier to peel and similar in flavor to pearl onions, but more delicious, in my opinion.

Cook Beef Bourguignon low and slow in the oven. Cooking a stew low and slow is always best to ensure tender meat. It's easier to do that in the oven or in a slow-cooker than it is to do it on top of the stove.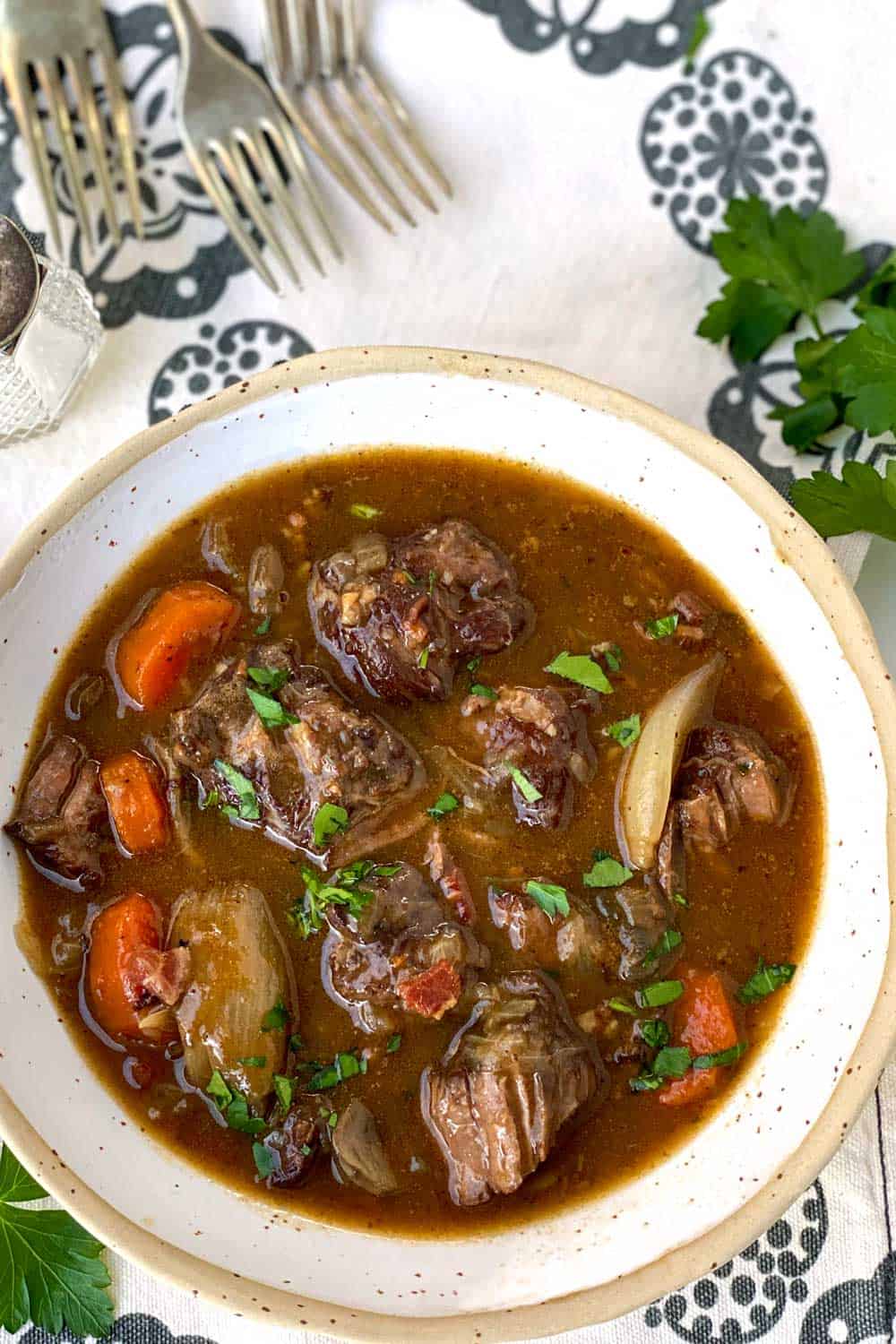 The Best Red Wine for Beef Bourguignon
Since red wine is the braising liquid for Beef Bourguignon, the flavor of the final dish will largely be determined by the wine you select. Burgundy wines are the obvious choice, but they are notoriously expensive.
When I went out in search of the perfect bottle of Burgundy for my beef bourguignon, I ended up bringing home a $13 bottle of Pinot Noir, not super cheap but nothing close to the price of most Burgundies. What I learned from the folks at my excellent neighborhood wine store, is that since Burgundy wine is made from 100% Pinot Noir Grapes, a good bottle of Pinot Noir will have similar flavors to a Burgundy, for a much lower price tag.
Award-winning chef Thomas Keller uses Cabernet Sauvignon for his Beef Bourguignon. Cabernet sauvignon is my favorite cooking wine for many beef dishes.
Whichever type of wine you choose, make sure it's a good quality dry red wine and something you'd enjoy drinking.
How to Make Beef Bourguignon
Many chefs have their own special twist on Beef Bourguignon but the basics are always the same: beef, onions, mushrooms, bacon and red wine. This recipe takes about an hour of hands-on prep and then cooks in the oven for 2 ½ hours. Best if you make this a day or two ahead to give the flavors a chance to meld.
Bacon lardons and chunks of stewing beef are browned in a heavy pot, to create a rich, meaty flavor base for the stew. Onions and carrots are added and browned in the rendered fat from the beef and bacon.
Tomato paste, flour, herbs and a whole bottle of rich full-bodied red wine are added, and a wooden spoon is used to stir and scrape the bottom of the pot to release all the delicious meaty bits into the stewing liquid. The beef and bacon are returned to the pot and the stew goes into a 325ºF oven to braise for 2 ½ hours.
For the final layer of flavor, mushroom and shallots are caramelized in a skillet with a little salt and sugar. These are stirred into the beef bourguignon for the last half hour of cooking.
Serve Beef Bourguignon hot, with a sprinkling of fresh parsley to garnish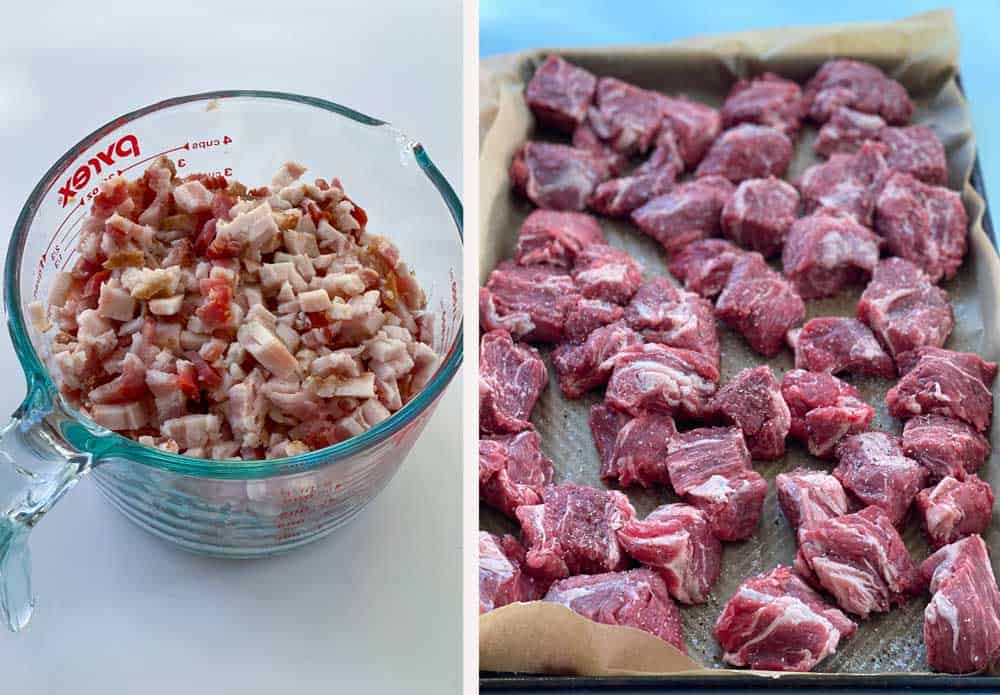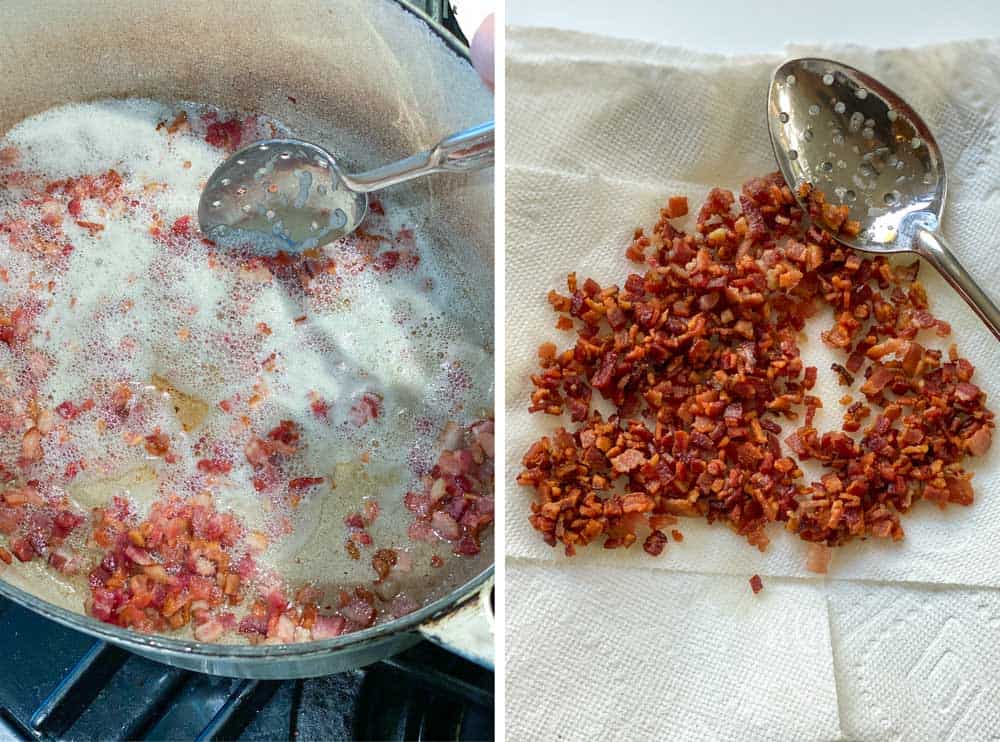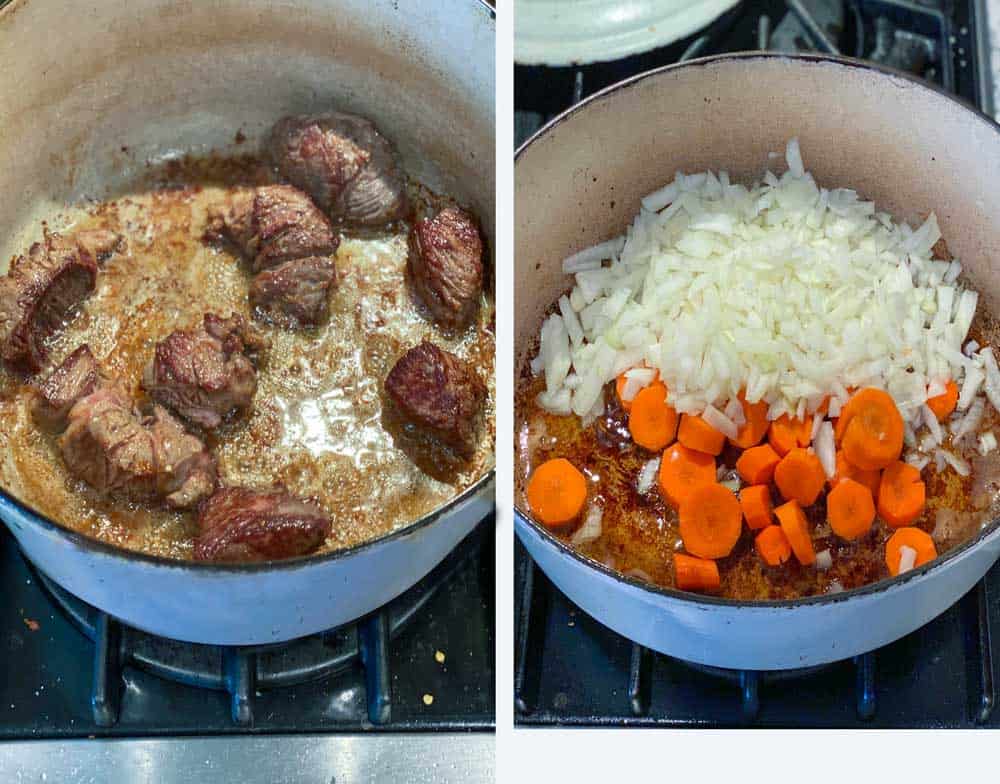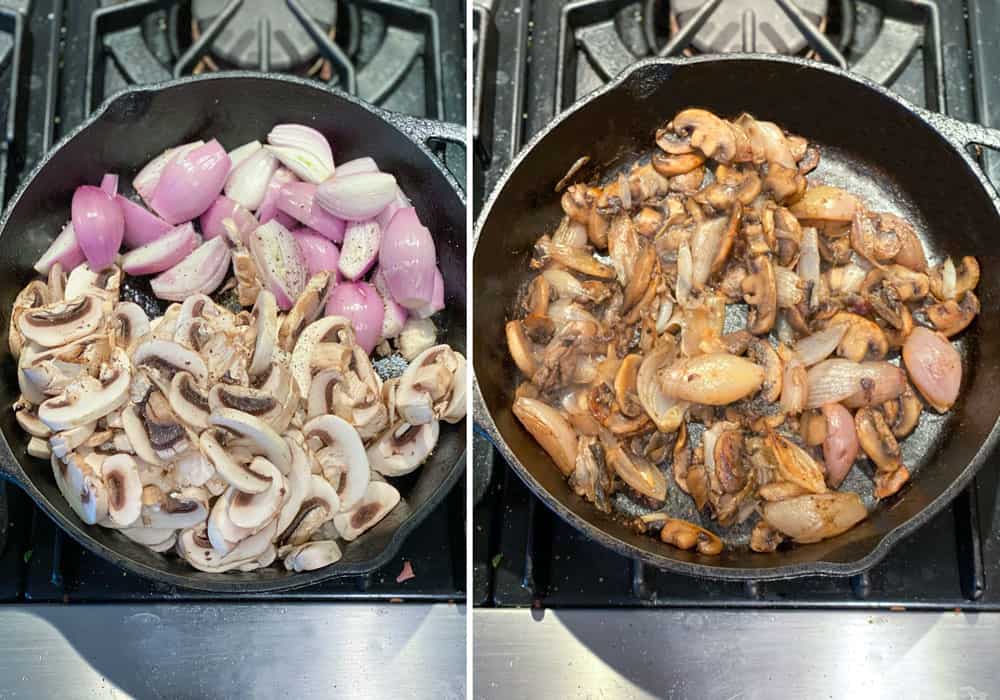 Other delicious French dishes you might enjoy:

Here's the Beef Bourguignon recipe. If you try this, I hope you'll come back to leave a star rating and a comment. I'd love to know what you think.
Print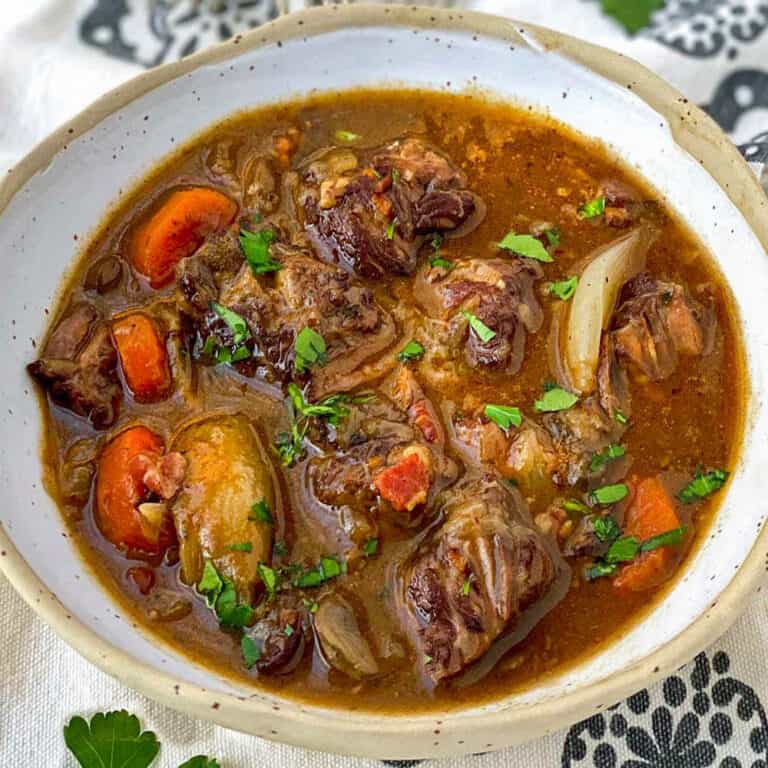 Beef Bourguignon
---
Author:

Lisa

Total Time:

3 ½ hours

Yield:

6

- 7

1

x
Description
Hunks of beef are braised in red wine with bacon, shallots and mushrooms, yielding extremely tender meat in a wonderfully rich sauce. This exceptional French stew is best prepared a day ahead, and makes the perfect dinner party recipe.
Inspired by several recipes but mostly by Julia Child's Beef Bourguignon Recipe from Mastering The Art of French Cooking and Melissa Clark's Beef Bourguignon Recipe for the New York Times.
---
3 ½

pounds boneless beef chuck, trimmed of excess fat, cut into

2

-inch cubes and patted dry (beef must be dry to brown)

1 ½

teaspoons kosher salt plus more, to taste

½

teaspoon freshly ground black pepper plus more, to taste

6 ounces

of thick cut bacon or regular bacon, thickly diced, or bacon lardons if you can find them

1

large yellow onion, finely chopped

1

large carrot, ¼-inch sliced

2

large garlic cloves, minced

2

teaspoons tomato paste

2

tablespoons all-purpose flour

1

750-milliliter bottle of good quality dry red wine such as Pinot Noir. (For more details on how to choose the best wine, see notes below and in the post)

1

large bay leaf

2

large sprigs of fresh thyme (or substitute ½ teaspoon dried thyme or herbs de Provence)

8 ounces

of shallots, peeled (12-15 small shallots, or

7

-

8

large shallots sliced in half lengthwise, through the root)

8

ounces white button or cremini mushrooms, sliced or quartered (about

4 cups

)

1

tablespoon unsalted butter (or extra virgin olive oil for dairy-free)
A pinch of

sugar

½ cup

chopped flat-leaf parsley, to garnish
---
Instructions
Preheat the oven to 325ºF.
Make sure the beef cubes are patted dry. Toss them in a bowl with 1 ½ teaspoon salt and ½ teaspoon pepper and set them aside while you cook the bacon.
In a large Dutch oven or heavy-bottomed pot with a lid, cook bacon over medium-low heat, stirring  occasionally, until browned and crisp (approx. 10 min). With a slotted spoon, transfer bacon to a paper towel-lined plate. Do not clean the pot as you will use the rendered bacon fat to brown the beef.
Heat the bacon fat over medium-high heat until it's hot enough to sizzle a piece of meat. Add half the beef cubes to the pot, or as many as will fit in a single layer with space between the pieces. Cook until browned on all sides (8-10 minutes). Transfer to the plate with the bacon, and repeat with remaining beef, reducing the heat, if necessary, to prevent burning.
Add the chopped onion, sliced carrot and a couple pinches of salt and cook, to tenderize, about 8 minutes, stirring occasionally.
Add garlic and tomato paste, and cook, stirring, for 1 minute. Add flour and cook, stirring, for 1 minute, then add the wine, bay leaf and thyme, scraping up brown bits at bottom of pot with a wooden spoon. Add the beef and bacon back to the pot and stir through, cover and cook in the oven for 2-½ hours, until the beef is extremely tender, stirring halfway through. (Note: you'll be adding mushrooms and shallots for the last half hour of cooking. see step 6).
While the stew braises, set a large skillet on stovetop and add shallots, mushrooms, ¼ cup water, 1 tablespoon butter (olive oil for dairy-free) and a pinch each of salt, pepper and sugar. Bring to a simmer, cover and cook over medium-low heat for 15 minutes. Uncover, raise the heat to medium-high, and cook until the vegetables are golden brown, 5 to 7 minutes. Stir the caramelized veggies into the stew after 2 hours of braising and continue to braise for 30 minutes or until the meat is extremely tender. Season with additional salt, if needed.
Serve Beef Bourguignon hot, with chopped parsley to garnish.
Notes
Which wine is best for Beef Bourguignon? The wine is the braising liquid and will determine the flavor of the stew so choose a wine that you would enjoy drinking. The key is to use a dry red wine. A Burgundy or a Pinot Noir are great choices but any good quality dry red wine will work.
Prep Time:

1 hour

Cook Time:

2 ½ hours

Category:

Stew

Method:

braise

Cuisine:

French
Keywords: boeuf bourguignon, Beef burgundy, Beef bourguignon