Nothing beats a great roasted chicken which, in my mind, means crisp golden brown skin and tender juicy flavorful meat. For the past few weeks I've been testing various roast chicken recipes and techniques in search of the ultimate roasted chicken. In the end it came down to a contest between Julia Child's simple whole roast chicken and Jacques Pépin's butterflied quick roast chicken with mustard and garlic. I invited my neighbors over for chicken dinner to help decide. Jacques reigned supreme (sorry Julia, you know I love you!)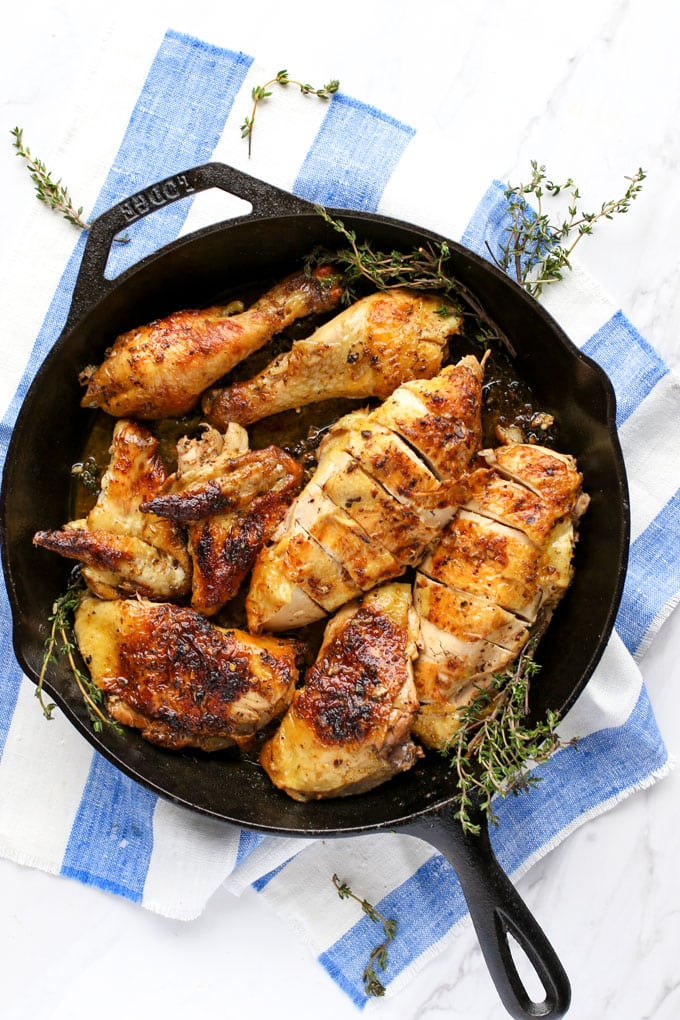 When roasted chicken is good, there's really nothing better.
People often talk about chicken being so versatile - a blank canvas for endless creations and flavors. But it can also be utterly delicious to keep the ingredients simple and let the natural flavor of the bird shine through. So how do you make a truly great roasted chicken? To answer that question, I turned to two of my favorite chefs, Julia Child and Jacques Pépin.
Julia's simple roast chicken will definitely be on the blog eventually. I will play with the flavors and do some more testing first. For my taste, I think a little less lemon and the addition of garlic might do the trick. Jacques' roasted chicken has now set the bar very high for me.
HERE'S HOW TO MAKE DELICIOUS OVEN ROASTED CHICKEN
The first step in this recipe is to butterfly the chicken so it lies flat in the skillet and cooks evenly. If you have a butcher who's willing to prepare the butterflied chicken for you, that's great. But I encourage you to try butterflying a chicken at some point in your life. It may feel like a daunting task to undertake but it's really not that difficult. Once you do it I think you'll be happy you did. It's gratifying to be able to get that chicken all trimmed up and flattened out.
If you want to watch the master at work, here's a video of Jacques Pépin demonstrating how to butterfly a chicken
HOW TO BUTTERFLY CHICKEN
Here's how I do it:
First, if you're going to cut up that bird, you'll need either a very sharp (carving) knife or poultry shears. I used poultry shears.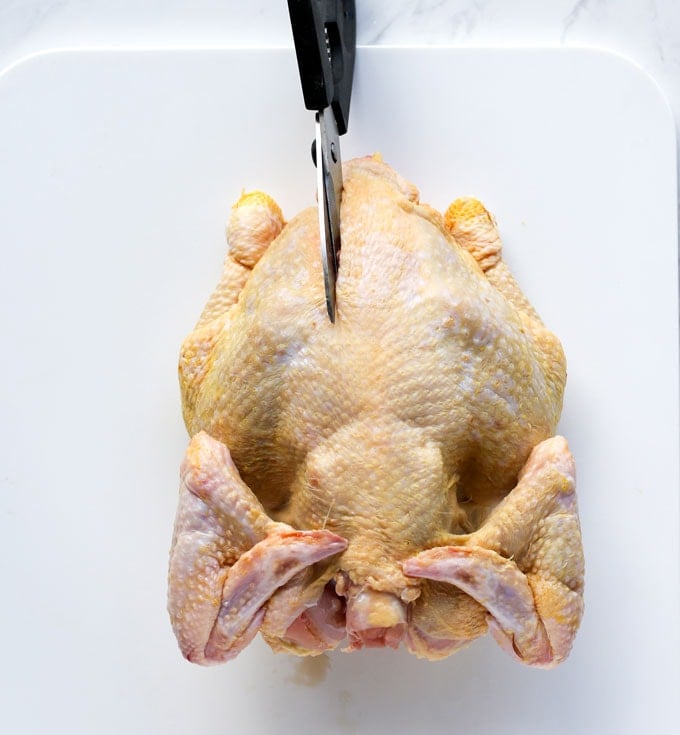 Place the chicken on your work surface breast side down. Use your shears or knife to remove the chicken's backbone by cutting along each side of it, from one end to the other.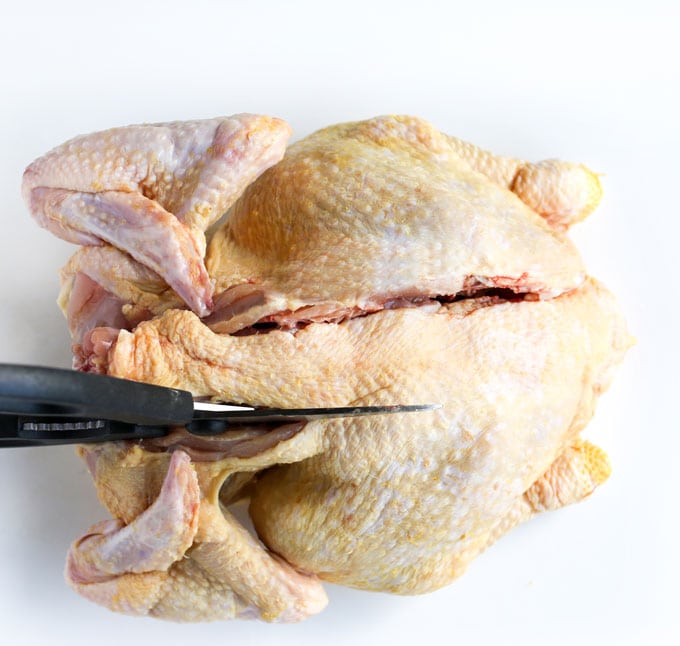 Once the backbone is out, the hard work is done.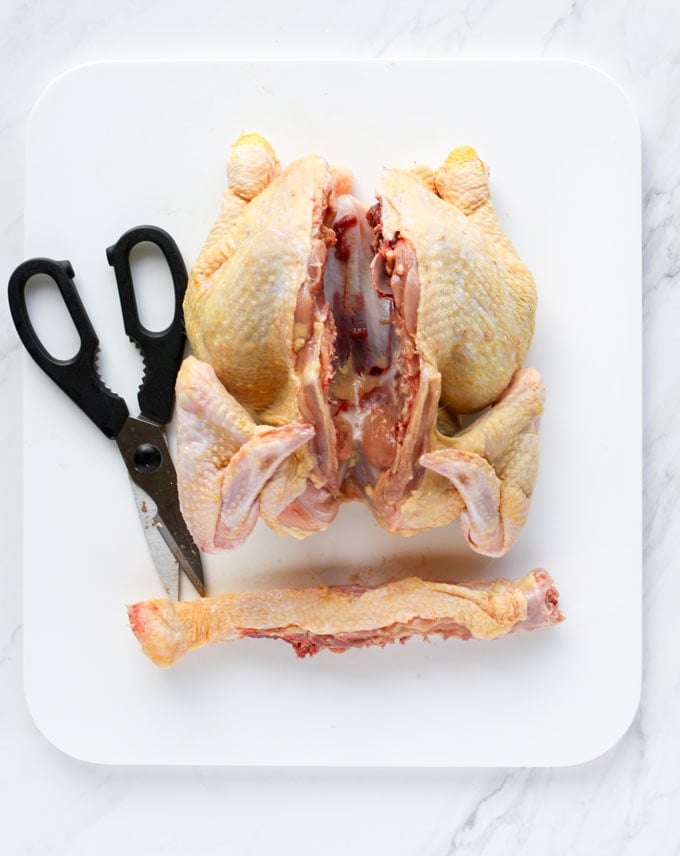 Flip the chicken over and press down on the breast bone firmly with the palms of your hands, to flatten it. Jacques Pépin recommends making a small cut where the leg meets the body to make the leg and thigh portion lie flatter.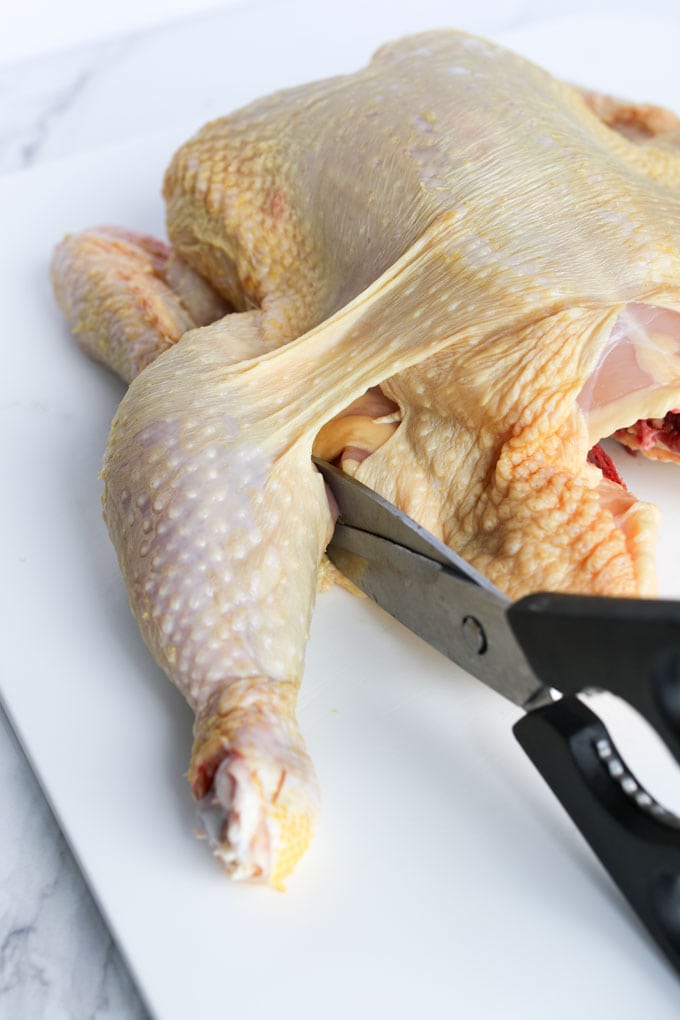 Now it's time to put the butterflied chicken in the skillet and slather it with the tasty mustard garlic mixture. With the breast side down, brush half the mustard garlic sauce over the chicken.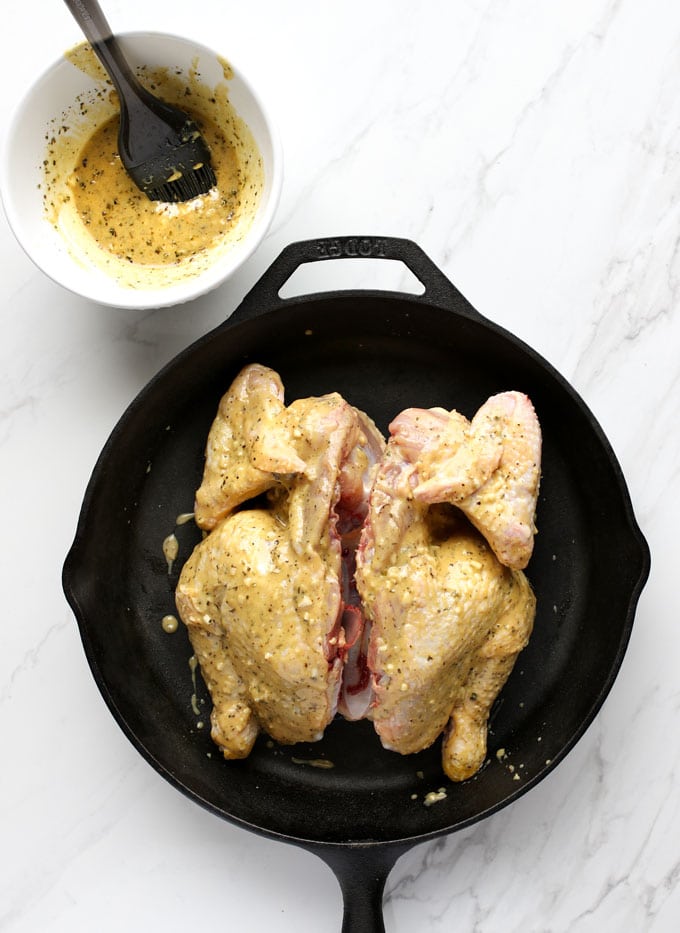 Then flip it to the other side and brush on the rest.
With the oven preheating to 450ºF, set the skillet on the stovetop over high heat and cook the chicken until it starts to brown on the bottom, about 5 minutes. Now transfer the skillet to the oven and roast the chicken for 30 minutes, until the skin is browned and the chicken is cooked through.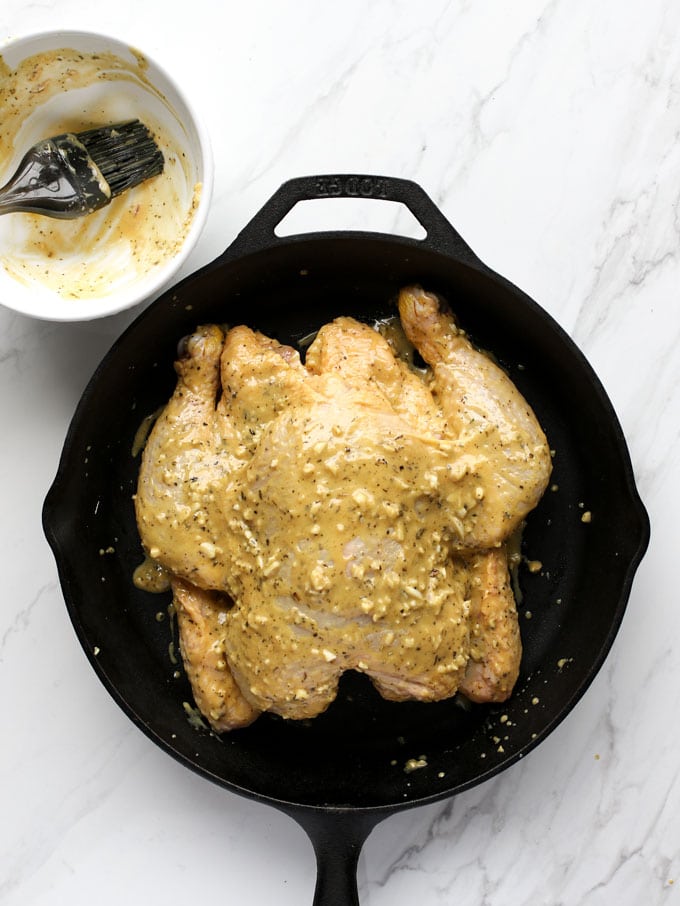 Here's what my chicken looked like when it came out of the oven. (I added the thyme sprig for the photo).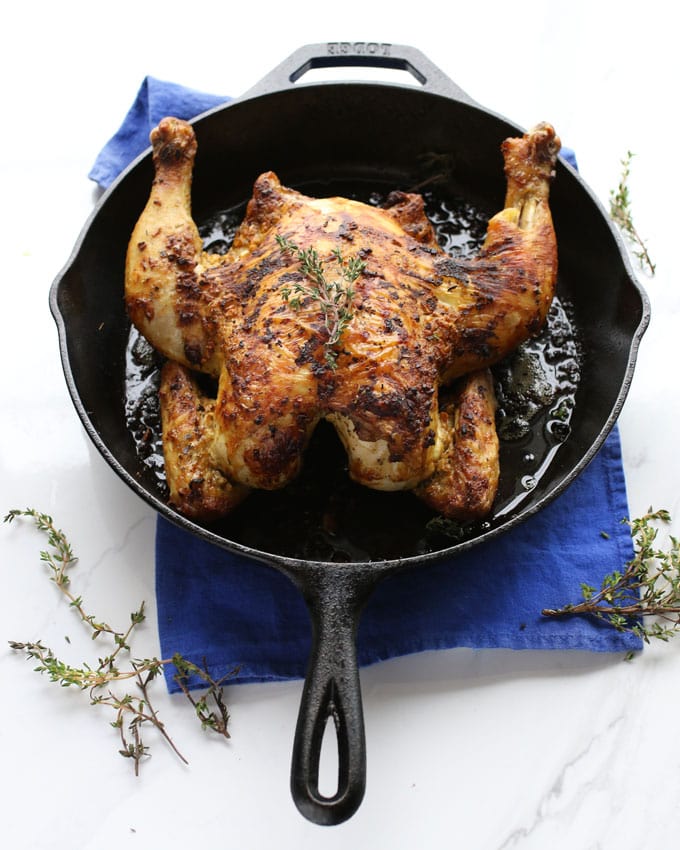 Let the chicken rest for 5 minutes. Then transfer it to a cutting board, cut it into 8 pieces and serve with mashed potatoes and salad.
Other Favorite Dinner Party Recipes: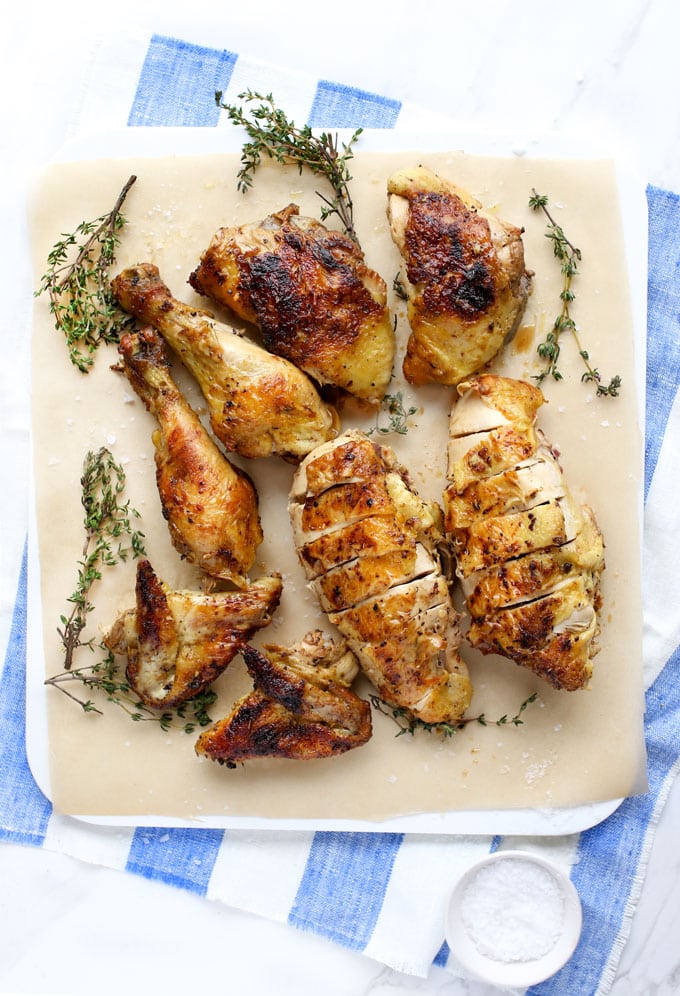 A butterflied chicken is ideal for cooking, especially if you want beautifully crisp browned skin and evenly cooked white and dark meat. Whether you're cooking it in a skillet, in the oven or on the grill, a butterflied chicken cooks more evenly than a whole chicken.
The technique of butterflying, pan-searing and oven roasting the bird, with Jacque's delicious mustard and garlic mixture slathered all over it, yields a roasted chicken that is pure perfection.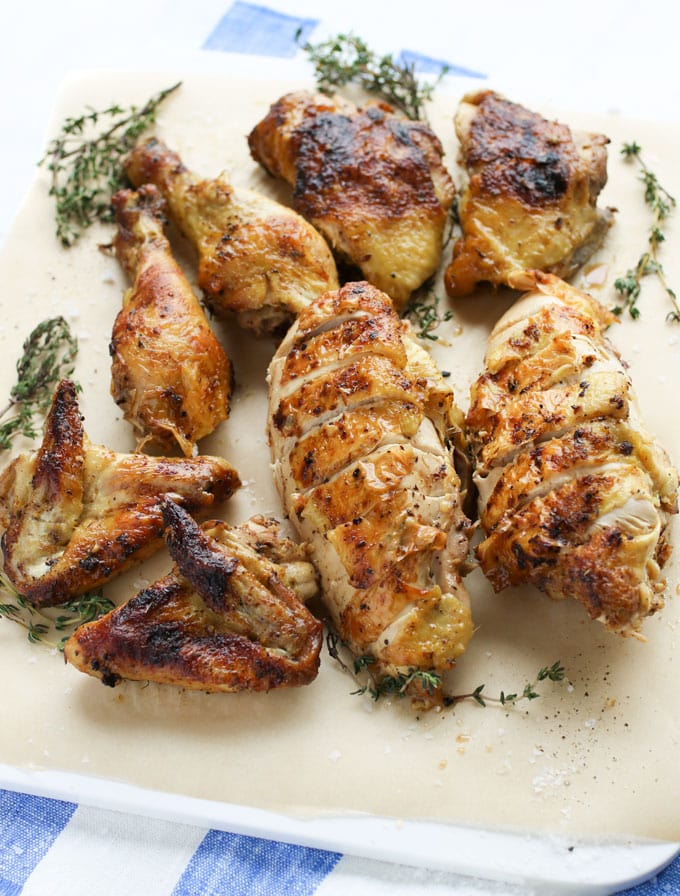 Here's the recipe for Mustard Garlic Butterflied Roasted Chicken. The recipe is slightly adapted from a recipe by Jacque Pepin. If you try this recipe I hope you'll come back to leave a rating and comment. I'd love to know what you think.
Print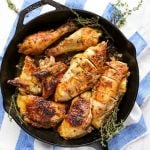 Mustard Garlic Butterflied Roasted Chicken in a Skillet
---
Author:

Lisa

Total Time:

1 hour

Yield:

4

1

x
Description
A recipe and technique for making a perfect whole roasted chicken in the oven, with crisp skin and tender flavorful meat.
---
Equipment: You will need a sharp carving knife or poultry shears and a large cast iron skillet that can go from stove top to oven.
1

3½-4-pound chicken

4

-

5

large garlic cloves, finely minced

2 tablespoons

dijon mustard

2 tablespoons

dry white wine (dry Vermouth works well)

2 tablespoons

extra virgin olive oil

1 tablespoon

soy sauce (see notes for substitution)

1 teaspoon

herbs de Provence

½ teaspoon

kosher salt plus more, to taste
---
Instructions
Preheat the oven to 450°F. Set the chicken, breast side down, on a chopping board. Use a sharp knife or poultry shears to remove the backbone by cutting along either side of it, from one end to the other. Flip the chicken over so the breast side is up and press on the breast bone with the palms of your hands, to flatten the chicken.
In a small bowl mix all the marinade ingredients: garlic, mustard, wine, olive oil, soy sauce, herbs and salt.
Place the chicken in a large heavy cast iron skillet, breast down, and brush it with half of the mustard mixture. Turn the chicken over so the breast side is up, and brush with the remaining mixture.
Set the skillet over high heat. Cook the chicken until it starts to brown on the bottom, about 5 minutes. Transfer the skillet to the oven and roast the chicken for 30 minutes, until the skin is browned and the chicken is cooked through.
Let the chicken rest for 5-10 minutes. Cut it into 8 pieces and serve.
Notes
For gluten free use gluten-free soy sauce or coconut aminos.
Prep Time:

25 mins

Cook Time:

35 mins

Category:

Dinner

Method:

Roasting

Cuisine:

French
Keywords: whole roasted chicken in a skillet, skillet roasted chicken, whole butterflied roasted chicken