Salad Niçoise is a French composed salad with canned tuna, potatoes, green beans, eggs and Niçoise olives. It's a great salad for lunch, brunch or a dinner – beautiful, healthy and delicious.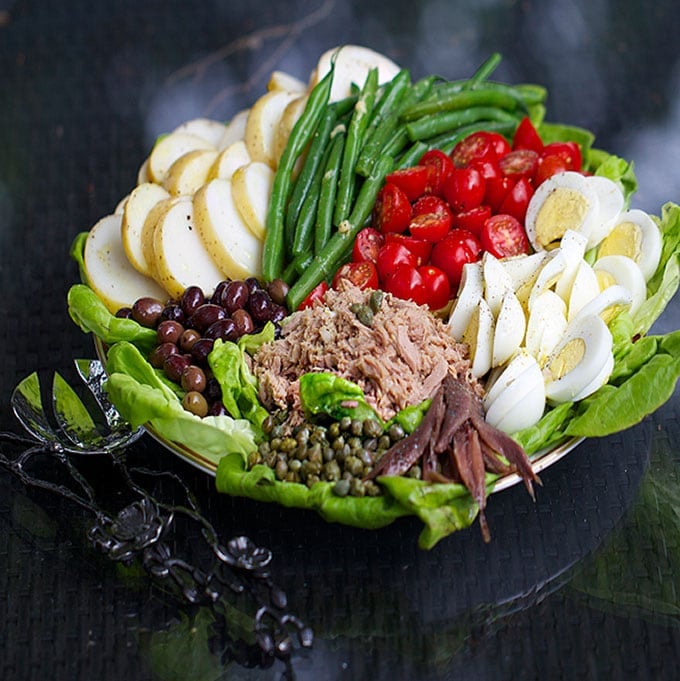 For the past two weeks, the weather in Boston has been glorious – bright, crisp days that highlight all the beautiful spring blooms against a clear blue sky. It's so uplifting!
Yesterday, on my dog walk in the woods near my house, I was thinking about food (as usual) and mulling over what to cook next. Salad Niçoise popped into my head. Springtime definitely inspires thoughts of salad. I was thinking back on my first visit to Paris, many years ago, when I learned the concept of the composed salad or salade composée. I got addicted. Every restaurant had it on their lunch menu, and I ordered one every day.
It's basically like it sounds – a salad that is thoughtfully laid out in an aesthetically pleasing way. The ingredients are kept separate on the plate, united by the dressing that covers them. Salad Niçoise is a classic French composed salad that is so good, it has become famous worldwide. I'm happy to share this recipe in time for Mother's Day, because I think it's the perfect dish for a lovely, leisurely, warm-weather brunch.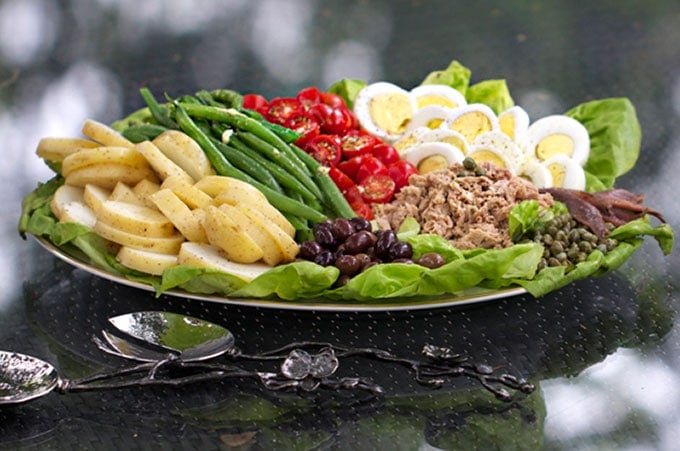 A composed salad can start with whatever leftovers you have in the fridge, and go from there. The ingredients can be anything. A balance of colors, flavors, and textures is a goal to keep in mind, and a good dressing is important – to tie it all together. Here are some combos I like:
* Sliced chicken breast, corn, sliced tomatoes, blanched asparagus, watercress – lemon dressing from this recipe plus some chopped fresh tarragon
* Sliced steak, sliced mango, halved cherry tomatoes, sliced cucumbers, cubed avocado, arugula, thai dressing
* Cubed chicken or turkey, hard-boiled eggs, chopped bacon, diced cucumber, diced tomatoes, baby romaine – lemon dressing from this recipe
* Grilled zucchini, roasted red peppers, tomatoes, mozzarella slices or balls, artichoke hearts, baby romaine or arugula, oil & vinegar
* Grilled salmon, sliced goat cheese, mesclun, tomatoes, potatoes, red onion – lemon dressing from this recipe
MORE DELICIOUS COMPOSED SALAD RECIPES FROM PANNING THE GLOBE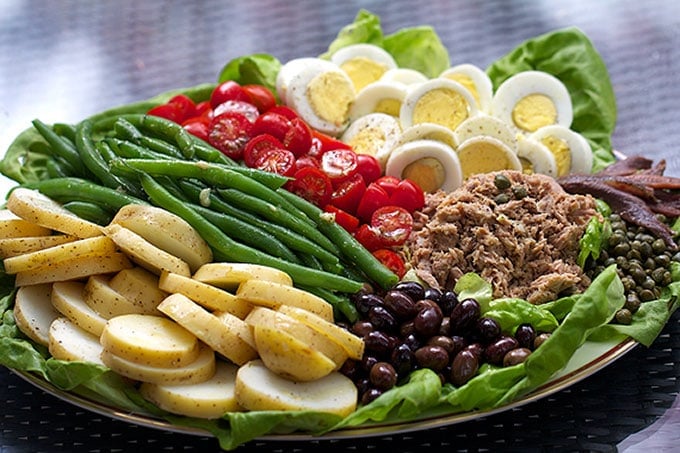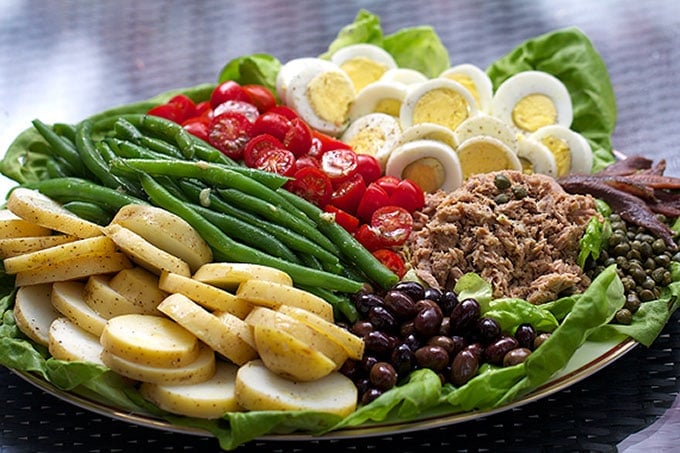 Serve the Salad Niçoise with some good crusty bread and a cool, crisp white wine. Let the thoughtful preparation and the beauty of the plate inspire a meal in the French tradition – one where you eat slowly, savor every bite, and enjoy the company around your table.
Here's the Salad Niçoise recipe. If you try this, I hope you'll come back to leave a star rating and a comment. I'd love to know what you think.
Print
Salad Niçoise
A composed salad that makes a lovely presentation as well as a healthy and delicious meal
Author: Lisa
Prep Time:

1 hour 30 mins

Cook Time:

10 mins

Total Time:

1 hour 40 mins

Yield:

6

1

x
Category:

Lunch, Brunch, or Dinner

Cuisine:

French
Dressing

1/2 cup

extra virgin olive oil

2 tablespoons

fresh lemon juice

2 teaspoons

dijon mustard

1 teaspoon

finely minced shallot

1/4 teaspoon

salt
a few grinds of black pepper
Salad

1

head of bibb lettuce (butter lettuce), leaves separated, washed and dried. (to wash and crisp lettuce ahead, see directions here.)

1 1/2

pounds of fresh green beans

1 1/2

pounds Yukon Gold, Yellow Finn, or New Potatoes (see notes below)

1 tablespoon

vinegar (white or white wine)
Salt and pepper, to taste

1

bunch of cherry tomatoes, halved or

3

large, ripe tomatoes, cut into wedges

2

8-ounces cans of good-quality canned Italian tuna in oil, drained and flaked (or you can use fresh seared, sliced sushi-grade tuna)

6

hard-boiled eggs, peeled and chilled

1/4 cup

niçoise olives

2 tablespoons

capers, drained

6

whole anchovies (optional)
Instructions
Dressing Whisk lemon juice and mustard. Continue whisking as you slowly drizzle in the oil, until the dressing is emulsified. Add shallot, salt and pepper and whisk to combine. Set aside.
Prepare green beans Wash and trim the ends. Bring a large pot of water to a boil. Drop the beans in and and when it returns to a boil, cook them for 2-3 minutes, until they are just cooked through, but still crisp and bright green. Drain and cool immediately to stop the cooking process: them in a bowl and keep filling it will cold water, draining it, and repeating until they are cool; or transfer them to a bowl of ice water to cool. To store cooled beans, wrap them in a damp paper towel and then in a sealed plastic bag in the fridge.
Prepare Potatoes Scrub or Peel and cut potatoes into 1/4-inch slices crosswise, one at a time, placing slices in a large bowl of cold water, as you go, to prevent browning. Fill a large pot half way with water. Add 2 teaspoons salt and bring to a boil. Transfer potato slices to boiling water. When water returns to a simmer, cook potato slices for about 5 minutes, until they are just cooked through. (They will soften a bit more as they cool) Drain water from potatoes and transfer them to a large bowl. Sprinkle them with salt, pepper, and 1 tablespoon of vinegar. Toss gently and let them cool for 10 minutes or so. Potatoes can be stored overnight in an airtight container in the fridge. Bring them to room temperature before serving.
Slice eggs crosswise or quarter them lengthwise.
Assemble Salad I like to compose the salad on a large platter. You can also do it on individual plates. Line a large platter with the lettuce leaves (trick: if the leaves curl too much, crack the thick white spines gently to help them lie flat) Arrange ingredients in separate piles around the platter. I like to start with the tuna – slightly off center – and work around it. Sprinkle tomatoes, green beans, eggs and tuna with little salt and pepper. Drizzle half the dressing over everything except the olives, capers and anchovies. Serve the rest of the dressing on the side.
Notes
Note: French Potato Salad can be used in place of boiled potatoes in Salad Niçoise. There's a bit more effort involved but worth the time if you have it. Potatoes are thinly sliced, boiled, and dressed with dijon vinaigrette and fresh herbs.