Tuna Nicoise is a classic French composed salad made with canned tuna, potatoes, green beans, hard-boiled eggs, olives, and sometimes tomatoes, anchovies and capers. The combination of ingredients makes for a wonderfully satisfying meal. This version includes a luscious lemon-shallot-dijon vinaigrette that's drizzled all over everything - which makes this salad totally irresistible!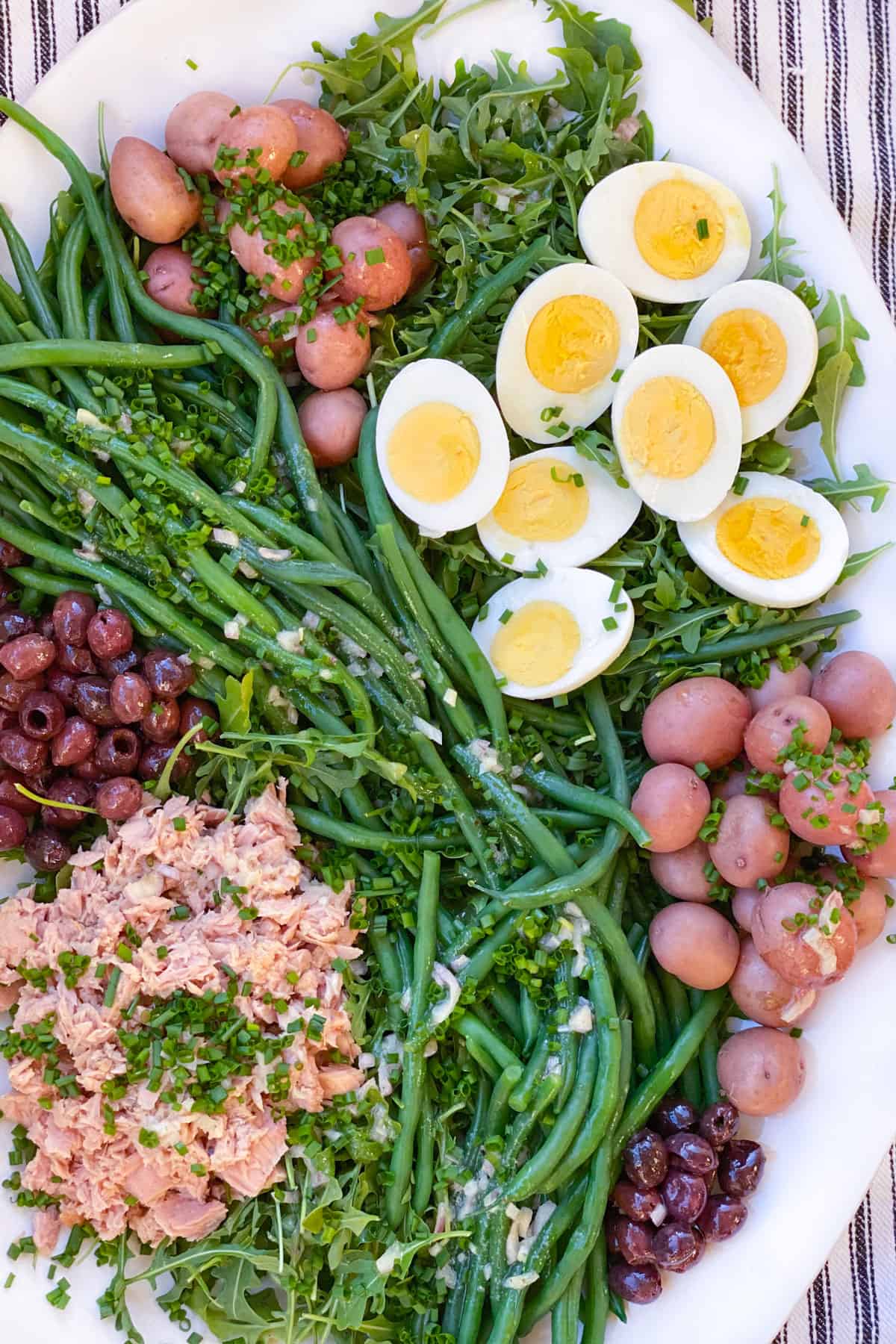 Tuna Nicoise Salad, pronounced "nee-swaaz," is named after its place of origin, Nice, a city in the Provence-Alpes-Côte dAzur region of southern France. This area is famous for its simple, healthy, delicious cuisine, with lots of vegetable-centric dishes such as ratatouille, French Potato Salad, and this wonderful French onion tart.
In France, Tuna Salad Nicoise is a popular lunch dish, especially in the summertime. In my house, it's popular all year long but we mostly have it for dinner. I also love serving this for a special brunch. These ingredients work so well together that the result is always a very special meal, and one that can be prepared ahead of time.
In Praise of Composed Salads
A composed salad or Salade Composée is a salad that's arranged on a plate or platter, laid out in an aesthetically pleasing way. The arrangement can be rustic or refined, depending on style of the meal or the mood of the chef/artist. Some composed salads have become world-famous, such as Italy's Caprese Salad, America's Cobb Salad and France's Nicoise Salad. But it's not hard to make a great composed salad, starting with whatever leftovers you have in the fridge and going from there. A balance of colors, flavors, and textures is a goal to keep in mind, and a good dressing is important - to tie it all together. Here are some other combos I like:
Sliced chicken breast, corn, sliced tomatoes, blanched asparagus, watercress - lemon dressing from this recipe plus some chopped fresh tarragon
Sliced steak, sliced mango, halved cherry tomatoes, sliced cucumbers, cubed avocado, arugula, thai dressing
Cubed chicken or turkey, hard-boiled eggs, chopped bacon, diced cucumber, diced tomatoes, baby romaine - lemon dressing from this recipe
Grilled zucchini, roasted red peppers, tomatoes, mozzarella slices or balls, artichoke hearts, baby romaine or arugula, oil & vinegar
Grilled salmon, sliced goat cheese, mesclun, tomatoes, potatoes, red onion - lemon dressing from this recipe
My Salmon Nicoise Salad recipe, with lentils, potatoes, roasted tomatoes and asparagus.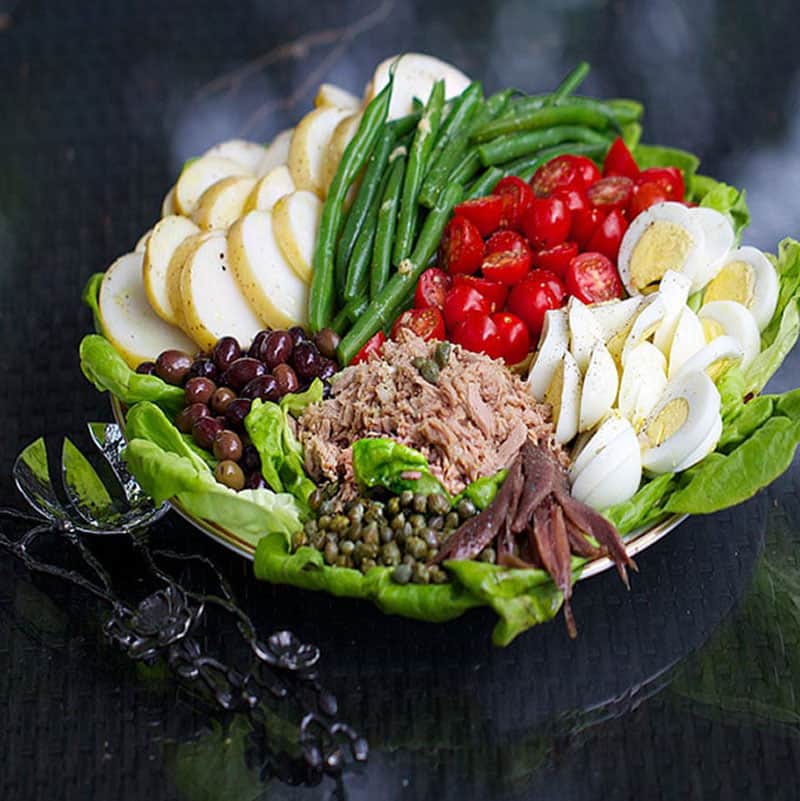 How To Make Tuna Nicoise Salad
Many of the elements of this Nicoise salad require no cooking at all and the components that do, can be prepared ahead. This dish is much easier if you can get some of the prep out of the way ahead of time, such as boiling the potatoes, green beans, and eggs.
Dressing: First make the lemon-shallot-dijon vinaigrette. This can be made a day ahead and kept covered in the fridge.
Eggs: Hard boil the eggs and peel them. This step can also be done a day or two ahead. Store them covered in the fridge.
Potatoes: Boil the potatoes or, if you want to get a little fancy, make French Potato Salad. Both boiled potatoes and potato salad will keep well in the fridge for a day or two.
Green Beans: Boil or steam the green beans. (can be done a day ahead)
Assemble The Nicoise Salad: Just before serving, slice the eggs, open and drain two cans of tuna, assemble all the ingredients on a big platter, starting with a bed of lettuce and arranging the rest of the ingredients on top: the tuna, potatoes, beans, eggs and olives. Tomatoes, capers and/or anchovies can be added if desired. Finish with salt and pepper to taste, and a generous drizzle of vinaigrette all over everything. For extra flavor, sprinkle fresh chopped chives or tarragon on top. I highly recommend using fresh herbs for a final layer of flavor, if you can find them.
How To Serve Tuna Salad Nicoise
Serve Salad Niçoise with some good crusty bread and a cool, crisp white wine. Let the thoughtful preparation and the beauty of the plate inspire a meal in the French tradition - one where you eat slowly, savor every bite, and enjoy the company around your table.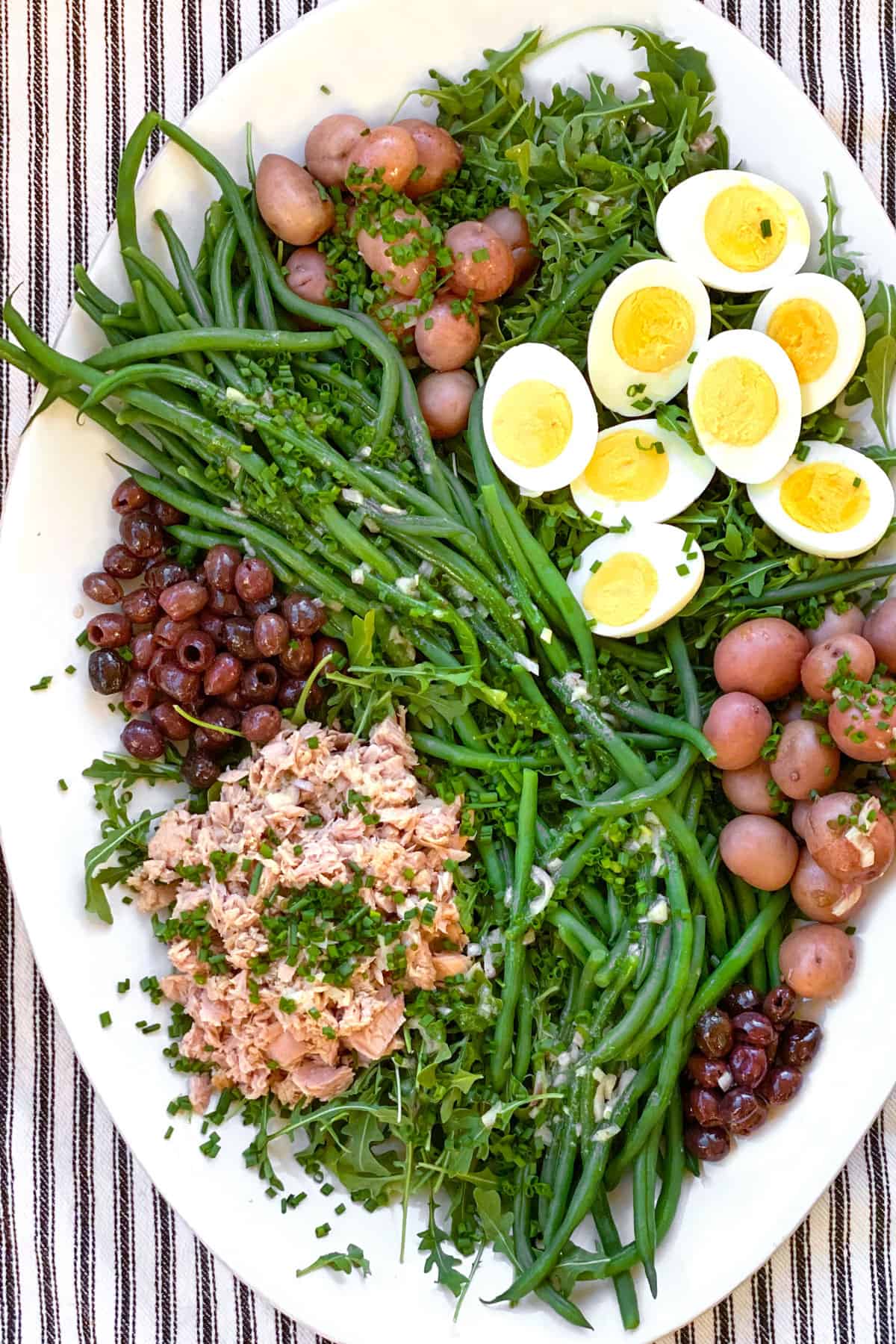 Tuna Salad Nicoise Questions
What is the best Nicoise Salad Dressing?
A good salad dressing really pulls all the elements of Nicoise salad together deliciously. I love the fresh flavors of lemon juice mixed with tangy spicy mustard and sweet sharp shallots - a bright zesty vinaigrette that complements the richness of the tuna, eggs and potatoes. You can use vinegar in place of lemon juice, if you prefer. You'll get the same exciting contrast of tastes with a slightly different flavor profile. Vinegar is more tangy, lemon juice is brighter.
Which olives are best for salad nicoise?
Nicoise Olives are the obvious choice. They are tiny little flavorful olives that hail from (you guessed it) Nice, France. It's not always easy to find them, however. When you can't find Nicoise olives, Kalamata olives are a great substitute. They have similar flavors - intense, sharp, rich and fruity - and they're much easier to find at the market.
What are the best potatoes for Tuna Nicoise salad?
Julia Child uses French Potato Salad for her Salad Nicoise. French potato salad is basically sliced, boiled potatoes dressed with oil, vinegar, shallots and fresh herbs. It is perfect for this salad however not at all required. I've used every potato imaginable when making Nicoise Salad - tiny red potatoes, fingerlings, Yukon Golds and even russets. The tiny potatoes are the easiest because they're bite-sized, don't require slicing, and they cook fast. Just boil them and toss them with a little dressing, salt, pepper and herbs. For larger potatoes, slice, boil, dress and season.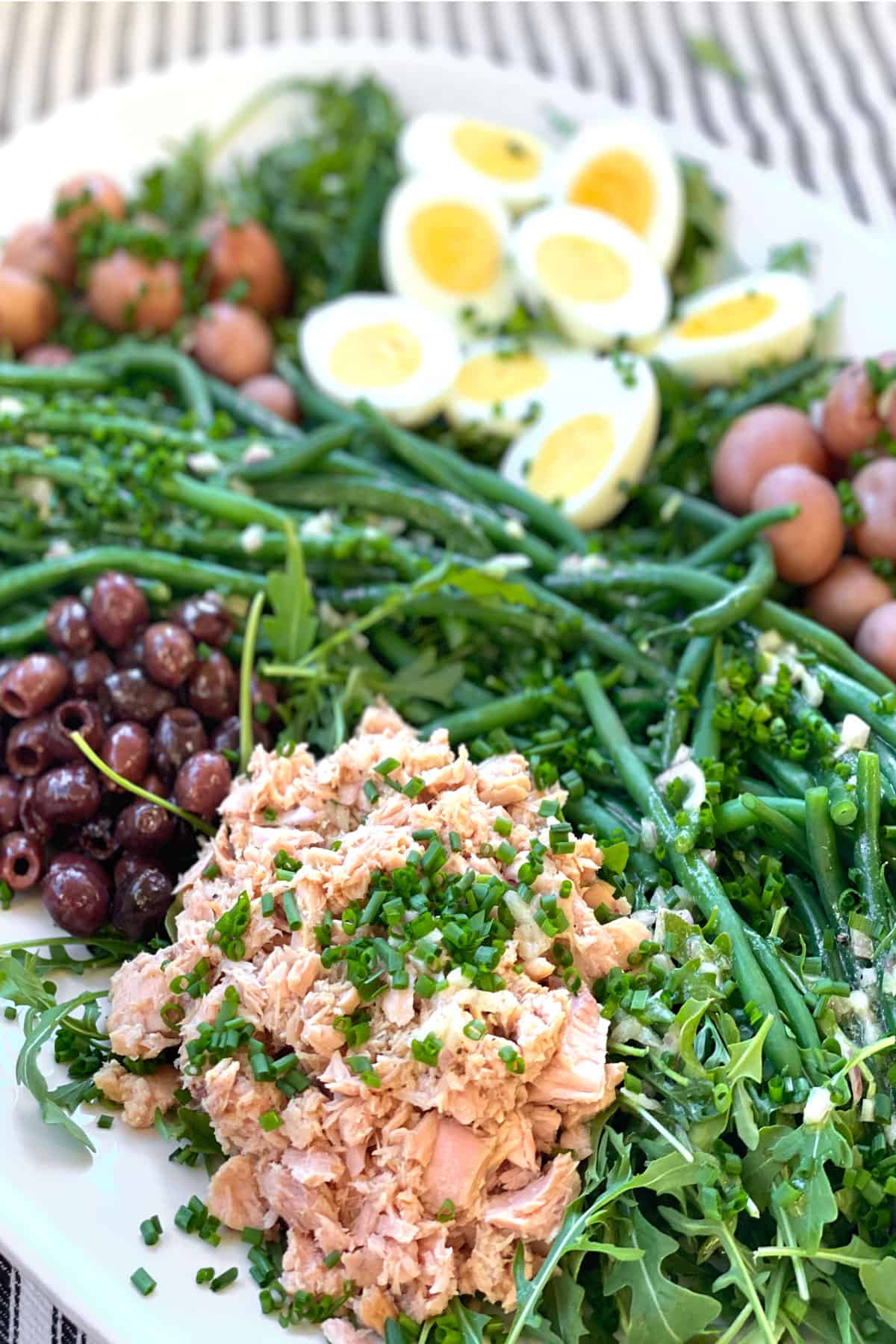 Other Delicious Composed Salads Recipes to Try: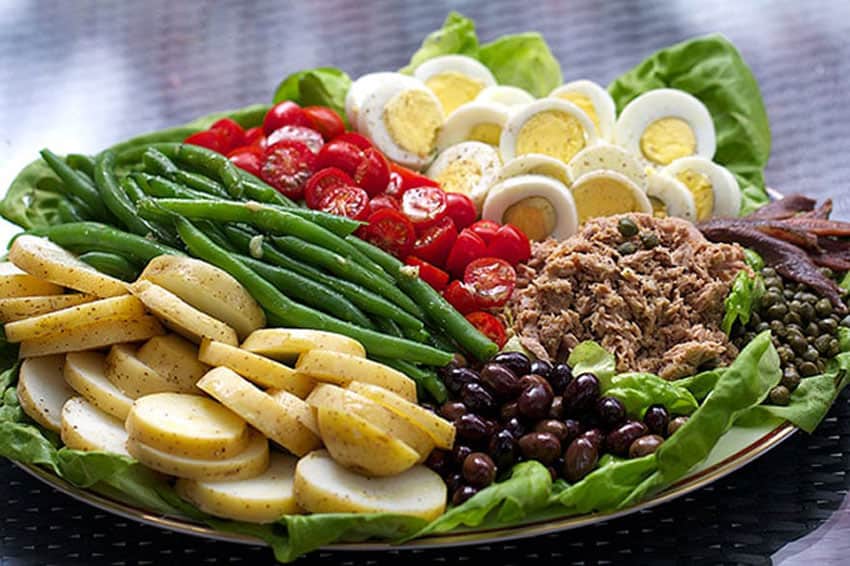 Here's the Tuna Salad Niçoise recipe. I'm happy to share this recipe in time for Mother's Day, because I think it's the perfect dish for a lovely, leisurely, warm-weather brunch. If you try this recipe, I hope you'll come back to leave a star rating and a comment. I'd love to know what you think.
Print
Tuna Salad Niçoise
---
Author:

Lisa

Total Time:

1 hour 40 mins

Yield:

6

1

x
Description
This composed salad with tuna, fresh vegetables and eggs makes a lovely presentation as well as a healthy and delicious meal. Perfect for lunch, brunch, or dinner.
---
For The Vinaigrette
4 tablespoons

fresh lemon juice

2 teaspoons

dijon mustard (such as Grey Poupon)

1

large shallot, finely minced (

3 tablespoons

)

½ teaspoon

salt

¼ teaspoon

freshly ground black pepper

½

cup

extra virgin olive oil
For The Salad
1

head of Bibb (butter) lettuce or 4 cups of baby arugula

1 ½

pounds

of fresh green beans, trimmed

1 ½

pounds

Yukon Gold or Yellow Finn Potatoes (to substitute fingerlings, baby New Potatoes or other potatoes, see notes below)

1 tablespoon

white vinegar or white wine vinegar
2

8

-

oz

cans canned Italian tuna in oil, drained and flaked (or you can use fresh seared, sliced sushi-grade tuna)

6

hard-boiled eggs, peeled and chilled

¼

cup

niçoise olives (or kalamata olives)

1

pint

of cherry tomatoes, halved or 3 large tomatoes cut into wedges (optional)

2 tablespoons

capers, drained (optional)

6

whole anchovies, from a 2-oz can of flat anchovies in olive oil (optional)
A bunch of fresh chopped chives or tarragon leaves (optional but highly recommended)
---
Instructions
Whisk the lemon juice, mustard, shallot, mustard, salt, and pepper in a medium bowl. Whisk in the olive oil in a slow, steady stream until thick and emulsified. Set dressing aside.
Boil the green beans in salted water for 3-4 minutes or until just cooked through, but still crisp and bright green. Drain and immediately plunge them into a bowl of ice water. Beans can be cooked a day ahead, kept in the fridge wrapped in a damp paper towel, inside a sealed plastic baggy.
Scrub or peel potatoes and cut them into ¼-inch slices crosswise, placing slices in a large bowl of cold water, as you go, to prevent browning. Boil potatoes in salted water for 5 minutes or until they are fork-tender. (They will soften a bit more as they cool.) Drain and transfer them to a large bowl. Season with salt, pepper, and 1 tablespoon of vinegar. Toss gently and let them cool for 10 minutes or so. Potatoes can be stored overnight in an airtight container in the fridge. (see notes below for more details and substitutions)
Cut the eggs crosswise into thin slices or cut them in half or into quarters. Do this step at the last minute.
Compose the salad on a large platter or arrange it onto individual plates. Line a large platter (or plates) with lettuce (trick: for Bibb lettuce, if the leaves curl too much, crack the thick white spines gently to help them lie flat). Arrange ingredients in separate piles around the platter. I like to start with the tuna - slightly off center - and work around it. Sprinkle tomatoes, green beans, eggs and tuna with little salt and pepper. Toss the potatoes with a few tablespoons of dressing, before adding them. Drizzle dressing over everything else except the olives, capers and anchovies. If there's any remaining dressing, serve it on the side. Sprinkle fresh herbs over everything and serve.
Notes
Which Potatoes Are Best for a Nicoise Salad? Any potatoes can be used for this salad. Tiny, bite-sized potatoes can be left whole and boiled until tender. For larger potatoes, slice them or cut them in half, boil them and toss them with a tablespoon of vinegar or with a little of the lemon vinaigrette, and season them with salt and pepper, to taste.  Or, if you have the time and you want something extra special, make French Potato Salad for your Tuna Niçoise salad, as Julia Child recommends. Boiled potatoes or potato salad can be made up to two days ahead and refrigerated.
Prepare and Plate the Tuna Nicoise Salad ahead of time: This salad can be prepared and plated up 2-3 hours ahead of time and kept, covered with plastic wrap, in the fridge. Allow it to come to room temperature before serving.
Prep Time:

1 hour 30 mins

Cook Time:

10 mins

Category:

Lunch, Brunch, or Dinner

Method:

boil

Cuisine:

French
Keywords: French composed salad, Nicoise Salad with lemon vinaigrette, Tuna salad nicoise with lemon shallot vinaigrette
Originally published May 7, 2013. Updated May 7, 2021 with new photos, added nutritional information, clarifying details and step-by-step instructions added to the written post, clearer instructions in the recipe. The same delicious recipe with slight changes to the vinaigrette - a little less oil and a little more lemon juice.