Shepherds pie is a savory meat pie with a mashed potato crust. I love that concept!! The recipe originated in Britain in the mid 1800's as an affordable dish for the poor. Back in the day it was a practical recipe – a way to make use of leftover cooked meat. When made with beef, it's was called "cottage pie" (named for the small cottages the poor folks lived in) and with lamb it was, fittingly, called shepherds' pie. The meat was minced and topped with potatoes, which had become a reliable and affordable crop.  These once lowly meat pies are now widely adored and are served even in palaces.  According to longtime royal cook Darren McGrady, this dish has been a lifelong favorite of prince William, who began eating it as a puree when he was just a baby.
I've made some changes to the traditional shepherds pie recipe to take the calories and unhealthy fats down and amp up the flavor. I've packed the pie with chopped carrots, onions and red peppers, which are sautéed to bring out their natural sweetness.  The vegetables are mixed with sautéed lamb and topped with a fluffy layer of mashed potatoes (made with no cream or butter). The spice is kicked up with cayenne pepper. The pie is gluten-free and dairy-free too!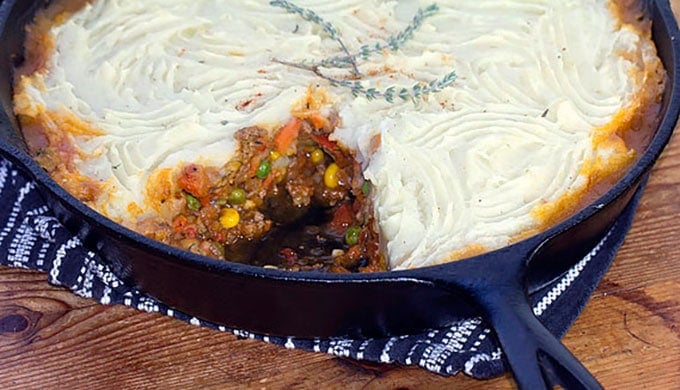 There are enough vegetables in this dish to make it a perfect well-balanced one pot dinner!
If you have a food processor, the chopping of the vegetables takes no time at all.
The potatoes are boiled and mashed with chicken broth, olive oil, salt and pepper.  I like to use my immersion blender
 to puree the potatoes right in the pot. Then I use the back of a fork to make swirly patterns.
If you have a large cast iron skillet
 you can do all the sautéing in it and then use the same pan to assemble and bake your pie.  If not, you can use a standard casserole dish.
I don't think there is a definitive definition for comfort food.  Many people talk about it as being something their mother cooked for them when they were little – a dish that brings back warm happy feelings. I've come to think of it as food that I adore but feel guilty eating –  a dish that's outrageously delicious because it's filled with tons of decadent, fattening, tasty, unhealthy ingredients. But that doesn't have to be the case! The part about being "outrageously delicious" is still crucial, but for me, to be truly "comforting," food has to be healthy, too!
This dish got as many raves as anything I've ever made for my family.  I hope you enjoy it as much as we did!
Here's the royal recipe for cottage pie – the way Prince William likes it.
If you're interested in more healthy comforting recipes, here's a link to 80 Healthy Casseroles from Cooking Light!

HEALTHY SPICY SHEPHERDS PIE
The ultimate meat and potato comfort food - Incredibly delicious and full of healthy vegetables. Plus it's a whole meal in one pot!
Author:
Panning The Globe
Ingredients
For the Mashed Potatoes
2½ pounds russet (baking) potatoes, peeled and cut into 1 -to 1½ inch chunks
¾ cup low salt chicken broth (plus you'll need another cup of broth for the casserole)
3 tablespoons good quality olive oil
1½ teaspoons kosher salt, or to taste
Several grinds of fresh black pepper, to taste
For the Vegetables and Meat
2 teaspoons olive oil
1 pound ground lamb (substitute beef or turkey, if you prefer)
3 carrots, peeled and chopped (1½ cups chopped)
1 large onion, peeled and chopped (about 1½ cups chopped)
1 red bell pepper, seeded, ribs removed, chopped
2 small or 1 large zucchini, chopped or finely diced (1½ cups)
3 medium garlic cloves, minced (1 tablespoon plus 1 teaspoon)
1 cup low-salt chicken broth (I recommend Swanson's low salt)
3 tablespoons tomato paste (I recommend organic or San Marzano)
2 teaspoons kosher salt
½ teaspoon dried thyme
¼ to ½ teaspoon cayenne pepper (depending on how hot you like it)
Several grinds of black pepper
1 bay leaf
½ cup frozen petit peas, thawed
½ cup frozen sweet corn, thawed (I recommend organic)
Instructions
Equipment: If you have a large cast iron skillet (12-inch) you can do all your sautéing in it and also use it for baking the casserole. If not, you'll need a standard casserole dish. If you have a food processor, you can use it to quickly and easily chop the onions, carrots, peppers, and zucchini. I suggest chopping each vegetable separately.
Make the Potatoes Place the cut potatoes in a large pot halfway filled with water over high heat. Once it comes to a boil, set the timer for 15 minutes. Drain potatoes and mash them with the broth, olive oil, salt and pepper. I like to mash them in the cooking pot, first with a potato masher and then an immersion blender.
Cook the Meat and Vegetables Preheat the oven to 400ºF. Heat 2 teaspoons of olive oil in a large (cast iron, if you have it) skillet, over medium heat. Add the lamb and cook, stirring occasionally, until it loses its pinkness. With a slotted spoon, transfer lamb to a bowl. Pour fat out of the skillet and discard or save for another use. Add 2 tablespoons olive oil to the skillet. Cook onions, carrots and bell pepper over medium heat, stirring occasionally, until they get fairly dry and start to brown a bit, 5-7 minutes. Add the garlic and zucchini. Cook, stirring, for a minute or so. Return the lamb to the skillet. Add 1 cup broth, tomato paste, thyme, salt, pepper, cayenne and bay leaf. Stir to combine. Simmer over medium-low heat for 5 minutes, stirring occasionally. Stir in the corn and peas. Remove from heat.
Assemble and Bake the Casserole If using a cast iron skillet, simply even out the ingredients in the skillet using a spatula, and spread the mashed potatoes on top, using a butter knife to even them out. Place the skillet in the top third of the preheated oven and cook, uncovered, for 25 minutes, or until the casserole is heated through and the potatoes are starting to turn golden brown in spots. Remove from the oven and let the casserole rest for 10-15 minutes. Slice into pieces and serve.
Note: The casserole is delicious the next day too! Store in the fridge and reheat, covered with foil, in a 325ºF oven, until heated through - about 40 minutes.
 There are affiliate links in this post