Spaetzle is Germany's favorite homemade pasta. It's surprisingly easy to make spaetzle from scratch. Then you can  mix the tender noodles with caramelized onions, wilted greens and gruyere cheese to make this scrumptious comforting casserole.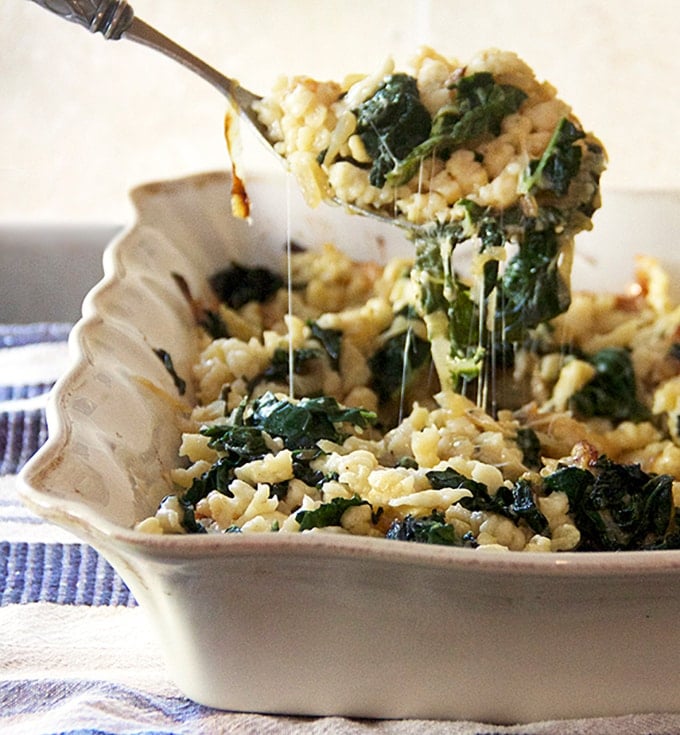 Since the inspiration for this recipe came on a morning dog walk, I'm going to introduce you to my dog Baxter. He's my good buddy and I adore him. Every morning we walk or run together. We have our usual haunts where he meets up with his friends and I meet up with mine.
Recently, on a ridiculously cold and icy day, we ran into a fellow Golden Doodle named Merlin. While the dogs were romping around, Merlin's owner and I got to talking. I found out that she's German. She told me her son was home from college for winter break and that she cooked spaetzle, his favorite food. As she was describing the buttery, cheesy casserole of tiny tender dumplings I knew what I had to do.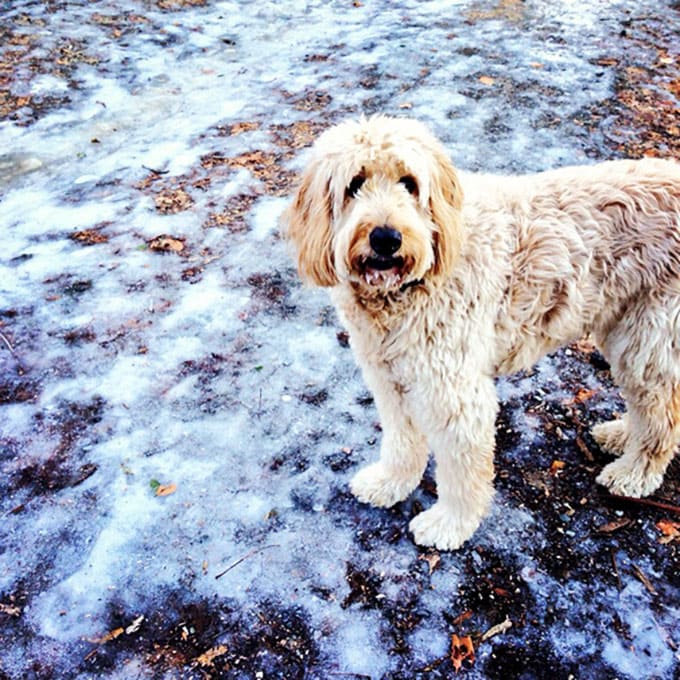 Spaetzle is a cross between pasta and dumplings. The dough is a mixture of flour, eggs, milk or water, and salt. You can spice it up with nutmeg, black pepper or any herbs that you like. The dumplings are formed by pressing the dough through holes and into boiling water.  You can use a flexible spatula to press the dough through the holes of a colander, steamer or anything you have around that has small holes. Or you can use a spaetzle maker like this one.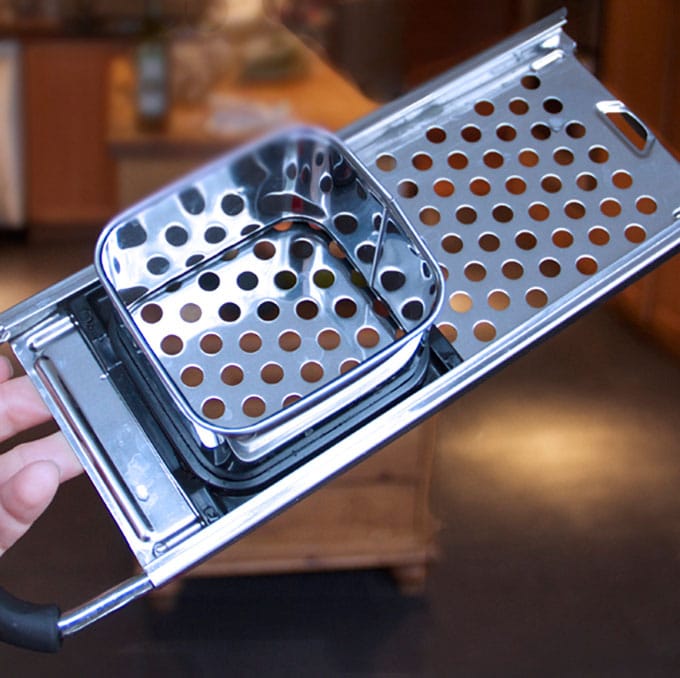 Just put the dough into the chamber and as you slide it back and forth, the sticky dough is forced through. The blobs of dough fall into boiling water, where they cook for 3 minutes.
The cooked spaetzle are transferred to an ice bath to cool them down and prevent over-cooking.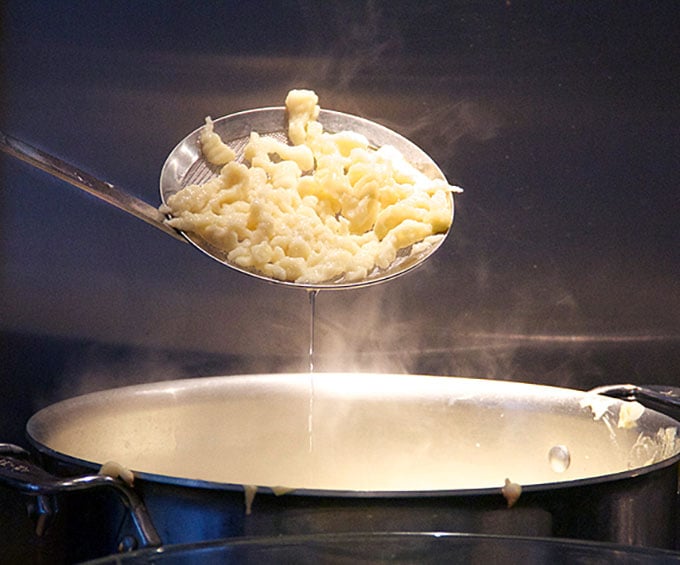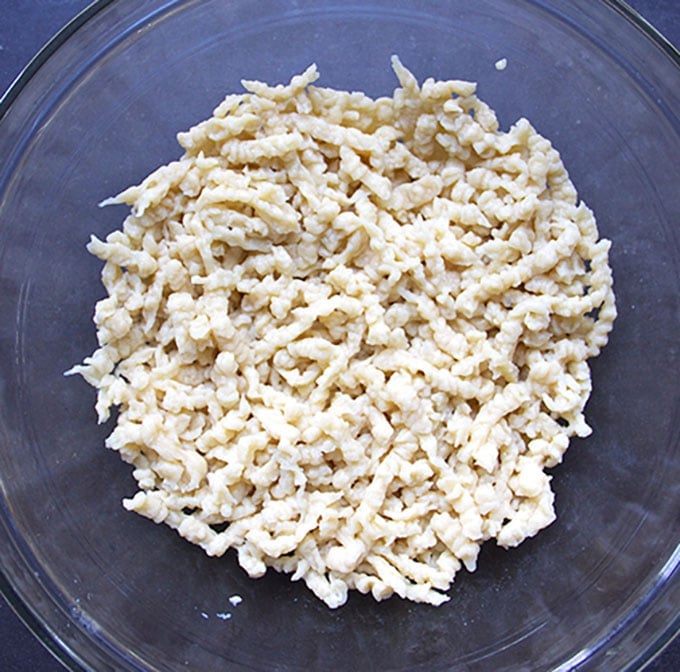 There are many ways to eat spaetzle. It's a perfect side dish for soaking up the juices of a saucy stew or goulash. It's also delicious browned in butter in a skillet with herbs or cooked in a casserole with butter and cheese, which is a common German preparation.
I went with the German mac 'n cheese version, adding caramelized onions (one of my all time favorite ingredients), grated gruyere, and wilted winter greens (for something healthy and colorful). I used kale and chard in my casserole but you can substitute your favorite greens. Here's a helpful guide to greens by Cooking Light.
I have to confess, if I could eat anything I wanted without worrying about my weight or my health, it would be macaroni and cheese and lasagna every day.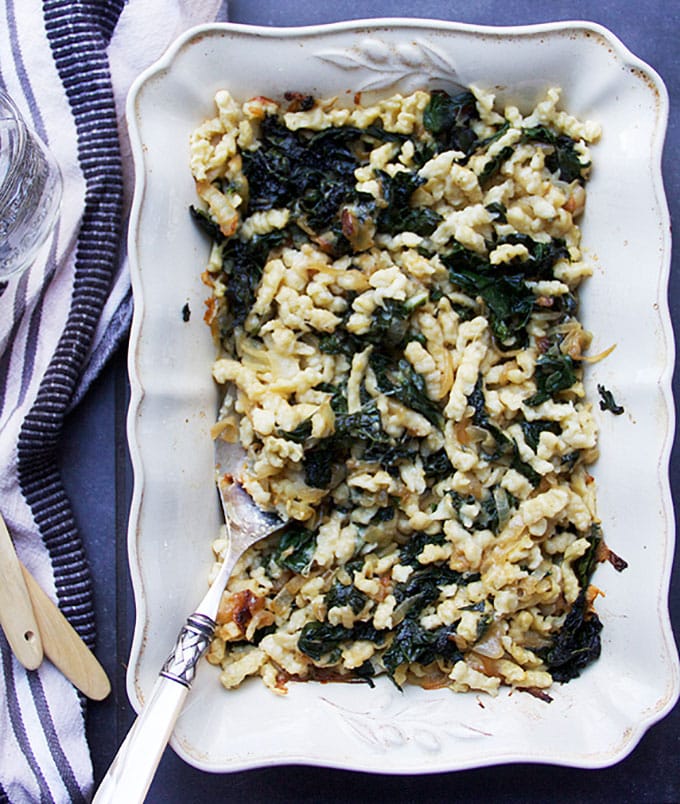 This spaetzle with caramelized onions, wilted greens and gruyere is my German-inspired version of tasty, cheesy comfort food, with a healthy twist. I hope you enjoy!
Print
Spaetzle with Caramelized Onions, Winter Greensand Gruyere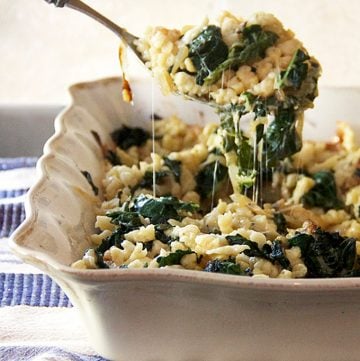 A casserole of tiny tender dumplings with sweet onions, winter greens and melted cheese.
Author: Panning The Globe
Prep Time:

1 hour

Cook Time:

35 mins

Total Time:

1 hour 35 mins

Yield:

6

-

8

1

x
Category:

Vegetarian Side or Main Dish

Cuisine:

German-Inspired
Scale
Ingredients
Spaetzle

2

large eggs

1 cup

2% milk

3

(sifted) cups of all-purpose flour

1/2 teaspoon

salt

1/8 teaspoon

fresh ground pepper

6 ounce

s grated gruyere cheese
Onions

2 tablespoon

s olive oil

2

large onions, thinly sliced (about

2 1/2 cup

s)

1/2 teaspoon

kosher salt
Greens

2 tablespoon

s olive oil

1

bunch lacinato kale (also known as dinosaur kale or Tuscan kale), thick stems removed, washed, torn into bite-sized pieces

1

bunch swiss chard, thick stems removed, washed, torn into bite-sized pieces
salt
fresh ground pepper
Instructions
Make Spaetzle In a large bowl, whisk or beat eggs until they start to get foamy on top. Stir in milk. In a medium bowl combine four, salt and pepper. Add flour mixture to eggs a cup at a time, stirring until just combined. (over-working the dough makes it tough) You will have a fairly firm batter. If it's too firm and not sticky at all, add a bit of water. Don't worry if it's not perfectly smooth.
Bring a large pot of salted water to a boil. Working with 1/4 of the batter at a time, hold the spaetzle maker over the pot and slide the cup back and forth, allowing the dough to fall into the water. You may need to use a knife to help release the dough. Allow it to boil for another 2 1/2-3 minutes. Using a skimmer or a slotted spoon, transfer cooked spaetzle to the ice bath. Repeat three more times or until all the batter is used up. Once the ice has melted, drain the spaetzle. Put it in a bowl and toss with 1 tablespoon olive oil. At this point you can store it in the fridge, covered, for a day or so before proceeding.
Preheat oven to 400ºF.
Caramelize the onions In a large heavy pot combine olive oil, sliced onions, salt and 3 tablespoons of water. Heat the mixture until it starts to sizzle, then turn the heat down to a simmer, cover, and cook for 30 minutes, stirring occasionally.
Wilt the greens While the onions are cooking, heat oil in a large skillet over medium heat until hot but not smoking. Add greens and 2 tablespoons water. Cover and cook, stirring occasionally, until wilted, about 3 minutes. Remove from heat. Season to taste with salt and fresh ground pepper.
Assemble the dish In a large bowl toss spaetzle with wilted greens, caramelized onions and grated cheese. Season generously with salt and fresh ground pepper, to taste. Pour the whole mixture into a lightly oiled 9 x 13 inch casserole. Bake in the oven for 20-25 minutes, until heated through and cheese is melted.
Related Product:  spaetzle-maker
Disclaimer:  On occasion I provide links in my posts to cookbooks or other products, available for purchase on Amazon. If you purchase a product through these links, I receive a small commission with no extra cost to you.