When in Turkey, don't underestimate the significance of the size of your manti.   If you're served extremely small manti, your host thinks very highly of you – apparently the smaller the manti, the more special you are.  After spending an afternoon making manti from scratch, I totally get it.  This is not a dish you can throw together casually and serve to just anyone.  Each one of these tiny, lamb-stuffed dumplings is a carefully, hand-wrapped gift.  Once shaped, they're baked, boiled, and then topped with three different sauces – brown butter, caramelized tomato paste, and garlicky yogurt.  Making manti is definitely an undertaking, but it's totally worth the effort. All of the time and care that goes into making them comes shining through – when served a bowl of manti, you can feel the love.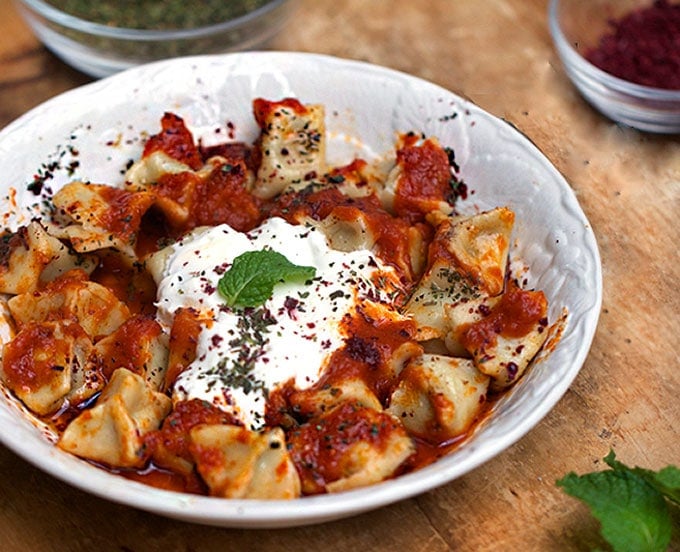 I told you about my culinary tour of Istanbul in my last post and I said that the recipes would be forthcoming.  Manti is a great one to start with because it has lots of qualities that exemplify Turkish cuisine:  wholesome fresh ingredients; lots of care in the preparation; it features yogurt and the spices – Aleppo pepper, sumac, and spearmint – very traditional in Turkish cuisine.
Manti starts with making a simple dough from flour, eggs, salt and water. The ingredients are stirred a bit with a fork and then kneaded by hand until a firm dough is formed.  It takes about ten minutes of kneading.
The ball of dough rests under a damp kitchen towel for a half hour.
Meanwhile you can prepare your meat mixture – lamb, onion, parsley and salt.  Or you can substitute beef, if you prefer.
After the dough rests, cut it into fourths and work with one piece at a time, keeping the others under the towel.
Roll the dough out as thin as you can – 1/16th of an inch is ideal.  At the Istanbul Culinary Institute they demonstrated, using a very thin rolling pin.
Then using a knife or pizza cutter, cut dough into small squares.  According to Turkish legend, if you really want to impress your guests, your manti should be small enough so that 40 of them can fit in one spoon. (I have to think they're talking about a very big spoon)  I truly can't imagine achieving anything close to that.  I made 1 1/2 inch squares, which are a manageable size to work with and still tiny enough to show the love – plus it's the width of my ruler, making it really easy to measure and cut.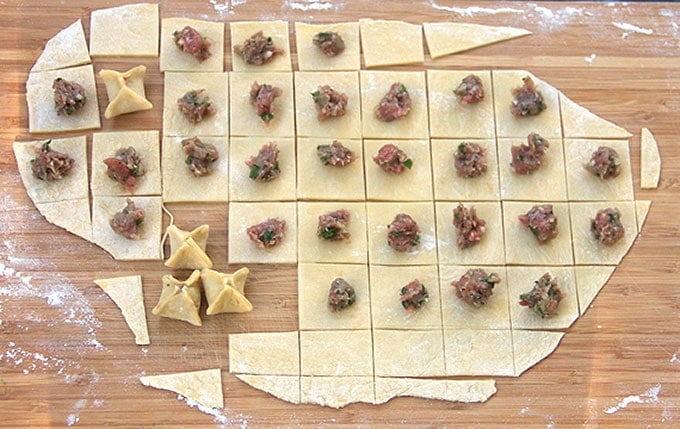 Pull up the four corners of dough around the meat and press the four seams firmly between your fingers to seal them shut.
Baking the manti in a 350 degree oven helps seal them and give them some bite.
There are many variations of manti – not only in size but also in how they're sauced.  Many call for lots of butter and/or spiced oil.  But I adapted the toppings to my own tastes, upping the amount of tomato sauce and decreasing the oil and butter.  The whole milk yogurt adds a good amount of creaminess, so I don't miss the extra fat.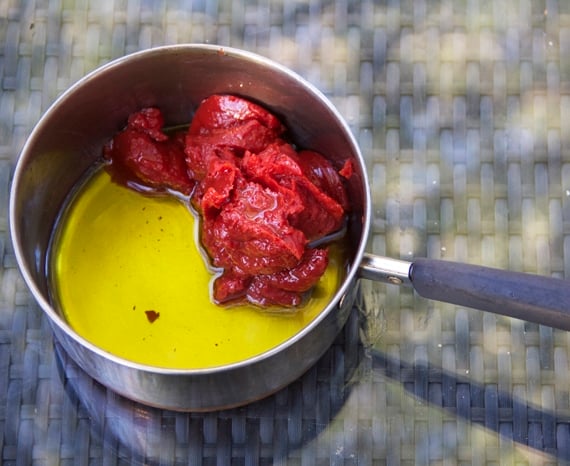 It only takes 7-8 minutes to make caramelized tomato paste and it has a wonderfully rich flavor.
And rather than the traditional method of adding pepper to the oil or butter, I chose to spice up the tomato sauce with Aleppo pepper.  I have to say – the spicy caramelized tomato paste paired with the garlicky yogurt is a beyond-belief delicious combination!
One final suggestion if you decide to tackle this recipe – invite a friend or make it a family activity.  I spent the afternoon making manti with my friend Donna and we had a blast – it didn't feel like work at all.

Related link: