Börek is a Turkish pastry with savory filling. The most common fillings are cheese, meat and spinach. I love these tasty little cheese-filled sigara börek (shaped like cigarettes) because they're great for grabbing and dipping and they're always a big hit at a party.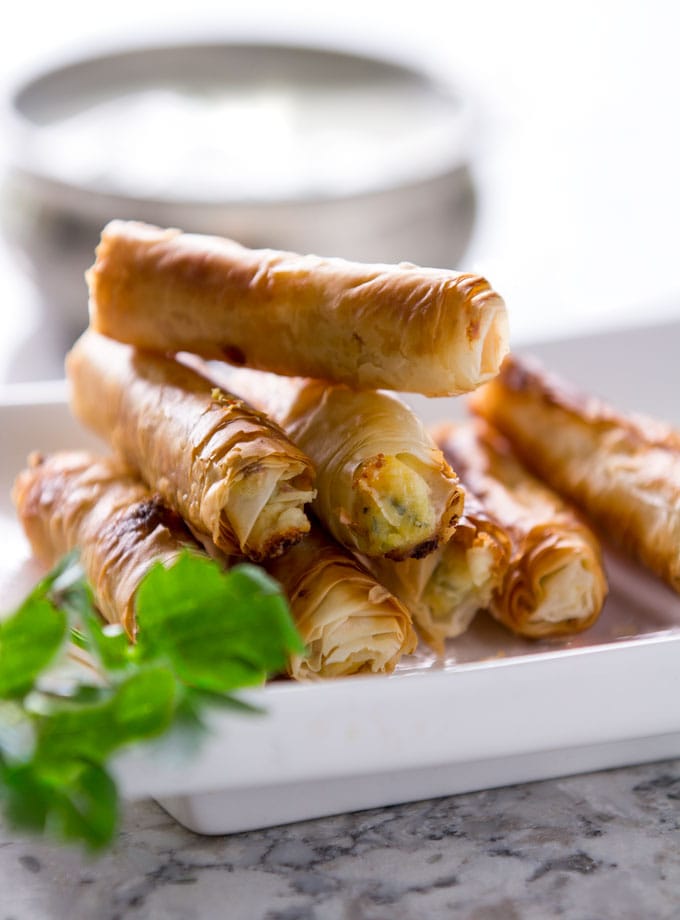 My travels to Istanbul left me with a long list of recipes I was excited to make at home. Sigara Börek was high up on the list. These scrumptious cheese filled phyllo rolls are perfect finger food - crispy, crunchy and packed-with-flavor.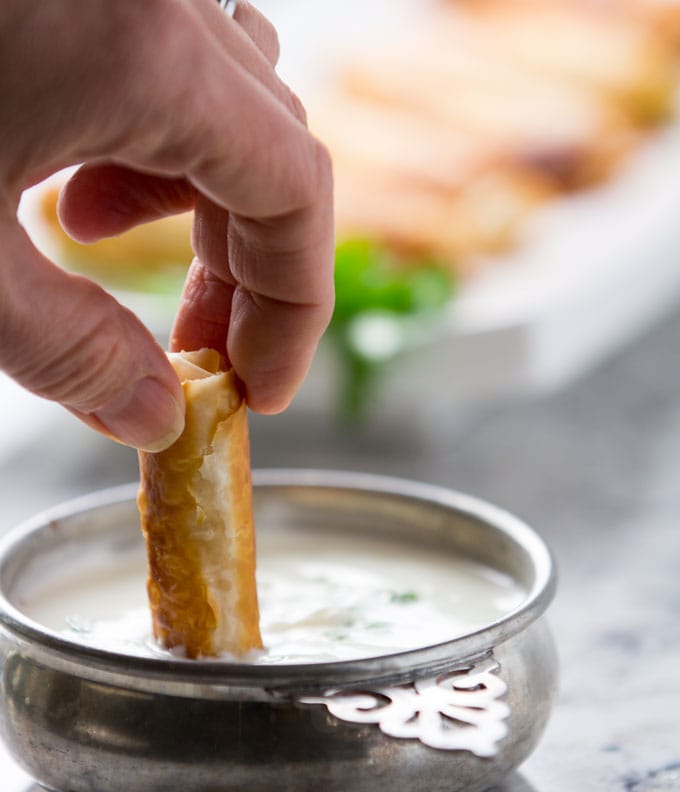 One of the best experiences of my Istanbul trip was lunch at the home of our friend's Ihsan's mother and sister. We were treated to a home-cooked traditional Turkish meal that began with a rooftop cocktail party. The passed appetizer was Sigara Börek.
That's where I first fell in love with this dish. I've made it many times since I returned home, for my own parties. It's always a big crowd pleaser.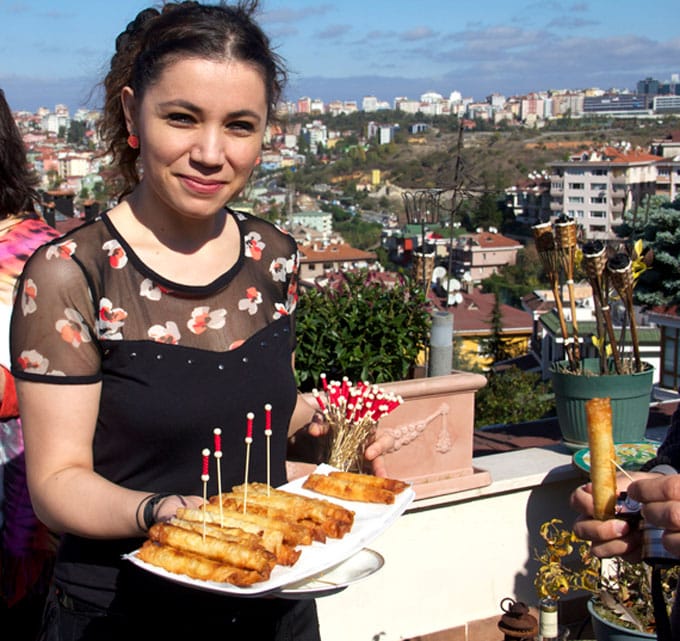 There are many varieties of Turkish börek. One type that's extremely popular looks like a white lasagna or a noodle kugel with a flaky, buttery top.
When I was in Istanbul there was a börekçi (börek shop) near my hotel that I walked past every day. That took serious willpower by the way. If not for the fact that I was on a culinary tour and needed to save room for lots of other delicious foods, I would have gone into that shop every day for some borek.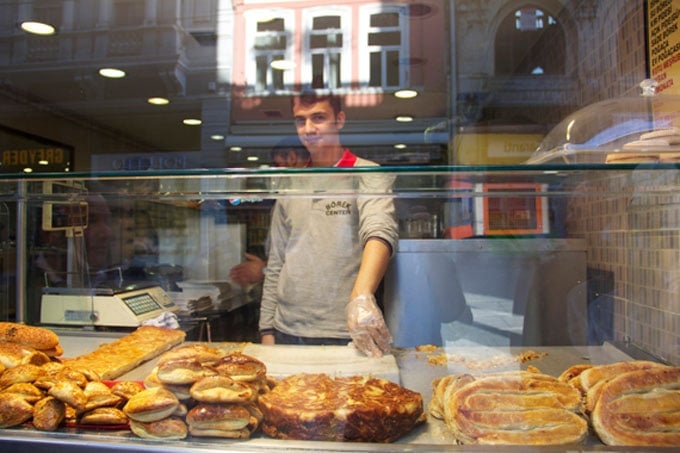 On the last day of my trip, just before we headed to the airport, I decided to get a taste. It was beyond exciting to watch the shop owner cut off a nice big piece for me, chop it up, and pile it into a paper bowl to go.
It was pure heaven!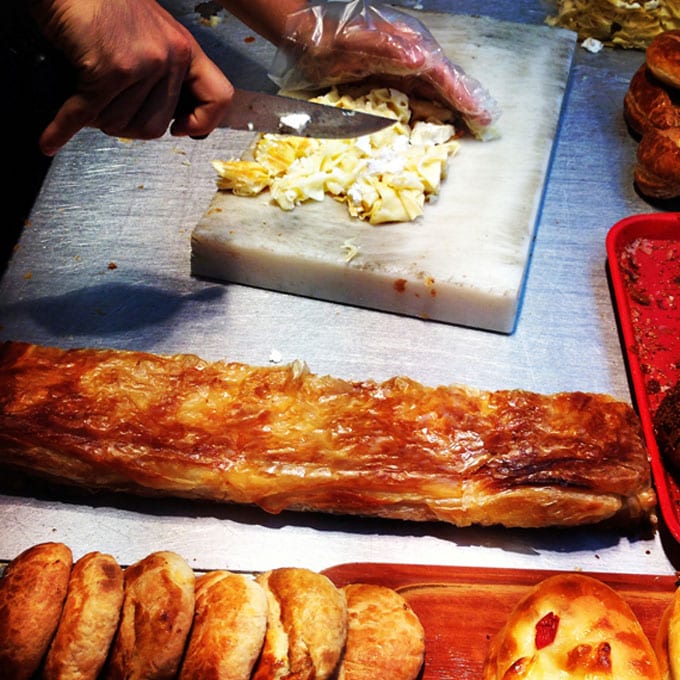 HOW TO MAKE SIGARA BÖREK
This sigara börek recipe takes some time but is well worth the effort. The steps are: make the cheese filling; roll up the filling in strips of phyllo; sauté the rolls. Done!
Make The Cheese Filling: Mix crumbled feta with chopped scallions, parsley, eggs, and pepper.
Roll up the Borek: Set up a rolling station with a bowl of the feta mixture, a small bowl of water, your defrosted phyllo dough covered with a clean, damp dish towel, and a plate to place the rolls on, as you make them.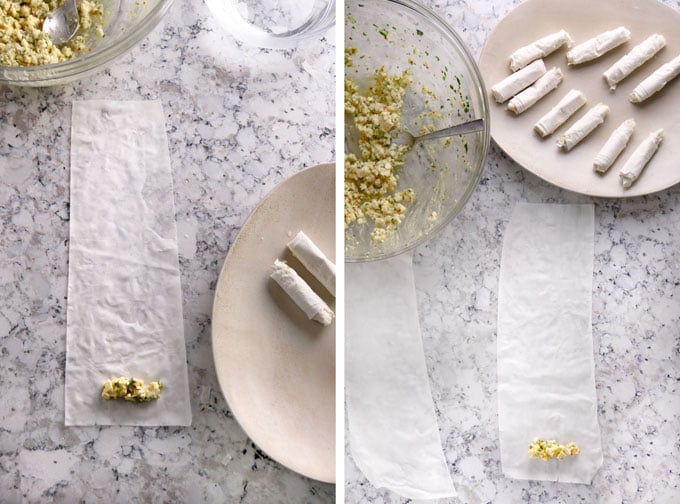 Place one sheet of phyllo on your work surface.
Cut it into four strips and don't worry about being too precise. It doesn't matter if your strips are a little uneven.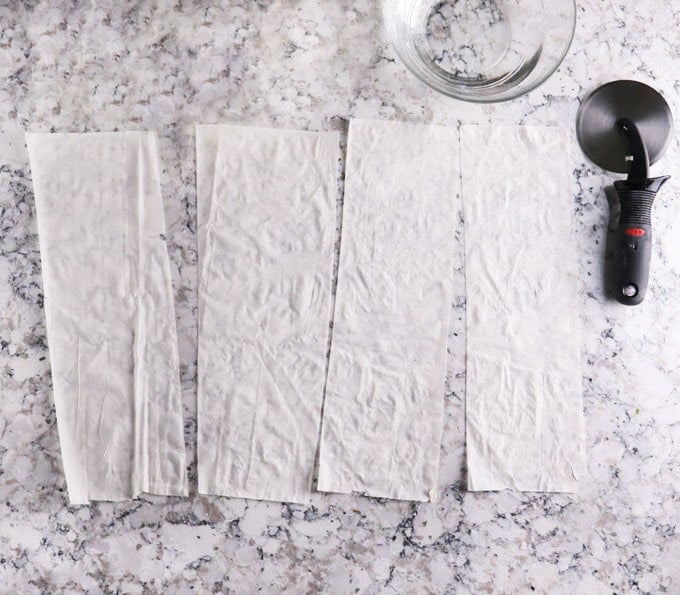 Put about 2 teaspoons of the feta mixture at the end of one strip, leaving a border on the end and on each side so that you can fold the long sides of the phyllo over the cheese, to meet each other in the middle.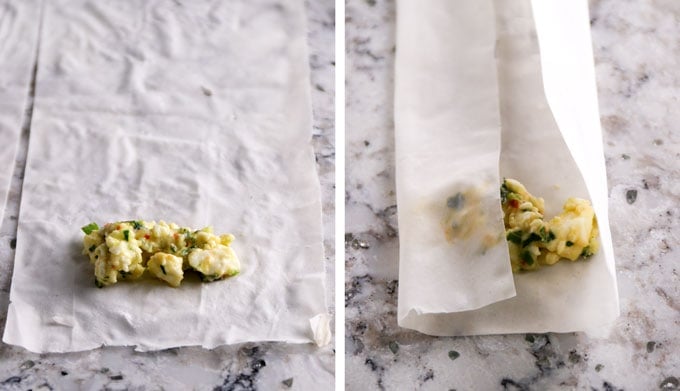 Roll up the dough to the end.
Repeat, rolling up the filling in strips of phyllo dough, until you've used all of your filling.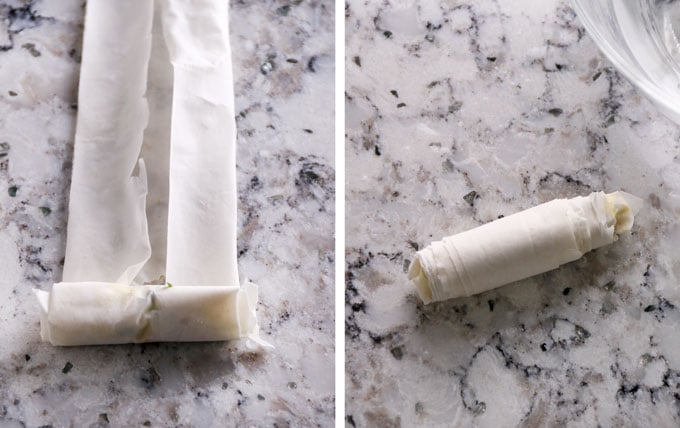 Sauté the rolls in a skillet until crisp and brown.
Drain them on paper towels.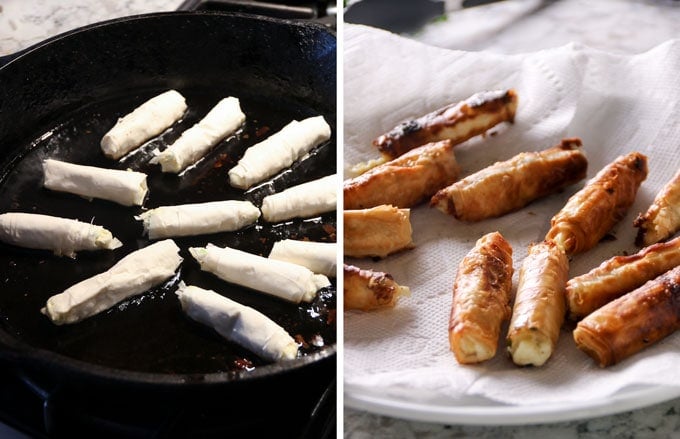 Serve börek warm or at room temperature.
Sigara Borek are such a delicious treat, crisp and flavorful. I love them with the garlicky yogurt sauce but they're also excellent on their own.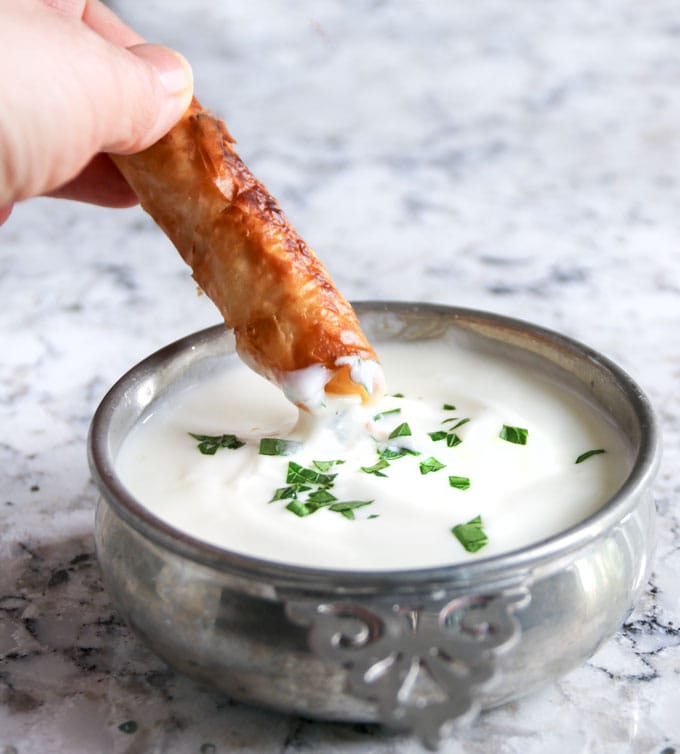 Tips For Working With Phyllo:
The biggest challenge of this recipe is learning how to handle the delicate phyllo sheets so they don't dry out or rip. Read through these tips and you should have no problems.
Defrost the phyllo dough: Phyllo dough is sold frozen. If you defrost it according to the package directions, which takes several hours, it will be perfect to work with. A couple of times, when I needed to rush the thawing process, I had success with putting the whole unopened box of phyllo in a warm oven (preheated to 300ºF and then shut off) for 30 minutes. I can't promise that it will work for you - you are safer to go by the book - but in a pinch you can give my unconventional thawing method a try.
Keep phyllo dough moist: Once you remove your phyllo from the box and take it out of the plastic, it will immediately start to dry out. Be prepared with a clean, damp dish towel. Keep your phyllo sheets rolled up, placed on a cutting board or platter, covered with the towel at all times. Lift the towel off briefly, unroll the stack and pull out a sheet to work with. Then re roll and recover the stack.
Don't fret if your phyllo sheets tear: if they crack or crumble a bit while you're rolling them, dab some water on the the torn part and keep rolling, and everything will usually stick together and result in a perfect little roll.
Expect to throw away a bunch of phyllo sheets. It's virtually impossible to work with these delicate sheets without messing up a few times. As hard as I try to be gentle, I often end up ripping some of them badly as I pull them out of the stack. There are about 20 sheets in a 1-pound box. Multiply that times four (since you're cutting the sheets into fourths) and that gives you 80 strips - more than you will need for this recipe. So don't fret if at first you don't succeed.
How to Freeze borek
You can make the sigara borek rolls ahead and refrigerate them for a day or two before cooking.
You can freeze uncooked börek and cook them straight from the freezer.
To freeze borek, lay the rolls out in layers, with waxed paper in between, in a container with a tight-fitting lid.
Freeze Borek for up to 2 months. Cook them straight from the freezer.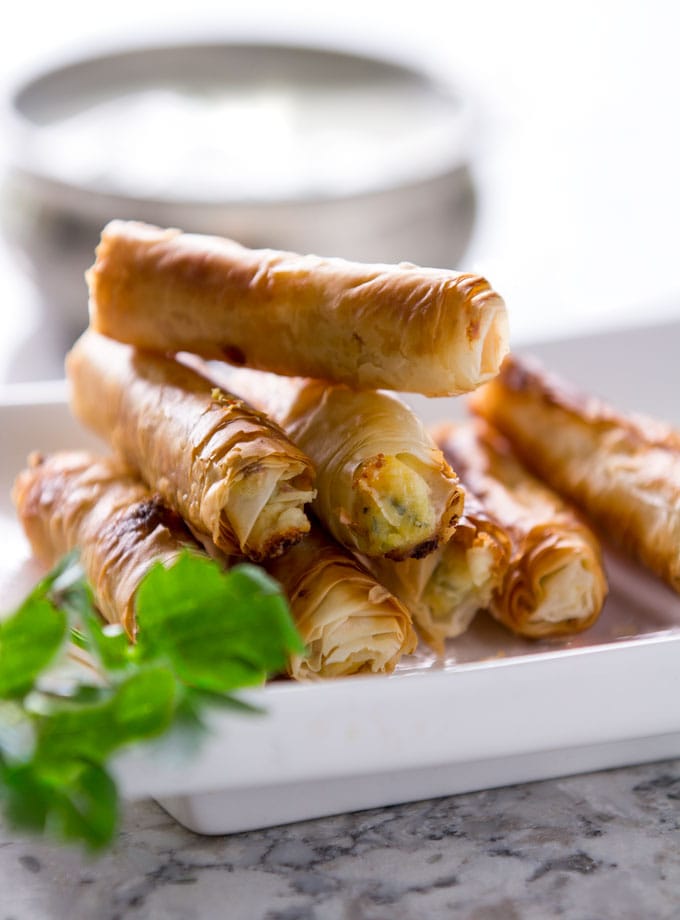 While we're on the topic of delicious Turkish food, here are a few more of my favorite Turkish Recipes:
Here's the Sigara Borek Recipe. If you make this I hope you'll come back to leave a review and let me know what you think.
Print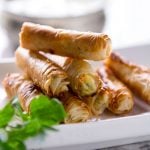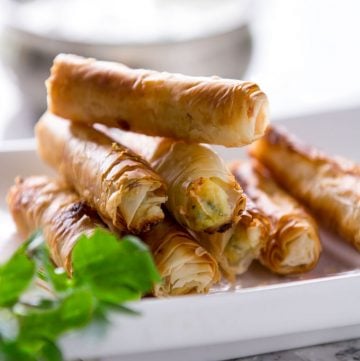 Turkish Sigara Borek Recipe: Crispy Cheese Rolls
---
Author:

Lisa

Total Time:

1 hour 20 mins

Yield:

40

-

50

rolls

1

x
Description
Crisp phyllo rolls filled with feta and scallions. A delicious Turkish appetizer recipe.
---
Equipment:
Pizza cutter for slicing phyllo into strips
Large cast iron or non-stick skillet
A clean damp dish towel to keep phyllo sheets from drying out
For The Yogurt Sauce:
1 ½ cups

plain yogurt, not Greek (low fat is fine)

2

medium garlic cloves, peeled and finely minced or pressed
A pinch of salt, to taste
A sprinkle of chopped parsley to garnish, optional
For The Borek:
12 ounces

of crumbled Feta cheese

2

large eggs

4

-

5

scallions, trimmed and finely chopped (

5

-

6

tablespoons)

2 tablespoons

finely chopped parsley, plus a bit to garnish the yogurt sauce

½ teaspoon

Aleppo pepper or Maras pepper (or substitute

¼ teaspoon

sweet paprika plus

¼ teaspoon

crushed red pepper flakes)

1

pound of store-bought phyllo dough (or Yufka dough if you can find it), defrosted per package instructions. I buy organic phyllo dough that I find in the freezer section at Whole Foods.

¼ cup

vegetable oil (or more) for frying
---
Instructions
Make The Yogurt Sauce: Combine all the ingredients in a small bowl. Cover and chill until ready to use. This can be made several hours ahead.
Make The Borek filling: In a large bowl mix feta, eggs, scallions, parsley and pepper.
Roll em up: Set up a work station: Set out your roll of phyllo sheets and cover them with a damp dish towel. You'll need a small bowl of water, a pizza cutter, and a large plate or tray to lay the rolls on.
Place one sheet of phyllo on your work surface with the longer edge facing you. Cut it, vertically, into 4 equal strips. Put about 2 teaspoons of the feta mixture near the end of one strip, leaving a one-inch border on each side. Fold the 2 long sides of the phyllo over so they meet in the middle, covering the cheese filling. Roll up the filling and keep rolling until you get almost to the end of the strip. Moisten the end with some water and then finish rolling. The water helps seal the roll. Repeat with the other 3 rolls. Set them on a plate. Repeat the process until you use up your filling. Leftover phyllo sheets can be kept in the fridge for a few days, tightly sealed in plastic. (see photos and tips in the blog post)
Sauté The Rolls: Line a plate with a double layer of paper towels. Heat oil in a skillet over medium high heat until the oil wrinkles. Brown the rolls in batches (don't overcrowd) for 3-4 minutes, turning often, until golden brown on all sides. Transfer to towel-lined plate to drain. Repeat with remaining rolls, adding more oil if necessary.
Serve Borek warm or at room temp, with yogurt sauce to dip, if you like.
Notes
Make ahead and Freezing Instructions: Sigara Borek Rolls can be assembled ahead and refrigerated for a day or two before cooking. Serve them warm or at room temperature.
Uncooked borek rolls can be frozen and cooked straight from the freezer. To freeze, lay the rolls out in layers, with waxed paper in between, in a container with a tight-fitting lid.
Prep Time:

1 hour

Cook Time:

20 mins

Category:

Appetizer

Method:

Sauté

Cuisine:

Turkish
Keywords: Turkish sigara borek recipe, cheese borek
.