I think most would agree that all salads are not created equal. My first encounter with a Salade Composée was in Paris many years ago and I was blow away by the presentation of each delicious, carefully-chosen element arranged thoughtfully on the plate. I love making salades composées when I entertain. This Salmon Niçoise salad recipe comes from a friend and it's one of my favorites. It has tender cooked salmon, lentils, potatoes, asparagus, and roasted tomatoes. Each element is wonderful on it's own. Put them all together and you've got a gorgeous feast. This is a fantastic recipe for entertaining because you can make everything ahead.
I keep craving this Niçoise Salad… and making it… again and again. It all started last summer, when I visited my friend Ingrid at her home in Camden Maine. She prepared a meal that I loved so much – I had to recreate it at home: salmon niçoise salad and a rustic fresh cherry tart (I blogged about the tart back in July).
Here's a photo of Ingrid's salmon niçoise, taken with my iPhone. She grilled the salmon and tossed a mix of purple and white potatoes with a creamy vinaigrette. There were pencil asparagus on the platter, along with a pile of delicious lentils, lots of salty black olives and a lightly-dressed mesclun salad.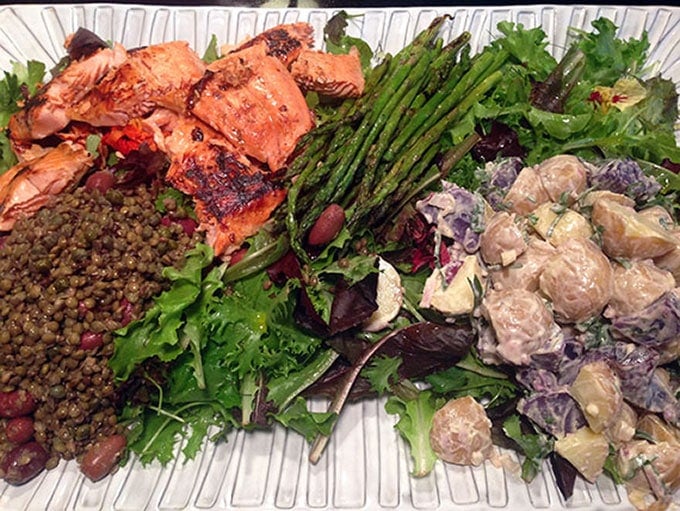 I've since enjoyed many similar meals, modeled after Ingrid's salmon niçoise – like this one with grilled salmon, purple and white potatoes, lentils, and roasted roma tomatoes.
….and this one with broiled salmon, roasted tomatoes and new potatoes…
As I said, I've made it again and again, but I won't bore you with too many photos. Here's the most recent version, that I made a couple of weeks ago, for a casual Friday night gathering with friends.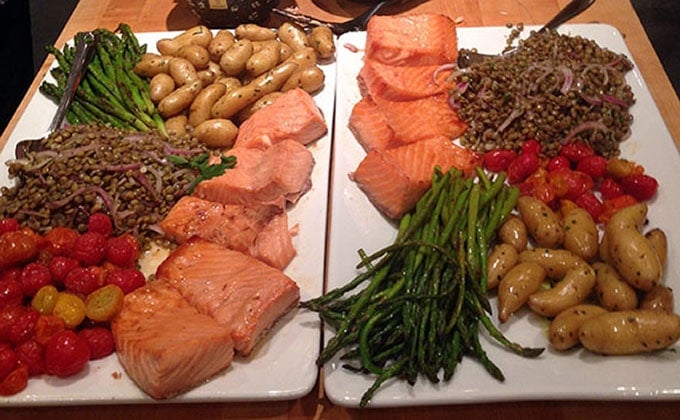 The dish, as you see, is very adaptable. Roast whatever tomatoes look the ripest and sweetest.
Choose small potatoes or cut up big ones.
Toss them while they're still hot, with olive oil, salt and pepper.  You can add some finely chopped shallots, too, if you like. Then add chopped herbs once they've cooled off a bit. Pick any herbs you like – chives are my favorite.
Steam or sauté the asparagus.  Or choose another vegetable or mesclun salad with a lemony dressing, like the one I use for my classic Salad Niçoise.
Grill or broil the salmon. In this version, I use a simple but delicious Asian-inspired marinade, and a broiling technique that results in deliciously tender salmon.  You can make it up to a day ahead and keep it in the fridge until you're ready to assemble the Niçoise Salad.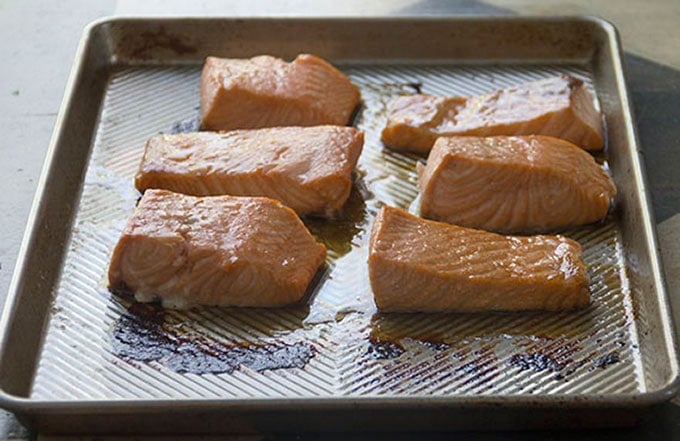 For the lentils, I took some inspiration from one of my favorite chefs – Yotam Ottolenghi.
It's a simple but delicious preparation of cooked lentils, mixed with thinly sliced red onion, red wine vinegar, garlic, salt, pepper and herbs.
This is the kind of meal that makes me happy – it's got so many exciting things going on and they're all healthy and delicious.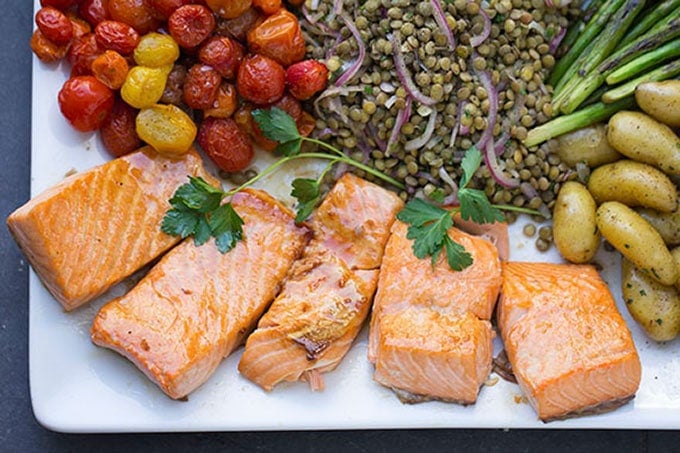 MORE DELICIOUS SALADES COMPOSEE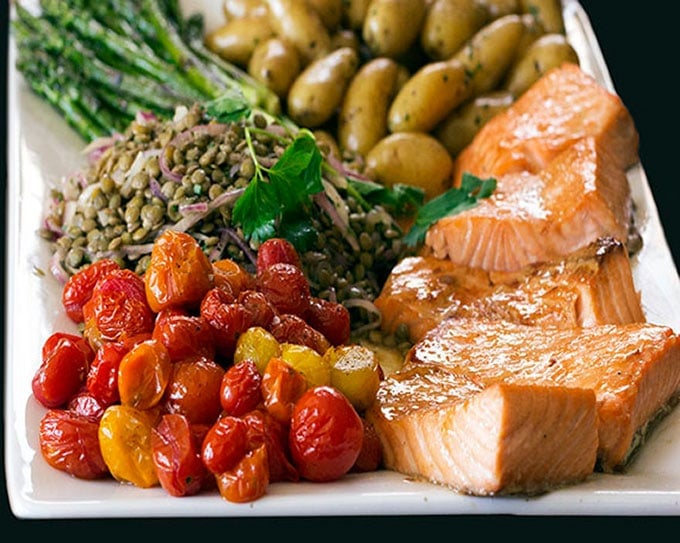 Here's the recipe for Fusion Salmon Nicoise Salad. If you try this recipe I hope you'll come back to leave a comment. I'd love to know what you think!
Print
Fusion Salmon Nicoise Salad
Composed salad of broiled salmon, lentils, potatoes, asparagus and roasted tomatoes. You can make it all ahead and serve at room temp. Perfect for lunch, brunch, dinner and entertaining.
Author: Panning The Globe
Prep Time:

30 mins

Cook Time:

1 hour 10 mins

Total Time:

1 hour 40 mins

Yield:

5

1

x
Category:

Main Dish

Cuisine:

Out of This World
Scale
Ingredients
Salmon and Marinade

26 ounce

s skinless salmon fillet, cut into 5 pieces (or about

5 ounce

s per person)

1/4 cup

soy sauce

3/4 cup

maple syrup

1 tablespoon

Asian sesame oil
For the Roasted Cherry Tomatoes

3 pint

s cherry tomatoes

1 tablespoon

olive oil

2 tablespoon

s balsamic vinegar

1 teaspoon

kosher salt

4

–

5

sprigs of fresh thyme (optional)
Lentils

1 1/2 cup

s green (sometimes called brown) lentils, rinsed and picked over.

1

small red onion, peeled, halved and very thinly sliced

1 tablespoon

red wine vinegar

4 tablespoon

s extra virgin olive oil

1

large garlic clove, pressed

1 teaspoon

kosher salt

3 tablespoon

s finely chopped chives (optional)
Potatoes

1 1/2

–

2

pounds fingerling potatoes

2 tablespoon

s extra virgin olive oil

1 teaspoon

kosher salt
Freshly ground black pepper, to taste

1

shallot, peeled and finely minced (optional)

3 tablespoon

s finely chopped chives (optional)
Asparagus

1

bunch asparagus, trimmed

1 tablespoon

olive oil
Salt and pepper, to taste
Instructions
Marinate the Salmon: Mix the marinade ingredients. Put the salmon in a non-reactive container, just large enough to hold it in a single layer. Pour marinade on top. Marinate for 1/2 hour at room temperature or up to 24 hours in the fridge.
Roast the Tomatoes: Preheat oven to 400ºF. In a large bowl, toss the tomatoes with oil, balsamic, salt and pepper. Line a jellyroll pan with parchment paper. Spread tomatoes out on top. Toss on thyme sprigs, if using. Roast tomatoes for 25-30 minutes, until they soften and their skins split. Remove pan from the oven and set aside.
Cook the Lentils: Put onion in a small bowl and toss with vinegar. Set aside and let onion soften. Bring 6 cups water to a boil in a medium saucepan. Add the lentils to the hot water and return to a boil. Reduce heat and simmer lentil, partially covered, for about 22 minutes, until lentils are cooked but still firm. Drain and transfer to a large bowl. While lentils are still hot, toss them with the oil, onions, garlic, and salt. (add herbs after they cool)
Cook the Potatoes: Put potatoes into a large pot, cover with water by an inch or two, and turn the heat to high. As soon as the water comes to a boil, set the timer for 10 minutes. Check potatoes for doneness – they should be cooked but still firm. Drain potatoes. Toss them while hot, with olive oil, salt, pepper, and shallots, if using. Add herbs once they cool.
Saute the Asparagus: Coat the bottom of a large heave skillet (cast iron is best) with 1 tablespoon olive oil. Turn the heat to medium high. When the oil is hot add the asparagus. Cook, tossing frequently, until they are cooked but still firm, about 6 minutes. Note: for very thick asparagus brown them for a few minutes and then add 2 tablespoons of water, cover the skillet, and let the asparagus steam for 5 minutes or so, until they are cooked through. Transfer asparagus to a plate and set aside.
Broil the Salmon: preheat the broiler. Take the salmon out of the marinade and place it on a baking tray, leaving space between the pieces. Cook salmon for 6 minutes. Remove tray from oven and put it on the stove top or another heat-proof surface. Quickly tent the salmon with foil, fastening the foil to the edges of the pan to keep the steam in. Let the salmon steam for 10 minutes. Then transfer it to a covered container, if making ahead, and keep it in the fridge for up to 24 hours.
Assemble the Salad: Arrange the salmon, lentils, tomatoes, potatoes, and asparagus on a large platter. Enjoy!