This Salmon Niçoise Salad is a redesign of the classic French salad, with Asian marinated salmon as the centerpiece accompanied by lentils vinaigrette, herbed potatoes, sautéed asparagus, and roasted tomatoes.

Each element in this salad is wonderful on its own. Put them all together and you have a bountiful feast. I love to make this for company because everything can be prepared ahead of time.
A big shout out to my friend Ingrid who inspired this recipe. She cooked the most spectacular dinner for me when I visited her at her home in Maine: salmon niçoise salad and a fresh cherry tart. Both of these delicious dishes are now Panning The Globe.
SALMON NIÇOISE SALAD: VARIATIONS ON THE THEME
Here's a photo of Ingrid's salmon niçoise (taken with my iPhone). Her salad had grilled wild salmon, purple and white potatoes with creamy vinaigrette, sautéed pencil asparagus, lentils, black olives and a lightly-dressed mesclun salad.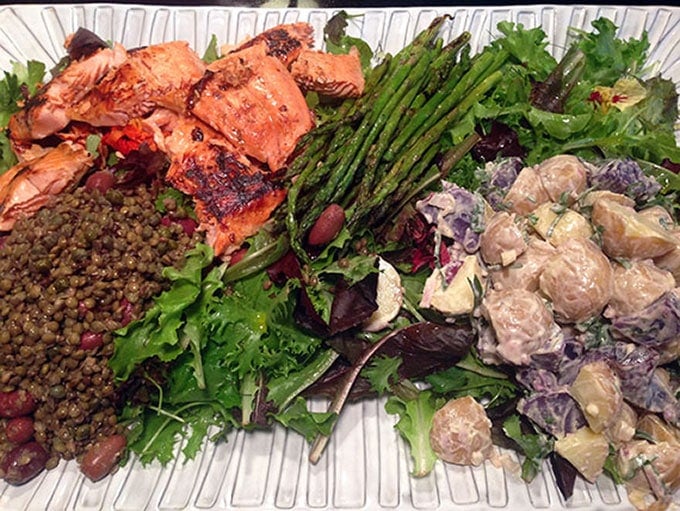 It was a beautiful, healthful meal and I couldn't wait to re-create it at home. Here are some of the combos I came up with:
Grilled salmon, purple and white potatoes, lentils, kalamata olives and roasted Roma tomatoes
Broiled salmon, roasted tomatoes, boiled new potatoes, lentils and asparagus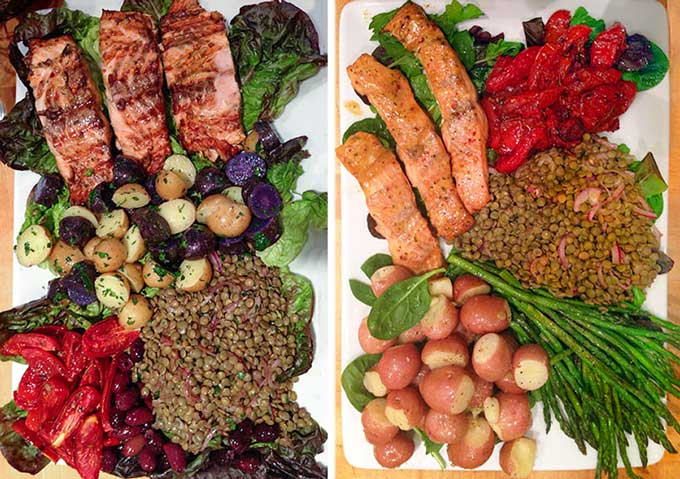 And finally, my favorite rendition with Asian-marinated broiled salmon, Ottolenghi lentils, sautéed asparagus, herbed fingerling potatoes and roasted cherry tomatoes. There are two platters here because I was hosting a large crowd.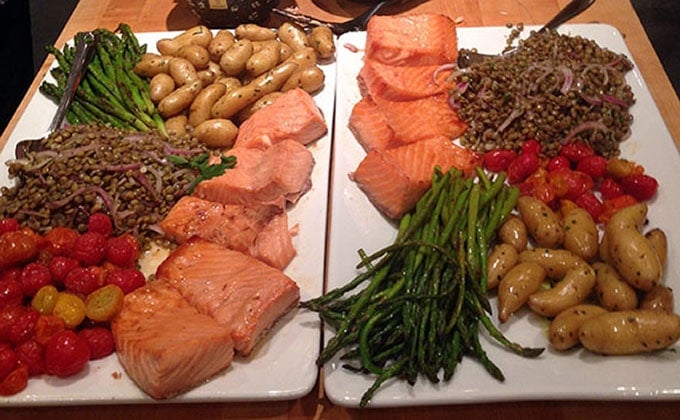 This dish, as you can see, is adaptable. Use your favorite veggies and potatoes or whatever is fresh and in season. Here's how to make my favorite version of Salmon niçoise Salad:
ASIAN MARINATED BROILED SALMON
You'll make a simple 3-ingredient Asian-inspired marinade for the salmon, a mix of soy sauce, maple syrup and sesame oil.
The salmon is cooked for a short time under the hot broiler, then tented with foil to finish cooking.
This technique will give you the most incredibly tender salmon.
The salmon can be marinated and broiled up to a day ahead, stored in the fridge until you're ready to assemble the salmon Niçoise salad.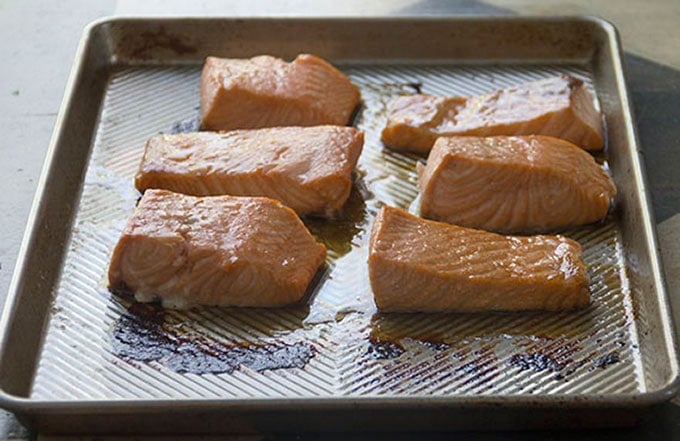 VEGETABLES AND LENTILS
Sweet, oven roasted cherry tomatoes: toss tomatoes with olive oil, salt and pepper and pop them in the oven for 25 minutes.
Herbed fingerling potatoes: Boil and drain potatoes, and while they're still hot toss with olive oil, salt, pepper and shallots. Cool and add chopped herbs.
Simple sautéed the asparagus: toss asparagus in a skillet with olive oil, until just tender. Season with salt and pepper.
Ottolenghi inspired lentils: Lentils are cooked and then tossed with oil, vinegar, red onions, herbs, salt and pepper.
Or choose another vegetable, or make a simple mesclun salad with a lemony dressing like the one I use for this classic Salad Niçoise.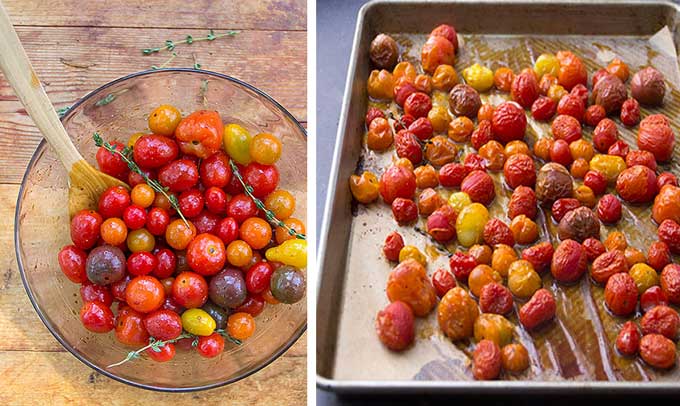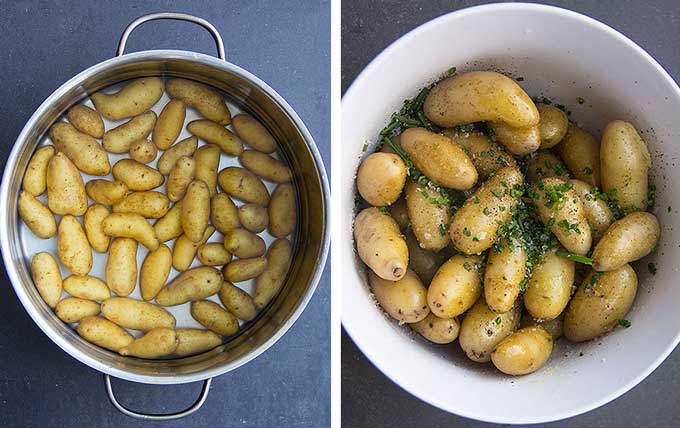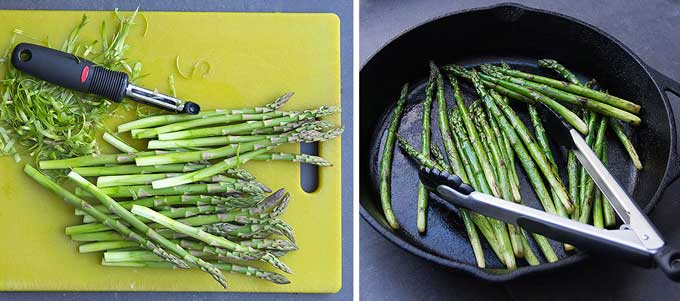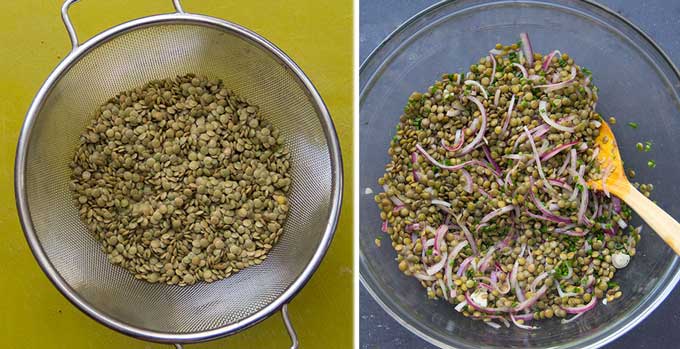 This meal makes everyone happy, a colorful smorgasbord of delicious food. Healthy, to boot!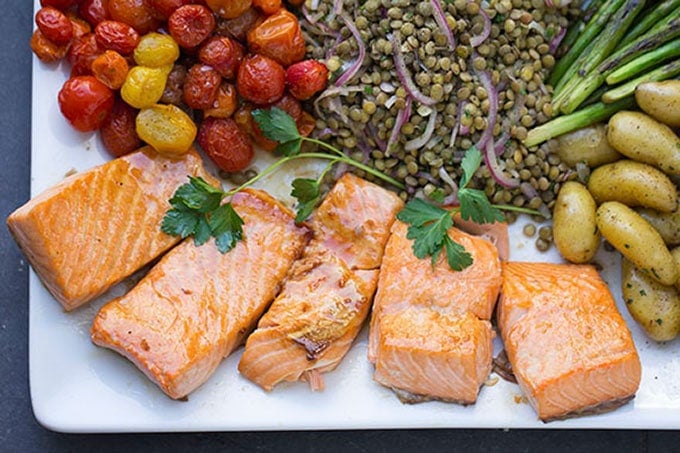 IF YOU'RE A FAN OF COMPOSED SALADS, here are a few more favorites from Panning The Globe: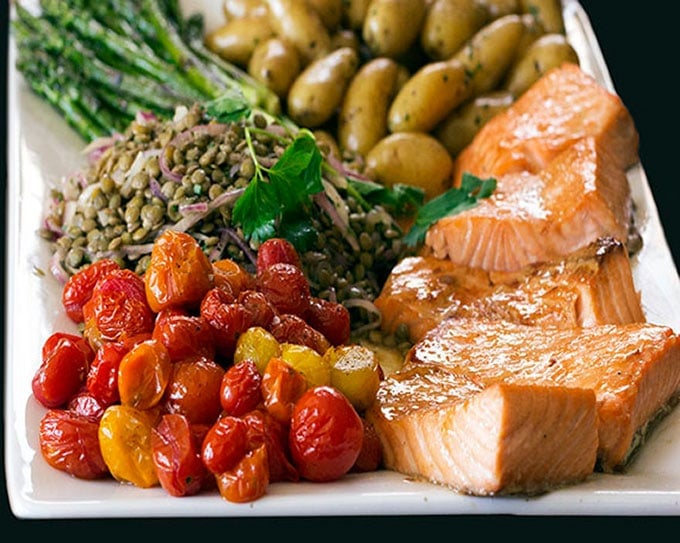 Here's the recipe for Salmon Niçoise Salad. If you try this recipe I hope you'll come back to leave a star rating and a comment. I'd love to know what you think!
Print
Salmon Nicoise Salad
---
Author:

Lisa

Total Time:

1 hour 40 mins

Yield:

5

1

x
Description
A bountiful composed salad with broiled salmon, lentils, potatoes, asparagus and roasted tomatoes. A great recipe for entertaining because you can make everything ahead of time.
---
Salmon and Marinade

26 ounces

skinless salmon fillet, cut into 5 pieces (or about

5 ounces

per person)

¼ cup

soy sauce

¾ cup

maple syrup

1 tablespoon

Asian sesame oil
For the Roasted Cherry Tomatoes

3 pints

cherry tomatoes

1 tablespoon

olive oil

2 tablespoons

balsamic vinegar

1 teaspoon

kosher salt

4

-

5

sprigs of fresh thyme (optional)
Lentils

1 ½ cups

green (sometimes called brown) lentils, rinsed and picked over.

1

small red onion, peeled, halved and very thinly sliced

1 tablespoon

red wine vinegar

4 tablespoons

extra virgin olive oil

1

large garlic clove, pressed

1 teaspoon

kosher salt

3 tablespoons

finely chopped chives (optional)
Potatoes

1 ½

-

2

pounds fingerling potatoes

2 tablespoons

extra virgin olive oil

1 teaspoon

kosher salt
Freshly ground black pepper, to taste

1

shallot, peeled and finely minced (optional)

3 tablespoons

finely chopped chives (optional)
Asparagus

1

bunch thin asparagus, trimmed

1 tablespoon

olive oil
Salt and pepper, to taste
---
Instructions
Marinate the Salmon: Mix the marinade ingredients. Put salmon in a non-reactive container, just large enough to hold it in a single layer. Pour marinade on top. Marinate for ½ hour at room temperature or up to 24 hours in the fridge.
Roast the Tomatoes: Preheat oven to 400ºF. In a large bowl, toss the tomatoes with oil, balsamic, salt and pepper. Line a jellyroll pan with parchment paper. Spread tomatoes out on top. Toss on thyme sprigs, if using. Roast tomatoes for 25-30 minutes, until they soften and their skins split. Remove pan from the oven and set aside.
Cook the Lentils: In a small bowl toss sliced onion with vinegar. Set aside to let onion soften. Bring 6 cups water to a boil in a medium saucepan. Add the lentils to the hot water and return to a boil. Reduce heat and simmer, partially covered, for 18-22 minutes or until lentils are cooked but still firm. Drain and transfer to a large bowl. While lentils are hot, toss with the 4 tablespoons olive oil, softened onions, garlic clove, and teaspoon of salt. When cool, toss with herbs.
Cook the Potatoes: Put potatoes into a large pot, cover by one inch with water and turn the heat on high. When water boils, cook for 10 minutes and check for doneness. Drain and, while hot, toss with olive oil, salt, pepper and shallots. When potatoes are cool, toss with herbs.
Sauté the Asparagus: Coat the bottom of a large heave skillet (cast iron is best) with 1 tablespoon olive oil and set over medium high heat. When the oil is hot add the asparagus and cook, tossing frequently, until cooked but still firm, about 6 minutes.* Transfer asparagus to a plate and set aside.
Broil the Salmon: preheat the broiler. Remove salmon from marinade and arrange on a baking tray, leaving space between the pieces. Cook salmon under the broiled for 6 minutes. Remove tray from oven and immediately tent with foil, fastening the foil to the edges of the pan to keep the steam in. Let the salmon steam for 10 minutes.*
Assemble the Salad: Arrange the salmon, lentils, tomatoes, potatoes, and asparagus on a large platter. Enjoy!
Notes
For thick asparagus: brown them for a few minutes, then add 2 tablespoons of water, cover the skillet, and let them steam for 5 minutes or so, until they are cooked through.
Cook The Salmon Ahead: This salmon is delicious at room temperature. It can be prepared up to 24 hours ahead. After cooking, let it cool for 10-15 minutes, then transfer to a covered container and store in the fridge. Let it come to room temperature before serving.
Cook The Vegetables and Lentils Ahead: The lentil salad can be prepared up to 24 hours ahead. The potatoes, tomatoes and asparagus can be prepared up to three hours ahead. Everything can be stored, covered, in the fridge, and brought to room temp before serving.
Prep Time:

30 mins

Cook Time:

1 hour 10 mins

Category:

Main Dish

Method:

broil

Cuisine:

Out of This World
Keywords: nicoise salad, composed salad, salmon salad