This healthy shrimp salad from Canyon Ranch looks elegant and tastes great, with assorted delicacies arranged on a thin layer of hummus. It's a light and delicious dish that's perfect for brunch or lunch.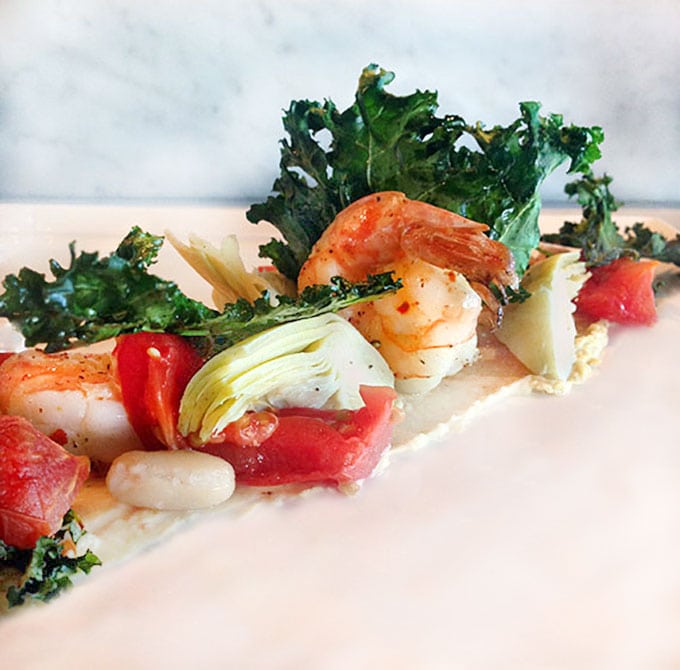 I just returned from a rejuvenating get-away, four days at Canyon Ranch in the Berkshires. That's where this delicious Mediterranean shrimp salad recipe comes from. Canyon Ranch, if you don't know it, is a health resort and spa in Lenox Massachusetts - a two hour drive from Boston. I went there because I was feeling frazzled and craving time away from work, chores and responsibility.
Work-life-balance - I assume that's a goal for all of us. I know it is for me, and I'm really bad at it. I always try to get all my work done before I relax, and lately I never seem to get to the relaxing part. So off I went in search of some R&R, very grateful to my family for supporting my little private vacation.
I arrived at noon on a crisp sunny day. The first thing I did was to sit in an Adirondack chair for a half hour, staring at the view. I could feel my stress melting away instantly as I inhaled the expansive view of trees and distant mountains, and felt the heat of the sun on my face.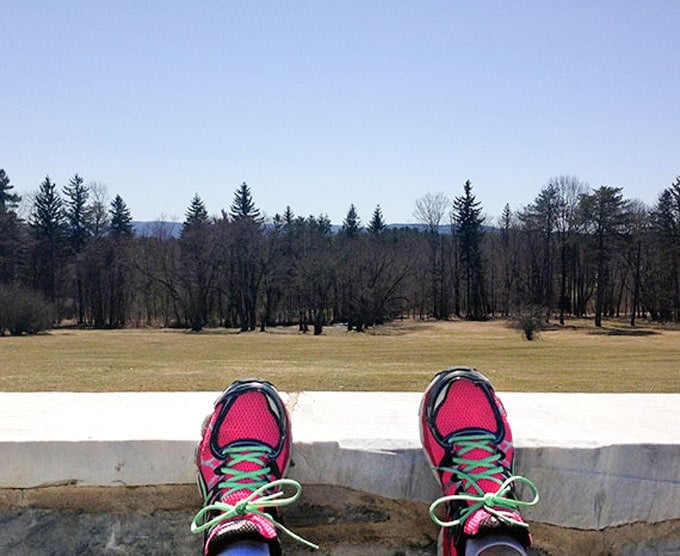 One of the many things I was looking forward to on my get-away was the food. Just having food cooked and served to me was big, plus the food at Canyon Ranch is in line with how I like to eat - heavy on the veggies, low in unhealthy or unnecessary fats, and delicious. Although I wanted a vacation, I couldn't resist doing a little work so I could bring back a recipe for Panning The Globe. So after I booked my stay, I made some inquiries to see about meeting the chef. The folks in the PR department were very accommodating and set up a meeting for me with Kyle Nottingham, chef de cuisine of their new Mediterranean Café.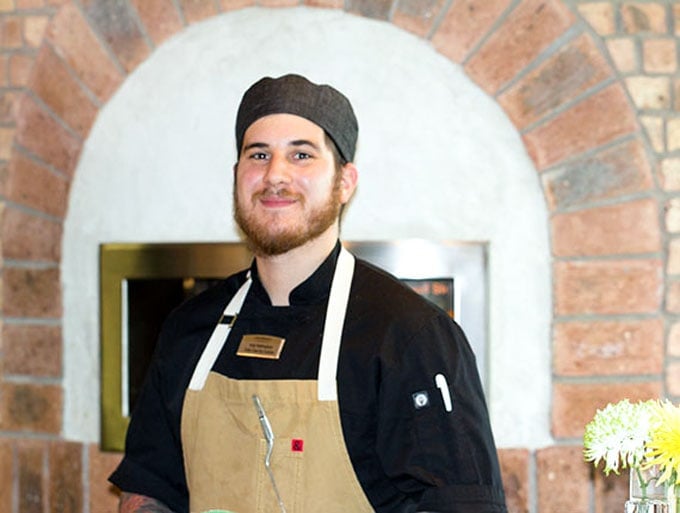 Chef Kyle had just developed a new recipe, yet to be launched on the café menu: healthy shrimp salad with white beans and kale. He did a demo for me and then served me the dish. It was so good! And pretty simple to make. You may even have some of the ingredients on hand, like canned artichoke hearts, canned white beans, and hummus.
This would be a great light entree for brunch or dinner. It would also work well as a dinner party appetizer. The plating is so fun and festive, with all the colorful ingredients separated by crisp kale leaves, standing proudly between them.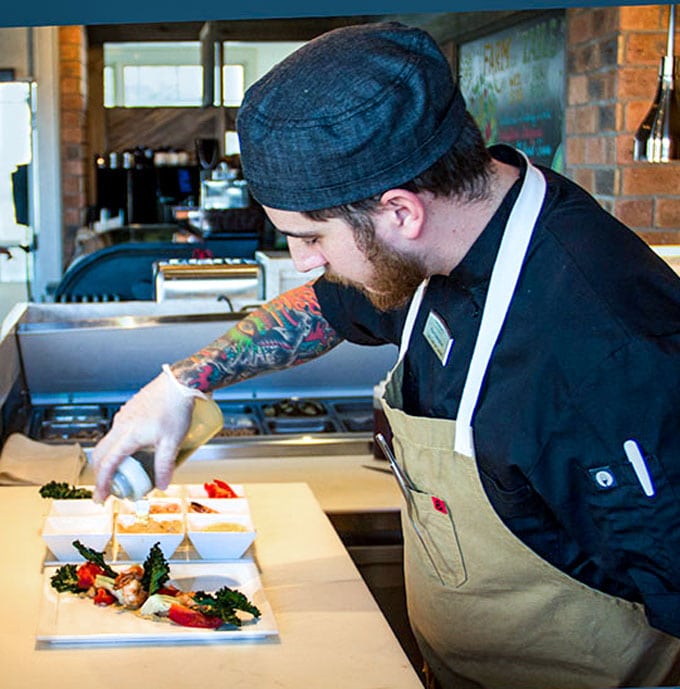 HOW TO MAKE CANYON RANCH HEALTHY SHRIMP SALAD
First roast the tomatoes and crisp the kale in the oven. Sauté the shrimp.
To plate the salad, Chef Kyle started by spooning a heaping tablespoon of hummus onto one corner of the plate. He then used a small metal spatula to spread out the hummus across the plate.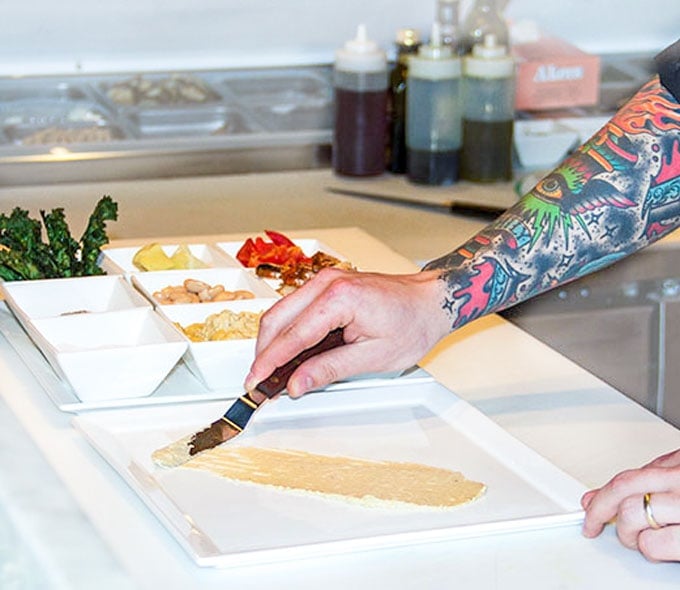 This became the glue for the shrimp and all the rest of the ingredients: artichoke hearts, roasted tomatoes, cannellini beans, and kale.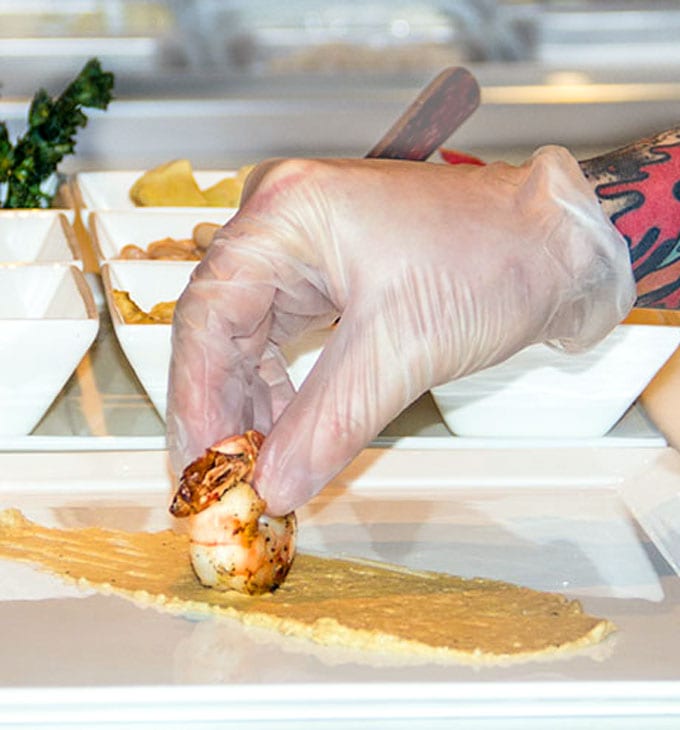 He arranged three shrimps on a plate....
Then he tucked the rest of the ingredients around the shrimps. The finishing touch was a drizzle of olive oil and a squeeze of fresh lemon juice.
This healthy shrimp salad is Mediterranean cuisine at its best - simple, wholesome, heart-healthy with olive oil, lean protein and vegetables.
In addition to great food and R&R, I did as many of the Canyon Ranch activities as I could squeeze into three days - walking, running, yoga, latin & hip hop dance classes, and the Zen•ga Flow, which combines dance, stretch and pilates. I also attended lectures, cooking classes, and I even played bingo one night with some wonderful new friends I met at the spa. Bingo was extra fun because I won the grand prize!
One more thing I have to mention is the Thai massage that I had on my last night, paid for with my bingo winnings. Incredibly relaxing and gets out all aches and pains. Thai massage is so different from Swedish or deep tissue massage. You wear loose fitting clothes. You and the masseuse lie on a large futon and he moves you and stretches you. I asked him to explain the philosophy behind it. He described it as 'the masseuse does yoga to you.'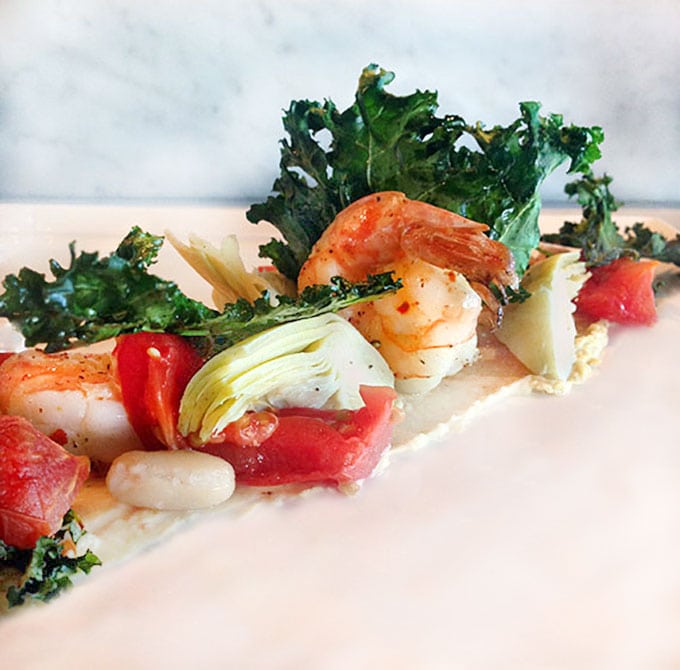 Here's the recipe for Canyon Ranch's Healthy Shrimp Salad with White Beans and Kale. If you try this recipe I hope you'll come back to leave a comment and a rating. I'd love to know what you think.
Print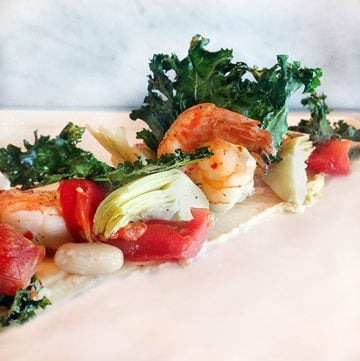 Canyon Ranch Healthy Shrimp Salad with White Beans and Kale
---
Author:

Lisa

Total Time:

1 hour 45 mins

Yield:

4

1

x
Description
Mediterranean-inspired healthy shrimp salad with roasted tomatoes, artichoke hearts, white beans and crispy kale.
Recipe adapted from a recipe by Canyon Ranch's Chef Kyle
---
4

plum tomatoes, quartered lengthwise
Extra virgin olive oil
Balsamic vinegar

1

bunch curly kale

12

medium peeled raw shrimp with tail on

1

can white cannellini beans, drained and rinsed

1

can artichoke hearts packed in water, drained and quartered
A small container of store-bought hummus or this homemade hummus recipe

1

lemon, halved
Kosher salt
Freshly ground black pepper
---
Instructions
Roast the Tomatoes: Preheat the oven to 300ºF. Line a baking pan with parchment. Brush or spray a light coating of oil over the parchment. Set the tomatoes on top, skin side down. Drizzle with a tablespoon of olive oil and a tablespoon of balsamic. Sprinkle with a pinch of salt. Cook for 1 ½ hours, until the tomatoes are softened and semi-dried. Set aside. If you're short on time, substitute (uncooked) sweet, ripe cherry tomatoes, halved.
Crisp the Kale: Preheat oven to 375ºF. Line a baking pan with parchment. Wash and dry kale. Pull the leaves off the tough stems and tear into 3 or 4 inch pieces. Put leaves in a big bowl and toss with 1 tablespoon of olive oil and a small pinch of salt. Set them in the oven for 15-20 minutes, checking and tossing them with tongs every 5 minutes or so, until they crisp up nicely. Set aside.
Cook the Shrimp: Place the shrimp in a small bowl and toss with ¼ teaspoon salt and ¼ teaspoon pepper. Heat a tablespoon of oil in a grill pan or heavy skillet over medium heat until hot but not smoking. Add half the shrimp and sear for a minute per side to get some brown spots. Cover skillet and cook for another minute or two, until just cooked through. Transfer shrimp to a plate and repeat with the rest of the shrimp.
Assemble the Dish: Place a heaping tablespoon of hummus on one end of each of 4 plates. Using a spatula, spread the hummus across each plate, creating an even smear. Set 3 shrimp on the hummus, spaced evenly apart. Arrange 3 or 4 slices of roasted tomato around and between the shrimp. Add 3-4 artichoke quarters. Sprinkle a heaping tablespoon of white beans around. Place several pieces of crispy kale in and around, with some standing up.
Finish the Dish: Drizzle the finished salad with a little olive oil and some fresh lemon juice. Season, to taste, with salt and pepper.
Prep Time:

15 mins

Cook Time:

1 hour 30 mins

Category:

Salad

Cuisine:

Mediterranean
Disclaimer: This is not a sponsored post. Canyon Ranch generously provided me with one complimentary spa service, which I greatly appreciate, but all views expressed in this post are my own.