Here's a Chopped Salad that's perfect for a special lunch, brunch or summer supper. Tasty, elegant and easy to prep ahead, this is a great dish for a festive occasion. Arrange everything in rows for a beautiful rainbow presentation. Just before serving, toss with creamy herb buttermilk dressing.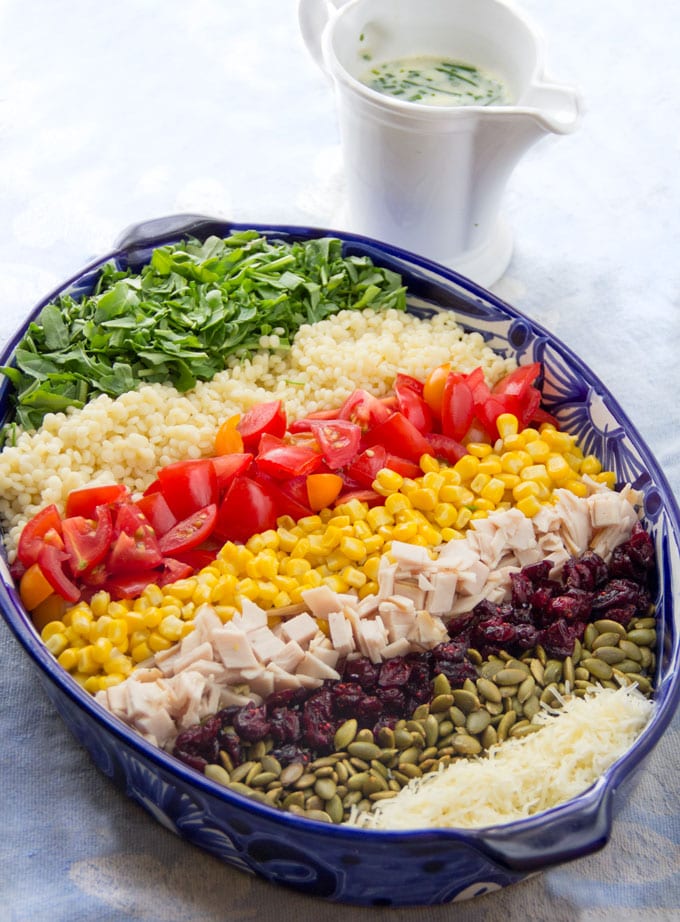 Each component of this salad is scrumptious on its own. Put them all together with bright tangy buttermilk dressing and you've got heaven in a bowl!
Here's what I have in the mix: arugula, pearled Israeli couscous, smoked turkey, shredded asiago cheese, cherry tomatoes, fresh corn, sweetened dried cranberries and toasted pumpkin seeds. But this is a very adaptable dish. Feel free to add, subtract or sub in your favorite ingredients or whatever you have on hand.
COMPOSED SALAD
Now let's talk about presentation. You can pile a bunch of delicious chopped salad ingredients into a big bowl or you can arrange them artfully in a platter. It's all the same stuff and it ends up in the same place, so why make the effort to organize everything? I was pondering this as I carefully arranged lines of turkey, corn and cranberries, considering which colors and textures look best side by side.
I came to the conclusion that food tastes better if it's presented in an attractive way. I've always believed that. There's an article from Scientific American about all the things that can influence taste: "...Potato chips taste crisper if you hear a crunch over headphones. White wine with a drop of red food coloring tastes like red wine—even to experienced wine tasters....A block of cheese with sharp edges tastes sharper than one with round corners..."
The bottom line is deliciousness is not just about what hits our tastebuds. All of our senses come into play when our brain tells us how delicious something is.
THE STETSON CHOPPED SALAD
This chopped salad is inspired by a lunch my friend made for me many years ago. I didn't remember the particulars, only that it was dazzling and delicious. A few weeks ago I asked my friend for the recipe. She directed me to The Stetson Chopped Salad from a restaurant in Scottsdale Arizona called Cowboy Ciao.
Here's the ingredient list for the original Stetson Chopped Salad: Israeli couscous, diced tomatoes, dried sweet corn, chopped arugula, diced smoked salmon, asiago cheese, dried currants and toasted pepitas. The original dressing is: basil pesto, mayonnaise, shallots, buttermilk, and lemon juice.
The Stetson salad is something special and I highly recommend that you try it. And if you're like me you will then start imagining all sorts of other salads that you can arrange in rows. It got me experimenting in the kitchen with different combos and I arrived at my favorite, this chopped salad with herb buttermilk dressing. It's heavily inspired by the Stetson but with my own twists.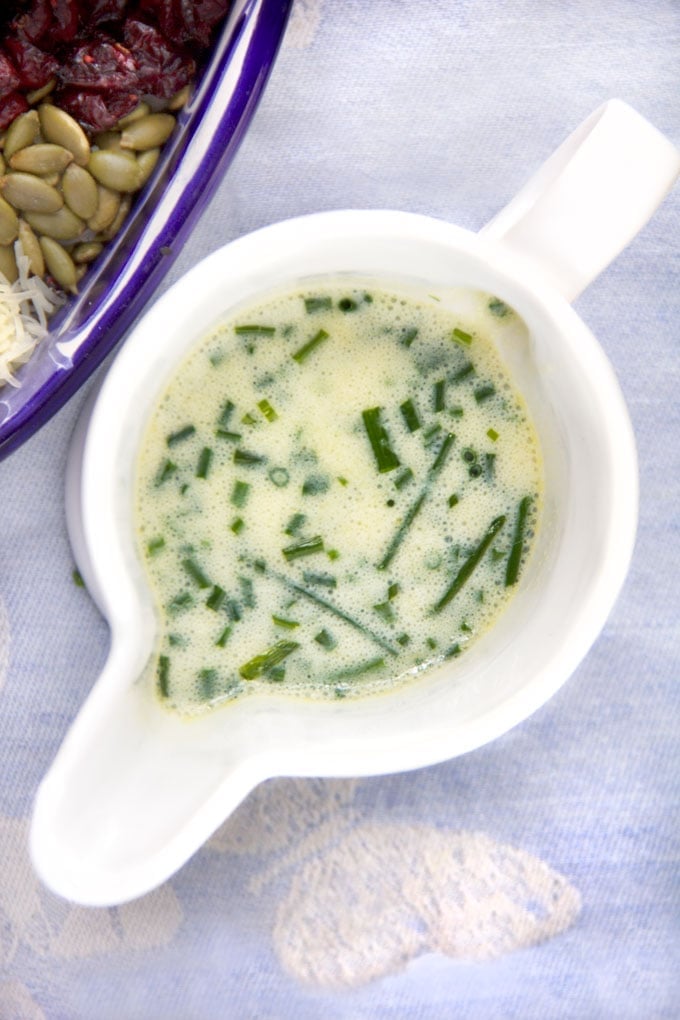 HERB BUTTERMILK DRESSING
Creamy with garlic and herbs, this buttermilk dressing is a luscious way tie all the fresh salad ingredients together.
I opted for a lighter dressing than the Stetson, no mayo and heavy on herbs - a bright and tangy dressing of buttermilk, vinegar, garlic, chives and olive oil.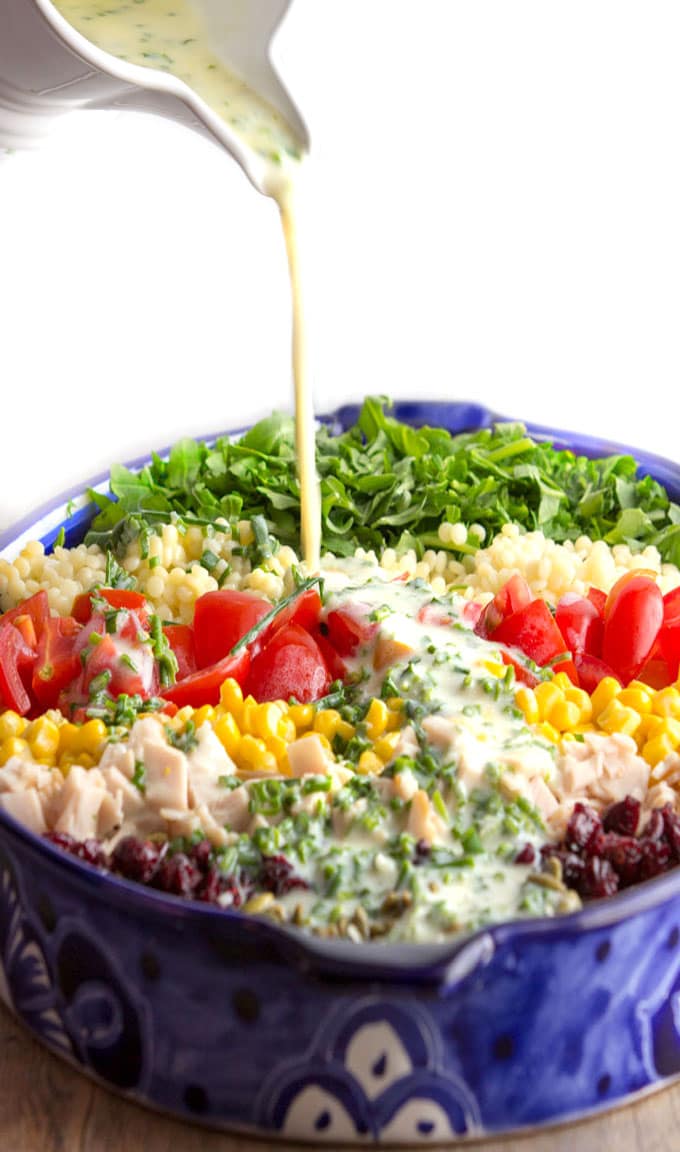 A GREAT PARTY SALAD
With its good looks and great taste, this salad is a perfect choice for entertaining. Plus you can make the dressing and do all the chopping ahead of time. You can even get it all arranged into stripes a few hours ahead. Just cover with plastic wrap and keep it in the fridge until your guests arrive.
Set out your chopped salad somewhere where everyone can enjoy the view. Let the anticipation build. Toss it at the last minute, just before you eat.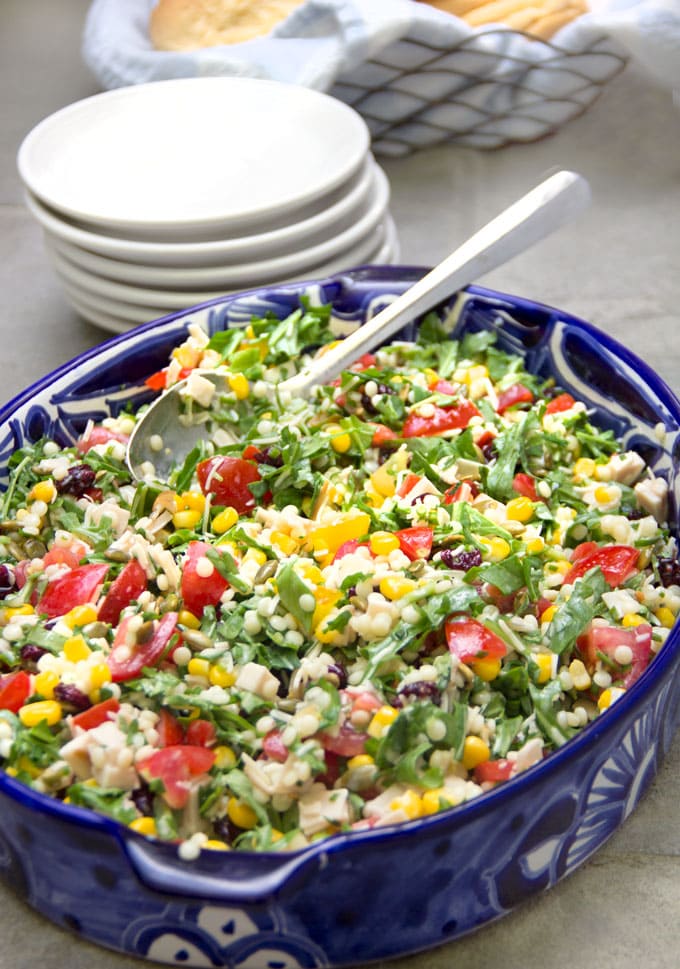 MAKE THIS CHOPPED SALAD VEGETARIAN OR GLUTEN FREE
For vegetarians replace the turkey with cubed avocados or tofu. To make this gluten free, use quinoa or rice instead of couscous.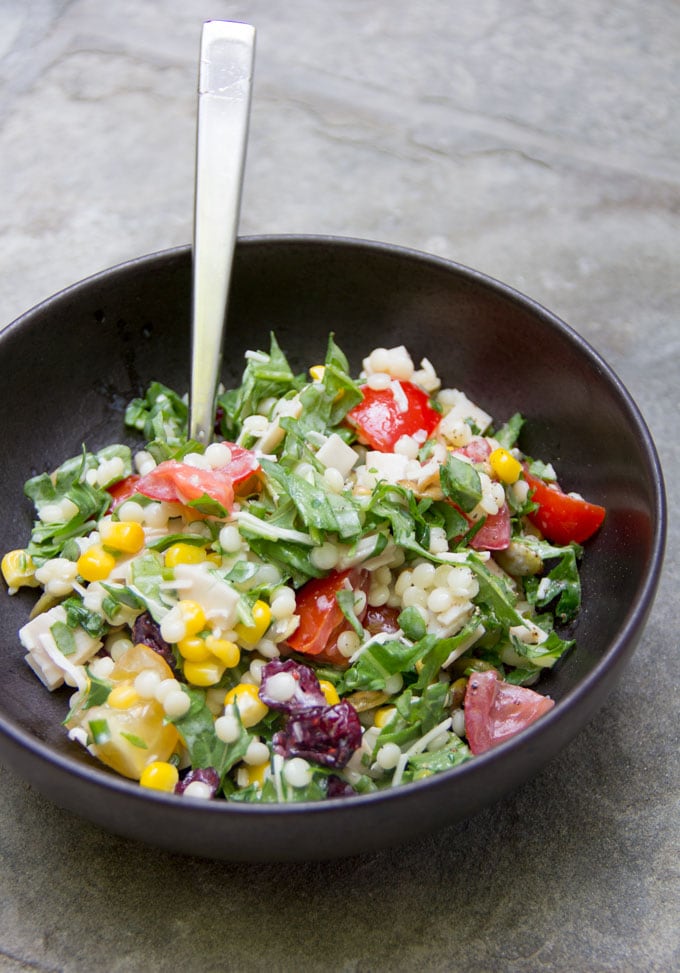 A beautiful chopped salad like this one is the perfect dish to serve for a special lunch or brunch. It's got that coveted combo of healthy and irresistibly delicious.
Craving for more delicious company-worthy salads? Here are a few more of my favorites: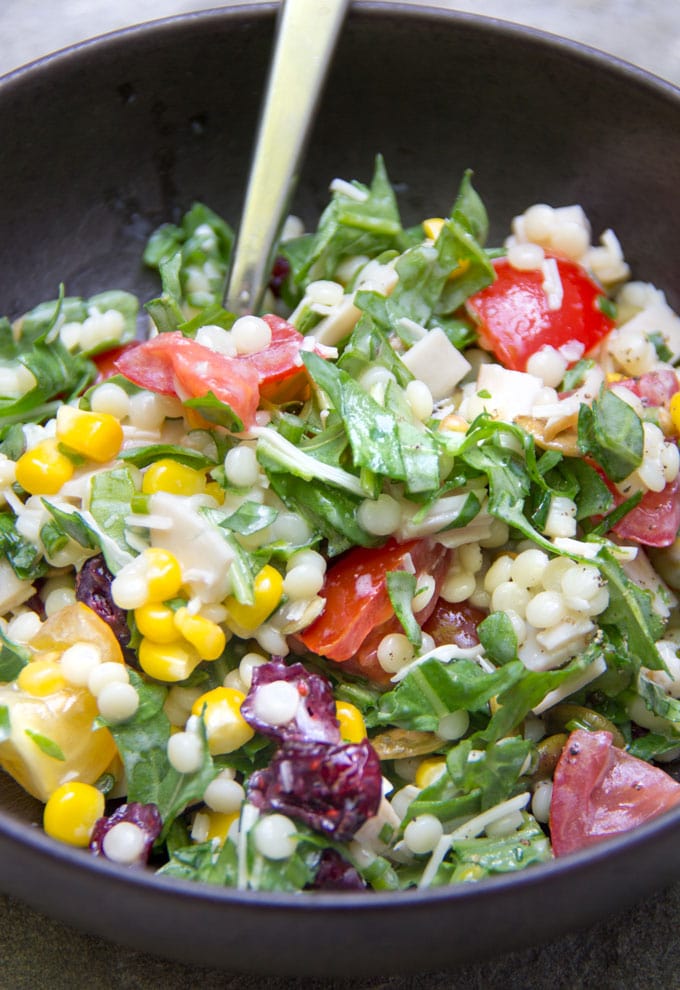 Here's the recipe for chopped salad with herb buttermilk dressing. If you make this, I hope you'll come back to leave a star rating and a comment. I'd love to know what you think.
Print
Chopped Salad with Herb Buttermilk Dressing
---
Author:

Lisa

Total Time:

42 minutes

Yield:

4

-6

1

x
Description
A wonderful main dish salad recipe with a rainbow of healthy ingredients and a bright, tangy buttermilk dressing. Perfect for brunch.
---
For The Buttermilk Dressing:
¾

cup

buttermilk

¼

cup

sherry vinegar or good quality white wine vinegar

1

large clove of garlic

¼

cup

extra virgin olive oil

½

cup

chopped chives (or substitute scallions or shallots)

¼

cup

chopped basil (optional)

1 teaspoon

kosher salt or fine sea salt
freshly ground black pepper, to taste
For The Salad
1 ½

cups

cooked Israeli couscous, cooled (from ½ cup uncooked) (or substitute 1 ½ cups cooked farro, or arborio rice or quinoa)

4

-

6

ounces

smoked turkey, diced (substitute cubed avocado, smoked salmon, smoked ham, grilled chicken or steak)

½

cup

shredded asiago cheese (substitute shredded parmesan or pecorino)

⅓

cup

dried sweetened cranberries (or substitute currants, raisins or chopped dried apricots)

⅓

cup

toasted pumpkin seeds (or substitute toasted pine nuts, slivered almonds or your favorite toasted nuts or seeds)

1

dry pint sweet cherry tomatoes, quartered

1 ½

cups

cooked sweet corn kernels, cooled

4

cups

loosely packed arugula leaves, chopped (3 ounces)
---
Instructions
Combine buttermilk and vinegar in a jar or bowl. Use a garlic press to squeeze garlic into the mixture. Gradually whisk in the olive oil, then the herbs and salt. Season with black pepper, to taste. (Can be made up to a day ahead. Store in the fridge. Bring to room temp before using)
In a large shallow bowl arrange the salad ingredients into stripes. You can use a spatula as a divider, to help create crisp lines, as you add one ingredient next to another. (The salad can be arranged a few hours ahead. Cover and keep in the fridge. Bring to room temp before dressing and serving)
When ready to serve, toss with dressing.
Notes
[This post first appeared on Panning The Globe in June 2017.  It was updated in July 2019 with added nutritional information and more details added to the written post]
Prep Time:

30 mins

Cook Time:

12 minutes

Category:

Salad

Method:

no cook

Cuisine:

American
Keywords: chopped salad, rainbow chopped salad