Today, I'm thrilled to share with you a homemade salad dressing recipe that has become a staple in my kitchen. This fresh, zesty, well-balanced lemon vinaigrette is easy to make and versatile enough to dress a wide range of salads. Every home cook needs a great vinaigrette recipe in their repertoire and this one is my favorite.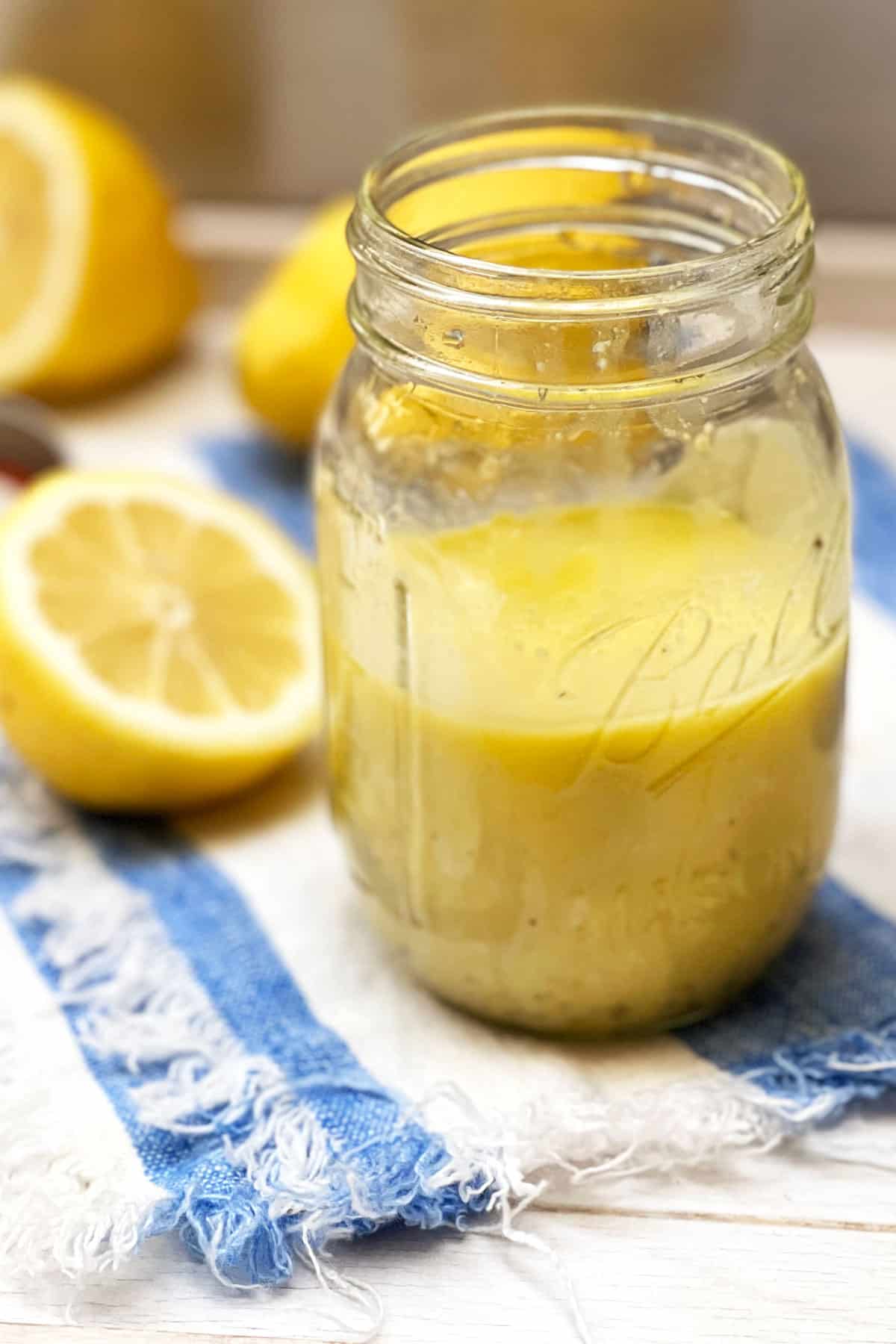 If you've ever wondered whether it's worth your time or effort to make salad dressing from scratch, give this lemon vinaigrette a try and see what you think. It's very easy to prepare - just a mix of lemon juice, olive oil, mustard, garlic, salt and pepper - and it will make your salads taste great!
My one and only vinaigrette recipe
I've tried lots of homemade salad dressings and many of them are really good but this lemon vinaigrette is the one I keep coming back to for all types of salads and beyond. Yes, there is a beyond. A great vinaigrette does more than dress salads.
I first developed this recipe for my Italian tricolore salad and have since come to use it for marinating chicken paillard, basting Swedish hassleback potatoes, dressing this hearts of palm salad, drizzling over roasted veggies. Scroll down for more serving suggestions.
There's really nothing like homemade salad dressing.
I used to buy bottled dressings hoping to discover a keeper, but I often found them to be gloppy and either overly salty or too sweet. I've never found a bottled dressing that even comes close to the light fresh tang of this homemade lemon vinaigrette.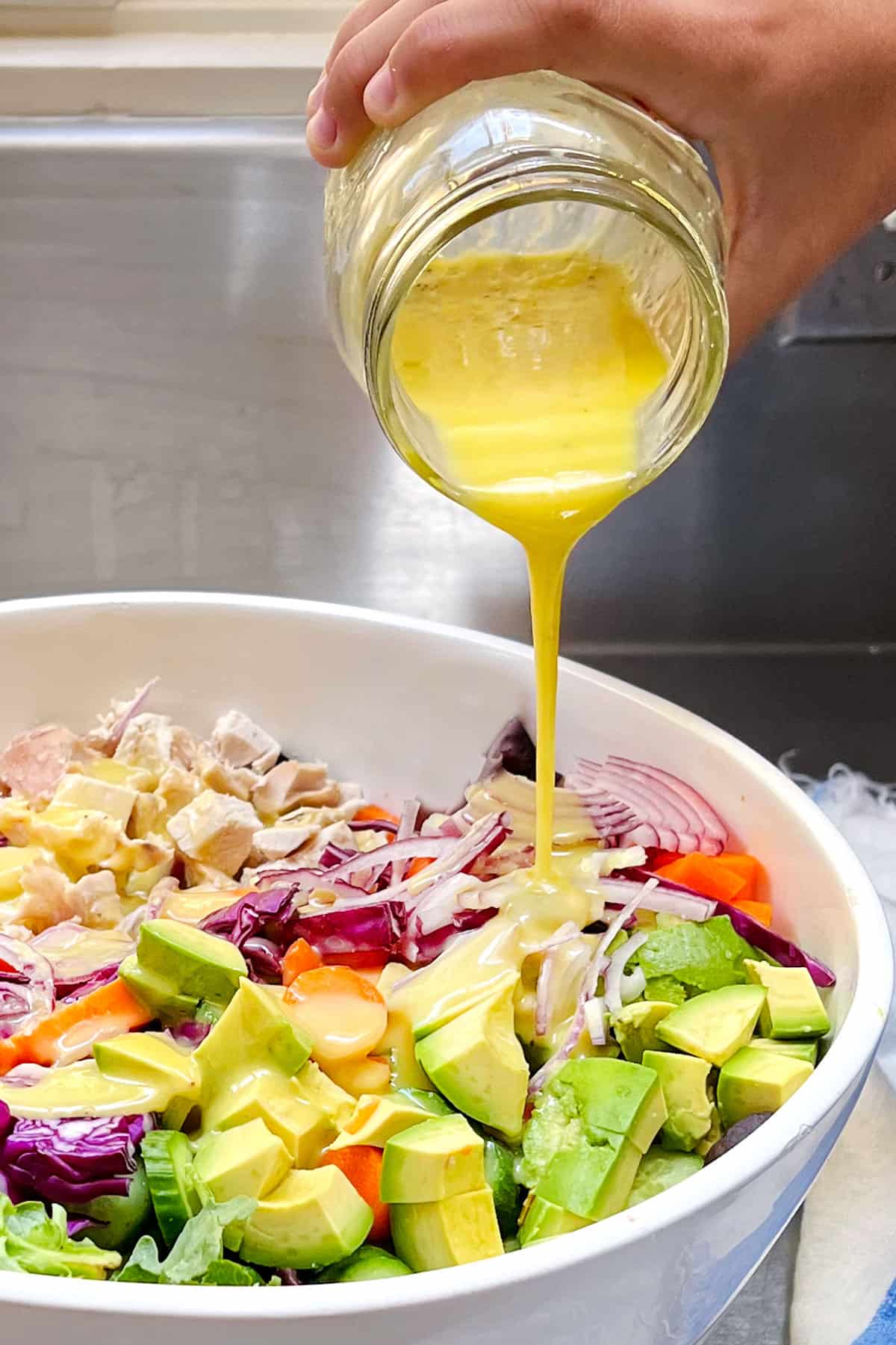 What I love about this lemon vinaigrette:
Freshness - The fresh taste and light texture of this lemon vinaigrette is just what a salad needs to make it shine.
Healthfulness - Most store-bought dressings and vinaigrettes have lots of ingredients and not all of them healthy. I don't think any of us want additives, thickeners or preservatives in our salad dressing. When you make this homemade salad dressing, you know you're getting only pure fresh wholesome ingredients.
Fantastic Flavor - This lovely simple lemon vinaigrette is a perfect everyday salad dressing to bring vibrant zesty goodness to your salad bowl!
What is a Vinaigrette?
A vinaigrette is a sauce made by combining an oil such as olive oil with an acid such as vinegar or lemon juice. (That's right - you can have a vinaigrette with no vinegar!)
Classic cooking school vinaigrette recipes specify using a ratio of 3 parts oil to 1 part acid but this is only a guide and will vary depending on the type of oil or acid you use. A good vinaigrette recipe will take all of this into account and give you the perfect ratio of oil to acid but you can also taste your vinaigrette and adjust the balance, if needed.
A vinaigrette can be used as a salad dressing, a marinade, a sauce and more. See the tips below for usage and serving suggestions.
How to use lemon to make vinaigrette
I love using lemon juice to make a vinaigrette. In addition to having the acid that is needed in a good vinaigrette, lemon juice also has a fresh bright sunny fruit flavor that vinegar lacks. I love how it flavors a salad.
As I mentioned, the classic vinaigrette recipe calls for a ratio of 3 parts oil to 1 part acid, but that ratio changes in order to balance the flavors of a lemon vinaigrette. Because lemon juice is less acidic than vinegar, you need a higher proportion of lemon juice to oil than you would for a vinegar-based vinaigrette.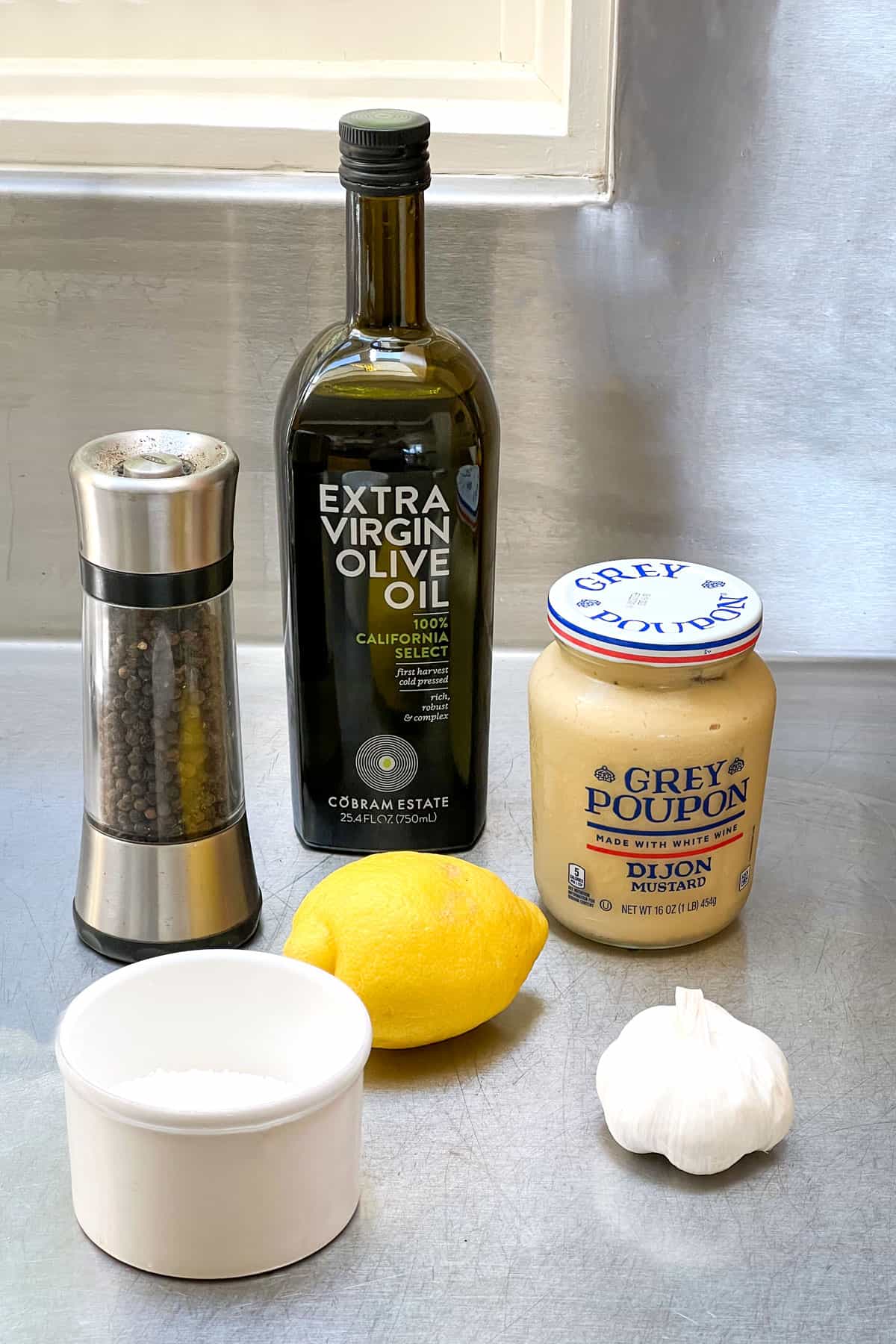 Lemon Vinaigrette Ingredients
Here's what you'll need to make this lemon vinaigrette.
Lemon juice - Fresh squeezed is best but you can also use a quality bottled organic lemon juice such as Santa Cruz. I always keep a bottle in my fridge and use it when I don't have fresh lemons at hand.
Dijon mustard - for creaminess and "zing". Grey Poupon is my favorite brand.
Garlic - a touch of fresh garlic adds incredible depth of flavor to this vinaigrette.
Salt - kosher or fine sea salt to enhance all the flavors.
Pepper - freshly ground black pepper for a spicy kick.
Olive oil - any olive oil will do just fine but for the best flavor, use a good quality extra virgin olive oil.
How to make it
Combine the lemon juice, mustard, garlic, salt and pepper in a small bowl or a jar with a lid. If using a bowl, add the olive oil slowly, while whisking. If using a jar, simply add all the ingredients and shake vigorously. That's all there is to it!
Usage Tips and Serving Suggestions:
Dress up your salads and more with this vibrant lemon vinaigrette. Its bright and refreshing flavor works well with a wide range of ingredients. Here are some more serving suggestions:
Give this Italian Tricolori salad a try. It uses this dressing and it's an outstanding salad.
Use this lemon vinaigrette as a marinade for grilled, broiled, roasted or sautéed beef, fish, shrimp or chicken. Let it work its magic, infusing the meat with flavor and ensuring tender and juicy results.
For the most amazing potatoes, baste hasselback potatoes with lemon vinaigrette while they cook. They'll have crispy edges, tender insides, and tangy goodness in every bite.
Drizzle this zesty vinaigrette over roasted vegetables for great flavor.
Dress grain bowls, rice bowls and buddha bowls with this tangy vinaigrette.
Use this lemon vinaigrette as a base for building a delicious dip for crudités: Whisk in plain yogurt, mayo, sour cream or a combo. Add a pinch of chipotle chili powder or chopped fresh basil or mint or whatever herbs and spices you have on hand.
Vinaigrette FAQ
Can I use bottled lemon juice instead of fresh lemon juice?
Fresh lemon juice is recommended for the best flavor, but you can use bottled lemon juice as a substitute if fresh lemons are not available. Just make sure it is 100% lemon juice without any additives. My favorite brand is Santa Cruz Lemon Juice.
What type of oil should I use for a vinaigrette?
Extra virgin olive oil is the most commonly used oil for vinaigrette dressings however you can use other oils like avocado oil, grape seed oil, or canola oil based on your preference. The most important tip I have for selecting an oil for vinaigrette is: taste the oil and make sure you like the flavor. If it's bitter, your vinaigrette will be bitter. If it's fruity, that fruitiness will shine through.
How long does homemade lemon vinaigrette last?
Keep your tangy lemon vinaigrette fresh by storing it in an airtight container in the refrigerator. It'll stay fresh and delicious for up to two weeks and maybe even longer. The oil is likely to solidify in the fridge so let it come to room temperature and give it a good shake before using it.
Can I use lemon zest in my vinaigrette?
Yes, adding lemon zest to your vinaigrette will give it a stronger, sharper lemon flavor. I recommend using zest if you plan to drizzle the vinaigrette over grilled steak or shrimp. Simply grate the outer yellow part of the lemon peel and whisk it into the dressing along with the other ingredients.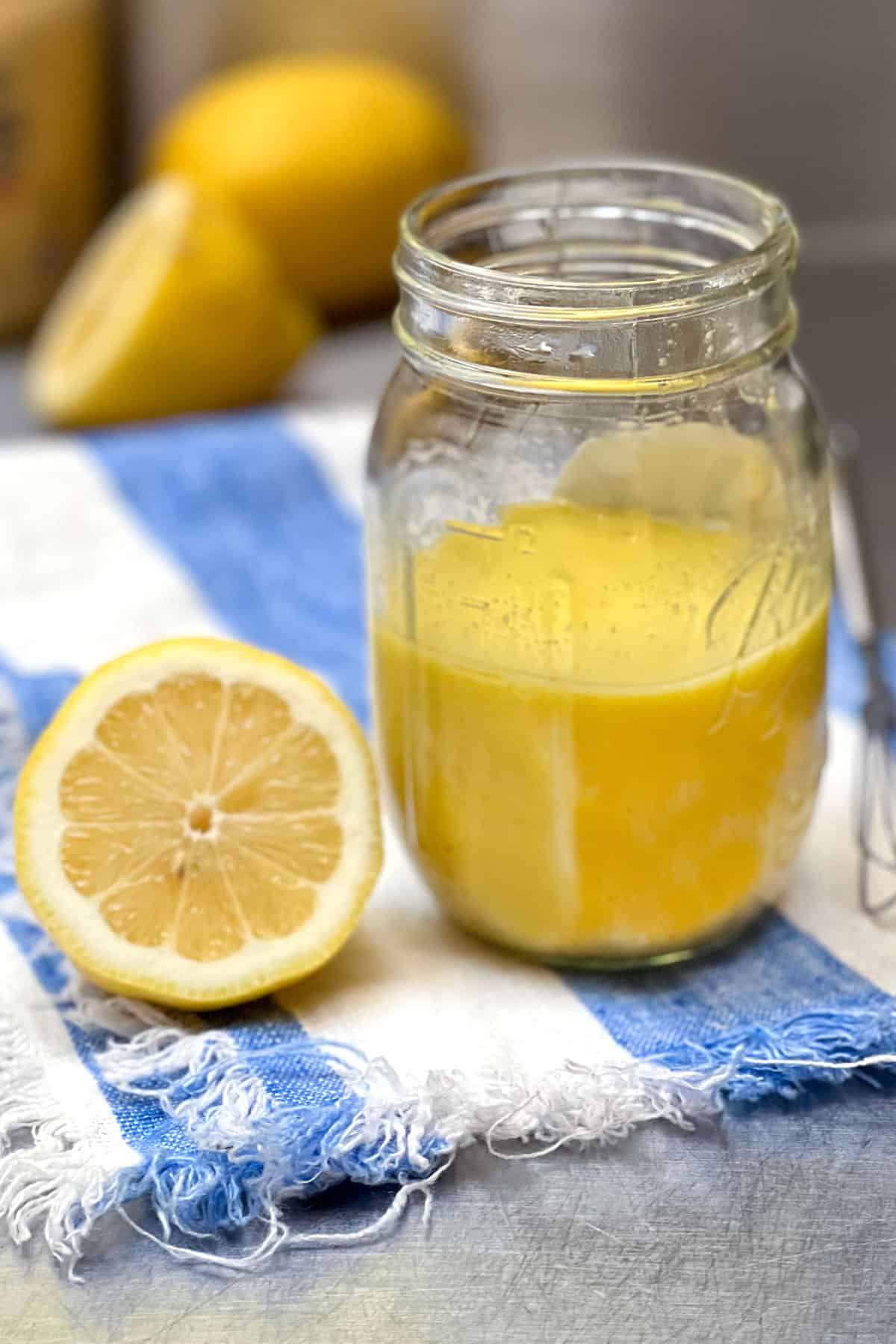 Here's the lemon vinaigrette recipe. If you make this, I hope you'll come back to leave a star rating and a comment. I'd love to know what you think!
Print
Homemade Lemon Vinaigrette: Perfect Everyday Salad Dressing
---
Author:

Lisa Goldfinger

Total Time:

45 minute

Yield:

just over

½

a cup, enough to dress a salad for

6

-

8

1

x
Description
A delightful homemade Lemon Vinaigrette recipe to brighten your salads with a burst of zesty sunshine. This is a perfect everyday salad dressing that also doubles as a fantastic marinade for chicken, beef, fish or shrimp; or a tasty sauce for drizzling over roasted veggies and grain bowls.
---
3 tablespoons

fresh lemon juice

2 teaspoons

dijon mustard such as Grey Poupon

1

medium garlic clove, finely minced or squeezed through a garlic press

¼ teaspoon

Kosher Salt

⅛ teaspoon

fresh ground black pepper

⅓

cup

extra virgin olive oil
---
Instructions
In a small bowl, whisk the lemon juice, mustard, garlic, salt and pepper until combined. Slowly pour in the olive oil while whisking, to emulsify. Alternatively, you can make this in a jar with a tight-fitting lid. Simply add all the ingredients, cover, and shake vigorously to combine.
Use within a couple of hours or refrigerate in a sealed container for up to two weeks. Bring to room temperature and re-whisk or shake in a covered jar before using.
Notes
If you don't have fresh lemons, use a quality bottled juice that is made from 100% pure lemon juice, such as Santa Cruz Lemon Juice
Nutrition Information: The information shown is an estimate provided by an online nutrition calculator and is not a substitute for the advice of a professional nutritionist. 
Prep Time:

10 minutes

Cook Time:

no cook

Category:

Salad Dressing

Method:

Whisk

Cuisine:

French
Keywords: homemade vinaigrette salad dressing made with lemon juice and dijon mustard