This delicious no knead olive bread is my husband Eddie's recipe but he can't take credit for the method. For that we can thank Jim Lahey, chef-owner of the Sullivan Street Bakery in New York City. In 2006 The New York Times reported on Jim's revolutionary new bread baking method, which requires almost no kneading and empowers the home cook to turn out bakery-quality loaves.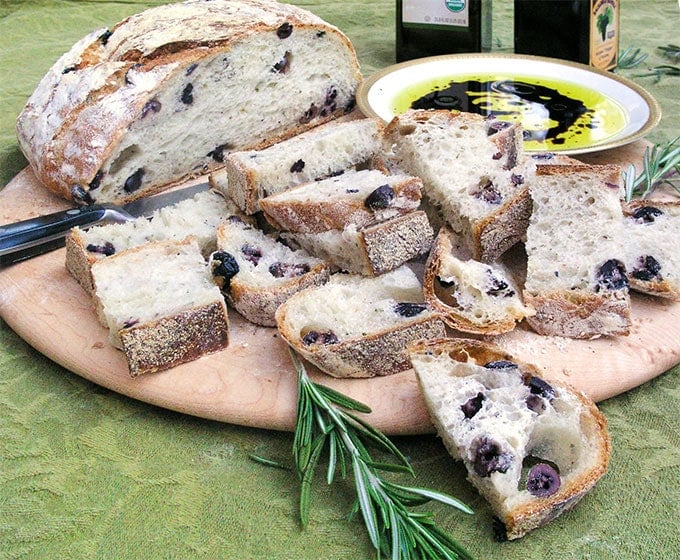 I always serve this olive bread as an appetizer simply because it's so good. It comes out of the oven with a perfect crisp crust and is warm and tender on the inside with hints of rosemary and plenty of olives to keep each bite interesting and full of flavor.
Serve it cut into smallish pieces with olive oil and balsamic for dipping. Don't be daunted by the long prep time. Most of it is just letting the dough sit in a bowl to rise; the actual hands-on labor is minimal.
This technique is easier to execute and harder to mess up than traditional bread-baking methods and the final product is something to behold.
Baking bread is actually not something that I do. I tried once, using the bread machine I got as a wedding gift. On my first attempt I baked the kneading attachment into the loaf. After that I happily turned over the bread-baking to my husband Eddie, who was eager to take it on.
The bread machine ended up in one of our garage sales and Eddie started collecting and studying books on the art of bread making. He tried all sorts of types and techniques over the years, hoping to achieve his vision of the perfect bread.
Each time a bread would come of the oven, there was much anticipation. At times Eddie would say "I think this might be "The One." Over a period of about 16 years there were numerous excellent breads with some nearing perfection. But the family concurred that none had earned the status of being "The One," so the quest continued.
Then, about 6 years ago, The New York Times reported on a revolutionary new bread-making method developed by Jim Lahey of New York's Sullivan Street Bakery.
The revolutionary part is that the time consuming and challenging kneading process required in traditional bread making is virtually eliminated, and a Dutch oven is used to simulate the environment of a professional bread oven.
Eddie played around with that recipe for a while, finally adding olives and fresh rosemary from our herb garden, and one day out of the oven came "The One!" He's been making no-knead olive bread this way for the past few years and it has been "The One" every time. I hope it is for you too!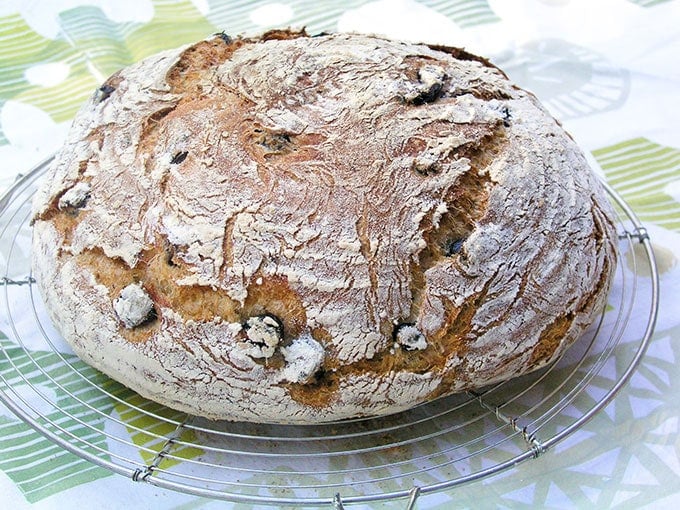 Here's the recipe for Eddie's no knead olive bread. If you make this I hope you'll come back to leave a review. We'd love to know what you think!
Print
No Knead Olive Bread
Perfectly crusted, tender olive bread. Serve with olive oil and balsamic to dip.
Author: by Lisa
Prep Time:

8 hours 30 mins

Cook Time:

50 mins

Total Time:

9 hours 20 mins

Yield:

6

-

8

1

x
Category:

Bread - Appetizer or Side

Cuisine:

Out of This World
Scale
Ingredients
DOUGH

3 cup

s all-purpose flour plus extra for flouring surfaces

2 teaspoon

s kosher or coarse salt

1 tablespoon

finely chopped fresh rosemary

1 teaspoon

active dry yeast

1 1/2 cup

s warm water

1 tablespoon

extra virgin olive oil, plus extra for oiling the bowl

1 cup

pitted Kalamata olives, sliced into thirds
COOKING

1

Banneton (shallow bowl for rising and shaping bread), evenly coated with flour, or a colander lined with cotton dish towel (not terry) that is evenly coated with flour.
A large Dutch oven with lid or a heavy cast iron or enamel pot with an oven-proof lid

2 tablespoon

s corn meal, for dusting the bottom of the pot
FOR DIPPING:
Extra virgin olive oil
Good quality balsamic vinegar
Instructions
*Start 9 hours before you plan to serve bread*
MIXING AND FIRST RISE: Put flour, salt, rosemary and yeast in a large bowl and mix thoroughly. Add olive oil to warm water and pour over dry ingredients. Add sliced olives. Using a wooden spoon, stir until all dry flour is incorporated, 2-3 minutes. Cover mixing bowl with plastic wrap and let it stand for 4-5 hours, until dough is approximately doubled in size.
REWORK AND SECOND RISE: Dough will be wet and bubbly. Using a rubber spatula, scrape the dough onto a generously-floured work surface. Let dough sit for about 5 minutes. Dust the surface of the dough with a sprinkling of flour (about a tablespoon). Fold the dough over and press it with the heel of your hand and flip it over and fold it again. Do this several times, allowing dough to absorbs some of the fresh flour, for 2-3 minutes until it firms up a bit and the outside loses most of its stickiness. (unlike traditional bread recipes, there is no need to deflate the dough or remove bubbles in this step) Rinse and dry the bowl. Lightly coat the bowl with olive oil. Return dough to bowl and roll it around to coat it with oil from the sides of the bowl. Cover with plastic wrap. Let sit for 1 1/2 -2 hours, until it is about 50% larger.
REWORK AND FINAL RISE: Again put dough on a floured surface. Flip and knead about 8-10 times, and form a ball. Put ball into a floured Banneton or colander with floured dish towel. (The final rise container imprints it's design onto the bread. If you use a banneton, the bread will have beautiful ridges) Fit the banneton or colander back into the large bowl and cover with plastic wrap. (If it doesn't fit into the glass bowl just cover it with a slightly damp dish towel) Let sit for about 1 – 1 1/2 hours.
BAKE THE BREAD: About a half hour before dough is ready, place Dutch Oven with lid on into the middle of the oven and preheat to 500ºF. When the bread is ready, carefully take the heated Dutch Oven out and uncover. Sprinkle cornmeal over the bottom of the pot. Flip the dough into center of the Dutch Oven, being careful to avoid contact with the sides of the pot to get the ideal shape. (If the dough touches the side of the pot, you will need to use a spatula to position it in the center of the pot. It will taste just as good.) Cover Dutch oven, place into oven and reduce temperature to 450ºF. Bake for 25 minutes. Remove lid. Bake for an additional 20-30 minutes until the crust is nicely browned. Remove pot from oven. Transfer bread to cooling rack and let stand for 20 minutes before slicing. Slice into dipping-sized pieces. For dipping, pour some olive oil onto a small plate. Pour some balsamic on top. Whisk a bit to combine. Enjoy!