Just when you thought there wasn't anything more you could do with a potato, this happened: Mini Inside-Out Hasselback Potatoes. Roasted Potato perfection!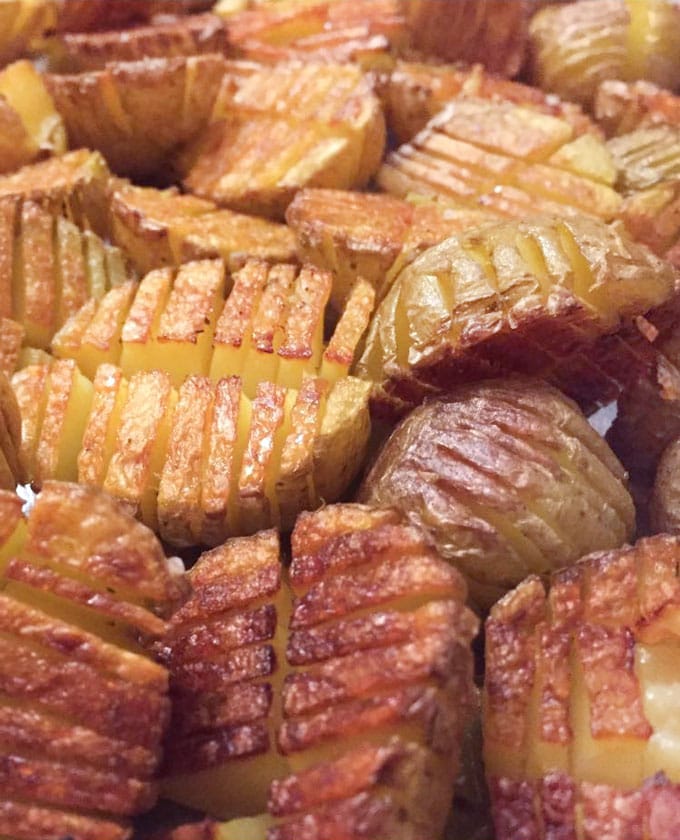 Unlike Swedish Hasselback potatoes which are sliced along the rounded "back" of a whole potato, inside-out hasselback potatoes are first cut in half. Then all the little crisscross slices are made on the 'inside" or cut side of the potato.
With all those grooves for the oil, salt and seasonings to seep in, they roast up crispy, crunchy, crisscrossy, and delicious.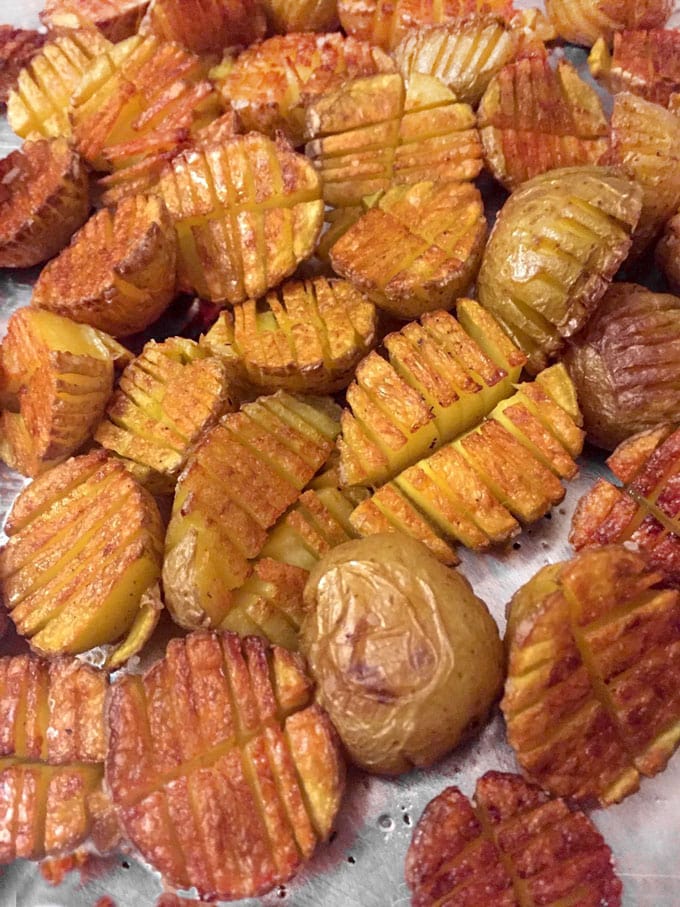 Here's how Mini Inside-Out Hasselback Potatoes came to be. Eddie and I were home in Boston for the December holidays. Our boys were with us. We were all in the kitchen cooking together for a big family dinner party. Eddie and Alex (our oldest) were tasked with slicing three pounds of miniature potatoes in half for roasting.
Never content to do things the conventional way, they got into a creativity contest to see how many ways they could think of to cut a potato. I wish I had a photo of the finished dish, which we named "Crazy Potatoes."
Crazy potatoes were great but within that big platter of creatively cut potatoes, there was one type that rose above the others - inside-out hasselback potatoes. Alex isolated them as being something special.
After the holidays Alex made inside-out hasselback potatoes several times for his friends. Then, convinced of their awesomeness, he texted me some photos and a note: "this is the perfect potato." He said he'd never roast potatoes any other way. By the way, the top two photos are Alex's.
How to make mini inside-out Hasselback Potatoes
The key to this recipe is to cut lots of little slices that go as deep into the potato as possible without going all the way through. Here's an easy way to do this.
First cut each potato in half.
Set the halved potatoes, cut side up, on a dishtowel so they don't slide around.
Brace a potato on either side with chopsticks or something similar - something that will stop your knife from cutting all the way through.
Make a cut across the middle. Then rotate the potato a quarter turn and make lots of little cuts perpendicular to the first cut. Repeat with each potato half.
Once you get rolling with this technique, you'll be be surprised how easy it is, and fun!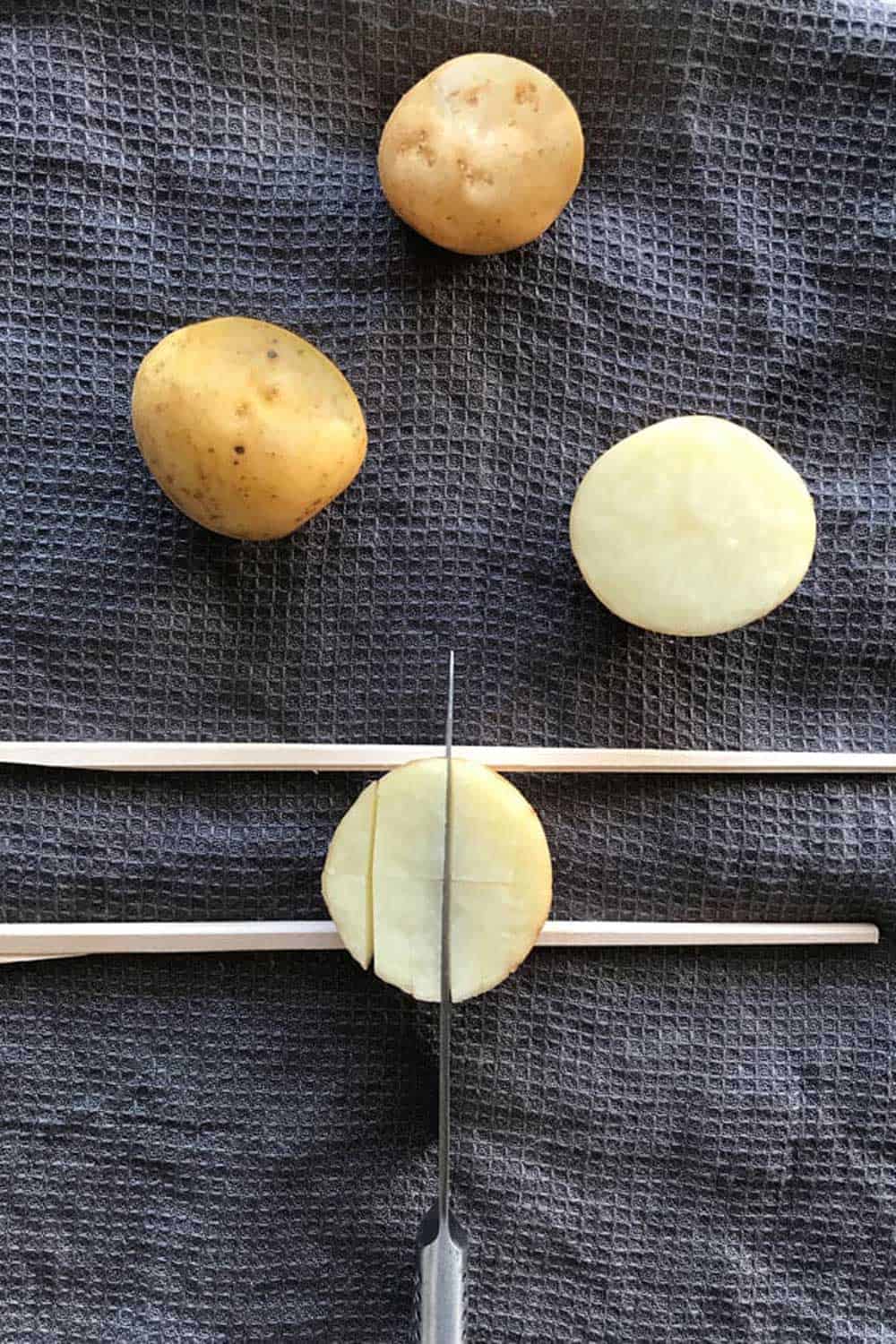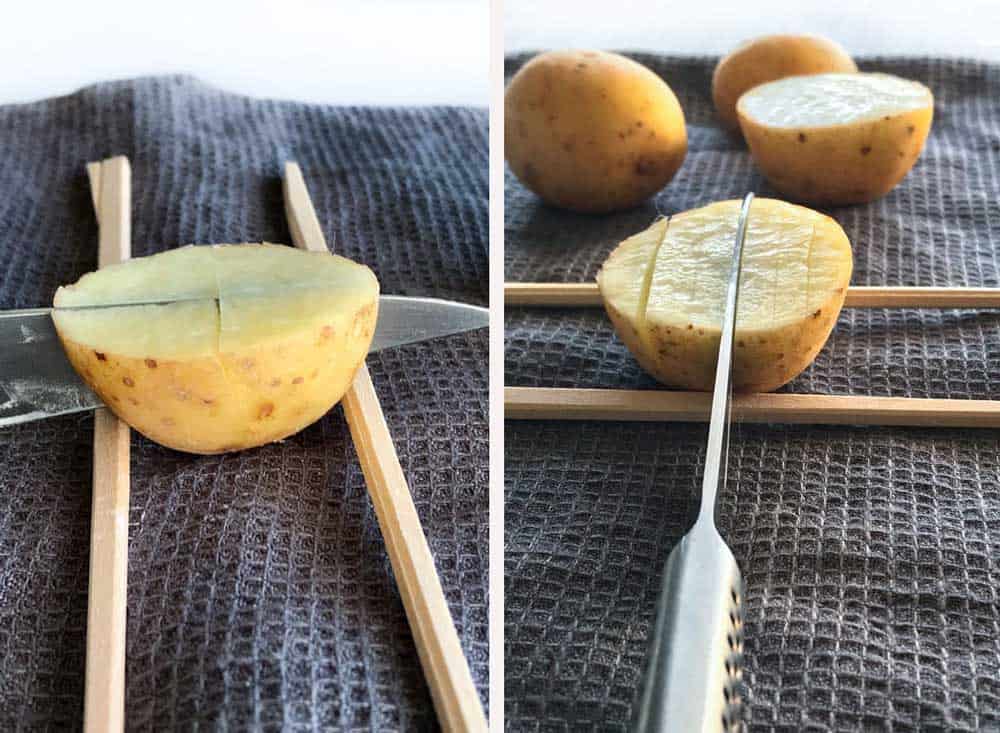 When you've got all the potatoes sliced, toss them with olive oil, salt and pepper. Turn them face down on the baking sheet, and pop them in the oven. When you pull the roasting pan out of the oven and flip those little taters right side up, it's a sight to behold.
All the little grooves make way for flavor to seep in, while the surface gets brown and crisp.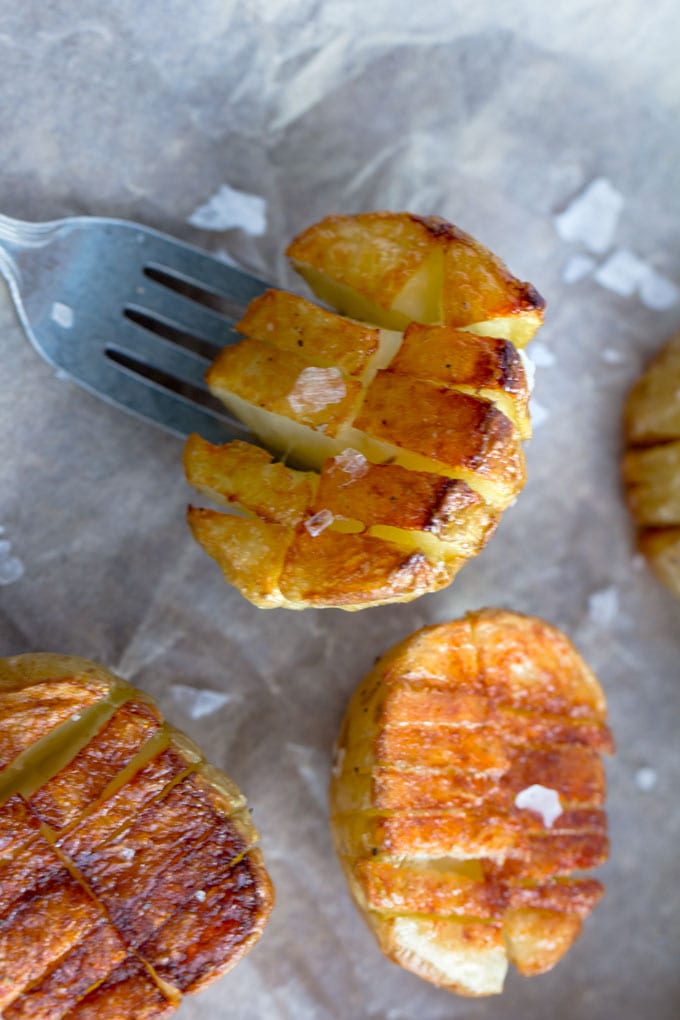 The best roasted potatoes!
These mini hasselbacks are just what you want when you make roasted potatoes. They're crisp and golden outside and creamy inside. But you don't need to stop there. You can dress or spice them up in so many different ways.
A sprinkle of coarse salt, freshly cracked pepper and parsley is simple and delicious.
Or fancy them up with truffle salt and parmesan cheese.
Top them with za'atar and you've got delicious Middle Eastern inside-out hasselback potatoes.
Or give them a Spanish flair and top them with smoked paprika and sea salt.
The possibilities are limitless.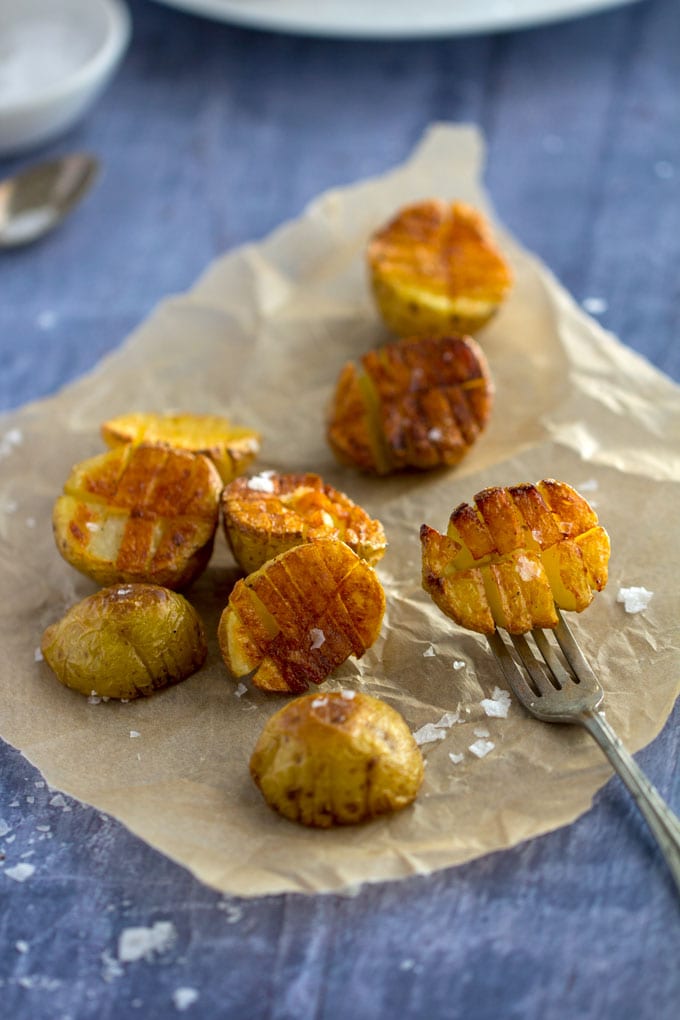 Other delicious potato recipes from around the globe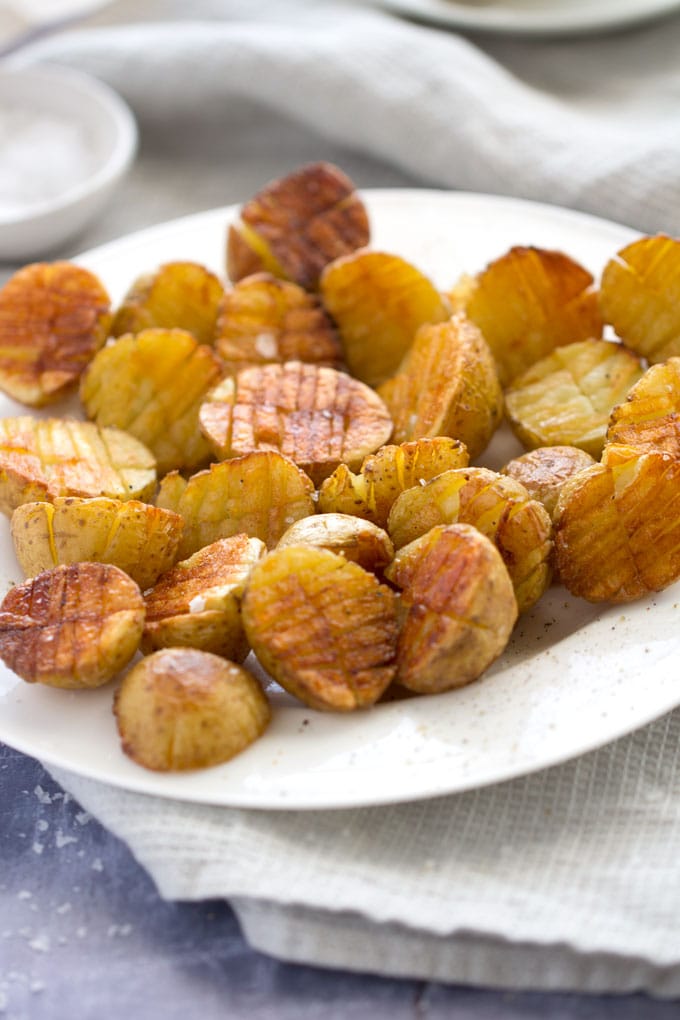 Here's the recipe for Mini Inside-Out Hasselback Potatoes. If you try this recipe I hope you'll come back to leave a star rating and a comment. I'd love to know what you think!
Print
Mini Inside Out Hasselback Potatoes
---
Author:

Lisa

Total Time:

1 hour 5 mins

Yield:

6

-8

1

x
Description
Crisscross cut mini potatoes that roast up extra brown and crispy on the outside and extra creamy and tender inside. Delicious with a generous seasoning of salt and fresh ground pepper or get fancy and top with truffle salt and grated parmesan.
---
2

pounds of miniature golden or fingerling potatoes (yellow flesh potatoes are best for getting maximum crispiness)

3 tablespoons

olive oil or melted duck fat for extra crispness

1 teaspoon

kosher salt or more, to taste

½ teaspoon

of freshly ground black pepper, or more to taste
Optional Toppings - pick one or come up with your own:
Sea salt, fresh ground black pepper, chopped parsley
Truffle salt, grated parmesan, fresh ground black pepper
A drizzle of extra virgin olive oil and 3 tablespoons of Za'atar
Melted butter, fresh chopped chives and sea salt (see notes)
---
Instructions
Preheat oven to 400ºF.
Slice Potatoes to Create Inside-Out Hasselbacks: Set out a clean dish towel on your work surface. This will keep the potatoes from slipping around as you cut. You'll need a pair of chopsticks or something similar, and a sharp knife. First cut potatoes in half. Then make a cut down the middle of each potato half, going as deep as possible without going all the way through. This is easy to do if you place the potato between the two chopsticks to stop your knife at the perfect depth. Rotate the potato a quarter turn and make "hasselback" cuts perpendicular to and crossing through the first cut, and about ⅛-inch apart. Again, cut as deep as possible but not all the way through. (see photos in post)
Place cut potatoes in a large bowl. If there's any moisture on the potatoes, blot them with a dish towel. The drier the better for browning. Toss the potatoes with olive oil, salt and pepper.
Roast Potatoes: Spread potatoes out on a rimmed baking sheet cut-side down. Roast in the bottom of the oven. Total roasting time will be about 45 minutes, flipping the baking sheet around after 20 minutes, to ensure even cooking. Check potatoes for doneness after 35 minutes by lifting one or two off the baking sheet with a spatula. Continue cooking until potatoes are crisp and brown on the bottom, tender and creamy inside.
Finish Potatoes: Let the potatoes rest for 2-3 minutes before unsticking them from the baking sheet with a spatula and flipping them over. If you want them even more brown and crisp, crank the oven up to 500ºF and pop the tray back in the oven, with the potatoes cut side up, for a few minutes, watching carefully to make sure they don't burn.
Top with salt and pepper or your favorite toppings. Serve hot.
Notes
If topping with melted butter and chives, melt 3 tablespoons of butter. Brush the tops of the potatoes with melted butter just when they come out of the oven, and sprinkle with coarse salt, to taste. Sprinkle fresh chopped chives on top right before serving.
Prep Time:

20 mins

Cook Time:

45 mins

Category:

Side Dish

Method:

Roast

Cuisine:

Out Of This World
Keywords: hasselback potatoes, mini roasted potatoes