Holiday Hasselback Potatoes are the perfect side dish for a special occasion. They're basted with creamy shallot chive butter, which soaks in as they bake. They get crisp on the outside, creamy inside. So delicious!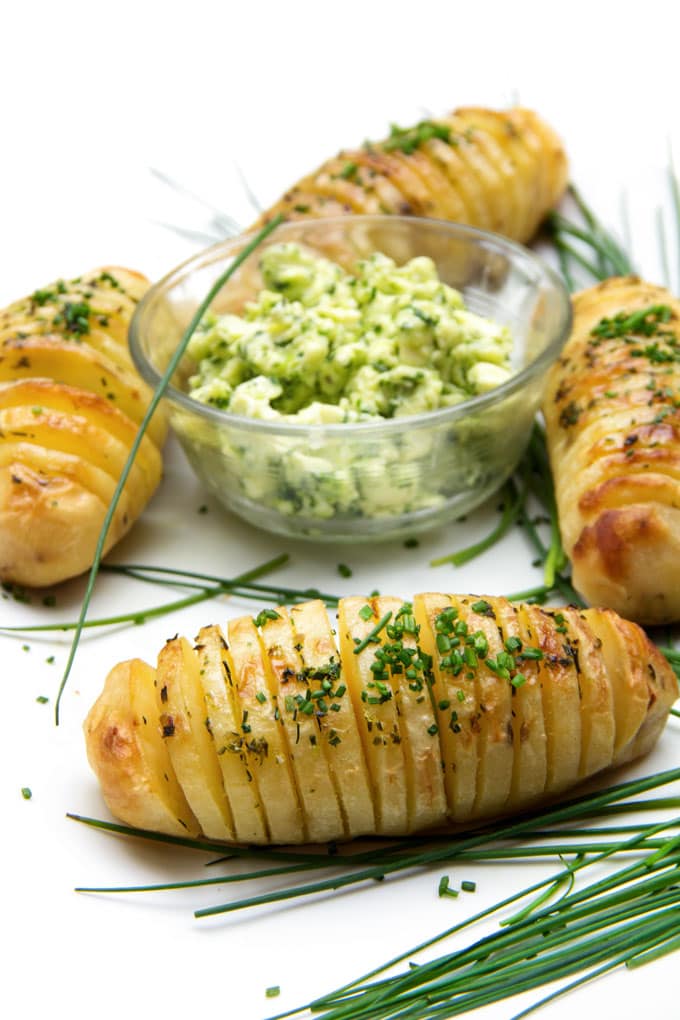 How can anyone not be excited by baked potatoes that look like accordions!? Hasselback potatoes are made for special occasions. No spuds are as festive and dazzling. Af few years ago, I shared a tasty recipe for Swedish Hasselbacks with lemon garlic dijon vinaigrette. Now it's time for a new version: Holiday hasselback potatoes with shallot chive butter.
Though Holiday Hasselback Potatoes look fancy, they're not difficult to make. All you have to do is cut slices, ¼-inch apart, across the length of a potato. The one trick is to make sure the cuts go most of the way through the potato, but not all the way through, so the potato holds together.
If you place the potato between two chopsticks or spatula handles (as I did), you can easy make the cuts without the risk of cutting all the way through.The handles stop the knife, leaving a sturdy, intact layer on the bottom of the potato.
How To Make Holiday Hasselback Potatoes
Cut the potatoes and lay them out on a shallow rimmed baking dish. Coat them with oil, and bake them for 30 minutes.
As the potatoes cook, the slits will open up - an invitation for basting with melted shallot chive butter...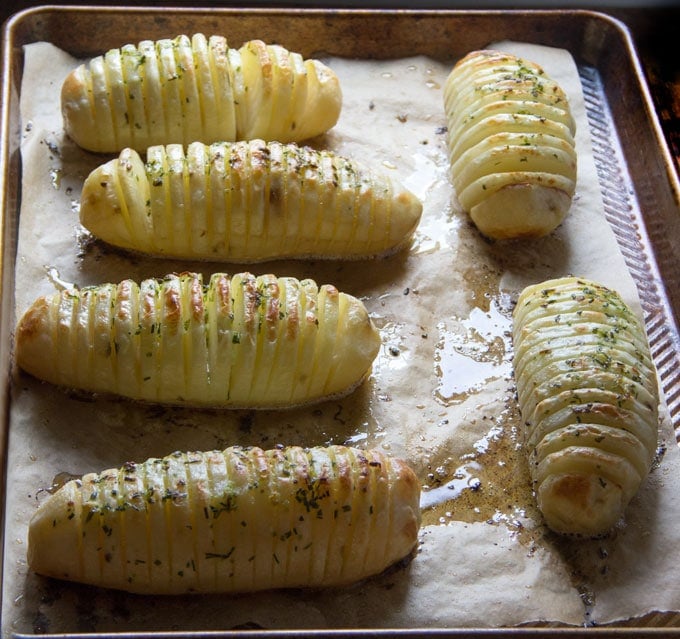 Chive butter is so incredibly delicious on potatoes. In this recipe, the hasselback potatoes are basted with chive butter as they cook. So the delicious flavors are baked right in. Plus you can (you must!) top the potatoes with more of the butter just before serving.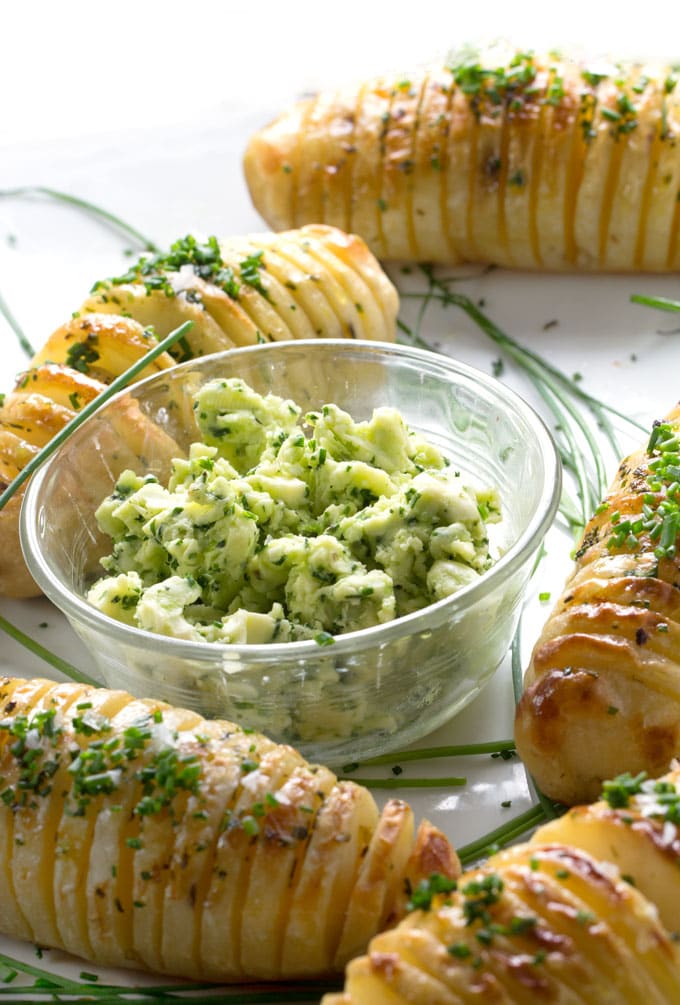 I suggest you make the compound butter in advance, so there's one less thing to do on the day of your dinner. It will keep in the fridge for up to a week or in the freezer for 3 weeks. You might even want to make a double batch of the compound butter so you can use it for other stuff, like toasted bagels; scrambled eggs, mashed potatoes, smoked salmon appetizers on toast....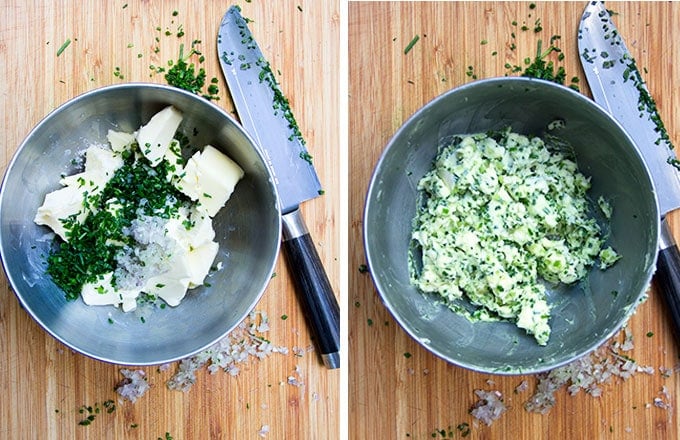 Serve the potatoes nice and hot. Just before serving, give them one more dose of butter, a generous sprinkling of chives, a few pinches of sea salt and some fresh cracked pepper.
You can call these holiday hasselback potatoes a "side" if you want, but I promise you nobody will push them to the side of their plate. They will steal the show!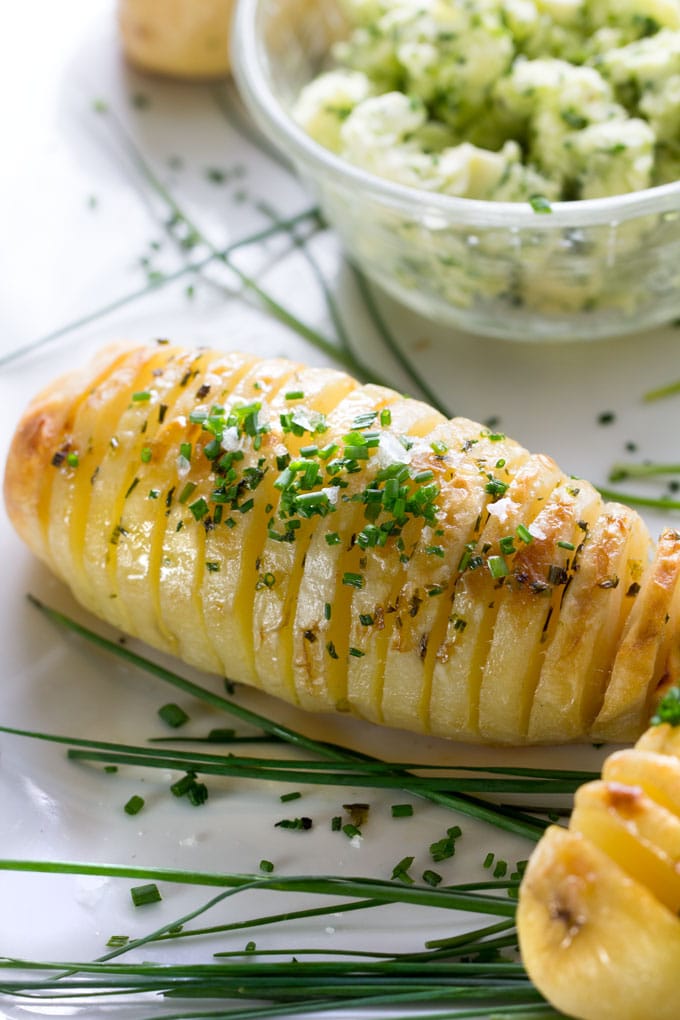 More Delicious Scandinavian Recipes to try!
• Swedish Glögg: Hot spiced mulled wine.
• Dutch Stamppot: Smoky Sausages with Kale Mashed Potatoes
• Nordic Haddock on Shredded Vegetables with Almond Gremolata
• Danish Aebleskivers: Pancake Balls
• Savory Potato Aebleskivers with Creamy Lemon Dipping Sauce
You might also like this recipe for Mini Inside-Out Hasselback Potatoes
Here's the recipe for Holiday Hasselback Potatoes with Shallot Chive Butter. If you make these, I hope you'll come back to leave a review and let me how they turned out.
Print
Holiday Hasselback Potatoes with Shallot Chive Butter
---
Author:

Lisa

Total Time:

1 hour 35 mins

Yield:

6

1

x
Description
Great looking, delicious tasting potatoes. Crisp on the outside, creamy on the inside. A perfect side dish for a special occasion.
---
For The Shallot Chive Butter:

8 tablespoons

unsalted butter (

1

bar), at room temperature

4 tablespoons

of finely chopped fresh chives, divided (

2

good sized bunches)

2 teaspoons

finely minced shallots (

1

medium shallot)

¼ teaspoon

kosher salt
For the Potatoes:

1 teaspoon

vinegar (white or cider)

6

large, oblong shaped russet potatoes

2

-

3

tablespoons olive oil
Coarse salt for finishing (I recommend Malden sea salt)
Freshly cracked black pepper
---
Instructions
Preheat oven to 425ºF Line a rimmed baking sheet with parchment paper.
Make Shallot Chive Butter: Combine the butter, 2 tablespoons of chives, shallots and salt in a shallow bowl or on a cutting board. Use a fork to mix and mash and fold the chives, shallot and salt into the butter, until everything is combined. Transfer half the compound butter to a small saucepan and set aside. (note: You can make the butter ahead and store it, tightly covered, in the fridge, for up to a week or in the freezer for up to 3 weeks. Bring it to room temperature before using.)
Peel and slice the potatoes: Fill a large bowl halfway with cold water. Add vinegar. Peel potatoes, scraping a tiny bit extra off the bottom of each potato, with the peeler, to make a flat stable surface, so they don't roll around when you slice them. Place potatoes into the bowl of water, as you peel them, to prevent discoloration.
Cut The Potato into Hasselbacks Take a potato out of the water and dry it. Lay it, lengthwise, between two wooden-handled spatulas or two chopsticks. The wood on either side of the potato will prevent you from cutting all the way through. (see instructional photos in post) Make slices, about ¼ of an inch apart, along the entire length of the potato. Repeat with remaining potatoes. Place potatoes on baking sheet. Lightly coat each potato with olive oil, using a pastry brush.
Cook and Baste The Hasselbacks: Bake for 35 minutes. Heat the chive butter in the saucepan just until it melts. Baste the top of each potato with about 1 teaspoon of melted butter, letting it drip into the slits. Bake for another 30-40 minutes longer, or until the potatoes are nicely browned in spots and cooked through.
To Serve: Serve hot. Just before serving top each potato with a teaspoon or two of compound butter. Season potatoes with sea salt and cracked pepper, to taste. Sprinkle generously with remaining chopped chives.
Prep Time:

25 mins

Cook Time:

1 hour 10 mins

Category:

Side Dish

Method:

Bake

Cuisine:

Swedish
Keywords: baked hasselback potatoes with shallot chive butter