This enchanting lamb stew called chanakhi from the country of Georgia is assembled in layers, with lamb at the bottom, vegetables and herbs piled on top, filling the pot to its brim. A magical transformation occurs in the oven, bringing all the flavors together with meltingly tender lamb and rich flavorful sauce. A delicious comforting dinner for a cold winter night.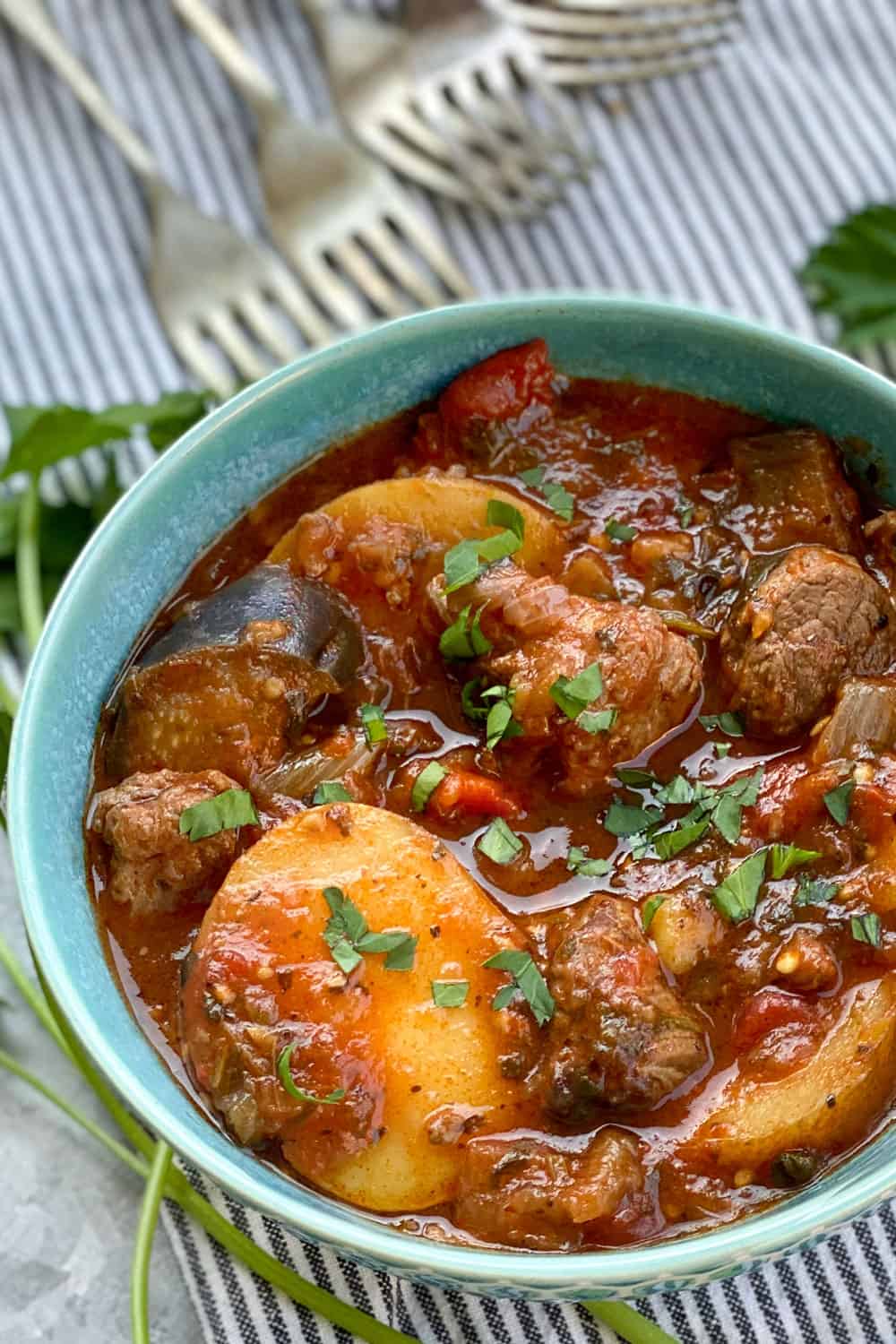 Georgian cuisine is so my kind of food! khachapuri (cheese-stuffed bread), stuffed vegetable dishes, inventive lamb stews, the abundant use of vinegar, garlic, spices and fresh herbs. The only time I had the pleasure of eating authentic Georgian food was many years ago when I took the train from Manhattan to Brighton Beach Brooklyn with two friends to have lunch at Tone Cafe, one of the legendary Georgian restaurants in that neighborhood.
I'll never forget that lunch, especially the Adjarian khachapuri: freshly baked bread, shaped like a boat, filled with two cheeses and brought to the table piping hot. The server added a hunk of butter and two eggs to the melted cheese and whisked them in, while we sat drooling in anticipation. To eat this incredible creation, we pulled off hunks of warm bread from the edges of the "boat" and dipped them into the melted cheesy, buttery center!!! I've asked my blog bread baker (My husband Eddie) to get going on a khachapuri recipe for the blog. Stay tuned for that but in the meantime, Chanakhi!
What is Chanakhi and how is it cooked?
Authentic Georgian Chanakhi is a lamb stew with vegetables and herbs that's traditionally cooked in small clay pots called chanakhi, which is how the dish got its name. Each pot contains one portion. The stew is assembled in layers with cubes of meat, usually raw, at the bottom of the pot. The middle layer is eggplant that's been stuffed with lamb fat, garlic and herbs. The top layer is tomatoes and potatoes. The pots are covered and transferred to the oven to bake.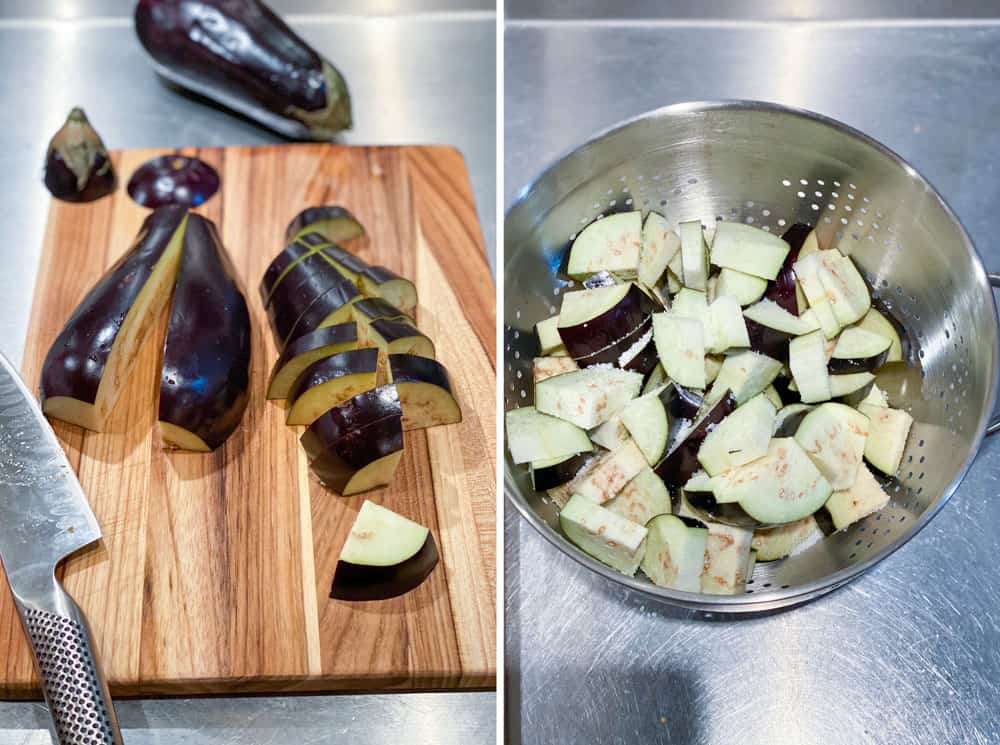 Ingredients and Adaptations for this Georgian Lamb Stew
According to food historian Copeland Marks, in whose cookbook I first discovered this Georgian dish, a chanakhi can have many variations but it always has lamb and eggplant along with other vegetables. It always has abundant fresh herbs, and it is traditionally prepared and served in a covered clay pot.
I have largely stuck to the traditional Chanakhi ingredients and technique for this recipe, with a few tweaks.
I've chosen to use a large Dutch oven as a cooking vessel rather than individual clay pots, which many home cooks don't have. I want to be sure as many people as possible get to try this incredible Georgian dish!
While many Chanahki recipes use only fresh tomatoes, I've opted for a layer of canned plum tomatoes because they are reliably ripe and juicy, even in the winter.
Rather than stuffing eggplant with herbs and fat, my adaptation uses uses sliced eggplant and layers it with chopped fresh herbs - a simpler technique that, according to The Georgian Table, is how most home cooks make it these days.
How to make Chanakhi: Georgian Lamb Stew
Two pots are needed for this recipe, a skillet for browning the lamb and sautéing the aromatic vegetables, and a a heavy stew pot or Dutch oven for assembling the lamb stew and braising it in the oven.
The ingredients are sautéed in the order that they're layered into the pot. First the lamb, then the onions, followed by the peppers and garlic.
The rest of the ingredients are layered on top, one at a time: dried spices, canned tomatoes, half the eggplant and potatoes, half the fresh herbs, the rest of the eggplant, potatoes and herbs.
Sliced fresh tomatoes are added to the very top, the pot is covered and it goes into the oven for a long slow braise.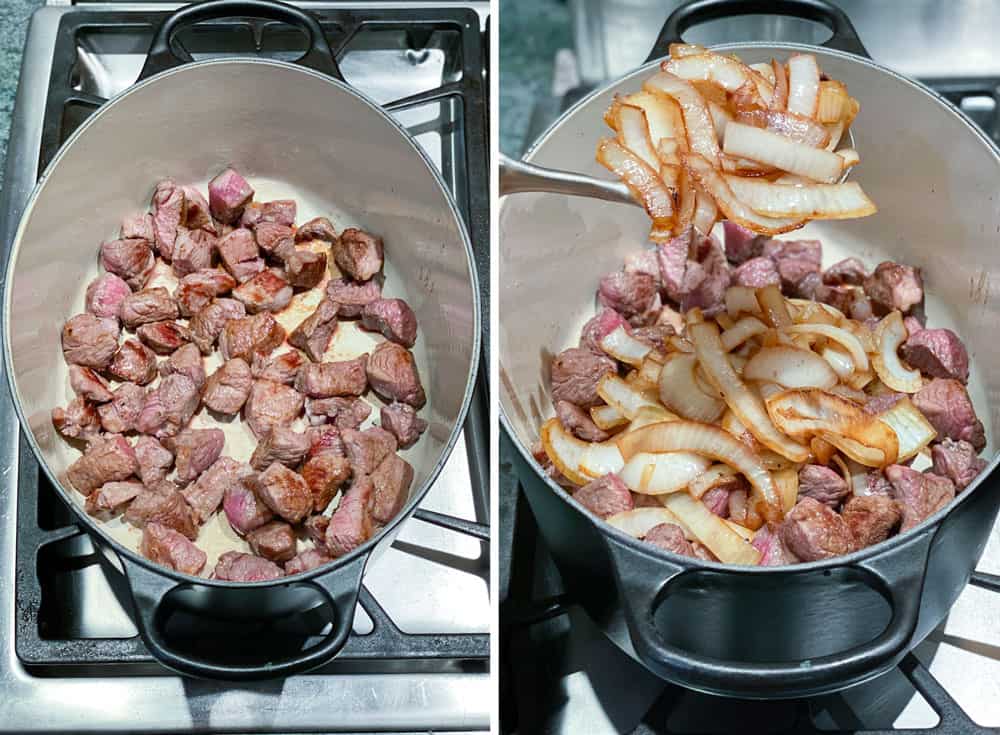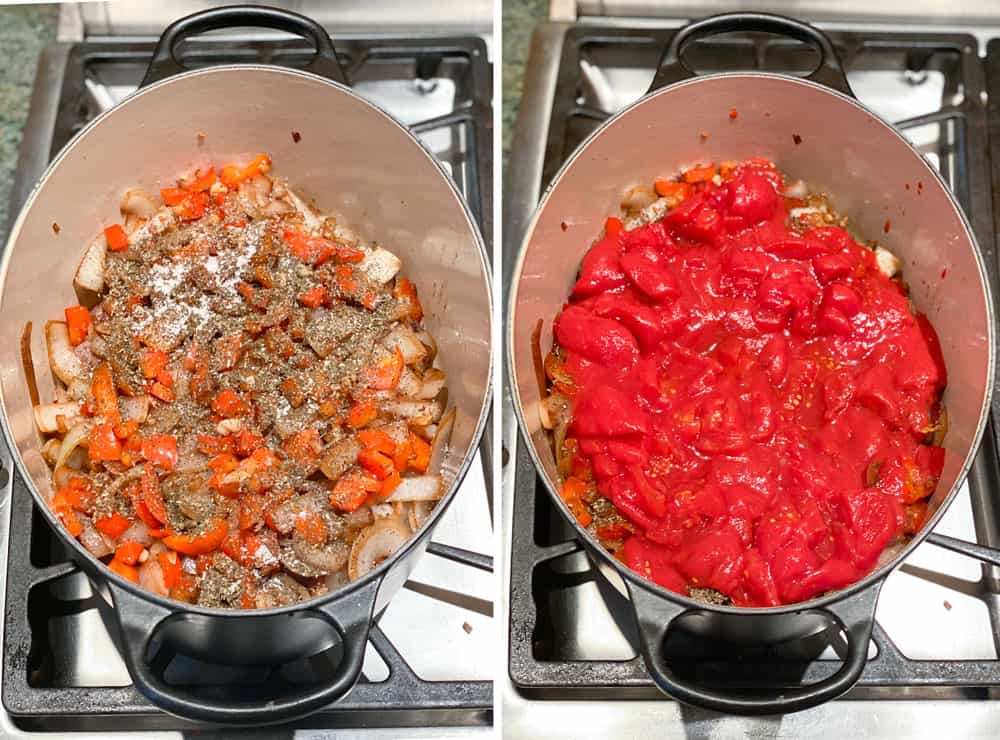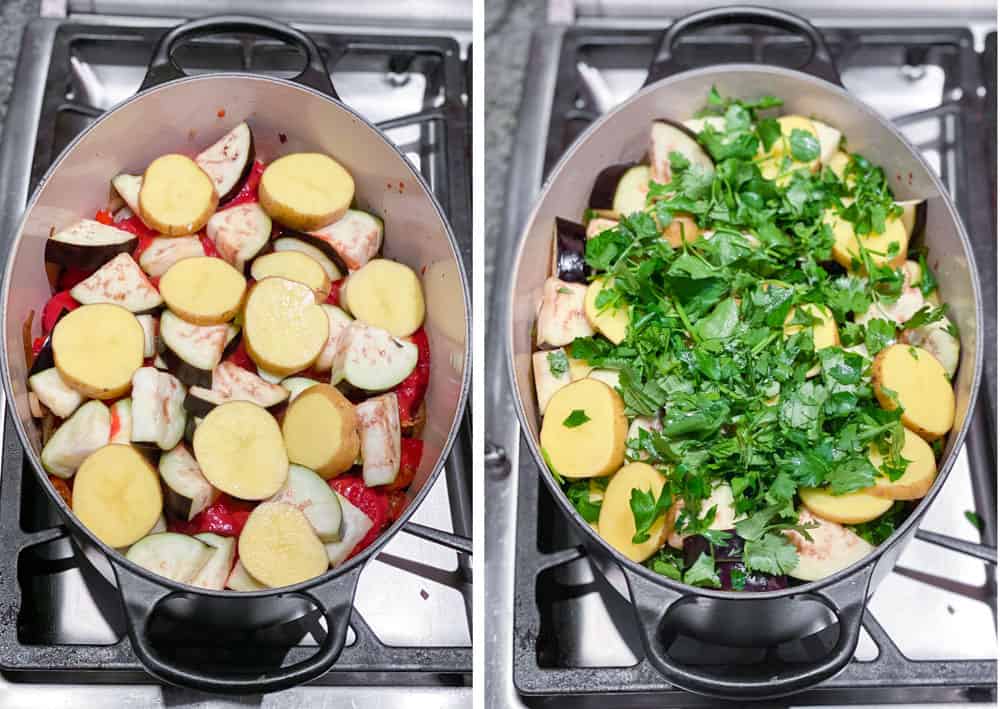 The before and after photos say it all. Lots of magic happens in the oven.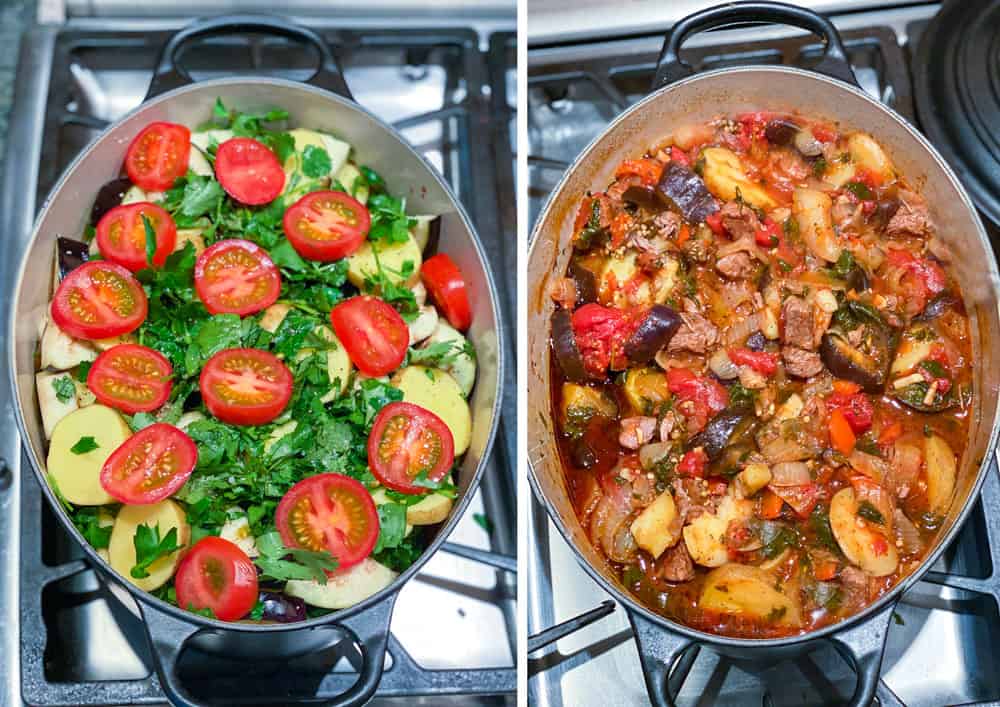 Serving and Storing Chanakhi
To Serve: Ladle Chanakhi into bowls and serve hot, with a sprinkling of fresh herbs on top and crusty bread on the side. Nothing more is needed for a complete and satisfying meal. However, if you enjoy a salad with your stew, this butter lettuce salad with citrusy dressing always makes a lovely side dish for a warm comforting stew.
Make this ahead: This lamb stew can be prepared a day ahead, kept covered in the fridge, and reheated at a low simmer or in a 300ºF oven. Like many stews, it's even better the next day, after the flavors have had time to meld.
Other hearty stew recipes to try: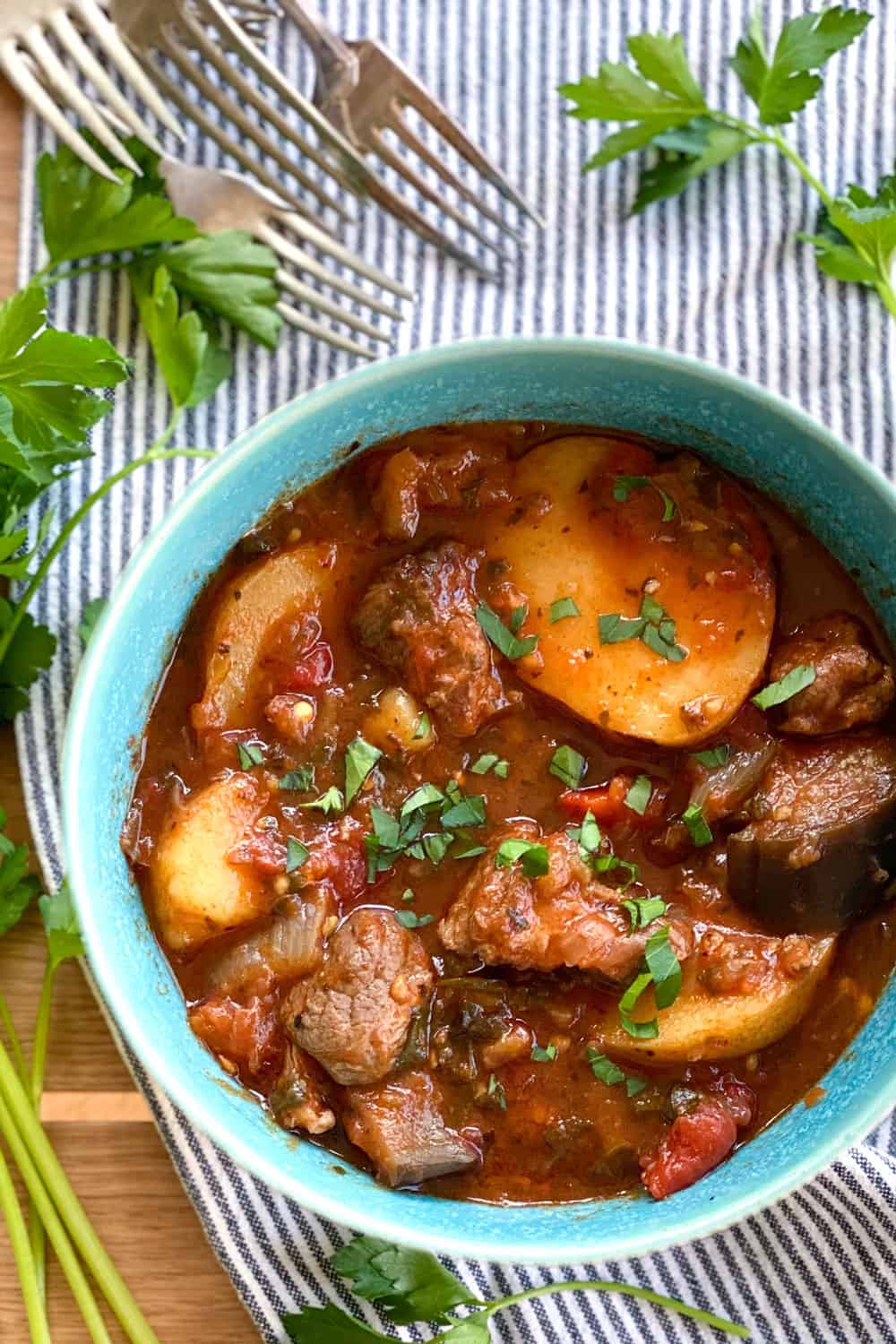 Here's the Georgian lamb stew recipe. If you try this I hope you'll come back to leave a star rating and a comment. I'd love to know what you think.
Print
Georgian Lamb Stew: Chanakhi
---
Author:

Lisa

Total Time:

3 hours 20 minutes

Yield:

6

servings

1

x
Description
This stew is assembled in layers with meat on the bottom of the pot, onions, eggplant, peppers, potatoes, fresh herbs and tomatoes piled on top. A low slow oven braise brings it all together and yields a delicious and satisfying stew with meltingly tender lamb and vegetables, and rich flavorful sauce.
---
2

pounds of boneless lamb shoulder cut into 1-inch pieces (lamb leg will work, too)

2

medium eggplants or 4 small (about

2

pounds)

2 tablespoons

of high smoke point cooking oil such as canola or light olive oil.
Kosher salt
Freshly ground black pepper

3

large yellow onions, peeled, halved and sliced

1

large red bell pepper, seeded and cut into

½

-inch pieces

5

large garlic cloves, peeled and chopped

1 tablespoon

dried basil

1

28 ounce can of imported plum tomatoes and their juice, tomatoes torn or roughly chopped

1

pound of small yellow flesh potatoes, sliced into ¼-inch rounds (cut the potatoes just before adding them to the pot or, if you cut them ahead of time, keep them immersed in a bowl of water to prevent discoloration.)

1

large bunch of fresh parsley, thick stems removed, roughly chopped (Set 1 or

2 tablespoons

aside for garnishing the stew)

1

large bunch of fresh cilantro, thick stems removed, roughly chopped

1

pound of small fresh ripe tomatoes, cut into

¼

-inch rounds.

2 tablespoons

olive oil

1 ½ tablespoons

red wine vinegar
---
Instructions
Equipment: You will need a large skillet and a large heavy-bottomed stew pot or Dutch oven with a lid.
Arrange an oven rack in the lower third of the oven, making sure there is enough head room for your stew pot. Preheat the oven to 350ºF.
Toss lamb with 1 teaspoon of salt and allow it to marinate for ten minutes or so, while you cut the eggplant.
Trim the ends off of the eggplants and cut them, lengthwise, into quarters. Slice each quarter crosswise, into ½-inch wedges. Put sliced eggplant into a colander and toss with 2 teaspoon of salt. Leave eggplant to sweat for 30 minutes and then rinse under cold water to wash away bitter juices and salt.
Heat 1 tablespoon of oil in a large heavy skillet over medium high heat until hot. Add half the lamb and leave it for a minute to brown on one side. Flip and sear lamb on all sides, 3-4 minutes total. Transfer browned lamb to a large heavy stew pot or Dutch oven. Repeat with remaining lamb, spreading it out into an even layer in the bottom of the pot.
Add 2 teaspoons of oil to the pan and sauté the onions, tossing occasionally, until they are lightly browned, about 10 minutes. Transfer the onions to the pot, layering them evenly over the lamb.
Add 1 teaspoon of oil to the skillet along with the chopped red peppers and garlic, and sauté, stirring, for 3 minutes or so, until the garlic is fragrant and the peppers have softened a bit. Add the peppers and garlic to the pot and sprinkle 1 tablespoon of dried basil, 1 teaspoon of salt and plenty of black pepper, evenly over the vegetables in the pot.
Add the canned plum tomatoes next, spreading them out into an even layer.
Next add half of the eggplant and half the potatoes, followed by half the chopped herbs. Repeat with the rest of the eggplant, potatoes and herbs. Season that layer with ½ teaspoon of salt and a few grind of pepper.
Arrange the sliced tomatoes evenly over the top. Drizzle 2 tablespoons of oil and 1 ½ tablespoons of vinegar over everything, cover cook in the oven at 350 for 30 minutes. Reduce the oven temperature to 325ºF and cook for 2 hours longer. Serve hot in bowls with a little chopped cilantro to garnish each serving.
Notes
Want to Prepare this ahead?: This stew can be prepared a day or two ahead. Allow it to cool and store it, covered, in the fridge. Reheated it, covered, at a low simmer or in a 300ºF oven, until hot. Like many stews, it's even better the next day, after the flavors have had time to meld.
Prep Time:

30

Cook Time:

2 hours 50 min

Category:

Stew

Method:

Braise

Cuisine:

Georgian
Keywords: lamb stew with eggplant and potatoes, oven braised lamb stew with vegetables