Sweet honey and tangy roasted pineapple is a winning combination. Top with creamy Greek yogurt, toasted pistachios and mint for a fabulous healthy dessert recipe.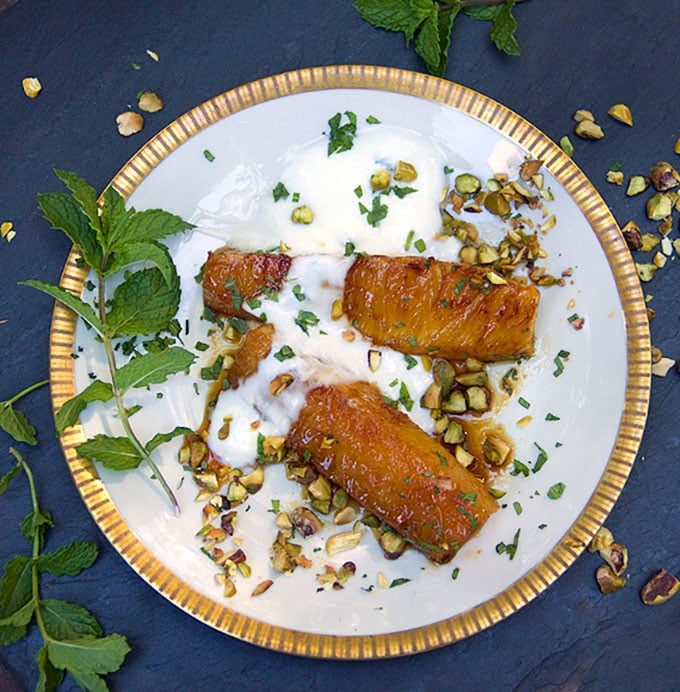 It was a sleepy sunday morning in August. I had just returned from a long sunny walk with my dog Baxter, and was filling his water bowl. I had no idea what an exciting day it was about to be. As I was grabbing my coffee - newspaper in hand - my cell phone rang. It was my friend Sheryl. "What are you doing right now?!? (nothing) You should grab your camera and come to my neighbor's house! She's having her yearly honey harvest. It's amazing!!!" So I did, and it was.
Jeanne McDermott and Ted Finch have thousands of bees living in their backyard. The bee hives are right next to the chickens and not far from the organic vegetable garden, the organic apple trees, the koi pond, and the clusters of grapes that hang down from a large wooden trellis. You might be imagining that Jeanne and Ted live out in farm country? No, they live in a suburban neighborhood just outside of Boston.
Jeanne is a science teacher at The Shady Hill School - a private elementary school in Cambridge. I wish Jeanne was my science teacher in elementary school! She's the real deal - it's so much fun to talk to her about bees! Science and nature are clearly a great passion for her, and her home could be a national nature reserve.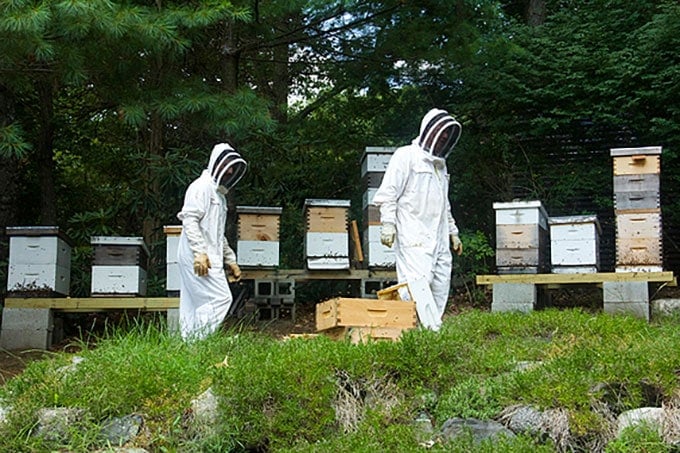 When I walked into their kitchen, every surface was covered with brown paper, and everything on top of the paper was glistening with honey. There were about a dozen people helping with the harvest - Jeanne and Ted, their two sons, and a few neighborhood friends. Some folks were busy working with honey-coated contraptions. Others - dressed in protective bee suits - were collecting the honey-laden frames from the hives and bringing them inside for processing.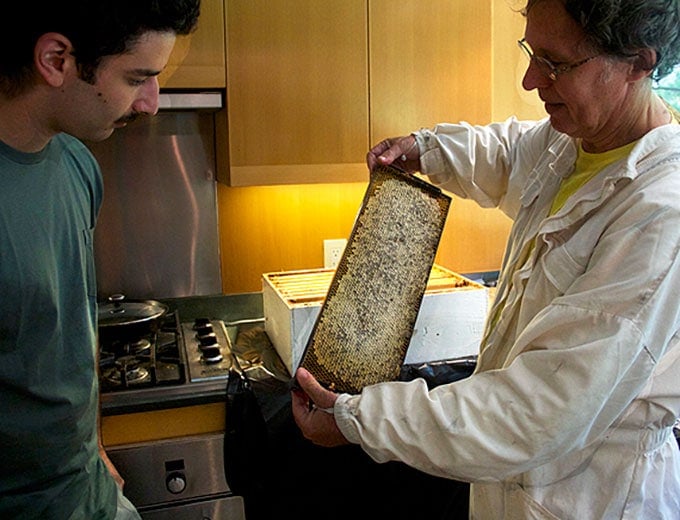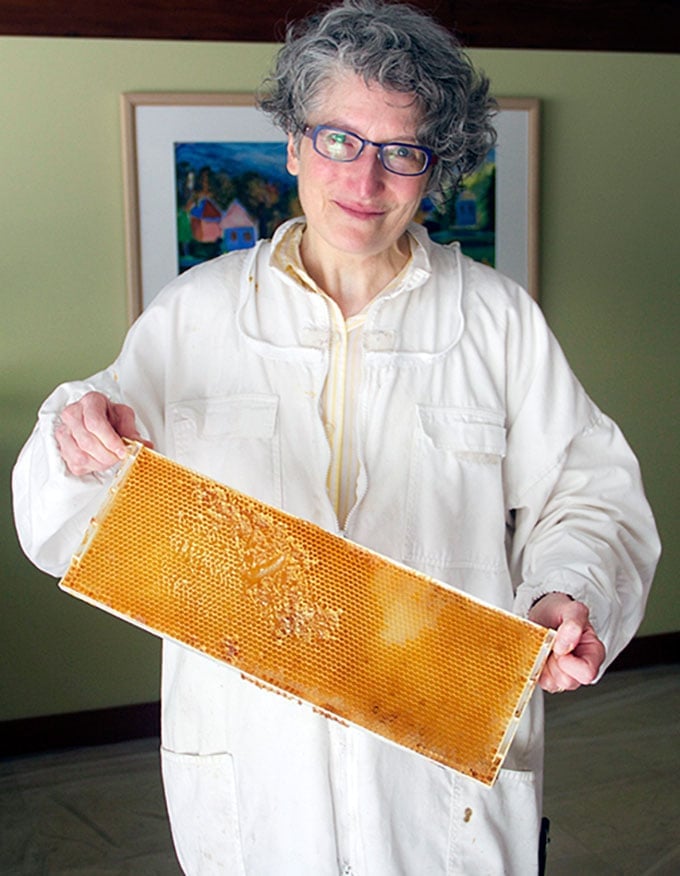 Neighbor Alana Berman and her friend Kate worked diligently to uncap the honey on the frames. They used a heated roller/knife to remove the wax-sealed honeycomb and expose the honey beneath it.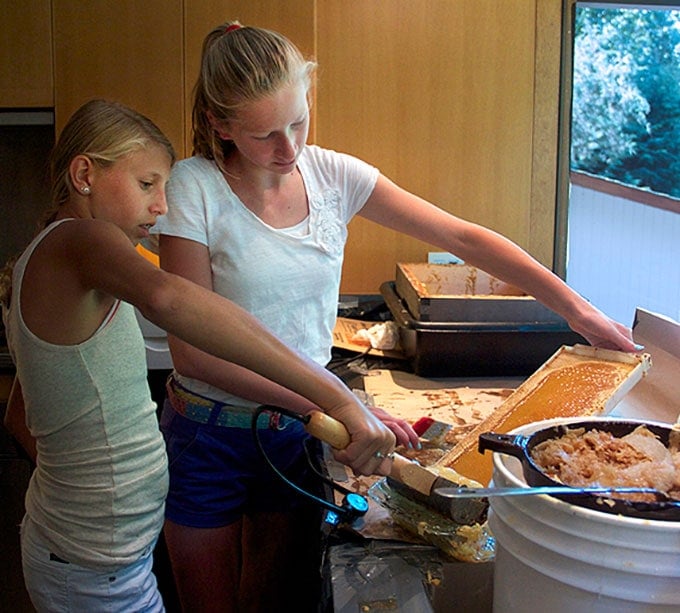 This prepares the frame for the extractor - a steel drum with a crank that spins the frames, using centrifugal force to pull honey out and onto the sides of the drum, where it drips down and is collected for bottling.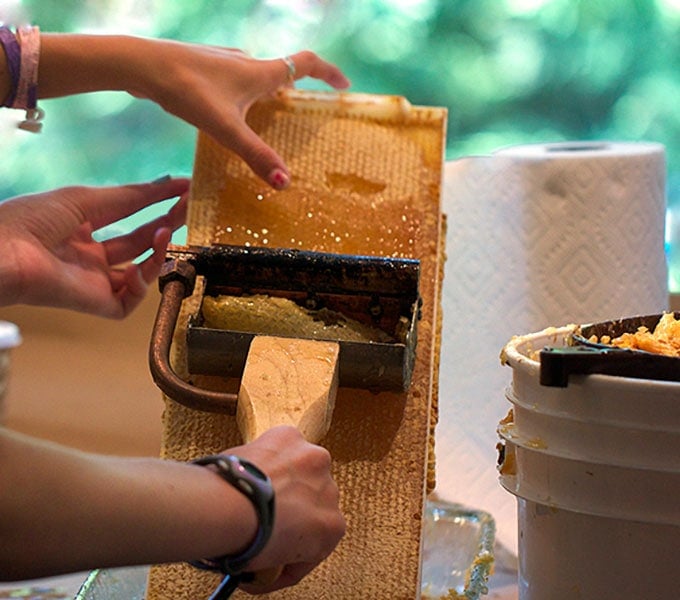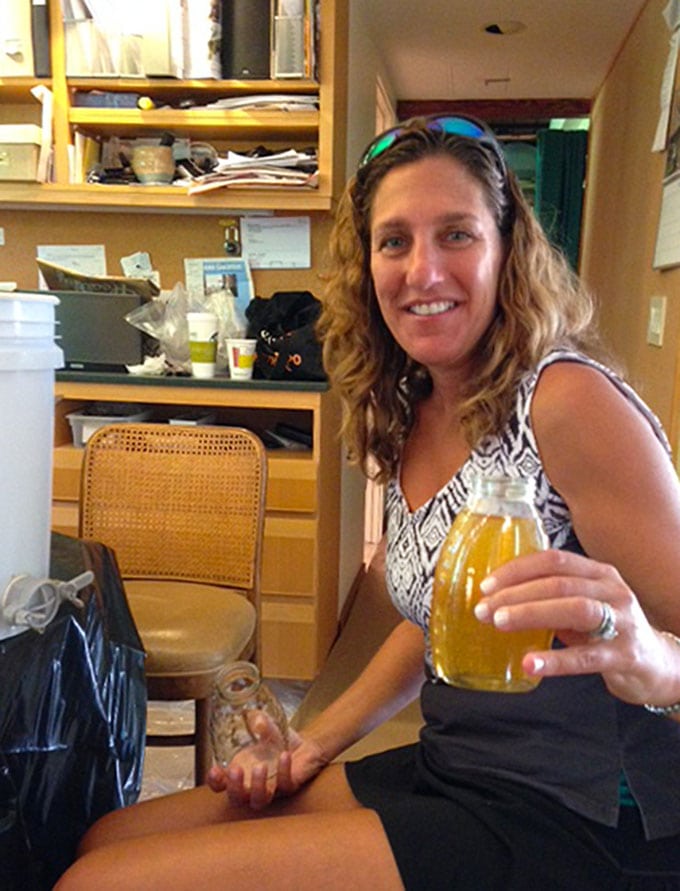 Through the kitchen windows it was clear to see that the bees were excited - perfectly understandable considering they had been smoked out of their happy hives.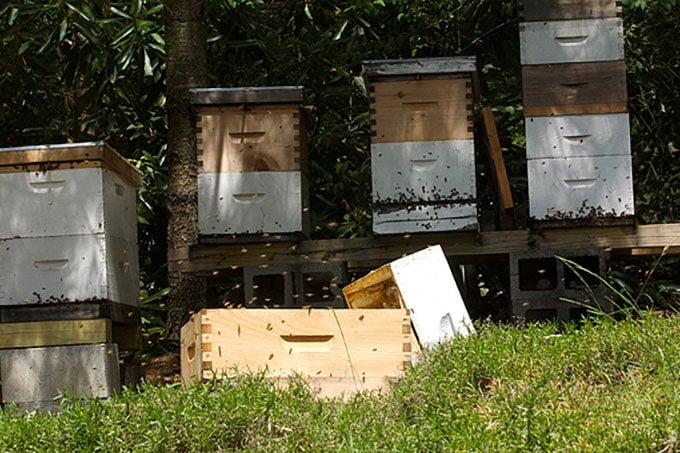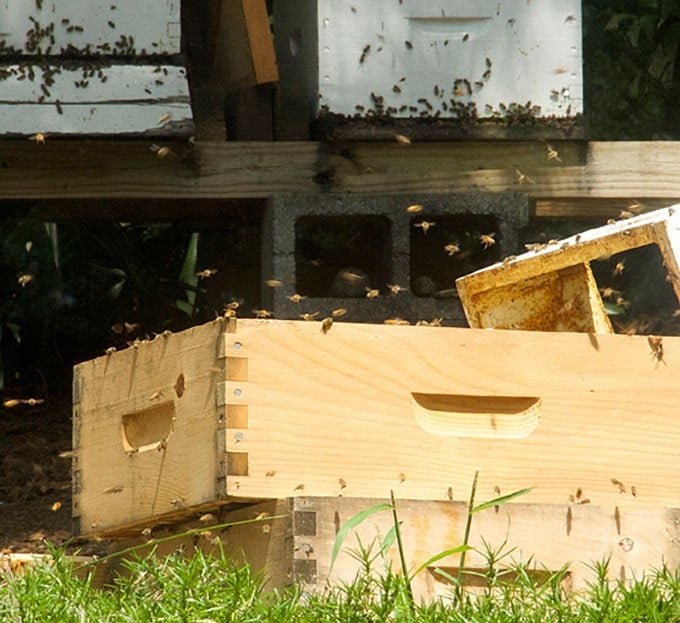 Jeanne and Ted bottled close to 300 pounds of honey at the harvest this year! What to do with all that honey? That's always a challenge. They give some away to neighbors and they "sell" some - with all of the proceeds going to two charities: Lovelane Special Needs Horseback Riding Program and The Food Project, a Boston-based non-profit helping youths and adults from diverse backgrounds build sustainable food systems.
This year my friend Sheryl's daughter, Alana, is taking on honey sales as her bat mitzvah project. Alana was an integral member of the honey harvest team and now she'll be working hard to sell McDermott/Finch honey as a fundraiser for Lovelane. If you're local to Lexington, MA and interested in purchasing some of this amazing honey and helping Lovelane, you can email Alana at Bermanrosner@rcn.com.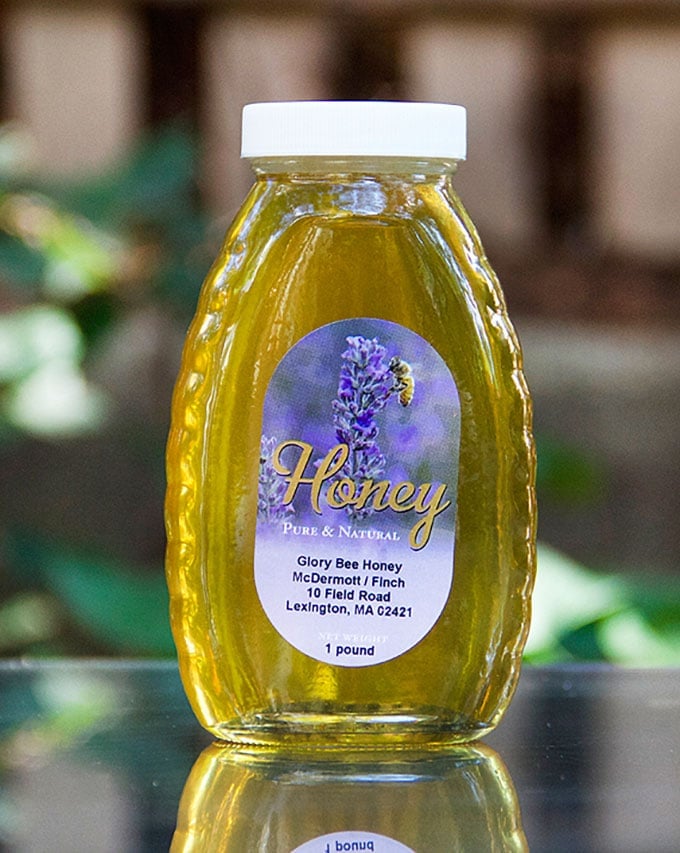 The McDermott/Finch honey is extraordinary - I tasted it fresh from the hives, and I enjoyed it in a way that I've never enjoyed honey before. I detected floral subtleties and imagined how hard those bees worked - the thousands of flights they took to find tasty flowers to gather nectar from so they could make their amazing honey. And the people worked hard too! It was a major production to get all that honey harvested - a long day of diligent labor and a huge mess to clean up, yet I sensed nothing but purposefulness and joy from Jeanne and Ted and everyone else who participated - me too!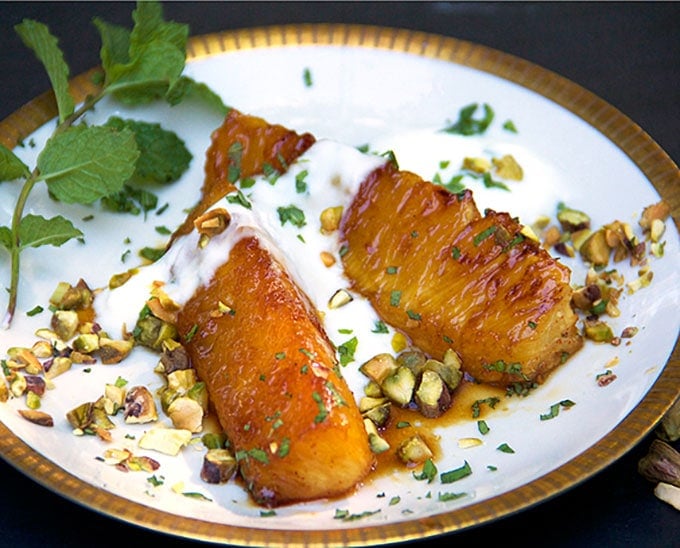 Now you're probably in the mood for honey. Plus today is Rosh Hashanah - the Jewish New Year - which is celebrated with honey to symbolize the sweetness we hope for in the year ahead. So here's a delicious recipe, adapted from Bon Appetit, featuring honey roasted pineapple, served with tangy Greek yogurt, toasted pistachios and mint.
If you try this recipe, please come back to leave a star rating and a comment. I'd love to know what you think!
Print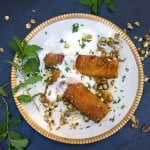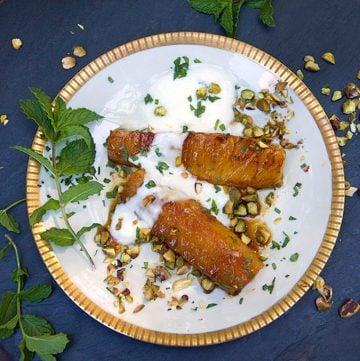 Honey Roasted Pineapple with Yogurt and Pistachios
---
Author:

Lisa

Total Time:

45 mins

Yield:

4

1

x
Description
Caramelized, honey-glazed pineapple with yogurt and pistachios is quick enough for a weeknight dessert and special enough to serve for an elegant dinner party.
Adapted from a recipe in Bon Appetit
---
4 tablespoons

(packed) dark brown sugar

4 tablespoons

honey

⅓ cup

orange juice

1

medium, ripe pineapple, peeled, cored, cut lengthwise into

8

wedges

½ cup

low fat or non fat greek yogurt

⅓ cup

pistachios, toasted (toss them around in a dry skillet over medium-high heat, for a few minutes, until lightly browned) coarsely chopped

2 tablespoons

chopped mint leaves
---
Instructions
Preheat oven to 450°F. Line a large rimmed baking sheet with parchment paper. In a large bowl or flat container, stir sugar honey and juice until the sugar dissolves. Add the pineapple and toss to coat. Let marinate, turning occasionally, for 10-15 minutes. Lay pineapple on prepared baking sheet; reserve marinade.
Roast pineapple for 15 minutes. Turn, brush with marinade, and roast until tender and caramelized, 10-15 minutes longer. Brush with more marinade. Leave to cool.
Divide pineapple among plates. Spoon yogurt alongside. Sprinkle with toasted pistachios and mint.
Prep Time:

15 mins

Cook Time:

30 mins

Category:

Dessert

Method:

Roast

Cuisine:

American
Keywords: Pineapple dessert, roasted pineapple dessert recipe
On a more serious note, bees are wonderful and important insects. We have bees to thank for fertilizing many of the crops in our food supply. But over the past decade honey bee colonies have been dying in huge numbers. What can we do to help? Jeanne pointed out that there's good science to prove that theres one type of insecticide being used, called neonicotinoids, that significantly harm honey bees. As individuals we can help by asking our congressmen and senators to protect the bees by banning the use of neonicotinoids.