Aebleskiver are spherical pancakes from Denmark. Fun to make and extremely fun to eat, aebleskiver are popular in Denmark, especially around the Christmas Holidays when they're sprinkled with powdered sugar and served for breakfast or dessert. Aebleskiver are a wonderful holiday treat and the aebleskiver pan makes a great holiday gift!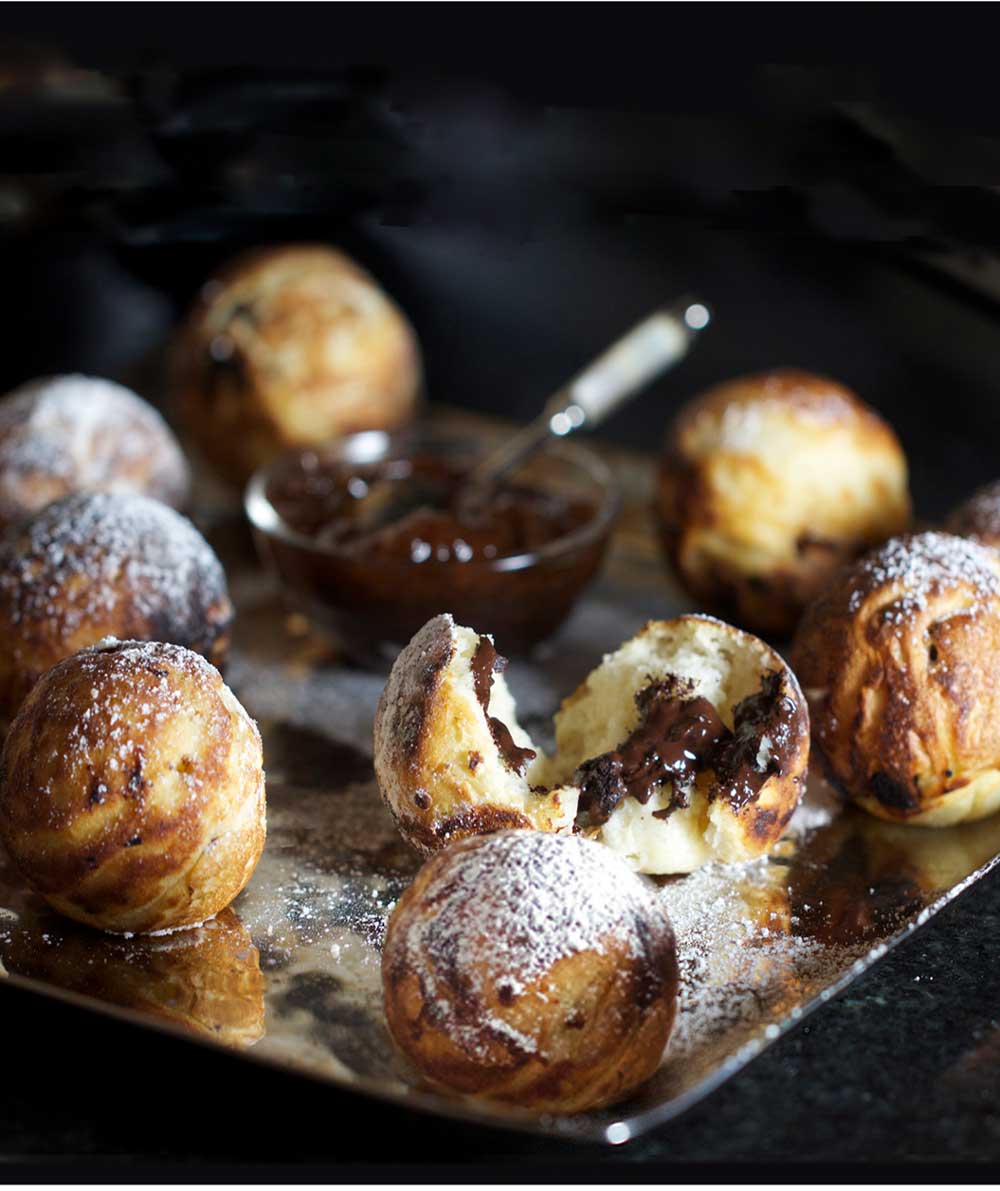 Do you remember the first time you were struck with the magic of cooking. For me it was the first time I scrambled eggs. I remember being totally mesmerized as I watched the goopy yellow liquid almost instantly transform into scrambled eggs as it hit the hot pan. I wanted to make scrambled eggs for everyone - all the time. That's how I feel about aebleskiver. It's like magic the way they form into perfect spheres.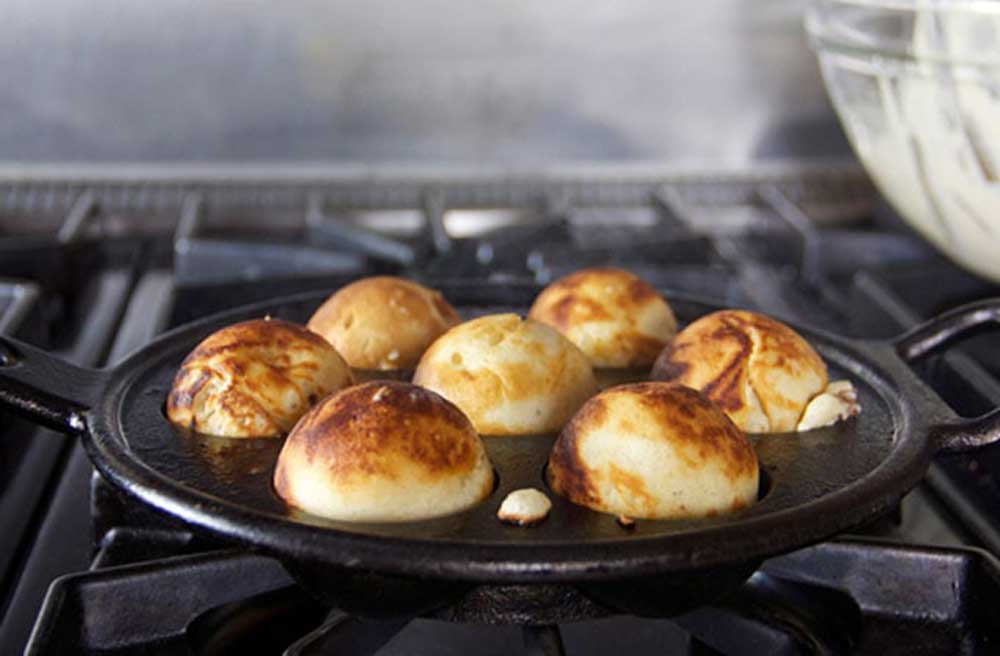 Aebleskiver resemble regular pancakes in color and texture, but they're balls. And you think "how? How is this possible?"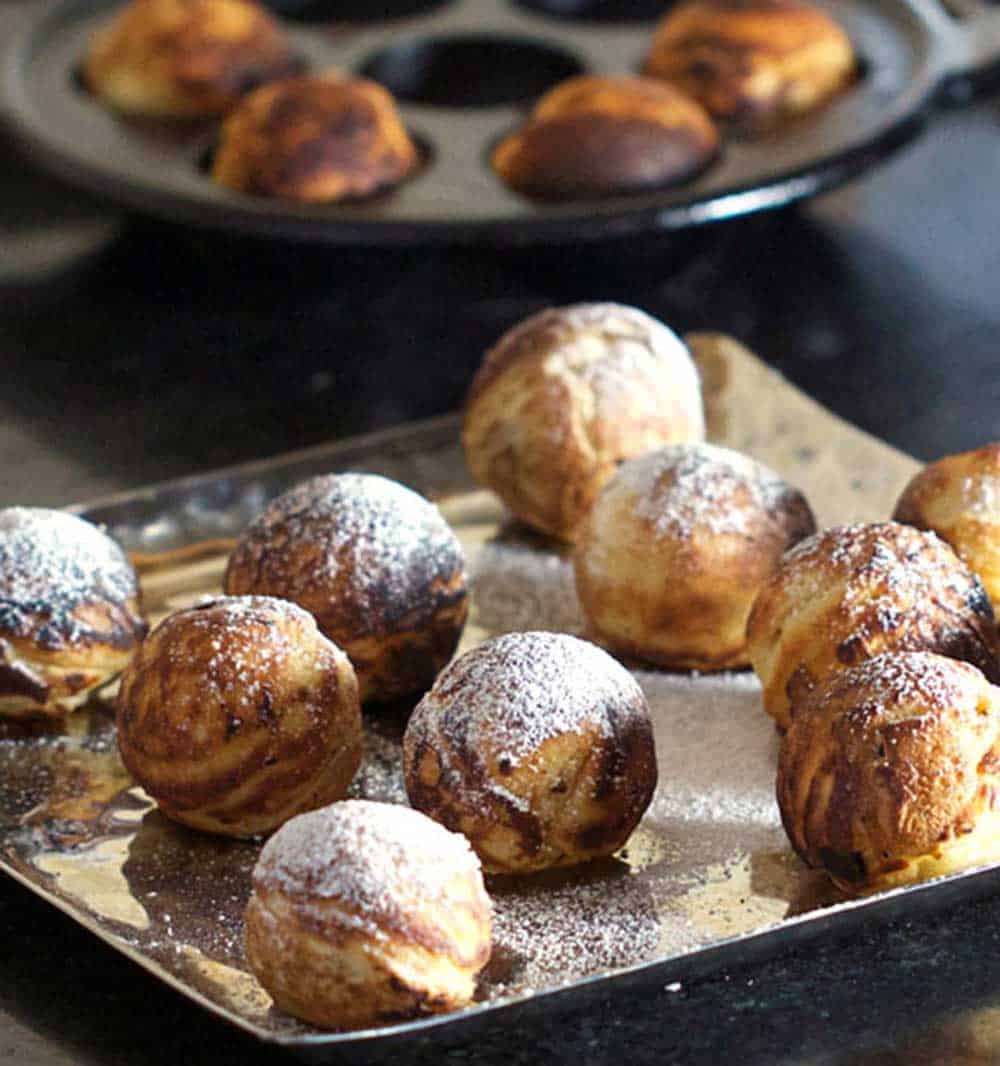 The answer is, it takes a special pan, knitting needles or bamboo skewers and a little finesse.
How To Make Aebleskiver: Danish Pancake Balls
To make Aebleskivers you'll need an Aebleskiver pan. It's made from heavy cast iron and has several half-sphere indentations. You'll also need a couple of long pointy knitting needles or bamboo skewers to maneuver the batter in the pan.
Make the Batter: The Aebleskiver recipe uses flour, buttermilk and eggs plus a bit of sugar, salt, vanilla, and cardamom for flavor, and some leavening agents.
Start Cooking: Heat up the aebleskiver pan, add butter or oil to each indentation and then pour the batter into the indentations - almost up to the top.
Add fillings: If you like, you can add fillings at this point, such as chocolate, jam, or fruit. Plop a bit of batter over the fillings to seal them in so they don't slip out when you start turning the batter to form a ball.
Turn the batter: Once the batter sets in the pan for a minute or so, use your knitting needles or a bamboo skewer to slide each aebleskiver around so they make a one quarter turn. The uncooked batter will slip out and cook on the hot pan.
Finish: Make two more quarter turns and you have pancake balls!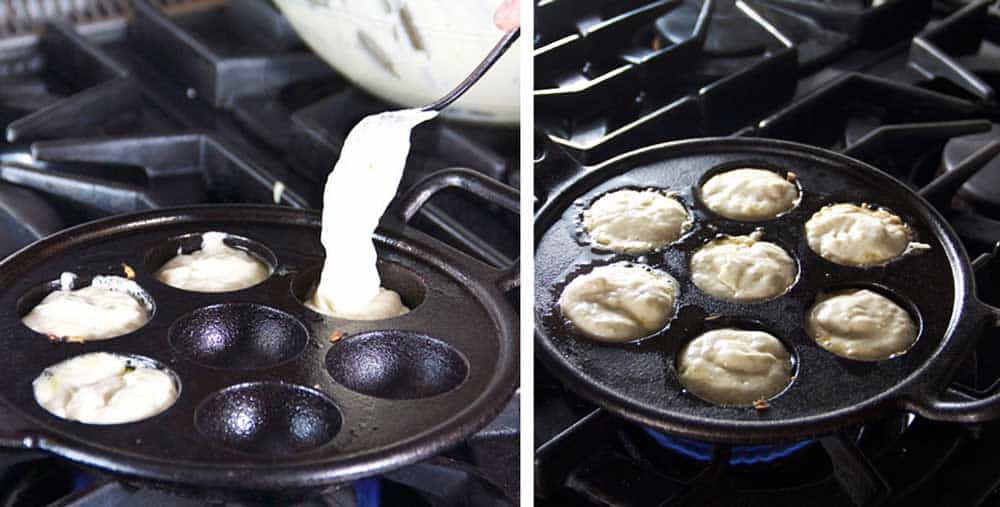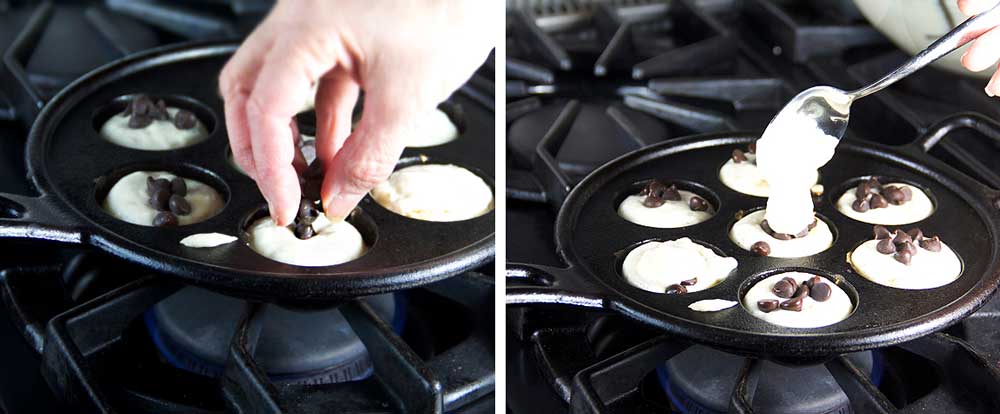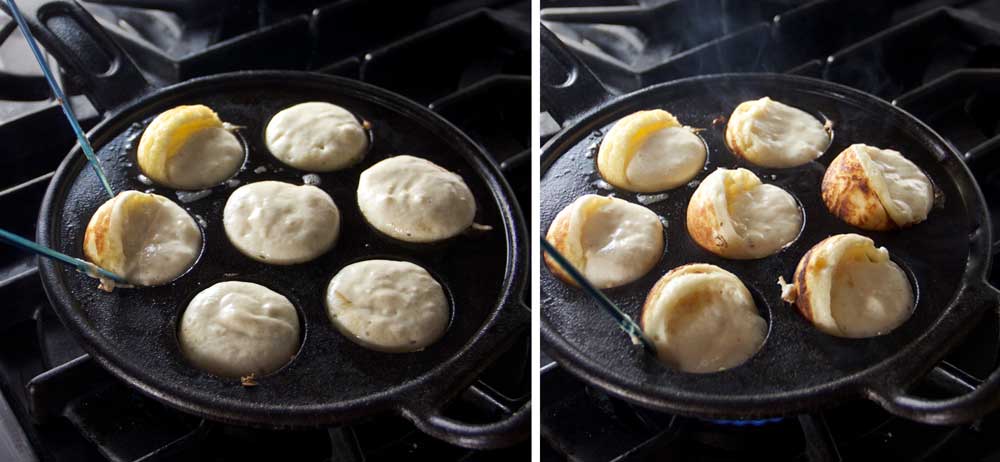 Make festive Aebleskiver for the holidays!
Aebleskiver are slightly crisp on the outside - soft and fluffy on the inside - so delicious!!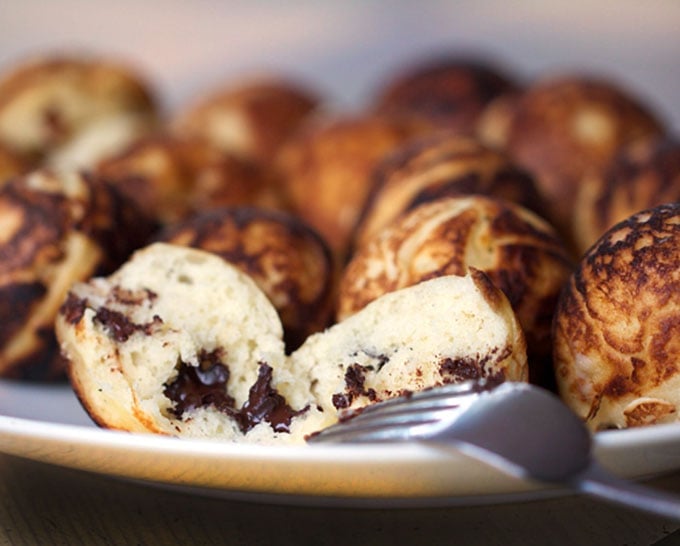 They make a fun breakfast. But if you really want to embrace Danish tradition, serve these around the holidays for dessert and wash them down with mugs of steaming glogg.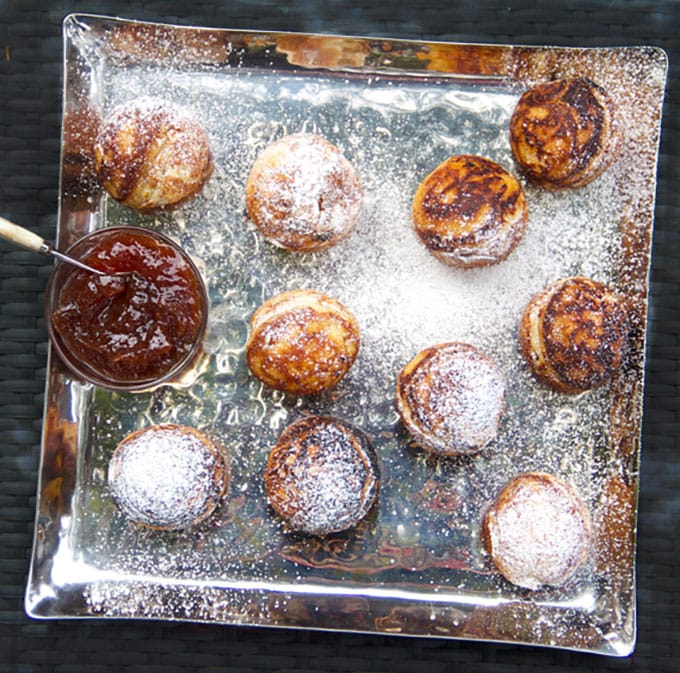 The kitchen is such a great place to experiment and create exciting things. Aebleskivers are very exciting things! If you're interested, you can Purchase an Aebleskiver Pan on Amazon
. It makes a great holiday gift!
Once you have an Aebleskiver Pan you may also want to try this delicious recipe for Savory Potato Aebleskivers It's a fantastic appetizer recipe. And if you have anyone with dietary restrictions you'll be happy to know that they're gluten-free, dairy-free and egg-free.
Here's the Aebleskiver recipe. If you try this recipe I hope you'll come back to leave a star rating and a comment. I'd love to know what you think!
Print
Aebleskiver Recipe
---
Author:

Lisa

Total Time:

15 mins

Yield:

8

-

1

0

1

x
Description
Festive Danish pancake balls, plain or stuffed with chocolate, apples or jam. Traditional for Christmas breakfast and dessert.
---
Equipment: A cast iron aebleskiver pan. A pair of pointed knitting needles or two long bamboo skewers.
Butter or oil for greasing the pan
Dry Ingredients
2 cups

all purpose flour

2 tablespoon

white sugar

1 teaspoon

baking powder

½ teaspoon

baking soda

½ teaspoon

salt

½ teaspoon

ground cardamom (optional)
Wet Ingredients
2 cups

buttermilk

2

eggs

1 teaspoon

vanilla
Optional Fillings
chocolate chips
chopped apples, sautéed in a little butter to soften
Jam or preserves
Topping
---
Instructions
In a medium sized bowl mix dry ingredients: flour (2 cups), sugar (2 tablespoons), baking powder (1 teaspoon), baking soda (½ teaspoon), salt (½ teaspoon), and cardamom if using (½ teaspoon). In a separate large bowl whisk buttermilk (2 cups), eggs (2) and vanilla  (1 teaspoon). Whisk dry ingredients into the wet ingredients. For fluffiest results, use batter within 10 minutes of mixing.
Heat up your cast iron Aebleskiver pan over medium-high heat for a couple of minutes. Place ¼ teaspoon or so of butter or oil into each round. When it bubbles, add enough batter to come up almost to the top of the round. (If using a filling, spoon ¼ to ½ teaspoon of filling into the center of each round and cover with a bit of batter) When the batter starts to bubble up a bit on the sides, turn the aebleskiver ¼ of the way around by gently coaxing it with the tip of your needle. It should slide easily. Cook for 20-30 seconds, adjusting the heat if need be, so they don't burn, and make another quarter turn for each aebleskiver. Repeat the turns two more times, until you have a perfect ball that is cooked on all sides. You can test your aebleskivers for doneness by inserting a toothpick - if it comes out clean, they're done. If not, continue to cook, rotating every few seconds, until done.
Arrange aeblesivers on a platter. Sprinkle with powdered sugar. Serve warm with jam or other toppings on the side. Enjoy!
Notes
Make these ahead and freeze them: Aebleskiver pancakes freeze well. Freeze them in an airtight container and reheat them on a baking tray in a 325ºF oven for 20 minutes or until heated through. Sprinkle with powdered sugar and serve immediately.
Prep Time:

10 mins

Cook Time:

5 mins

Category:

Breakfast or Dessert

Method:

stove top

Cuisine:

Danish
Keywords: pancake balls, Danish pancake balls, Danish pancakes