These Savory Potato Aebleskivers are potato pancakes like you've never had before. The batter is made from tender red lentils, shredded potatoes, herbs and chilies. The pancakes are cooked in a special pan that forms them into golden brown spheres that are crisp on the outside, fluffy and tender inside. Serve these scrumptious bites as a party appetizer or a game day snack. As a bonus, these potato aebleskivers are gluten-free, dairy-free, and egg-free.
This post is sponsored by The Idaho Potato Commission. Opinions are my own, as always. Thank you for supporting the sponsors who support Panning The Globe.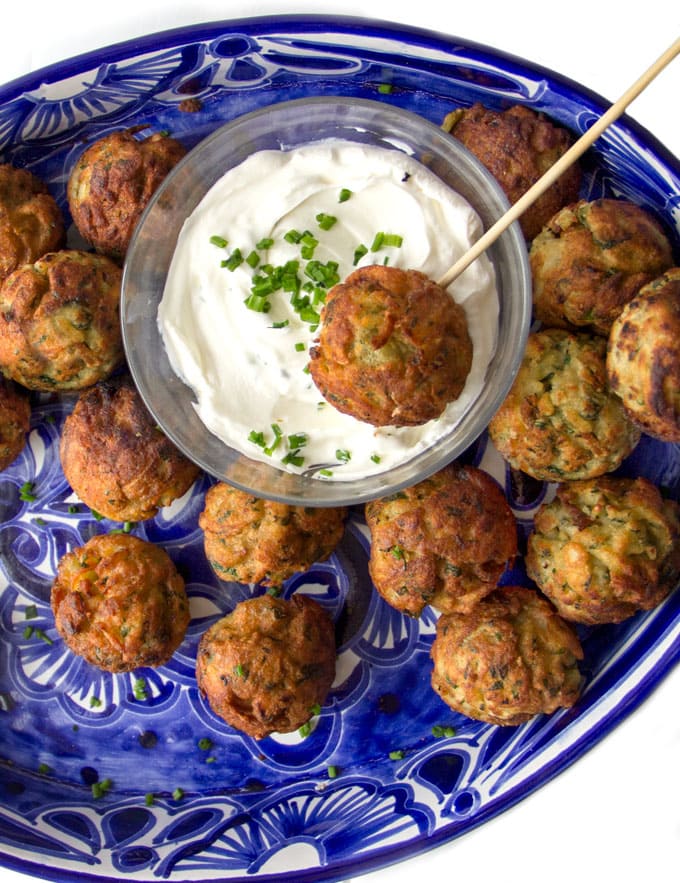 Some foods are made for special occasions. Aebleskivers make the occasion feel special. They're festive and delicious, and the fun starts with cooking them. It's a magical process that turns batter into balls.
If you've never run into Aebleskivers before, here's a little background.
Aebleskivers (also called Ebelskivers) are spherical pancakes, invented in Denmark, and still popular there, especially around the Christmas holidays. They're cooked in a special
Aebleskiver Pan,
usually cast-iron, with half-sphere indentations.
Traditional Danish aebleskivers
are made with batter similar to what we all use to make breakfast pancakes. (more on this kind of aebleskiver later).
This recipe for savory potato aebleskivers is new and different and not from Denmark. This recipe comes from the new cookbook "Smashed, Mashed, Boiled and Baked - And Fried Too!: A Celebration of Potatoes in 75 Irresistible Recipes," by James Beard award-winning chef Raghavan Iyer.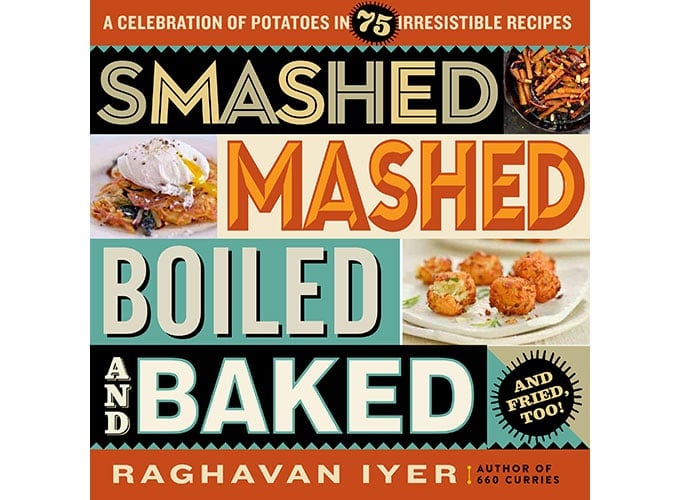 Fellow potato enthusiasts, you will love this book! It has so many creative and tempting spud-centric recipes: soups, salads, gratins, stews, and even delicious potato desserts! I was given two copies of the book, one for me and one to give away. At the end of this post I'll tell you how to enter the giveaway. First, I want to tell you more about savory potato aebleskivers and show you how to make them.
Here's how To Make Savory Potato Aebleskivers:
The ingredients in this recipe are all fresh, healthy and vegetarian: potatoes, lentils, Serrano chilies, ginger root, thyme and cilantro. Soak the lentils in warm water for an hour. Drain and puree them in a blender with the chilies and ginger. This method of pureeing the lentils to make flourless, eggless, dairy-free batter is genius!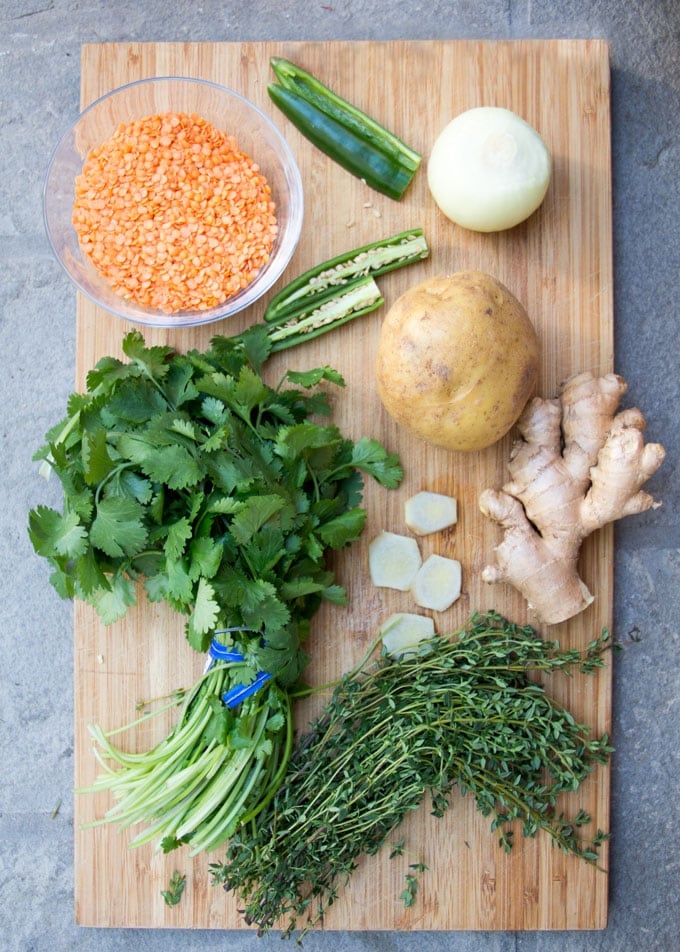 Scrub the potatoes, grate them, and stir them into the lentil batter along with chopped onion, fresh cilantro and thyme.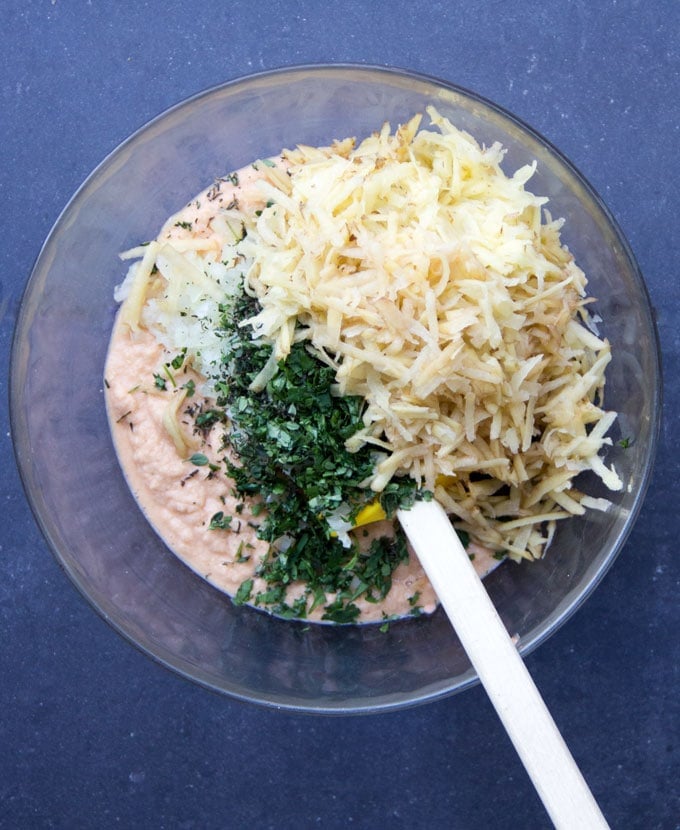 Heat up your aebleskiver pan and add oil to each indentation. Spoon batter into the indentations and wait a minute or so to let the underside of each aebleskiver brown.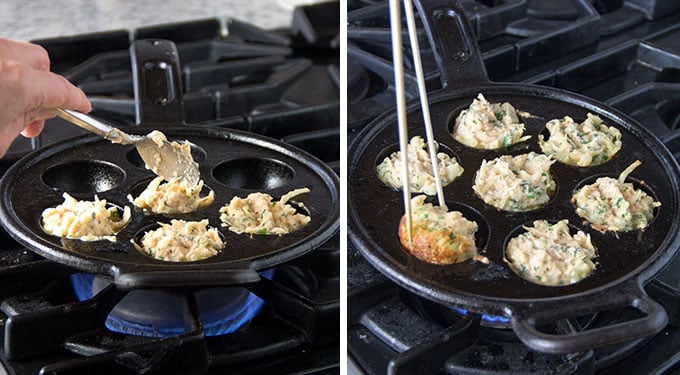 You'll need something long and pointy to maneuver and finesse the dough as it cooks. Two long wooden skewers or two knitting needles work perfectly. Gently poke the tips of the skewers into the browned edges of an aebleskiver and turn it with a twisting motion, to rotate the browned part up and out of the indentation, allowing some of the raw batter to fall in and brown. Keep rotating each aebleskiver in small increments until they are spherical and golden brown on all sides.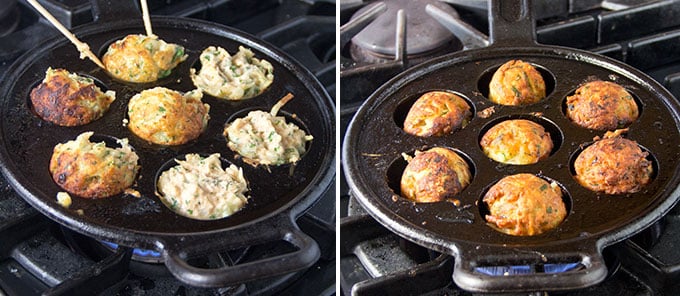 Once you own an
aebleskiver pan
, I bet you'll be cooking up these delicious potato treats for lots of occasions. And I hope you'll also try
this recipe for traditional aebleskivers
.
You can stuff them with chocolate or jam and dust them with powdered sugar. They're great for a special breakfast or a festive dessert.
When you make aebleskivers, I suggest you have a few extra pairs of skewers on hand so your kids or your friends can get in on the cooking. Once someone sees the magic of aebleskivers being prepared, they won't be able to resist getting involved.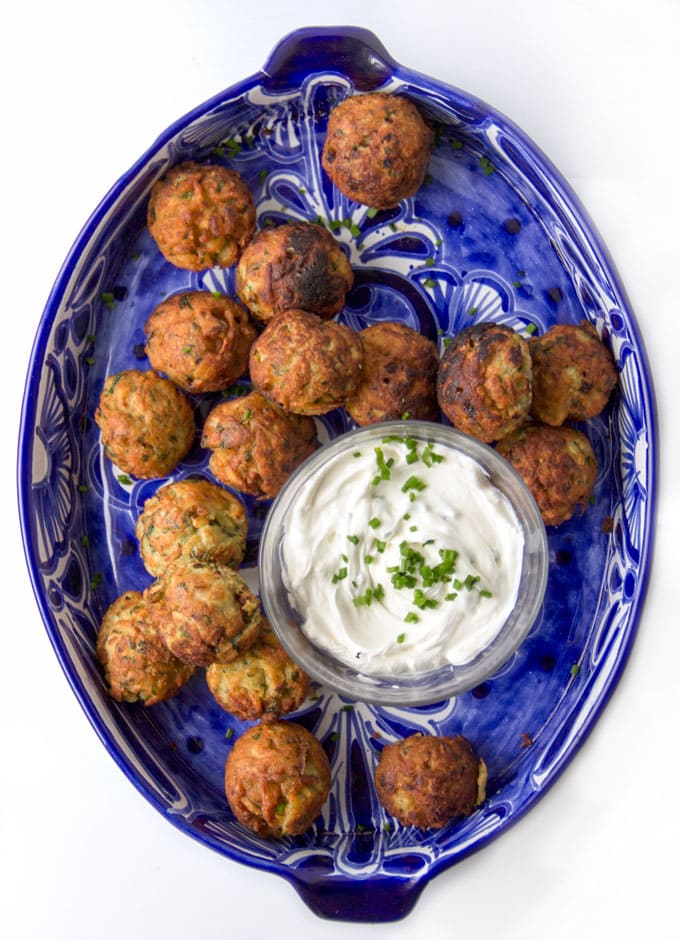 Enjoy these delicious potato balls on their own or with your favorite dipping sauce. I included the recipe for Creamy Lemon Dipping Sauce - one of my favorites. Raghavan Iyer suggests you can use something as simple as sour cream with a pinch of salt and some coarsely cracked black peppercorns.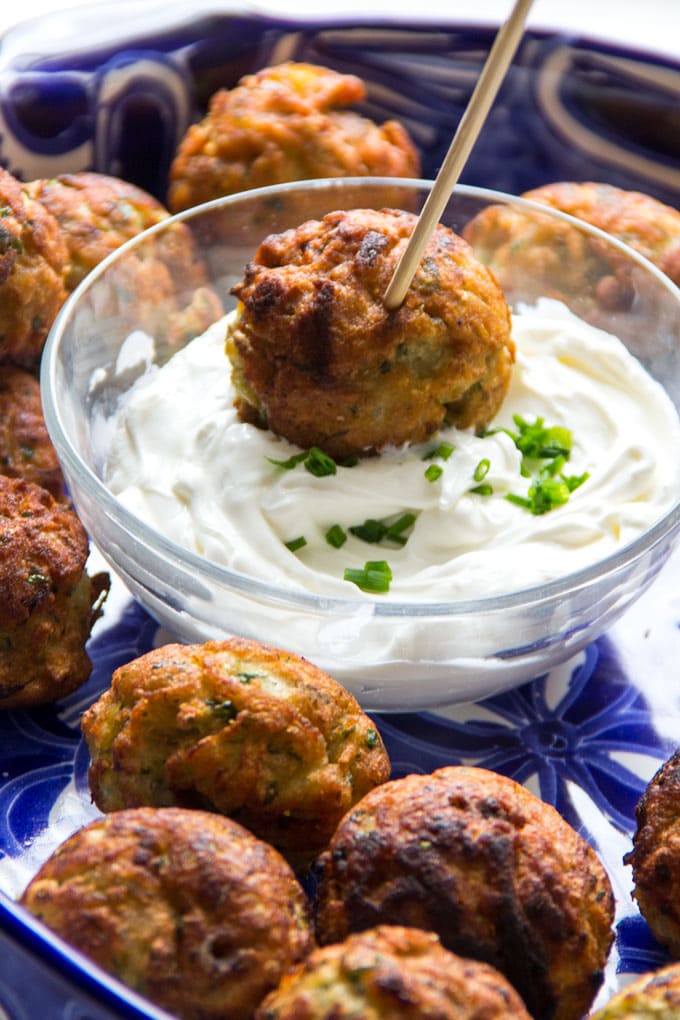 Here's the Potato Aebleskivers Recipe. I hope you enjoy this unique and delicious recipe. If you make these aebleskivers, I hope you'll come back to leave a star rating and a comment. I'd love to know what you think!
Print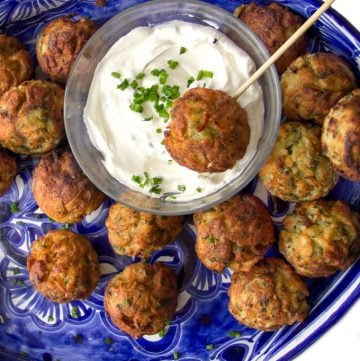 Savory Potato Aebleskivers with Creamy Lemon Dipping Sauce
---
Author:

Lisa

Total Time:

1 hour 30 mins

Yield:

24

aebleskivers

1

x
Description
These make a great appetizer with the lemony dipping sauce ( included ) or any dipping sauce of your choice.
Reprinted with permission from Raghavan Iyer and Workman Publishing
---
1

cup

red lentils (also known as Egyptian lentils; see Tater Tip)

2

fresh green Serrano chiles, stems discarded

4

slices fresh ginger (each about the size and thickness of a quarter; no need to peel first)

8

ounces

Yukon gold potatoes

1

small yellow onion, finely chopped

¼

cup

finely chopped fresh thyme leaves and tender stems

¼

cup

finely chopped fresh cilantro leaves and tender stems

1 teaspoon

coarse sea or
kosher salt
Canola oil, for pan-frying
For The Creamy Lemon Dipping Sauce:

⅓

cup

mayonnaise

⅓

cup

low-fat Greek yogurt

1 tablespoon

plus 1 teaspoon fresh lemon juice

1 teaspoon

finely minced garlic or

1 g

arlic clove, pressed

¼ teaspoon

salt

1 teaspoons

snipped chives, optional
---
Instructions
Pour the lentils into a medium-size bowl. Cover them with cold water. Agitate them with your fingertips to rinse off any surface dust. Drain off this water. Repeat once or twice more. Cover the lentils with warm water and allow them to soak for about 1 hour. Drain the lentils in a colander.
Pour ½ cup of warm water into a blender jar followed by the lentils, chiles, and ginger. Puree to a smooth light-pink batter speckled with green and brown from the chiles and ginger, scraping the inside of the jar as needed. Scrape this into the bowl you soaked the lentils in.
Scrub the potatoes under running water. Shred them through the large holes of a box grater, the fine teeth of a mandoline, or the shredding disk of a food processor. As soon as you finish shredding them, add them to the lentil batter along with the onion, thyme, cilantro, and salt. Vigorously beat the batter in a circular motion with a wooden spoon to incorporate some air (which makes the batter lighter), about 2 minutes.
Line a large plate with several layers of paper towels, for draining the cooked aebleskivers of excess oil.
Preheat an aebleskiver pan (see Tater Tips) over medium heat. Once the pan is hot, pour 1 teaspoon of oil into each of its indentations. Using 2 teaspoons (the tableware kind—one to scoop, the other to slide it out), spoon a heaping teaspoon of batter into each hole. As the batter cooks and turns reddish brown on the underside, 2 to 4 minutes, use a skewer to loosen it and flip it over. Brown the flipped side as well, 2 to 4 minutes. Tease out the spherical aebleskivers onto the paper towels to drain.Repeat with the remaining batter. Serve warm.
Creamy Lemon Dipping Sauce: Combine all of the ingredients in a small bowl and serve. Can be stored, covered, in the fridge for up to 3 days.
TATER TIPS Any kitchen store (online or retail) will be able to fill your aebleskiver pan order. Usually available in cast iron, this pan normally has seven indentations. Modern ones now come preseasoned, so working with them cannot be any easier. You can also make aebleskivers in a mini muffin pan. Oil each muffin cup,
place the pan in a preheated 400°F oven for 3 minutes to get hot, add a heaping tablespoon of batter, and bake until browned on the underside and ready to be flipped, 2 to 4 minutes. Brown the flipped side for 2 to 4 minutes, remove, and drain the aebleskivers. Enjoy.
Aebleskivers are ideally consumed right away, as their crispness dissipates as they sit. But you can rewarm them in a 250°F oven on a wire rack over a cookie sheet for about 10 minutes.
Prep Time:

1 hour 10 mins

Cook Time:

20 mins

Category:

Appetizer

Method:

Saute

Cuisine:

Danish