And now for something completely decadent! Potato-Crusted Cauliflower Gruyere Pie with Bacon-Parmesan Crumb Topping. Vegetarians, don't miss out on this amazing cauliflower pie. It's completely vegetarian except for the topping. Just omit the bacon and add extra parmesan.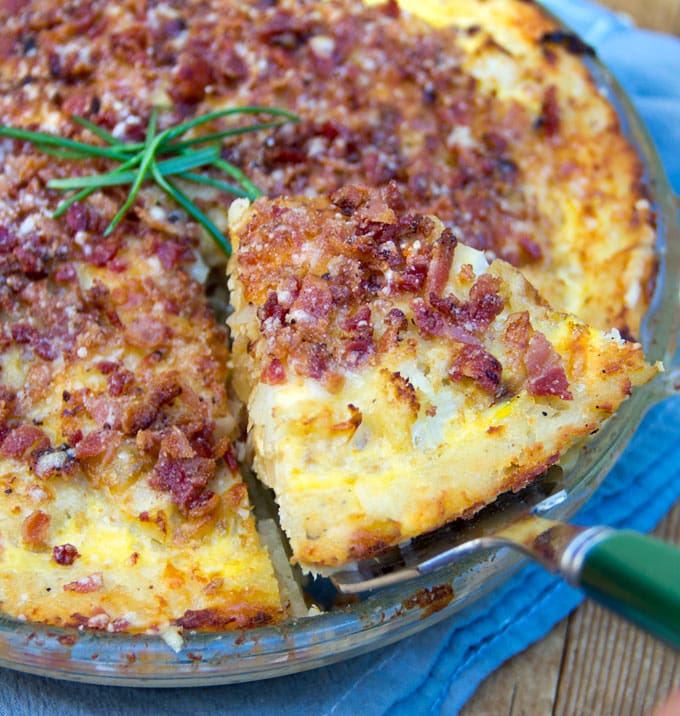 I dreamed up this recipe for an event that I was invited to called Pie Party Potluck Live. It took place at the Institute of Culinary Education (ICE) in New York City. 60 or so Food bloggers and culinary professionals made pies and brought them to a big party where we all met each other and ate pie!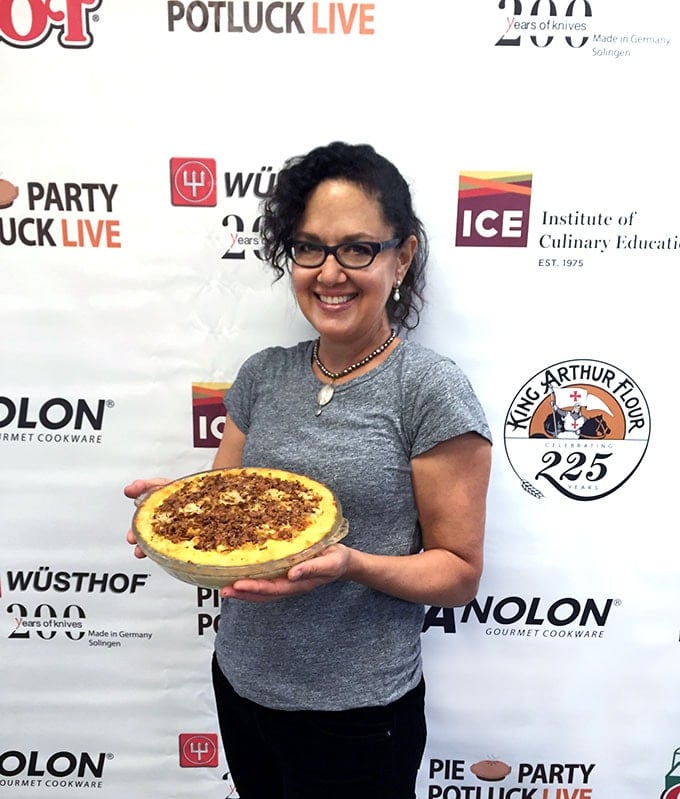 The event was a food fantasy come true! Banquet tables were brimming with the most outrageously delicious, creative and beautiful pies - some savory, some sweet.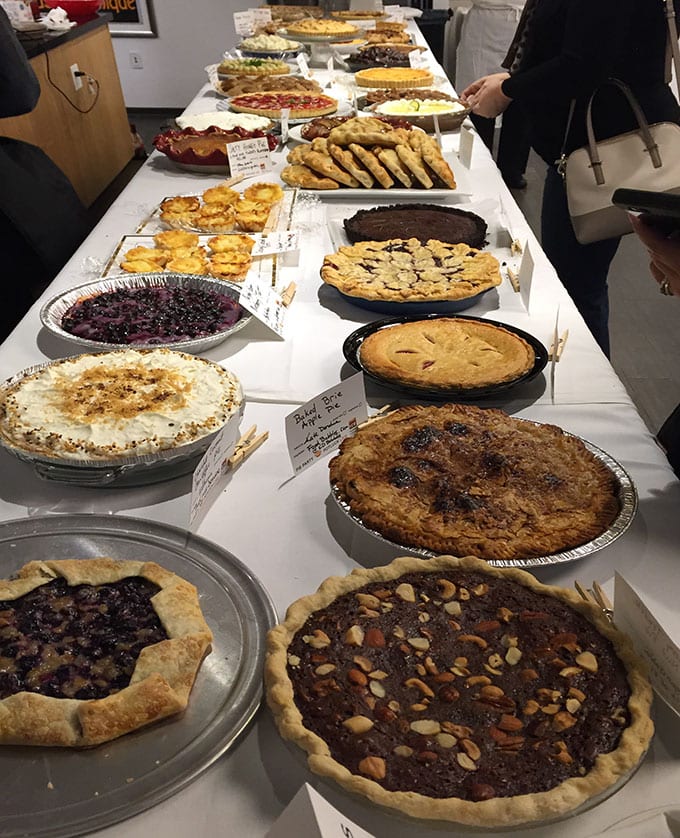 I ate more pie in three hours than I ever thought humanly possible.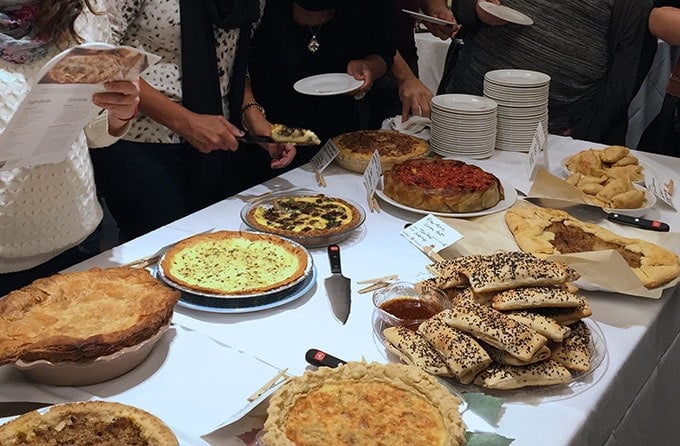 I wish you could have seen these pies up close and tasted them.
There is one particular pie that I just have to show you up close - the stunning (and delicious!) Cupboard Harvest Pie (below), made by my friend Jackie Gordon. Jackie and her friend Ken are the founders and organizers of Pie Party Potluck Live, now in its fourth year.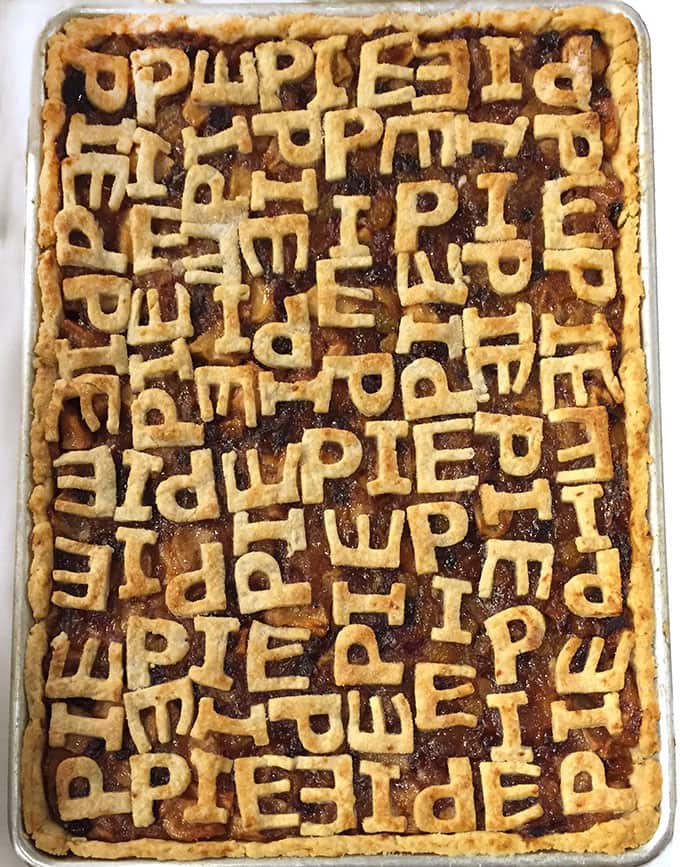 CAULIFLOWER GRUYERE PIE RECIPE
I developed this savory cauliflower pie recipe specifically for the Pie Party event. Normally I blog about recipes from other countries and I try to keep it light and healthy, but Pie Party was my opportunity to let loose and go crazy - to come up with something insanely delicious, no holds barred!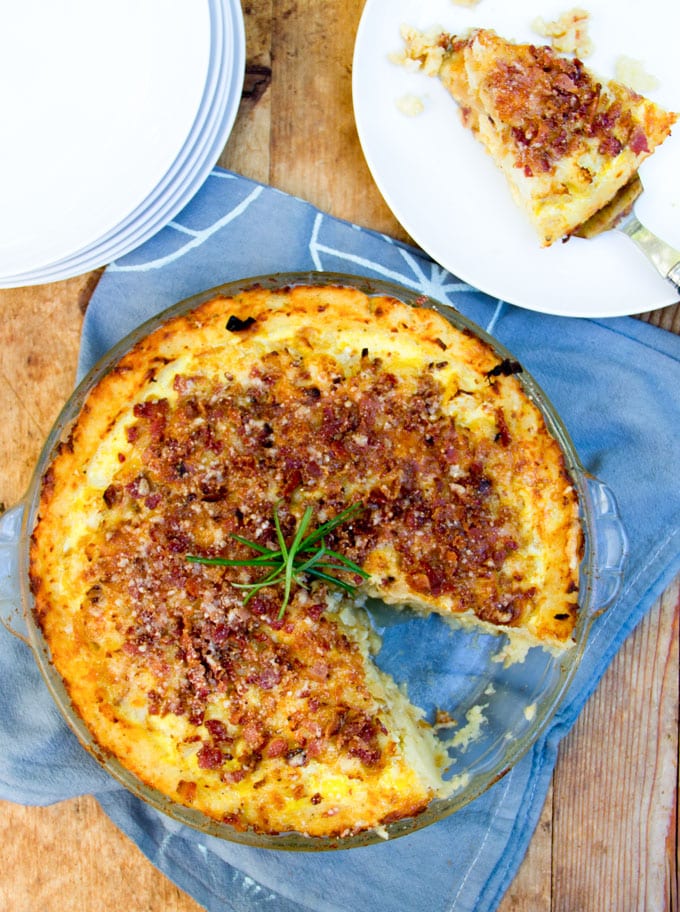 HOW TO MAKE POTATO CRUST
The crust of this is pie as delicious as the filling. It's made from cooked grated potatoes mixed with dijon mustard, Greek yogurt, grated gruyere cheese and spices.
Mix all the ingredients together and press the potato dough into your pie pan to form the crust.
Pop the crust in the oven to pre-bake for 25 minutes. While the crust is baking you can prepare the pie filling.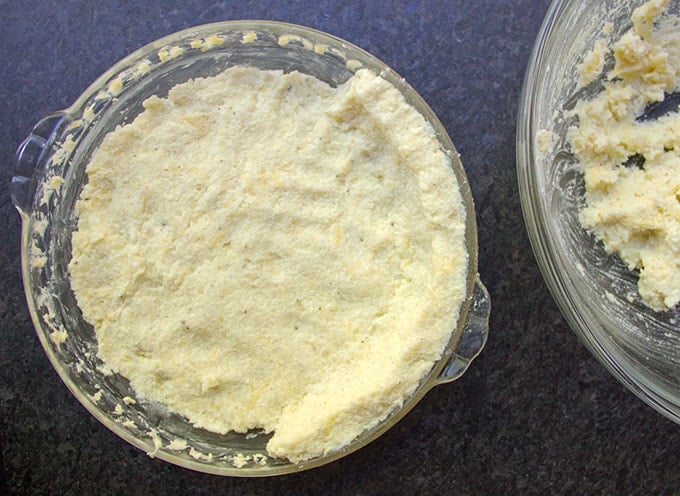 The pie is filled with sautéed cauliflower florets, onions and garlic, mixed with grated gruyere cheese, eggs, milk, salt and pepper.
Fill the pie and bake it for 30 minutes.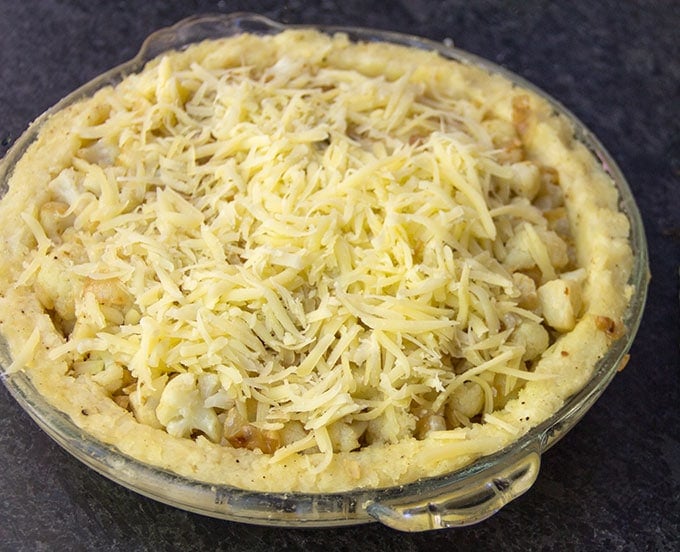 The final piéce de resistance of this pie is a crumb topping made from crumbled bacon and parmigiana cheese. For a vegetarian cauliflower pie, omit the bacon and add more parmesan.
After the pie has baked for 30 minutes, sprinkle the topping on, turn the oven up to broil and pop the pie back in the oven for a minute or two to brown the topping.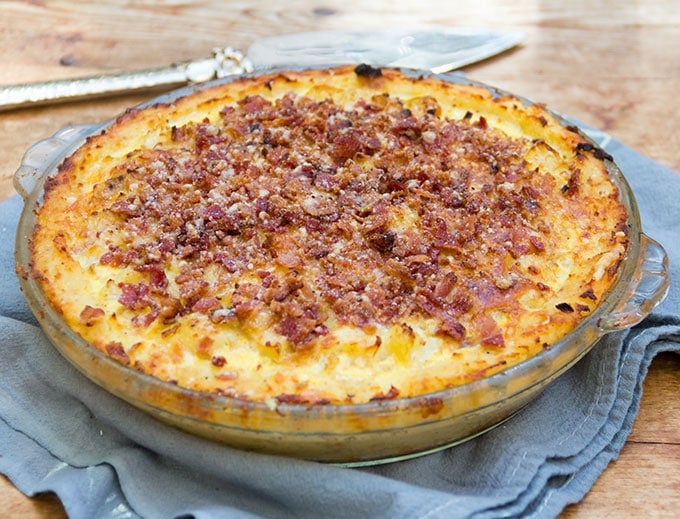 Cut into wedges and enjoy this scrumptious cauliflower gruyere pie!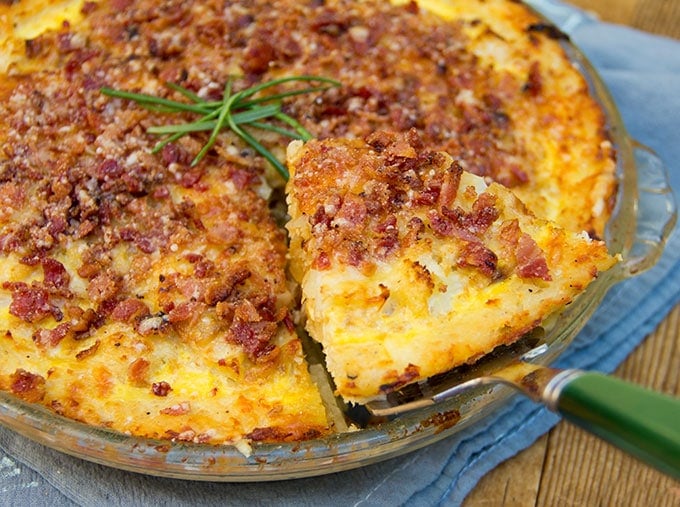 If. you like savory pies, try this delicious Greek Spinach Pie in Potato Crust and this wonderful Provencal French Onion Tart.
Here's the cauliflower gruyere pie recipe. If you make this I hope you'll come back to leave a star rating and a comment. I'd love to know what you think!
Print
Cauliflower Gruyere Pie with Potato Crust
---
Author:

Lisa

Total Time:

1 hour 35 mins

Yield:

6

-8

1

x
Description
An utterly delicious savory pie that's perfect for lunch, brunch, dinner or entertaining. Gluten-free and easily vegetarian
---
1 ½

pounds

russet potatoes (3 medium)

8

ounces

gruyere cheese, grated (divided)

7

ounces

low fat plain Greek yogurt

2 tablespoons

dijon mustard

2 tablespoons

sweet butter, plus more to grease the pie pan

2 tablespoons

olive oil

1

medium yellow onion, finely chopped

2

cloves garlic, peeled and minced

1

small head cauliflower cut into small florets

1 ½ teaspoons

Aleppo pepper, divided
Kosher salt

3

large eggs

6 tablespoons

low fat milk

6

strips crisp-cooked bacon, finely chopped

2 tablespoons

grated imported parmesan cheese, such as Parmigiana Reggiano
---
Instructions
Preheat oven to 350ºF.
Fill a large pot halfway with water and bring to a boil over high heat. Place potatoes in the pot, and when it returns to a boil, cook for 30 minutes. Transfer potatoes to a plate to cool for at least 30 minutes. Note: you can do this step ahead and keep the potatoes covered in the fridge over night.
Peel potatoes using the edge of a knife - the peel will easily slide off and in some cases you can even pull strips of it off with your fingers.
Use the largest holes in a hand-held cheese grater to grate potatoes into a large bowl. Add yogurt, mustard, 1 teaspoon salt, ½ teaspoon Aleppo pepper and ¼ of the grated cheese to the potatoes. Mix well. Using your hands works best for this.
Generously butter a 9 ½-inch glass pie plate. Press some of the potato mixture into the bottom of the pie plate, making a ⅓-inch layer. Form a ½-inch thick potato crust up the sides of the pan. Use your fingers to smooth and shape the crust to your liking. Set the crust in the middle of the oven for 25 minutes.
Melt 2 tablespoons butter with 2 tablespoons oil in a large skillet or heavy pot with a lid, over medium heat. Add the onion and garlic and cook, uncovered, for 5-7 minutes or until translucent, lowering the heat if they start to brown. Add cauliflower, ½ teaspoon salt and 1 teaspoon Aleppo pepper to the skillet. Cook, stirring, for 5 minutes. Pour 2 tablespoons of water into the skillet, cover it, and cook for 5-7 minutes to steam the cauliflower. Remove from heat and set aside.
In a small bowl whisk eggs and milk.
Spoon half the cauliflower into the pie crust spreading it out evenly. Sprinkle half the cheese evenly on top. Pour half the egg mixture evenly over everything. Repeat with the rest of the cauliflower, cheese and eggs. Place the pie in the middle of the oven and cook for 30 minutes. Transfer pie to a heatproof surface. Turn the oven up to broil. Mix bacon and parmigiana cheese in a small bowl or cup. Sprinkle mixture evenly over the top of the pie filling. Return pie to oven for just a minute or two, checking every minute, to finish browning the crust and heat the topping.
Remove pie from oven. Let it cool for 15 minutes or more. Serve warm or at room temperature.
Prep Time:

1 hour

Cook Time:

35 mins

Category:

Lunch, brunch, dinner, appetizer

Method:

oven

Cuisine:

Out of This World
Keywords: savory pie, cauliflower pie, cauliflower cheese pie,