Here's a refreshing cold tomato soup recipe that you can make in 15 minutes. It's flavored with cumin, lime juice and cilantro and generously garnished with cubed avocado and drizzles of olive oil.
Sometimes a recipe takes me right to a specific time and place and even an emotion.  This cold tomato soup brings me to summertime lunch in New Hampshire in the early 90's. It evokes feelings of happiness and youthful eagerness.
My husband's family was gathered at my in-law's vacation home in Grantham. My sister-in-law Jen and I were bustling around the kitchen trying to ease my mother-in-law's burden of feeding everyone (one of the reasons it didn't always feel like a "vacation" home to her).  I remember watching with wonder as Jen made cold tomato soup in about 1 minute!  She took a bottle of tomato juice out of the fridge, poured it into a large plastic pitcher and stirred in some spices, chopped cilantro, and cubed avocado.  Then she squeezed in fresh lime juice. Her finishing touch was some swirls of olive oil right from the bottle.  The soup was cool, spicy and exciting.
Jen and I made a strong food-connection that weekend.  We continue to cook for each other, discuss every delicious thing we ever eat, and share our favorite recipes.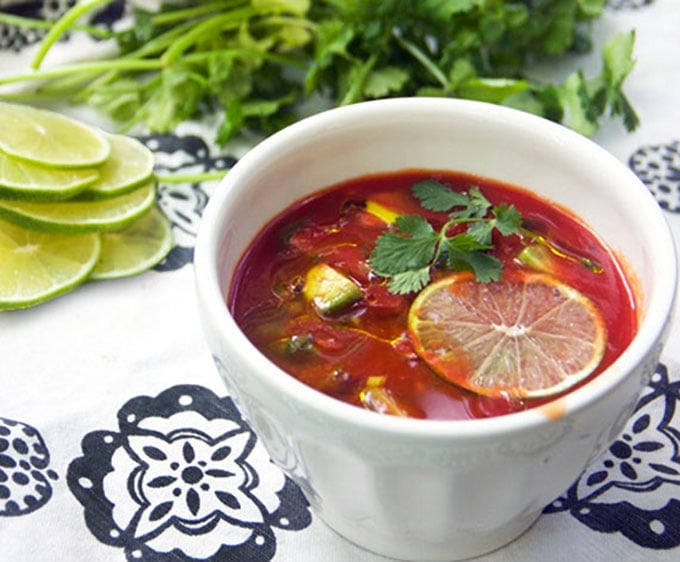 I have to stress how incredibly quick and easy this soup is to make.  One other note – you can adjust the level of heat to your liking by adding a some tabasco sauce and chopped jalapeños.
Enjoy!

CHILLED TOMATO SOUP with AVOCADO & LIME
A quick and easy summer tomato soup.
Ingredients
1 quart tomato juice, chilled
½ cup minced cilantro leaves (about ½ bunch)
1 teaspoon minced garlic (1 clove)
2 green onions, finely chopped
¼ cup fresh lime juice
½ teaspoon ground cumin
Salt to taste
1 ripe avocado, peeled, pitted and diced
Optional:
1 few drops of tabasco sauce
1 jalapeño pepper, seeded and finely minced
Garnish
Extra virgin olive oil
1 lime, thinly sliced
Instructions
Pour the tomato juice into a large bowl. Stir in the cilantro, garlic, green onions, cumin and lime juice. If you want it hotter, add a tabasco and jalapeños. Season to taste with salt. Stir in the avocado. Chill until ready to serve.
Divide the soup into bowls. Garnish each bowl with a drizzle of extra virgin olive oil and a slice of lime.