Manti is an extraordinary dish from Turkey: tiny lamb-stuffed dumplings topped with three sauces: caramelized tomato sauce, brown butter sauce, and garlicky yogurt sauce. I'm excited to show you how to make authentic Turkish manti at home.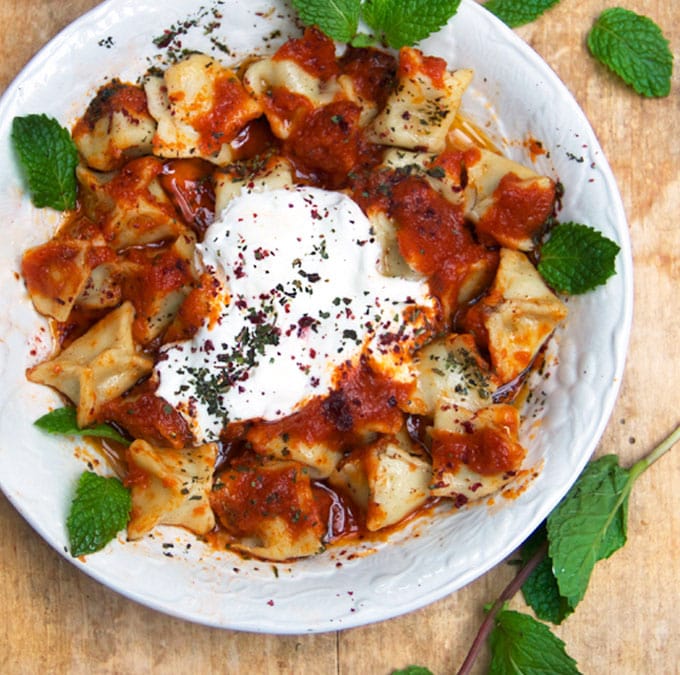 When in Turkey, don't underestimate the significance of the size of your manti. If you're served extremely small manti, your host thinks very highly of you - apparently the smaller the manti, the more special you are. After spending an afternoon making manti from scratch, I totally get it. This is not a dish you can throw together casually and serve to just anyone. Each one of these tiny, lamb-stuffed dumplings is a carefully, hand-wrapped gift. Once shaped, they're baked, boiled, and then topped with three different sauces - brown butter, caramelized tomato paste, and garlicky yogurt. Making manti is definitely an undertaking, but it's totally worth the effort. All of the time and care that goes into making them comes shining through - when served a bowl of manti, you can feel the love.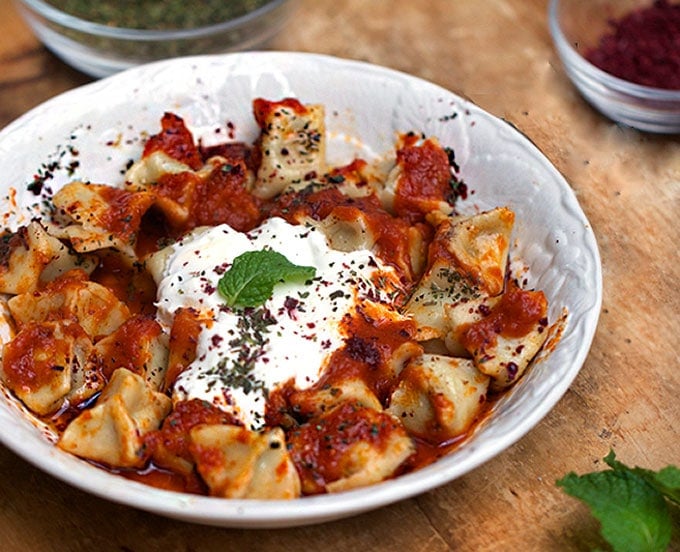 I told you about my culinary tour of Istanbul in my last post and I said that the recipes would be forthcoming. Turkish manti is a great one to start with because it has lots of qualities that exemplify Turkish cuisine: wholesome fresh ingredients; lots of care in the preparation; it features yogurt and the spices - Aleppo pepper, sumac, and spearmint - very traditional in Turkish cuisine.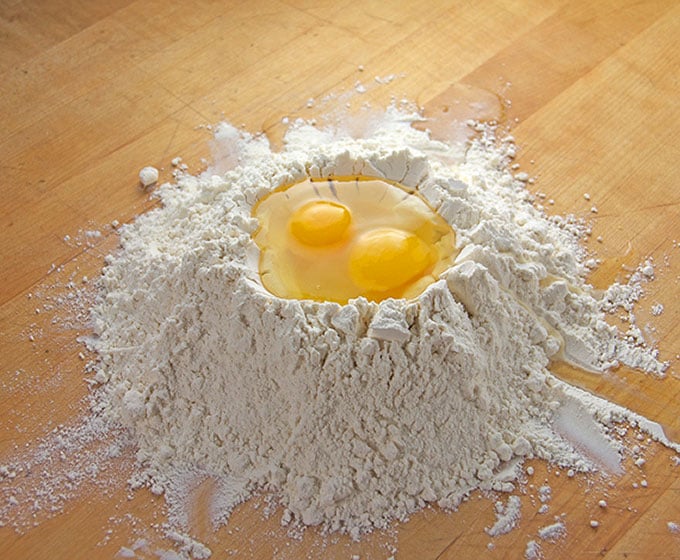 How To Make Turkish Manti
Manti starts with making a simple dough from flour, eggs, salt and water. The ingredients are stirred a bit with a fork and then kneaded by hand until a firm dough is formed. It takes about ten minutes of kneading.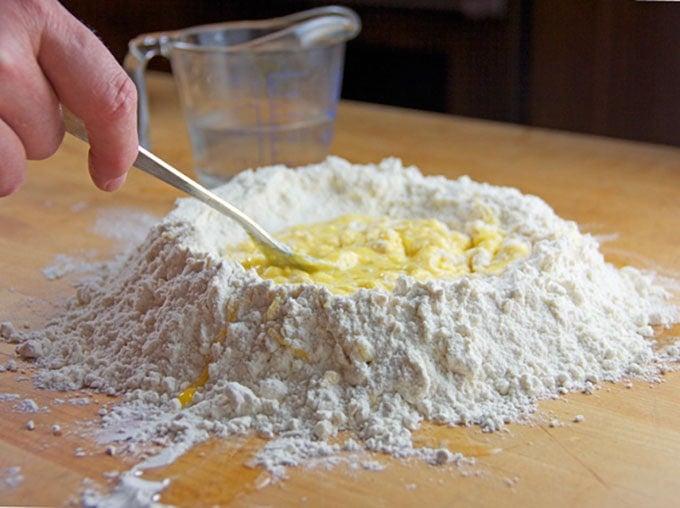 The ball of dough rests under a damp kitchen towel for a half hour.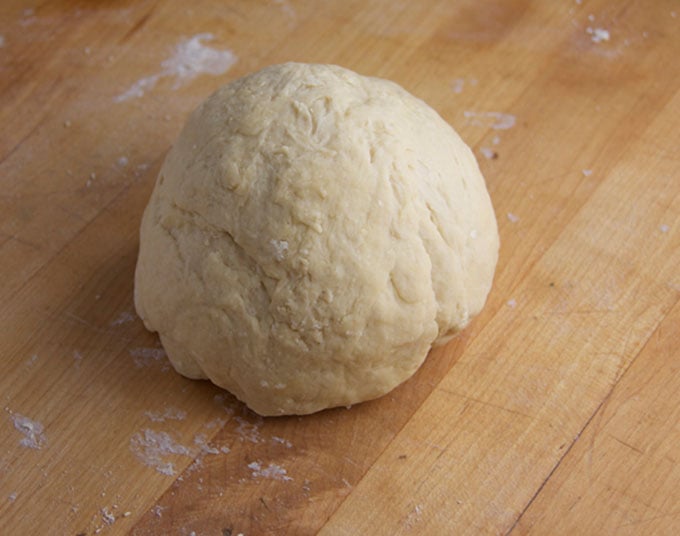 Meanwhile you can prepare your meat mixture - lamb, onion, parsley and salt. Or you can substitute beef, if you prefer.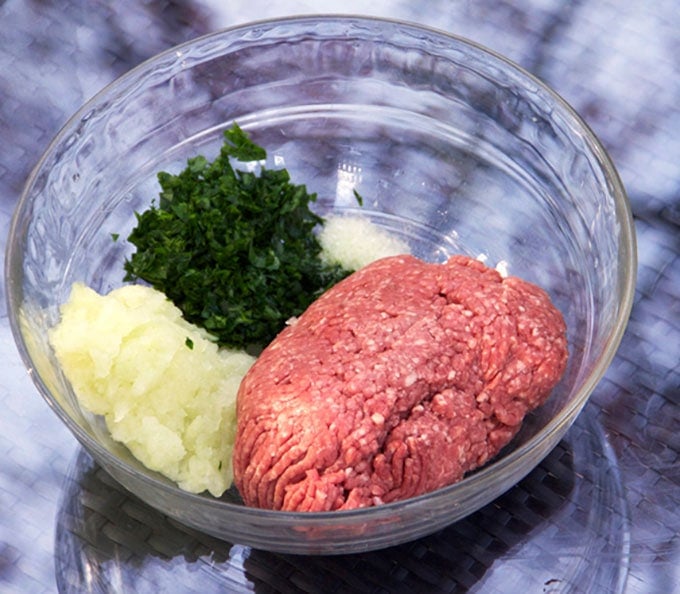 After the dough rests, cut it into fourths and work with one piece at a time, keeping the others under the towel.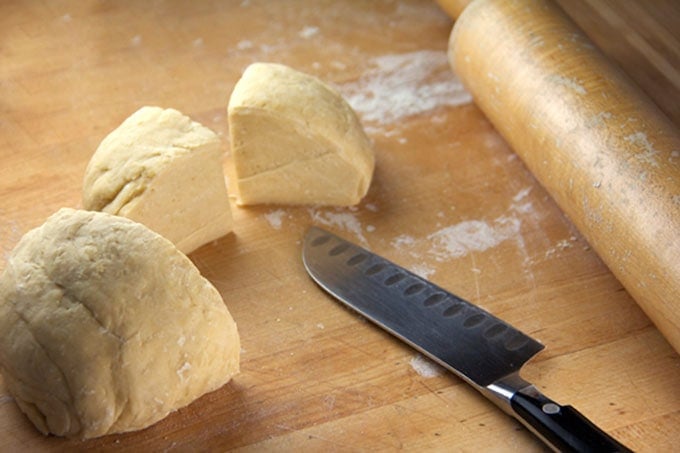 Roll the dough out as thin as you can - 1/16th of an inch is ideal. At the Istanbul Culinary Institute they demonstrated, using a very thin rolling pin.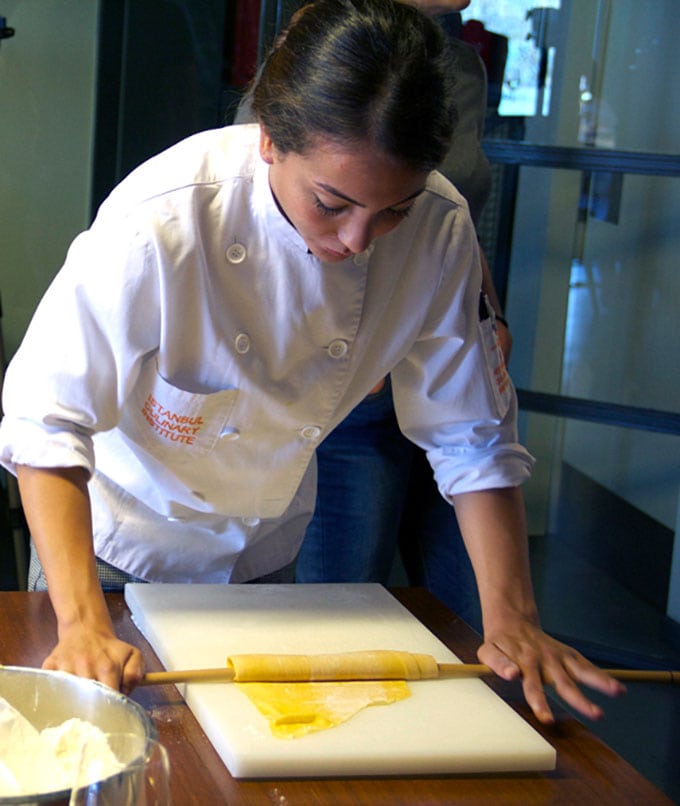 Then using a knife or pizza cutter, cut dough into small squares. According to Turkish legend, if you really want to impress your guests, your manti should be small enough so that 40 of them can fit in one spoon. (I have to think they're talking about a very big spoon) I truly can't imagine achieving anything close to that. I made 1 ½ inch squares, which are a manageable size to work with and still tiny enough to show the love - plus it's the width of my ruler, making it really easy to measure and cut.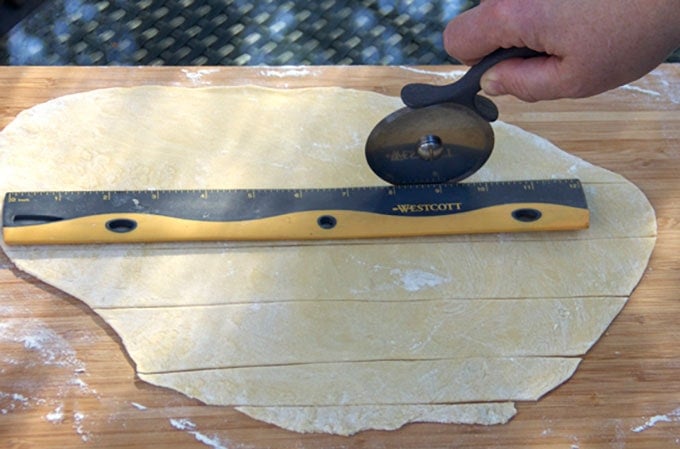 Pull up the four corners of dough around the meat and press the four seams firmly between your fingers to seal them shut.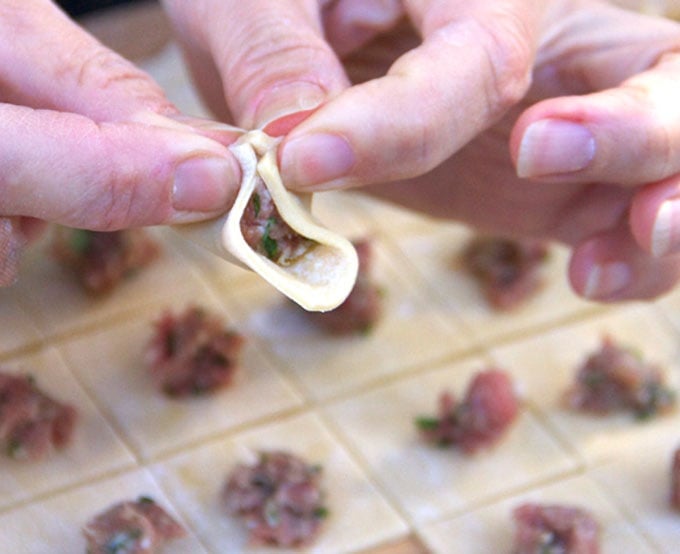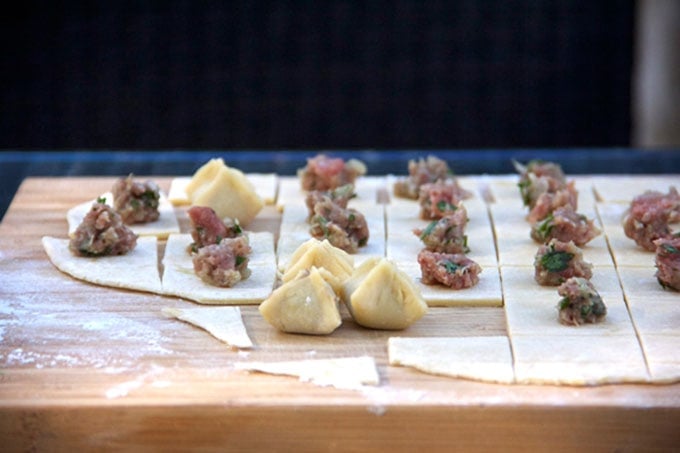 Baking the manti in a 350 degree oven helps seal them and give them some bite.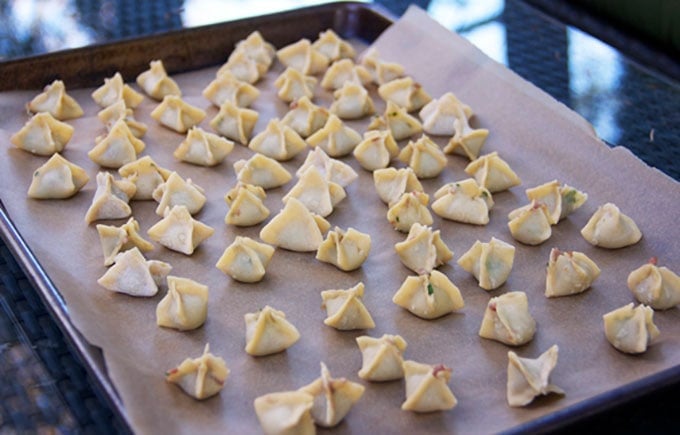 There are many variations of manti - not only in size but also in how they're sauced. Many call for lots of butter and/or spiced oil. But I adapted the toppings to my own tastes, upping the amount of tomato sauce and decreasing the oil and butter. The whole milk yogurt adds a good amount of creaminess, so I don't miss the extra fat.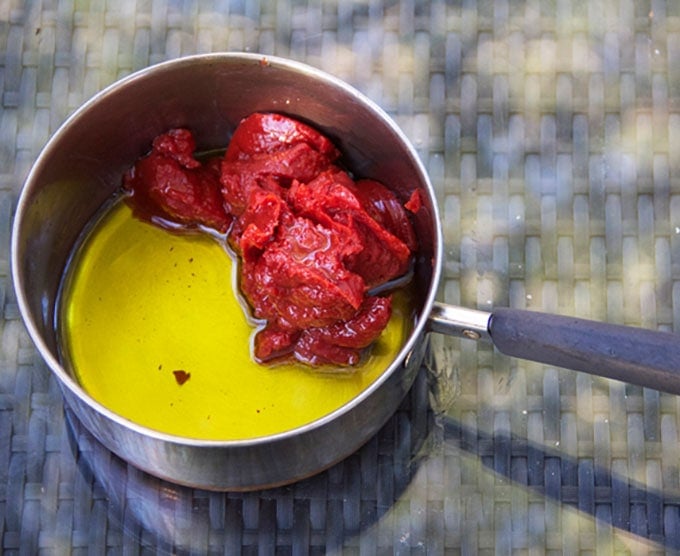 It only takes 7-8 minutes to make caramelized tomato paste and it has a wonderfully rich flavor.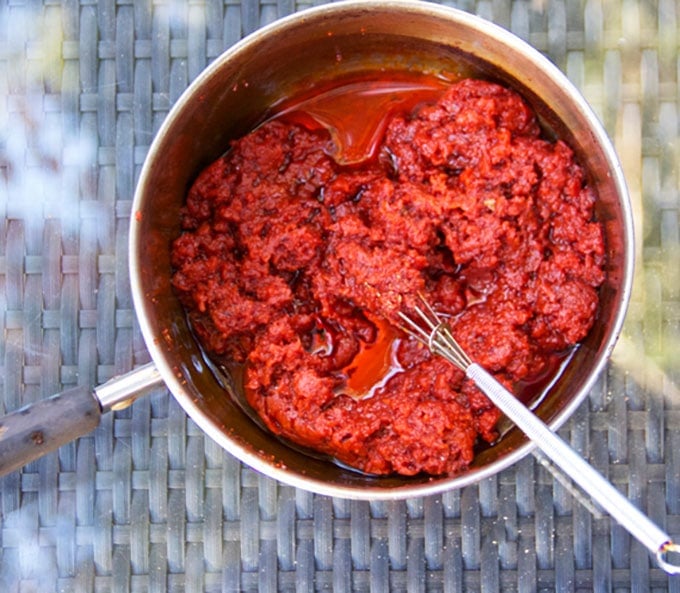 And rather than the traditional method of adding pepper to the oil or butter, I chose to spice up the tomato sauce with Aleppo pepper. I have to say - the spicy caramelized tomato paste paired with the garlicky yogurt is a beyond-belief delicious combination!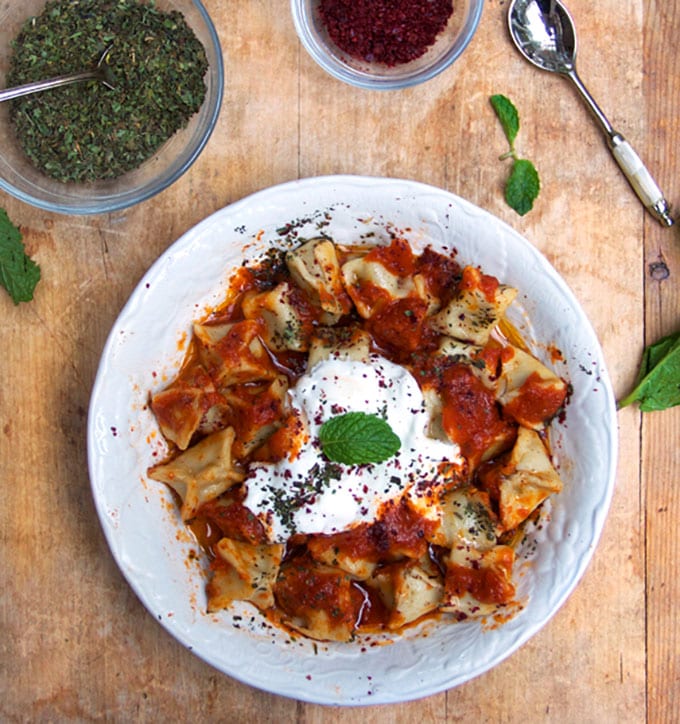 One final suggestion if you decide to tackle this recipe - invite a friend or make it a family activity. I spent the afternoon making manti with my friend Donna and we had a blast - it didn't feel like work at all.
More Delicious Turkish Recipes
• Turkish Sigara Börek: Crispy Feta Rolls
• Turkish Hot Layered Hummus
• Spicy Turkish Tapenade
• Grilled Turkish Kofta Kebabs
Here's the recipe for Turkish Manti. If you try this recipe I hope you'll come back to leave a comment and let me know how you like it.
Print
TURKISH MANTI
---
Author:

Lisa

Total Time:

3 hours 25 mins

Yield:

6

1

x
Description
Tiny lamb-filled dumplings with butter, tomato, yogurt and Turkish spices
---
Dough

3

cups

flour

2

large eggs

½

cup

warm water

½ teaspoon

salt
Filling

¾

pound

ground lamb (or beef)

1

small onion, grated or finely chopped (

6

-

8

tablespoons)

4 tablespoons

finely chopped parsley

1 teaspoon

salt
Yogurt Sauce

2

cups

whole milk Greek yogurt

3

large cloves garlic, pressed

½ teaspoon

Salt
Caramelized tomato paste
1

6

-

ounce

can tomato paste (organic is best)

4 tablespoons

extra virgin olive oil

1

cup

water

1 tablespoon

ground Aleppo pepper (or substitute

1 ½ teaspoons

sweet paprika plus

½ teaspoon

crushed red pepper flakes)
Brown butter sauce

3 tablespoons

unsalted butter

3 tablespoons

olive oil
Kosher salt, to taste
Spices for sprinkling on top
Sumac (or substitute lemon zest)
Dried spearmint (or substitute finely chopped mint leaves)
---
Instructions
Make the Dough: Pour flour and salt into a pile on a work surface or large board. Make a well in the center of the flour and crack the eggs into it. Start with a fork, mixing the eggs and incorporating the flour. When the mixture is too thick for stirring with a fork, start using your hands to mix everything together, gradually adding the water, as you start to knead and press the dough. Knead dough for 8-10 minutes until you get a firm, smooth dough. Cover with a damp cloth and let it rest for 30 minutes.
Prepare the filling: While the dough rests, combine lamb, onion, parsley and salt in a small bowl. Set aside.
Prepare the yogurt sauce: Mix all ingredients in a small bowl. Store in the fridge. (Bring to room temp before serving)
Fill Manti: preheat oven to 325ºF. Cut dough into fourths. (Work with one piece at a time, leaving others covered to prevent drying) Roll dough on floured surface, into a thin sheet, about 1/16 of an inch thick. Use a knife or a pizza cutter to cut into 1 ½-inch squares. (you can use the edge of a ruler as a guide) Add a small ball of meat - about the size of a chickpea - to the center of each square. Pull the four corners up around the meat and press the four side seams firmly together to seal. Set manti onto a baking sheet, lined with parchment paper. (you'll need two baking sheets) Repeat with the rest of the dough. You should have about 120 manti. Bake manti for 15 minutes, until it just starts to brown. At this point you can let the manti cool and store it in the fridge for up to a day or in the freezer for up to two weeks. Allow to come to room temp before continuing.
Prepare the tomato sauce Cook oil and tomato paste in a small pot over medium low heat, stirring constantly, for about 7 minutes, until you get a deep rich color and oil is incorporated. Add Aleppo (or paprika and red pepper) and cook, stirring for 30 seconds longer. Remove from heat. Add water and whisk to combine. Set aside. (Reheat just before serving)
Prepare butter sauce: Melt butter in a small saucepan over medium heat. Whisk constantly for 1-3 minutes, until you see little brown flecks appear. Remove from heat. Add olive oil. Set aside.
Bring a large pot of salted water to a boil. Add manti and cook at a gentle boil 10-12 minutes, until tender. Drain. Return manti to its cooking pot. Pour butter sauce over and toss to coat, reheating gently, if need be. Season with salt, to taste. Divide manti between 6 bowls. Spoon on the tomato sauce and yogurt. drizzle on any extra butter sauce. Sprinkle with spices. Enjoy!
Prep Time:

3 hours

Cook Time:

25 mins

Category:

Main Course

Cuisine:

Turkish
Related link: