Here's an elegant way to serve meat and potatoes: Steak and Potato Stacks. Salt and pepper-crusted beef tenderloin layered with slices of spicy roasted potatoes. These stacks make a great party appetizer or light dinner. They look amazing and they're totally delicious!
With the holidays in mind, I wanted to create a "wow" dish – something that would be a feast for the eyes and delicious beyond belief. I came up with these steak and potato stacks: seared beef tenderloin layered with roasted spice-crusted potatoes, drizzled with truffle oil and sprinkled with chopped fresh tarragon. 
This is a special occasion dish, not something you would whip up for family weeknight dinner. It's made with premium ingredients and some of them are pricey (tenderloin & truffle oil). But when you're looking for that special standout dish for a holiday party or for New Year's Eve, steak and potato stacks have what it takes.
The stacks are small bites with big flavor, so a little goes a long way. One stack is the perfect size for one person as a very hearty appetizer. Two stacks make a great light dinner.
HERE'S HOW THE RECIPE GOES:
Peel and slice the potatoes and toss them with olive oil and spices. Lay them on a parchment lined pan and bake in a 425ºF oven for 20 minutes. While the potatoes are roasting, slice the steak, crust it with salt and pepper, and sear it in a hot pan for a minute or two.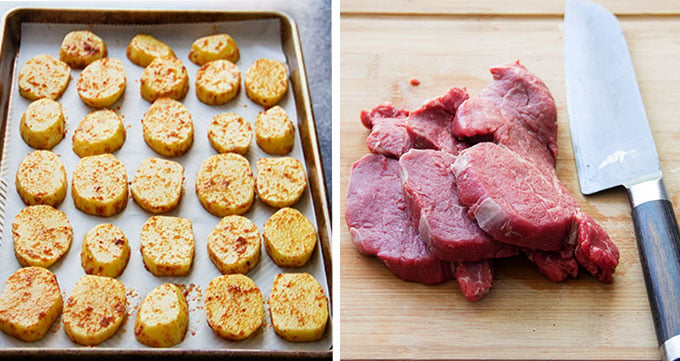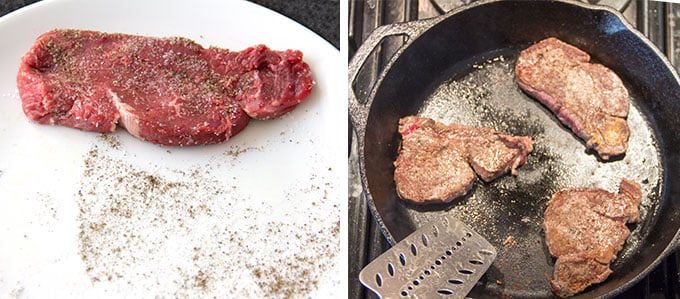 Assemble the stacks on a serving platter, three slices of potato and two slices of tenderloin per stack. Drizzle with truffle oil, sprinkle with tarragon, and serve warm or at room temperature.
Or, you can make these stacks up to three hours ahead. Assemble them on a parchment-lined baking sheet and keep them covered in the fridge. Reheat just before serving.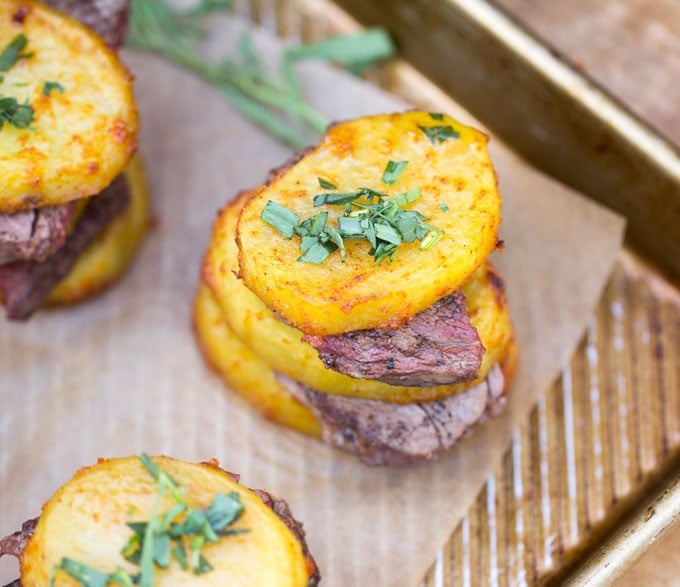 If you're interested in more delicious 'stacks', check out these recipes:
Here's the recipe for steak and potato stacks. If you make these I hope you'll come back to leave a comment and let me know what you think.
Print
Steak and Potato Stacks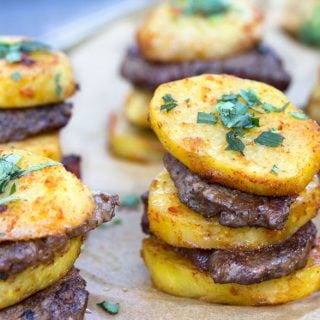 Salt and pepper-crusted fillets of beef tenderloin layered with spicy roasted potatoes.
Author: Panning The Globe
Prep Time:

25 mins

Cook Time:

35 mins

Total Time:

1 hour

Yield:

8

stacks

1

x
Category:

Appetizer or Light Main Dish
Scale
Ingredients
5

medium yellow flesh potatoes such as Idaho® golds, 5-6 ounces each

5 tablespoon

s extra virgin olive oil, divided

1 teaspoon

garlic powder

1 teaspoon

onion powder

1 teaspoon

sweet paprika

1 ½ teaspoon

s freshly ground black pepper, divided

1 ½ teaspoon

s kosher salt, divided

1 ¼

pounds of beef tenderloin
Garnishes:

2 tablespoon

s roughly chopped fresh tarragon leaves

2 teaspoon

s of truffle oil, optional but highly recommended
Equipment:

1

jellyroll pan lined with parchment paper (you may need a second pan, depending on the size of your potatoes)
Instructions
Preheat oven to 425º F.
Prepare The Potatoes: Peel potatoes and cut a tiny slice cut off at each end, to flatten. Slice potatoes crosswise into ½-inch thick pieces (4-5 slices per potato) Count the number of potato slices to determine how many slices of steak you'll need (*see below)
In a small bowl, combine garlic powder, onion powder, paprika, ½ teaspoon salt, and ½ teaspoon pepper. Place potato slices in a large bowl with 3 tablespoons of oil and toss to coat. Sprinkle on spice mix and toss. Arrange potato slices in a single layer on parchment-lined pan. Bake for 20 minutes, until tender. Remove from the oven and tent with foil.
Prepare The Beef: Before slicing the tenderloin, determine how many pieces you need. *There are two pieces of steak and 3 slices of potato in each stack. (For example: 8 stacks require 24 slices of potato and 16 pieces of steak) The steak should be about the same thickness as the potatoes so I suggest starting by using a very sharp knife to slice the tenderloin horizontally into ½ inch thick slices. Then cut it into however many smaller pieces you need.
Sprinkle meat with 1 teaspoon of salt and 1 teaspoon of pepper. In a large cast iron skillet or non-stick pan, heat 1 tablespoon of oil over medium-high heat. When the oil is hot, add half the steak pieces. Cook for 1 ½ – 2 minutes per side for medium rare. Transfer to a plate and repeat with remaining steak.
Make The Stacks: Assemble the stacks on a serving platter with the largest pieces of potato on the bottom. Place the largest pieces of steak on top, then the medium sized pieces of potato, then the rest of the steak, and top with the smallest pieces of potato. Drizzle each stack with ¼ teaspoon of truffle oil, and top with a generous pinch of tarragon. Serve warm or at room temperature.
Make Ahead: Stacks can be assembled on a parchment-lined baking pan up to 3 hours ahead and kept covered with plastic wrap in the fridge. Bring to room temperature and then heat in a 400º F oven for 5-10 minutes just before serving. Transfer to a platter or individual plates, finish with truffle oil and tarragon, and serve.