This rich Homemade Chicken Soup is made from scratch with a whole chicken, fresh vegetables and herbs, simmered low and slow so the chicken is extra tender and the veggies are perfectly cooked. At the end, the soup vegetables are pureed into the broth, making it thick and creamy without cream or dairy. The chicken is shredded and added in, yielding a supremely nutritious and satisfying chicken soup.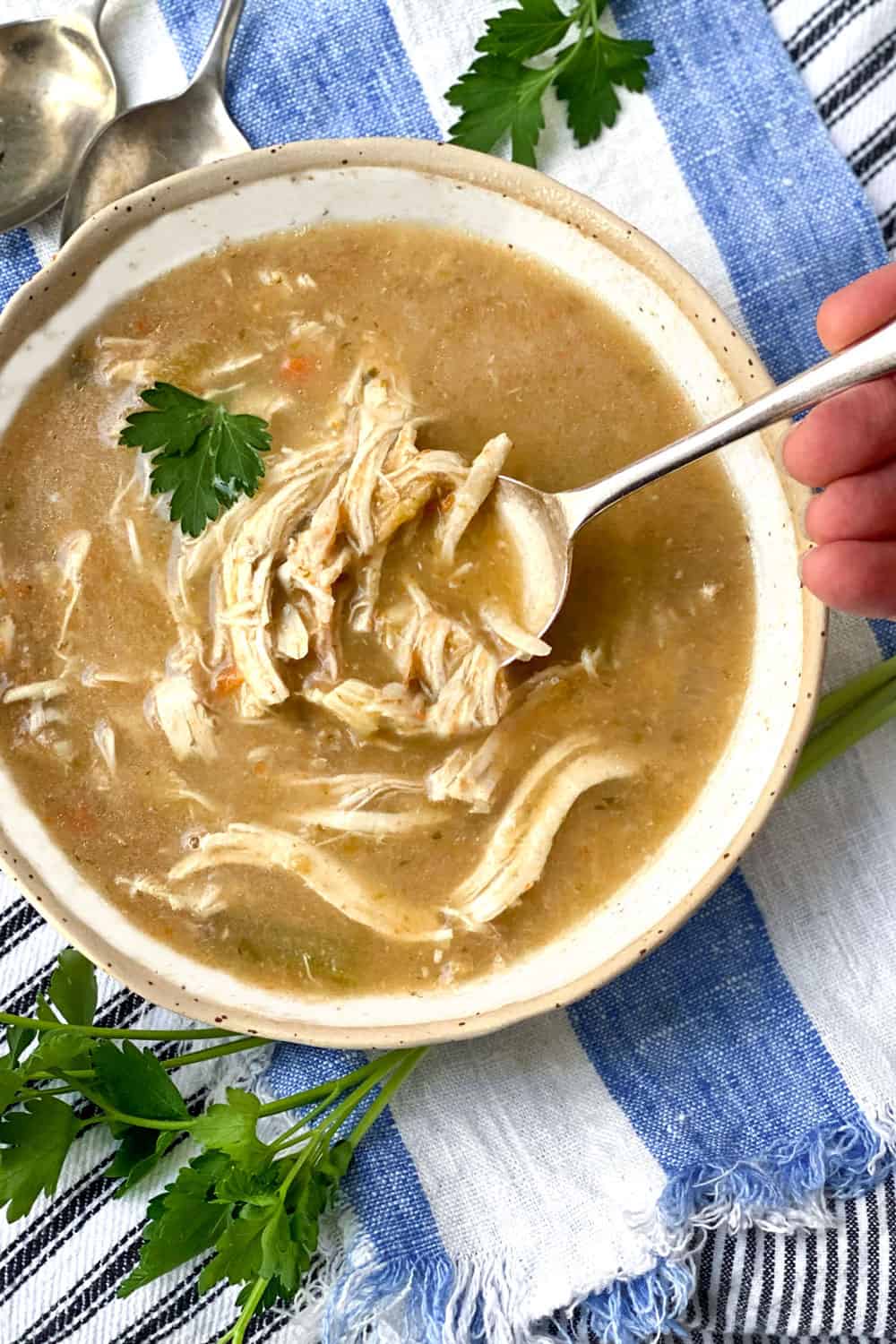 If you've never made chicken soup from scratch, you might suspect it's difficult to do and not worth the effort, but it's actually one of the easiest recipes I know. In fact, after you've made homemade chicken soup from scratch once, you probably won't need the recipe next time. 'You just throw a chicken in the pot,' as my maternal grandmother used to say. There's actually a bit more to it than than that, but not much.
Homemade chicken soup was part of the fabric of my childhood. My grandmothers on both sides (Russian and Hungarian) made it for the Jewish holidays and, of course, when anyone was sick. Their mothers and grandmothers before them made it, going how far back I'm not sure. But I'm pretty certain making chicken soup is programmed into my DNA because I feel like I'm performing an ancient family ritual whenever I do it.
This homemade chicken soup recipe starts out exactly the same way as classic chicken soup, using a whole chicken, root vegetables, celery and fresh herbs. However, instead of straining out the vegetables to create a thin clear chicken broth, this recipe calls for pureeing all those tender herbs and sweet vegetables right into the broth, creating a rich thick creamy flavorful soup, loaded with tender shredded chicken.
Classic chicken soup is great when you want a rich clear broth for adding matzo balls or noodles to, but when you want chicken soup that's hearty enough to be a meal by itself, this one will do the trick. It's the epitome of comfort and deliciousness.
INGREDIENTS FOR HOMEMADE CHICKEN SOUP
Listed below are the standard basic ingredients for making chicken soup from scratch. It never hurts to add more herbs. If you like the flavor of dill, throw in a bunch, roughly chopped. The reason for using white pepper over black is mostly because white pepper allows for a clearer broth, without black flecks. But either type of pepper will do in this recipe.
A whole 3 ½ to 4 pound chicken
1 large yellow onion or 2 small
3 stalks of celery
3 large carrots
1 large parsnip or 2 small
1 purple top turnip or a rutabaga
1 medium bunch of parsley
Salt
White pepper or black pepper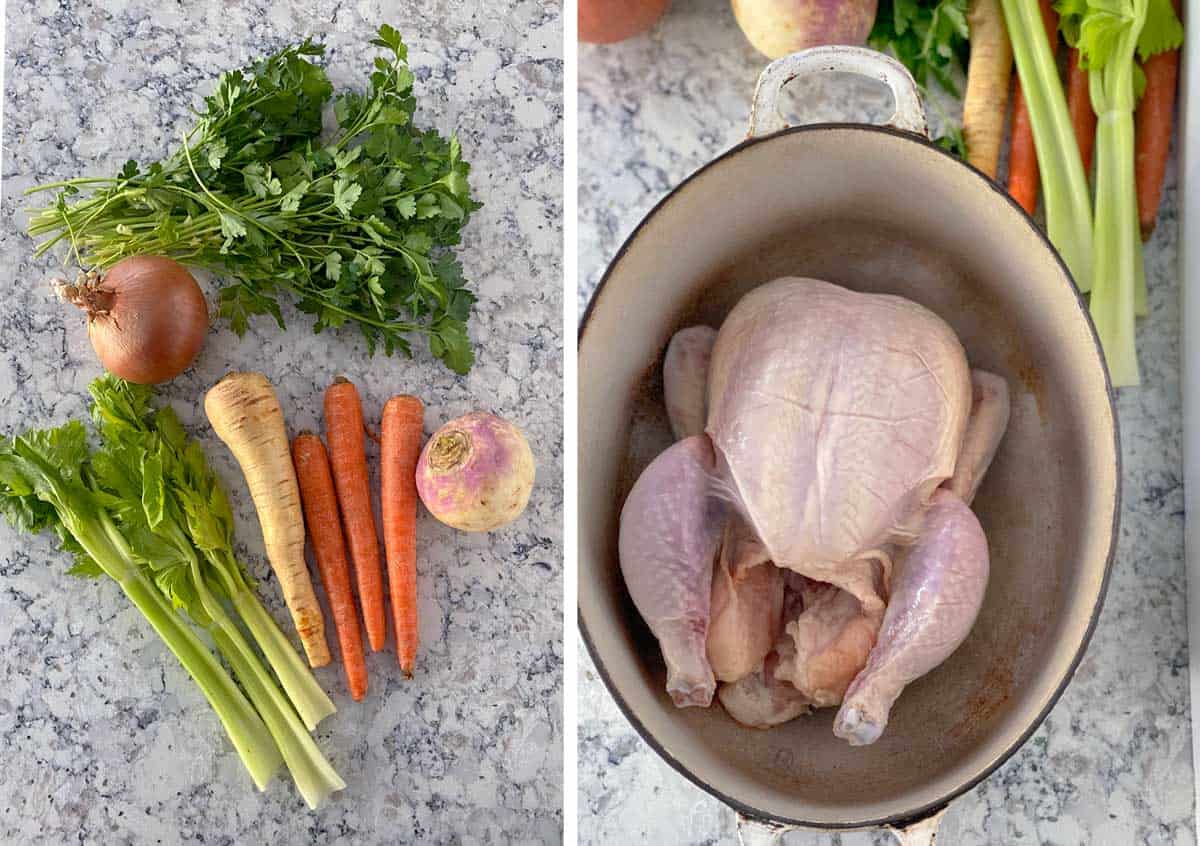 HOW TO MAKE RICH HOMEMADE CHICKEN SOUP FROM SCRATCH
You'll need a large pot with a lid, that holds at least 6 quarts. You can use a Dutch oven or stock pot.
Put the chicken in the pot. I like to put the whole chicken in and break it apart later in the cooking process when it softens up, because I find it more difficult to cut the chicken apart when it's raw. But feel free to cut your chicken into quarters first if you prefer. It's a little easier to fit it into the pot when it's cut up.
Add all the vegetables & herbs to the pot. Cut the carrots, onion, celery, parsnip and turnip into chunks and spread them around the chicken: Roughly chop the parsley and add that on top, along with salt and white pepper.
Fill the pot with 11-12 cups of cold water and turn the heat up to high to bring the water to a boil. Partially cover the pot to speed up the process but keep an eye on it to prevent it from bubbling over. As soon as the soup begins to boil, turn the heat down to a very gentle, barely-bubbling simmer. Partially cover the pot and continue to simmer the soup gently for one and a half hours.
Important tip: Extremely gentle simmering is the key to tender chicken and will also ensure that the soup veggies are not overcooked or mushy.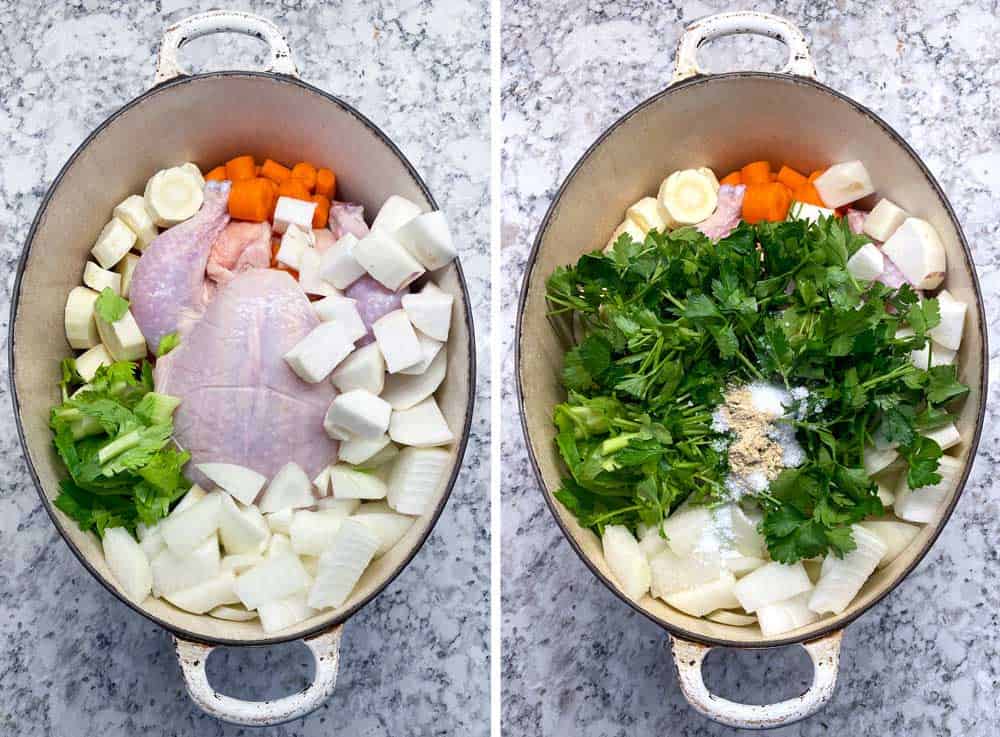 Finishing Steps for rich chicken soup with shredded chicken
Once the chicken soup has finished simmering, the broth will be rich and flavorful, the chicken will be tender and falling off the bone, and now it's time for the finishing touches, shredding the chicken and pureeing the soup vegetables.
Debone and shred the chicken. Transfer the chicken to a large plate or bowl. It will have become quite tender and falling apart so you'll probably need to take it out in pieces. Pull the chicken from the bones, transferring bones, skin and cartilage to a discard bowl. This process takes a while but, if you're like me, you'll be happy to do it so you can steal tastes of the delicious tender chicken, as you work. Once you've removed all the unwanted parts, shred the chicken with two forks or by hand.
Skim the fat from the broth. This is an optional step but I always like do it. If you let the pot sit for a few minutes after you turn off the heat, you'll see that a thin layer of fat will rise to the top. Using a tablespoon and a cup, you can scoop off a good bit of fat, pouring it into the cup as you go. It takes some careful work but it's very rewarding to see all the fat in the cup that you won't be consuming :). Once you've gotten most of the fat, you'll see just small circles of fat floating on top of the broth. Keep skimming if you like, or leave a bit of the fat in the soup for extra flavor.
Puree the soup. If you have an immersion blender, this step is a breeze. Puree the soup in the pot, to your desired consistency. I like mine pretty creamy but I also don't mind a few stray vegetables floating around. If you use a conventional blender or food processor, you'll need to puree the soup in batches.
Once the soup is thick and creamy to your liking, add the shredded chicken and reheat if necessary.
Serve the soup hot with a garnish of chopped parsley.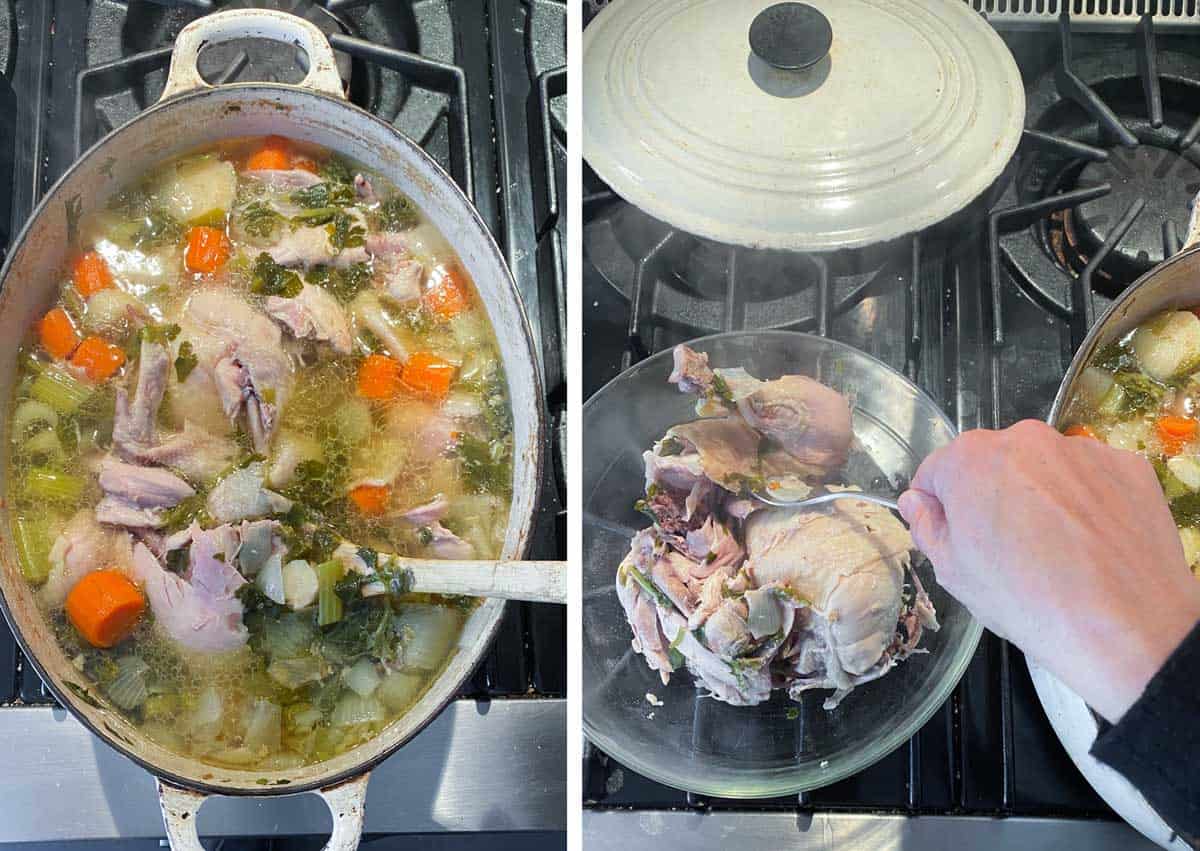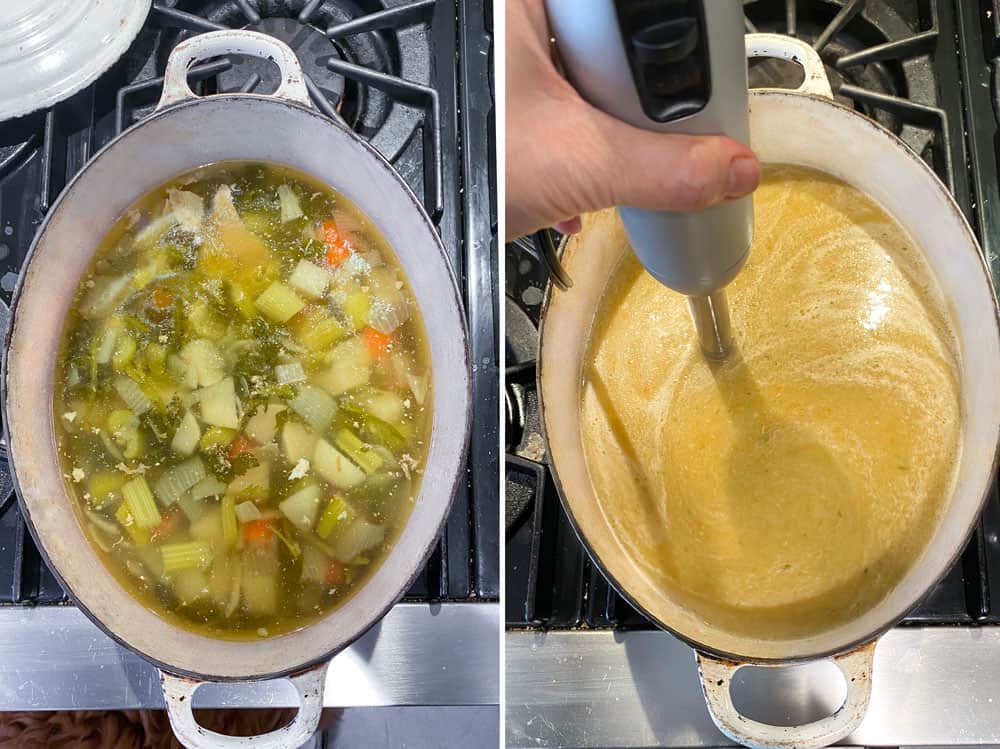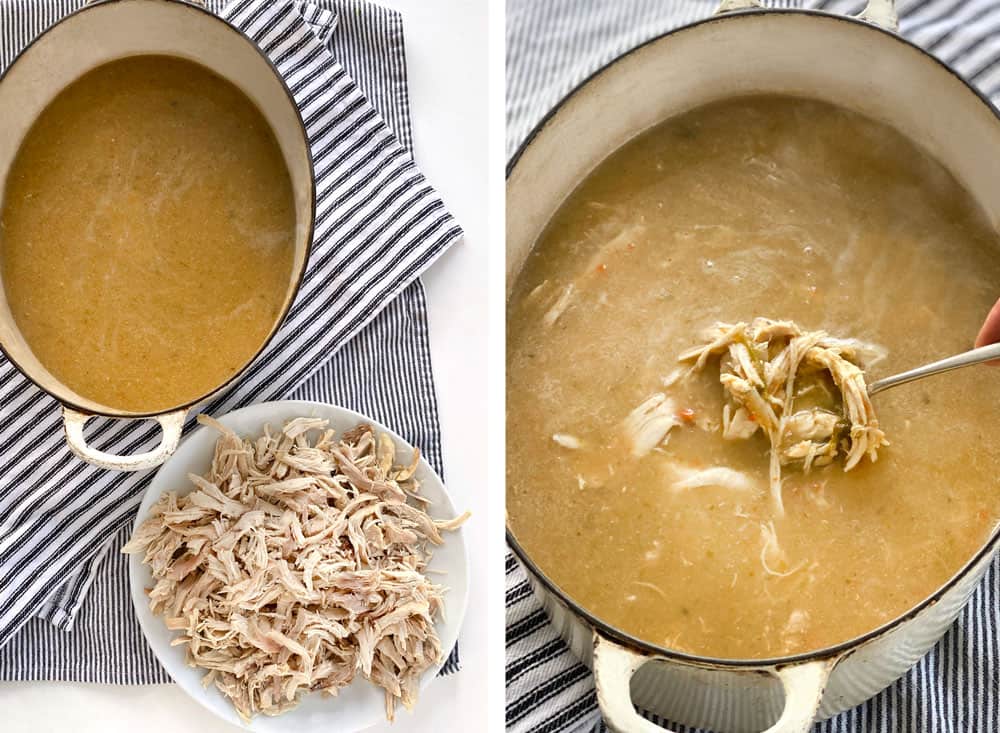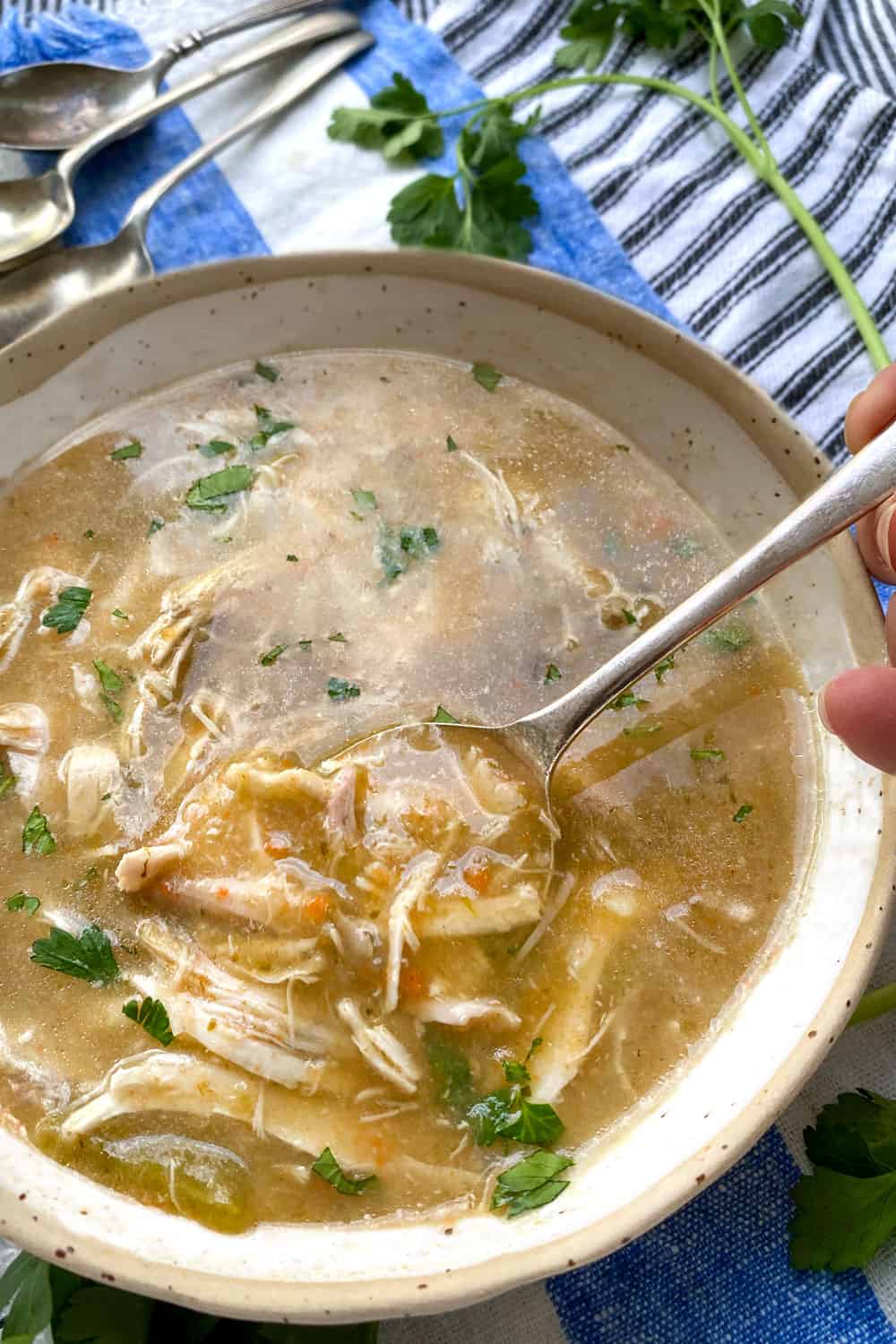 Here's the homemade chicken soup recipe. If you try this recipe, I hope you'll come back to leave a star rating and a comment. I'd love to know what you think.
Print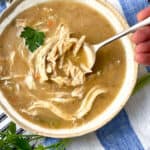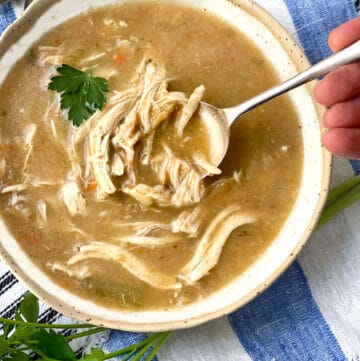 Rich Homemade Chicken Soup
---
Author:

Lisa

Total Time:

2 hours

Yield:

8

-

10

servings

1

x
Description
A whole chicken is simmered low and slow with vegetables and herbs; the vegetables are pureed into the broth and the tender chicken meat is removed from the bones, shredded and returned to the pot for a supremely rich and satisfying chicken soup.
---
1

small chicken (

3 ½

to

4

pounds), whole or cut into quarters

3

stalks of celery, cut into

¾

-inch chunks

3

medium carrots, peeled and cut into

¾

-inch chunks

1

large parsnip, peeled and sliced into

½

-inch rounds

1

large yellow onion or

two

small, peeled and cut into large chunks

1

medium purple topped turnip, peeled and cut into large chunks (see note for a substitution)

1

large bunch of parsley, divided. Roughly chop ¾ of the bunch of parsley - stems and leaves - to use in the soup. For the remaining parsley, remove the leaves and chop them to use as a garnish.

2 teaspoons

kosher salt

¼ teaspoon

white pepper (or substitute freshly ground black pepper)
---
Instructions
Place chicken into a large heavy soup pot or Dutch oven and add the rest of the ingredients: celery, carrots, parsnip, onion, turnip, parsley, salt and pepper, tucking the veggies around the chicken so everything fits into the pot. Add 11-12 cups of cold water, enough water to barely cover everything. If using a whole chicken it may stick up over the water a bit at first. After half an hour of simmering, use a wooden spoon to push into the chicken's backbone so it's submerged.
Turn the heat up high to bring the water to a boil, keeping a close eye, to avoid it bubbling over. As soon as it starts boiling, partially cover the pot and turn the heat down to the lowest possible simmer, so the soup is barely bubbling, and cook it that way for 1 ½ hours.
Turn off the heat, transfer the chicken to a large plate, and have a big bowl nearby. Pull the chicken off the bones and discard the bones, skin and  cartilage into the bowl. Shred the chicken using two forks or by hand, making sure to sift through and pull out any remaining bones.
The soup will have developed a layer of fat on top. The best way to skim it off is with a tablespoon, skimming a little at a time and tipping it into a cup as you go. Skim as much fat as you like or none at all. This step is optional.
To puree the vegetables and herbs into the soup, first make sure there are no bones left in the pot. If you have an immersion blender, you can puree the soup right in the pot. If not, puree it in batches, using a blender or food processor.
Once the soup is pureed, add the shredded chicken and reheat, if necessary.
Serve hot with a sprinkling of chopped parsley leaves to garnish the bowls.
Notes
Substitution For Turnips: A rutabaga is a great substitute for a purple topped turnip. They are a bit sweeter and add wonderful flavor to chicken soup. Peel or slice off the dark waxy skin and cut the flesh into large chunks. Use about 2 cups of cubed rutabaga.
Prep Time:

30

Cook Time:

1 hr 30 min

Category:

Soup

Method:

Simmer

Cuisine:

Out of this world
Keywords: homemade chicken soup with pureed soup vegetables and shredded chicken