Panning The Globe's Holiday Gift Guide 2016 is filled with only tried and true favorites. I hope this guide helps you find the best gifts for everyone on your list!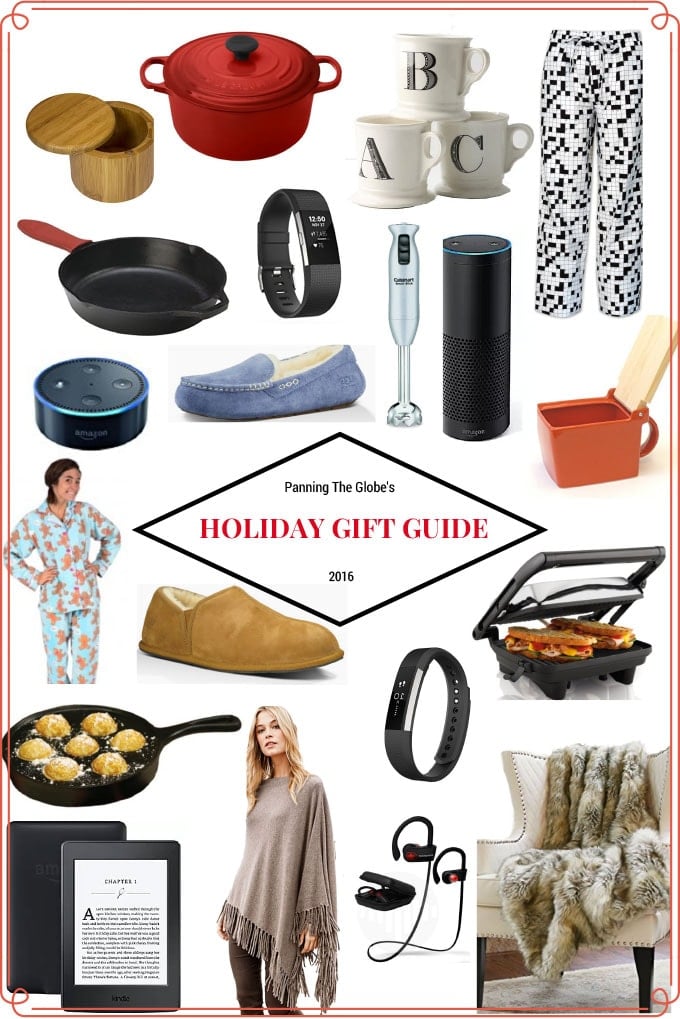 Cooking and gift giving have a lot in common: making people happy. But in my opinion, cooking a great meal is a piece of cake compared with finding the right gift. In the spirit of giving, I thought I'd take this opportunity to share with you some of the things that I love and have loved giving as gifts. Every item here is a tried and true personal favorite. I hope some of these fun, creative and useful gift ideas help you find what you're looking for this holiday season!
If you need even more inspiration, check out Panning The Globe's Guide to Festive Recipes and Great Gifts 2013 and Panning The Globe's 2014 Gift Guide.
Some of the links below are affiliate links, which means I'll get a small commission if you purchase through my links (at no cost to you, of course). Thank you for supporting Panning The Globe.
Gifts for Tech Lovers
1. Amazon Echo hands-free speaker you control with your voice. I use mine for timing recipes, music, news, weather...
2. Amazon Echo Dot A mini version of the Echo with the same functions but a less powerful speaker.
3. Kindle Paperwhite Great e-reader with no screen glare.
4. All-New Fire HD 8 Tablet, 8" HD Display - designed for entertainment: read magazines, watch movies, play games...
5. Fitbit Alta - I have this model. It's a great movitator!
6. Fitbit Charge With built-in heart rate monitor. Eddie has this one. DISCONTINUED.
7. Sonos Compact Wireless Smart Speaker for Streaming Mini speaker with powerful, rich sound for any room.
8. Wireless Bluetooth Running Headphones - Great at the gym too!
Gifts for Cooks and Foodies
1. Cast Iron Skillet,12-Inch Pre-seasoned - The best skillet! On the stove, in the oven or on the grill.
2.Le Creuset Signature Enameled Cast-Iron 5-½-Quart Round French (Dutch) Oven - the best pot! 1o colors
3.Countertop Ceramic Salt Box in 9 colors - Kosher salt at your fingertips
4.Bamboo Salt Box - great for finishing salt
5.Malden Sea Salt Flakes - my favorite finishing salt
6.Cuisinart Smart Stick Immersion Blender - Makes pureeing easy!
7.Danish Aebleskiver Pan - make Festive Aebleskivers: Danish spherical pancakes, plain or stuffed with chocolate, apples or jam.
8.Panini Press Gourmet Sandwich Maker - especially great for college juniors and seniors who aren't on the meal plan!
9. Kitchenaide Artisan Tilt-Head Stand Mixer with Pouring Shield, 5-Quart, Empire Red - bread, pasta, baking...
10. Wine Glass Writers in Metalic Colors - The best way to know who's glass is whose (washes off with water)
11. Slate Cheese Board 12 x 12 Write the names of the cheeses on your Slate Cheese Board NO LONGER AVAILABLE
13. Cheese Knives 3-piece Set NO LONGER AVAILABLE
A Few Exciting New Cookbooks for The Adventurous Cook
1. Soframiz: Vibrant Middle Eastern Recipes from Sofra Bakery and Cafe Sofra Bakery is one of my favorite food destinations in the Boston area and they just came out with this cookbook, sharing all of their most delicious Middle Eastern recipes. By James Beard award-winning chef Ana Sortun and award-winning pastry chef Maura Kilpatrick.
2. Land of Fish and Rice: Recipes From The Culinary Heart of China Beautifully written culinary journey with great recipes!
3. Taste of Persia: A Cook's Travels Through Armenia, Azerbaijan, Georgia, Iran, and Kurdistana: - beautiful culinary journey with mouthwatering recipes!
Gifts For Coffee Lovers
Great coffee is a must! Here's everything you need for the perfect cup of joe
Pacific Rim Organic Whole Bean Coffee from Whole Foods - My favorite: rich, smooth, chocolatey (purchase at Whole Foods)
Monogram Mugs from Anthropology - we received these as a gift, one for each member of our family. They're so pretty that we keep them out on the counter.
Personalized Coffee Mug from Snapfish - Your favorite pet or family photo on a mug makes a great gift! (2 sizes)
For Those Who Deserve a Little Luxury!
1. Faux Fur Throw I have two of these on my couch. The're so cosy to wrap up in on a cold night!
2. Cashmere Fringed Poncho - Wrap up in soft cashmere all winter long. It comes in 4 colors. I love mine! NO LONGER AVAILABLE
3. Crossword Flannel Pajama Pants for him NO LONGER AVAILABLE
4. Gingerbread Flannel PJ's for her NO LONGER AVAILABLE
5. Ugg Slippers for him - in 2 colors
6. Ugg Slippers for her - in 7 colors
Whimsical Gifts and Stocking Stuffers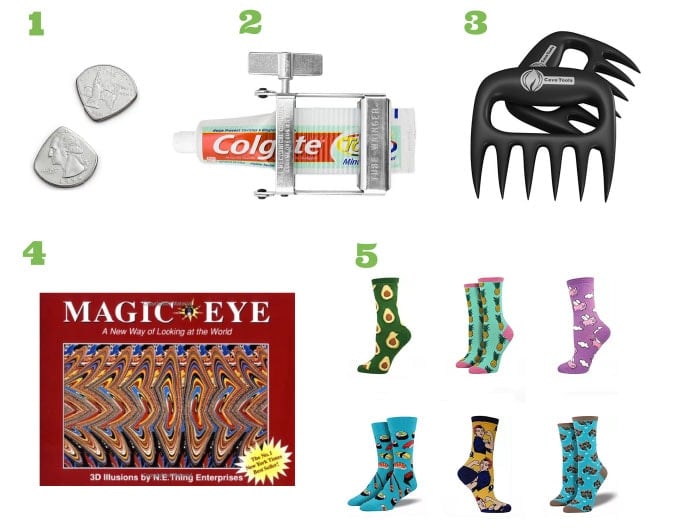 1. Custom Repurposed Quarter Guitar Picks - for the guitar player who has everything
2. Toothpaste Tube Wringer - to get every last drop
3. Pulled Pork Shredder Claws - need I say more?
4. Magic Eye 3D - The optical illusions book will amaze you. A great gift for kids too.
5. Fun Socks - because everyone always needs socks, and these are great! NO LONGER AVAILABLE
happy shopping!