These tender and smoky Grilled Artichokes with creamy garlicky lemon dipping sauce, are a fantastic summer appetizer! Artichokes are trimmed, halved and steamed ahead of time, tenderized and ridded of thorns and chokes. When you're ready to eat, just brush them with olive oil and grill them for 5 minutes per side and serve them with the delicious dipping sauce.
This is a beautiful dish for summer entertaining - everyone loves them!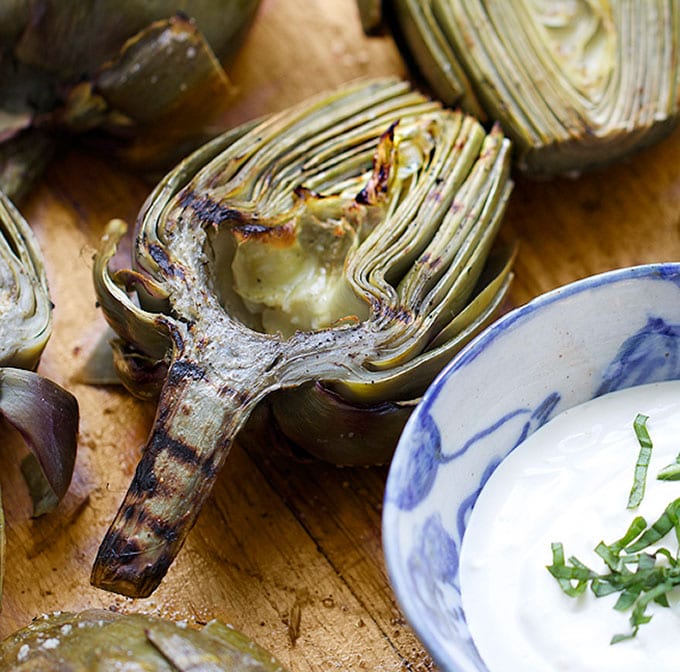 I adore artichokes. It's not only the flavor, it's the whole leisurely process of eating an artichoke, picking off the leaves one by one, dipping each one in butter or aioli, and savoring the small bits of buttery nutty flesh, all the while anticipating a big delicious prize at the end when I finally get to the heart.
I love artichokes however they're cooked, but Grilled Artichokes, with their smokey charred flavors and golden caramelized bits, are my absolute favorite.
What You Will Need To Make Grilled Artichokes:
Fresh Globe Artichokes: Globe artichokes are the most common type of artichoke found at the grocery store. They're large and round, with ample 'meat' on their leaves and big delicious hearts. They're the best type of artichoke for grilling. One half of a large artichoke per person is enough as an appetizer, but two halves per person is also really nice and always appreciated.
A Scissor: kitchen shears or all-purpose scissors will do for trimming the artichoke leaves.
A Sharp Kitchen Knife: Something that can cut through the tough skin of an artichoke.
2 halved Lemons: When artichokes are cut, they oxidize fast. A wipe with lemon will prevent discoloration.
A large steamer or pot with a lid: A typical pot you'd use for boiling spaghetti (7-8 quarts) will hold 4 or 5 artichokes.
Olive oil, salt and pepper: For seasoning the artichokes just before you grill them.
For the aioli Ingredients see the recipe below.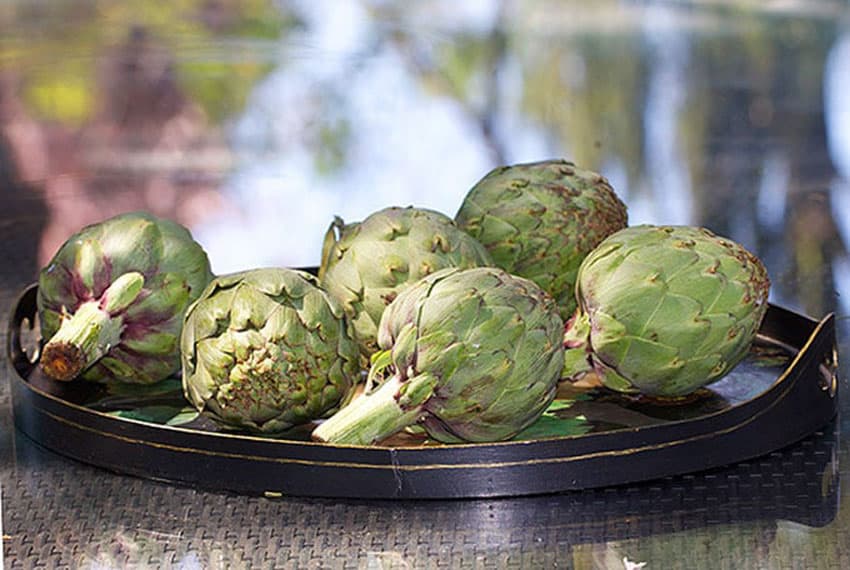 How To Make Great Grilled Artichokes
Artichokes are tough and thorny and they have a choke that can literally choke you. The key to making Great Grilled Artichokes is to remove all the armor and tenderize the artichokes before grilling them. There is definitely some work involved but the payoff is big, and all the preparations can be done a day or two in advance.
Properly trimmed artichokes are a pleasure to eat, and pre-cooking the artichokes before grilling them ensures super tender leaves and hearts that are melt-in-your-mouth delicious. Here's how to do it:
First Snip off the thorns on the leaves: use a scissor to cut the thorny tip off each leaf and rub the cut parts with a halved lemon to prevent discoloration.
Trim the Stems: The artichoke stem is delicious, almost as tasty as the heart, but the exterior skin on the stem can be tough. It's easy to trim the outer layer of the stem with a paring knife or vegetable peeler. After you trim the stem, rub it with lemon to prevent it from turning brown.
Slice the artichokes in half and cut off the tips: Slice each artichoke in half through the stem. Then lay each half cut-side-down and cut inch off the top of each artichoke (more thorns) and rub the exposed parts with lemon.
Steam or boil the artichoke halves for 20 minutes: It takes only 20 minutes to fully tenderize the halved artichokes.
Scoop out the chokes: Once the cooked artichoke halves are cool enough to handle, it's easy to remove the chokes. Just scoop them out with a spoon. The artichokes are now ready to be grilled or you can keep them in the fridge for up to 48 hours before grilling them.
Grill the artichokes: Set the artichokes on a tray or a rimmed baking sheet, something that's easy to transport to and from the grill. Brush the halves generously with olive oil, season them with salt and pepper, and grill them for 5 minutes per side, just long enough to infuse them with smoky charred flavors and to burn in some gorgeous grill marks.


How to Serve Grilled Artichokes:
Grilled artichokes are delicious warm or at room temperature, though I do have a slight preference for serving them warm. I like to arrange the artichoke halves, cut-side up, on a big platter, and let everyone help themselves. I give each of my guests a small plate; a small bowl of lemon aioli dipping sauce; and a fork and knife for the heart. I set out a big communal bowl or two for the discarded leaves.
If you want to grill them an hour or two ahead of time and serve them warm, you can leave them out for an hour or so and then pop them in a 200ºF oven for a half hour or 45 minutes before serving them.

What I love about this Grilled Artichokes Recipe
Grilled Artichokes are such a delicacy. I love to serve these to friends and family. We all sit around together and enjoy this delicious healthy vegetarian dish, amassing piles of discarded leaves and enjoying every delicious bite.
It's wonderful to have a recipe like this where all the preparations are done ahead of time and a recipe that maximizes the enjoyment of eating artichokes. With all the pre trimming, steaming and grilling, plus the delicious dipping sauce, these grilled artichokes are pure heaven!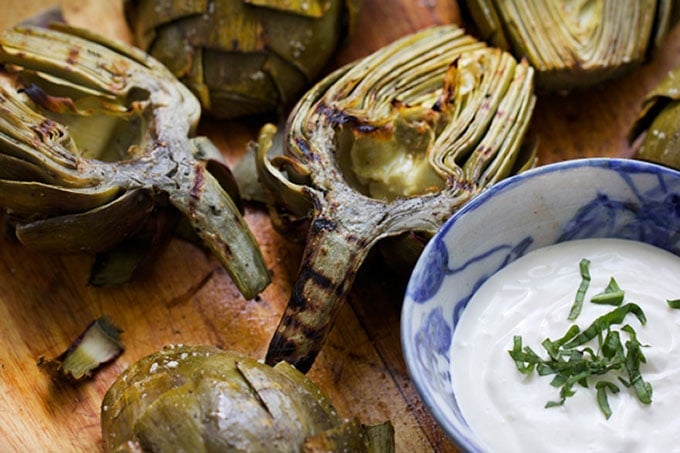 Here's the Grilled Artichokes Recipe. I'm excited for you to try this. If you do, I hope you'll come back to leave a comment and a star rating. I'd love to know what you think.
Print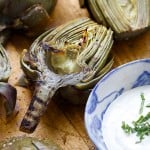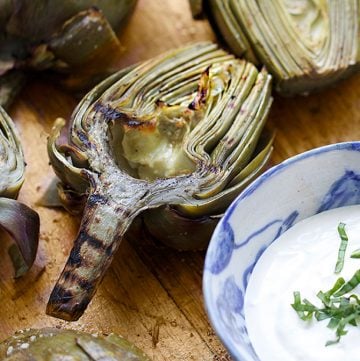 Grilled Artichokes With Lemon Aioli Dipping Sauce
---
Author:

Lisa

Total Time:

2 hours

Yield:

4

-8

1

x
Description
Artichokes are trimmed and steamed ahead of time and then grilled to smoky tender perfection and served with scrumptious creamy lemon dipping sauce. This is a fantastic summer appetizer recipe that everyone loves!
---
Equipment: Large sharp knife, Kitchen Shears or large all-purpose scissors, Pastry or basting brush
3

-

4

large globe artichokes

2

lemons, cut in half crosswise
Olive oil for brushing
Kosher salt and freshly ground black pepper
For The Aioli (enough for 4 people. Double if serving 8 people)
⅓

cup

mayonnaise (I like Hellmans best)

⅓

cup

low fat greek yogurt

1 tablespoon

plus 1 teaspoon fresh lemon juice

1 teaspoon

finely minced garlic

¼ teaspoon

kosher salt

2 teaspoons

of slivered basil or mint (optional)
---
Instructions
In a small bowl whisk all of the aioli ingredients except herbs. Store in the fridge, covered for up to 24 hours. Sprinkle freshly-cut herbs on top right before serving.
Fill a large (8-quarts or more) pot with water, ⅔ of the way up, and bring to a boil.
Trim one artichoke at a time, making sure to rub all of the freshly cut parts with a halved lemon as you go, to prevent discoloration. First cut off the very tip of the stem. Next, carefully slice off or shave (with a vegetable peeler) the tough outer skin of the stem. Using your scissors and starting at the bottom of the artichoke, snip off the thorny tip of each leaf (about ½ inch) until you get to the top of the artichoke, where the leaves are too crowded to separate.
Lay the artichoke on its side and slice it in half, starting from the stem. Don't forget to keep wiping the cut parts with lemon. Lay each half cut-side down and slice off ¾ of an inch from the top, to  remove the last bunch of thorny tips. Lemon, lemon.
Carefully drop the artichoke halves into the boiling water. When it returns to a boil, cover the pot and cook the artichokes for 20 minutes. Don't worry if they aren't all completely submerged. Those parts will cook in the steam. Using tongs, gently transfer the artichoke halves, cut side down, to a bowl (letting the water drip off of them) and let them cool for 15-20 minutes. When they're cool enough to handle, use a teaspoon to carefully scoop out the chokes (the hairy part near the heart). They artichokes are now ready for grilling or you can refrigerate them, covered with plastic wrap,  for up to 48 hours before grilling them.
Heat the grill to medium-high. (If you chill the artichokes overnight, allow them to sit at room temperature for ½ hour before proceeding.) Brush artichokes generously on both sides with olive oil and season with salt and pepper, to taste. Grill artichokes for about 5 minutes per side, outside first, until the cut side has grill marks and is nicely browned in spots.
Serve the artichokes warm or at room temperature. I like to set the artichoke halves out on a big platter and let everyone help themselves. Make sure each person has a small plate, a fork and knife to eat the heart, and a small bowl of aioli for dipping. I usually put out one or two large communal bowls for the discarded leaves.
Notes
Prep and Grill Ahead of Time: The artichokes can be grilled up to 2 hours ahead and kept at room temperature for an hour or so. Pop them into a 200º oven for a half hour to forty-five minutes to keep them warm. Then plate and serve.
Nutrition Information: The information shown is an estimate provided by an online nutrition calculator and is not a substitute for a the advice of a professional nutritionist.
Prep Time:

1 hour 30 mins

Cook Time:

30 mins

Category:

Appetizer or side dish

Method:

Grill

Cuisine:

Out Of This World
Keywords: Grilled artichokes with dipping sauce, How to grill artichokes
Originally published May 3, 2013. Updated July 17, 2021 with a few new photos, clarifying details and step-by-step instructions added to the written post and to the recipe. The same delicious recipe!