Plov is a popular dish in Uzbekistan. I now know why. It's a rich and delectable dish with chunks of tender lamb, rice, carrots, onions and spices. It's like combining delicious risotto with scrumptious lamb stew.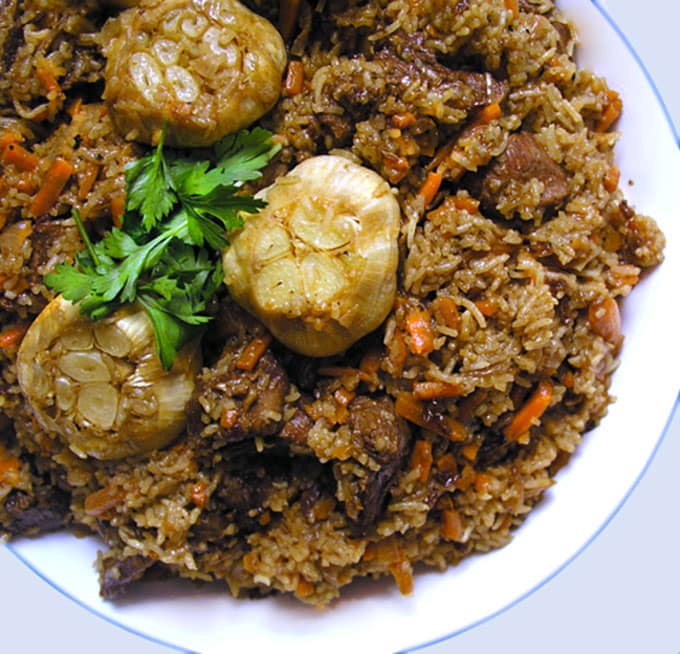 Plov hails from ancient times and some of the steps in the cooking process - such as poking holes in the rice and submerging whole heads of garlic down into it, and the gentle pouring of the water over a wooden spoon - are unusual enough that at times I felt like I was performing an ancient cooking ritual.
I cooked this Plov the traditional way, with lamb, carrots, onions, and spices. But I broke with a couple of Uzbek traditions in adapting this recipe for Panning the Globe. Firstly, I didn't use the rendered fat of a sheep's tail to sauté my meat and vegetables. As delicious as I'm sure that is, I opted for Canola oil, which is more readily available. Secondly, I (a woman) cooked the meal, whereas in Uzbekistan the cooking of Plov is generally the man's task.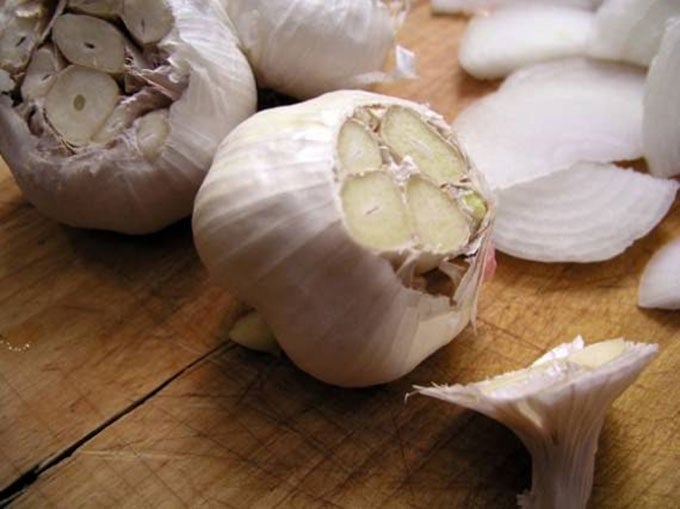 You never know what you will learn while cooking Plov. I was curious about why the rice in this dish is rinsed several times and drained before cooking. Turns out rinsing rice washes away a lot of extra starch and leaves you with grains that cook up tender but don't stick together. That is the perfect consistency for Plov.
I also learned why many packages of rice don't suggest rinsing before cooking: there is a law in the USA which mandates that any rice that might be sold to a school and served to children must be fortified with vitamins and iron. The law also says that the rice must be packaged really well so no foreign matter gets in and thus nobody needs to rinse it, which would wash away all the added vitamins.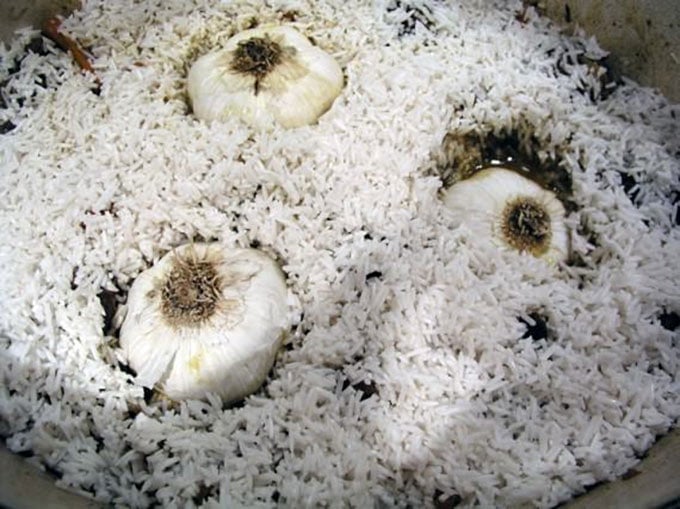 You can cut the carrots any way you want for this dish, but julienne is traditional and I think it's kind of fun. Here's how, if you don't know: first cut the carrots into 2-inch lengths; in each piece, cut four flat thin slices lengthwise. Then you end up with flat rectangular pieces of carrot that you can easily cut into strips.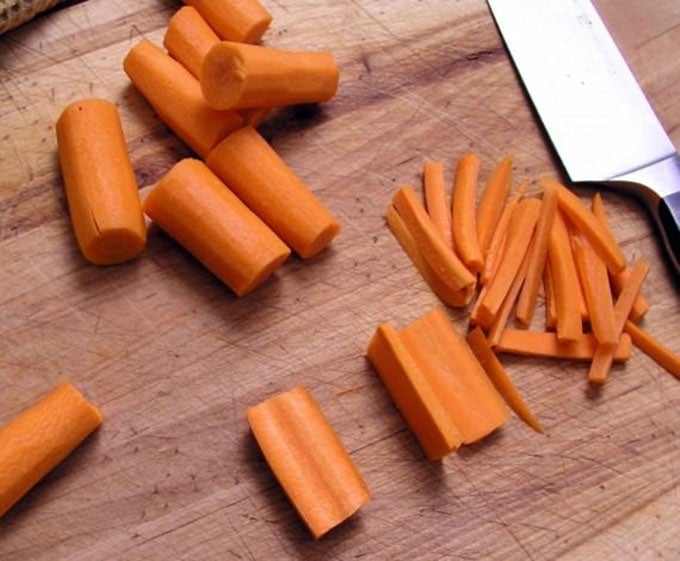 I can see why the Uzbeks consider Plov their king of dishes. My family was in awe when that mountain of Plov, topped with the whole garlic bulbs, was set before them.
This is Panning The Globe's first recipe post. I'm excited to find delicious recipes and culinary inspiration from every single country and to start I decided to spin the wheel and see where it landed. It landed on Uzbekistan. I knew nothing about the country or its food. I was thrilled to find this wonderful blog-worthy Uzbeki dish!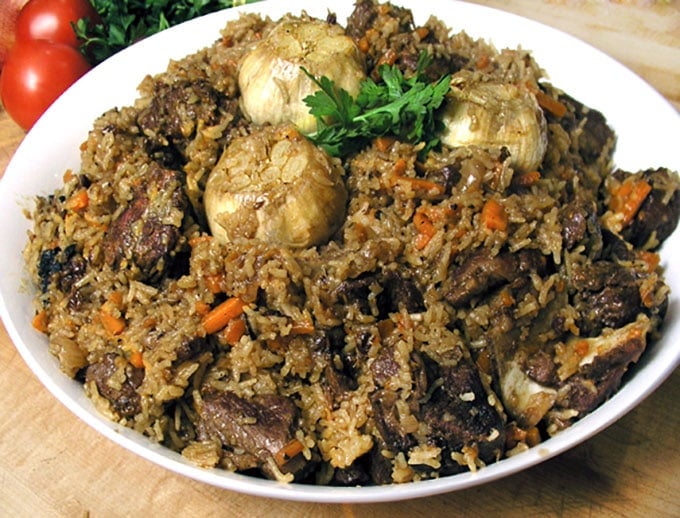 Plov is delicious, festive, and it taught me some things about cooking and about the world. I hope you enjoy it too!
Here's the lamb plov recipe. If you try this recipe I hope you'll come back to leave a star rating and a comment. I'd love to know what you think!
Print
Plov
---
Author:

Lisa

Total Time:

2 hours

Yield:

6

1

x
Description
Deliciously spiced lamb and rice pilaf. A hearty one pot dinner.
---
2 cups

Basmati rice

3

small heads garlic

4 tablespoons

vegetable oil

2

pounds boneless lamb leg or shoulder, trimmed of fat, cut into

2

-inch cubes

1

pound carrots, peeled and julienned

2

large onions, halved and thinly sliced

1 tablespoon

cumin seeds

½ teaspoon

paprika

½ teaspoon

hungarian hot paprika

¼ teaspoon

turmeric (for color)

1 tablespoon

kosher salt
several grinds of fresh pepper

½ cup

fresh or dried barberries (middle eastern grocers)

3 cups

boiling water
---
Instructions
Rinse and drain the rice in several washes of warm water, set aside
Wash the whole garlic heads and slice off about ¾ of an inch from the top of each head, exposing a cross section of the cloves. Set aside.
Heat the oil in a Dutch Oven or heavy casserole over medium heat until hot but not smoking. Add lamb pieces (in batches, if necessary, to avoid over-crowding) and brown on all sides, about 7 minutes total (or per batch)
If you have cooked meat in batches, return all meat to the pot and add carrots and onions. Cook, stirring occasionally, for 10 minutes, until the vegetables have softened.
Add the next 7 ingredients: cumin seeds, paprika, hot paprika, turmeric, salt, pepper, and barberries. Stir to combine. Add ½ cup water, cover pot and turn heat down to a simmer and cook for 25 minutes.
Uncover the pot and using the back of a wooden spoon, flatten the meat and vegetables into the bottom of the casserole. Add the rice, creating a flat even layer with the help of the wooden spoon.
Push the garlic bulbs, exposed side first, down through the rice till only their bottoms are exposed.
Pour the 3 cups of boiling water slowly over the wooden spoon, letting it fall gently into the pot so as not to disturb the rice layer on top. Poke a few holes in the rice layer with the handle of the spoon, cover the pot, and simmer for 20 minutes.
Remove from heat. Pull out garlic bulbs and stir rice and meat together. Mound the Plov on a serving platter with the garlic heads on top.
Prep Time:

30 mins

Cook Time:

1 hour 30 mins

Category:

Festive Main Course

Method:

stove top

Cuisine:

Uzbekistani
Keywords: Uzbeki Plov, lamb and rice casserole
3.1.05