These savory mini cauliflower tarts are amazing little flavor bombs: potato-gruyere crusts packed with onions, garlic, cauliflower, eggs, cheese and spices, topped with crumbled bacon and parmesan cheese. This is a perfect recipe for a special brunch.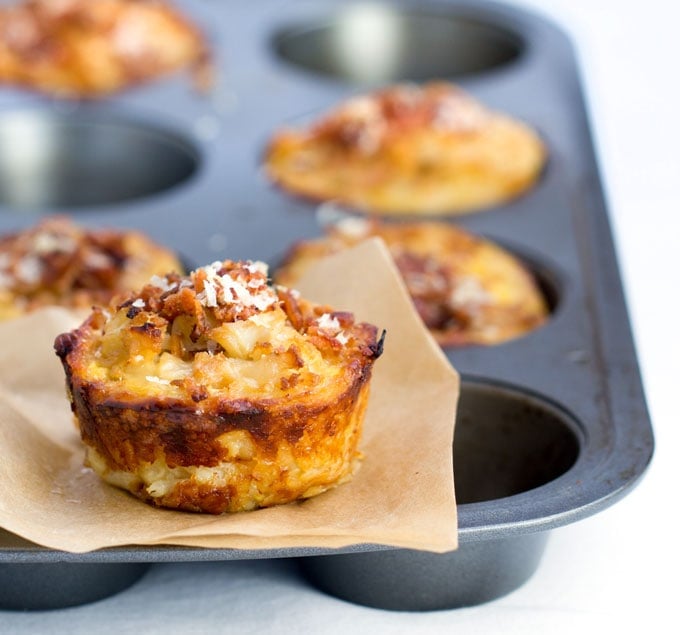 A couple of years ago one of my blogging friends invited me to an event called Pie Party Potluck Live. 60 or so Food bloggers and culinary professionals were invited to make pies and bring them to a big party in NYC, where we all got to know one other while sampling each other's creations.
I took the invite as an opportunity to develop my "fantasy pie recipe:" a savory Potato Crusted Cauliflower Gruyere Pie with Bacon Parmesan Crumb Topping. It turned out so well that I later adapted it, for the Idaho Potato Commission, into this recipe for mini potato crusted cauliflower tarts.
These cauliflower tarts may be small but they have big flavor. Serve them for breakfast or brunch. One cauliflower tart with a healthy salad makes a perfect pairing.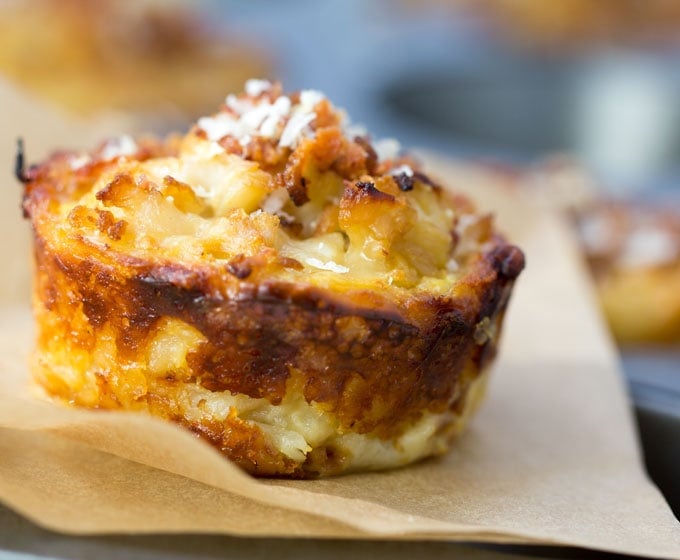 The crusts of these cauliflower tarts are as flavorful as the filling. They're made from Idaho russet potatoes that are boiled in their jackets, cooled, peeled, grated, and mixed with gruyere cheese, yogurt, and mustard, to form a potato dough. The dough is pressed into muffin tin cups and pre baked for 25 minutes.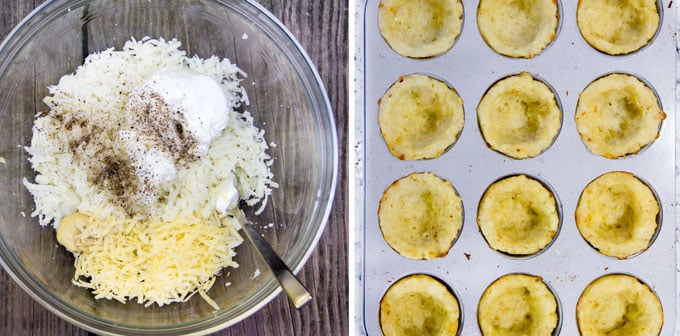 While the potato crusts are baking, you can sauté the filling ingredients: onions, garlic, cauliflower and spices. The cooked vegetables are mixed with eggs, milk and more gruyere cheese.
The filling is poured into the prepared crusts and baked, and the bacon parmesan topping is added at the end.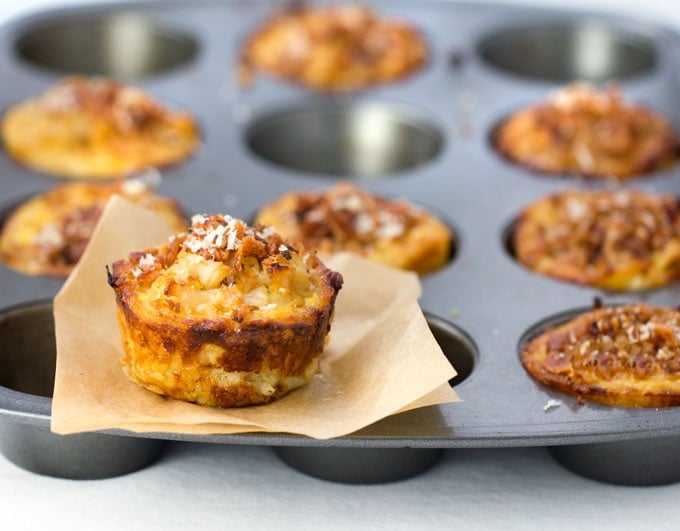 Cauliflower tarts can be served warm from the oven or at room temperature.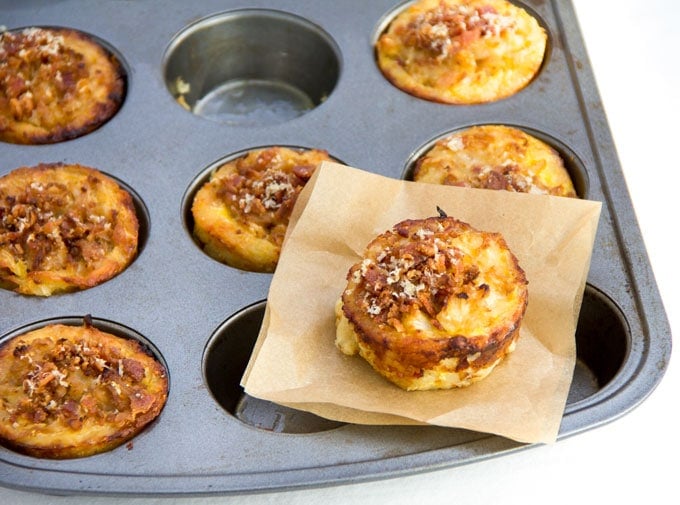 If you prefer one big pie over 12 little tarts, check out this very similar recipe, for a potato crusted cauliflower gruyere pie.
Here's the recipe for mini cauliflower tarts with potato gruyere crust and bacon parmesan crumb topping. If you make this, I hope you'll come back to leave a review and let me know how it turned out.
Print
Mini Cauliflower Tarts with Potato Gruyere Crust and Bacon Parmesan Crumb Topping
---
Author:

Lisa

Total Time:

1 hour 45 mins

Yield:

1

2

1

x
Description
Little savory cauliflower tarts packed with flavor, perfect for a special breakfast or brunch.
---
Equipment:

12

cup

muffin tin
For The Potato Gruyere Crust:

1 ¾

pounds

Idaho® russet potatoes, unpeeled (3 medium)

8

ounces

gruyere cheese, grated (divided)

½

cup

low fat plain Greek yogurt

2 tablespoons

Dijon mustard
For The Cauliflower Filling:

2 tablespoons

unsalted butter, plus more to grease the muffin cups

1 tablespoons

olive oil

1

medium yellow onion, finely chopped

1 tablespoon

minced garlic (

2

large cloves)

4

cups

chopped cauliflower florets (½-inch pieces)

1 ½ teaspoons

Aleppo pepper, divided (If you can't find Aleppo Pepper you can substitute a mix of

1

part crushed red pepper flakes with

1

part Hungarian sweet paprika)
Kosher salt

3

large eggs

6 tablespoons

low fat milk
For The Toppings:

6

strips crisp-cooked bacon, finely chopped (For vegetarian tarts, omit bacon and substitute an additional

¼ cup

parmesan cheese)

2 tablespoons

finely grated imported parmesan cheese (I recommend Parmigiana Reggiano)
---
Instructions
For The Potato Gruyere Crust: Preheat oven to 350º F. Place potatoes in a large pot and cover with water by 3 inches. Bring to a boil over high heat. As soon as the water boils, set your timer for 30 minutes. Transfer potatoes to a plate to cool for at least 30 minutes.
When the potatoes are cool enough to handle, peel them using the edge of a knife - the peel will easily slide off and in some cases you can even pull strips of it off with your fingers.
Use the largest holes in a box grater to grate potatoes into a large bowl. Add yogurt, mustard, 1 teaspoon of salt, ½ teaspoon Aleppo pepper and ¼ of the grated cheese. Mix well with your hands to create a cohesive "dough."
Generously butter the cups of a 12-cup muffin tin. Divide the potato mixture into 12 equal portions. An easy way is to divide it first into quarters. Then pat or roll each quarter into a thick log and cut into thirds. Roll and squeeze each portion into a ball. Pat it flat, into a 3-inch disc. Lay it over a muffin cup and gently push it down into the cup, shaping and smoothing it until you have a little cup-shaped crust of even thickness. Repeat with the remaining potato mixture. Bake in the middle of the oven for 25 minutes.
For The Cauliflower Filling: Melt 2 tablespoons butter and 1 tablespoons of oil in a large skillet or heavy pot with a lid, over medium heat. Add the onion and garlic and cook, uncovered, for 5 minutes or until translucent, lowering the heat if they start to brown. Add chopped cauliflower, ½ teaspoon of salt and 1 teaspoon Aleppo pepper. Cook, stirring occasionally, for 5 minutes. Pour 2 tablespoons of water into the skillet, cover and steam cauliflower for 5 minutes. Transfer cauliflower mixture to a large bowl and cool for at least 15 minutes.
In a small bowl whisk eggs and milk. Stir in remaining cheese. Add egg/cheese mixture to the cooled cauliflower and stir to combine.
Spoon the filling into the little crusts. It's ok to heap it up a bit. It will shrink when it cooks. Spoon any remaining egg evenly over the tarts. Cook tarts in the middle of the oven for 30 minutes. Remove muffin tin from the oven. Turn the oven up to broil. Mix bacon and Parmigiana cheese in a small bowl or cup. Sprinkle mixture evenly over the tops of the pies. Return tin to the oven for just a minute or two to heat the topping and finish browning the crust, checking every minute to prevent burning.
Let tarts cool in the tin for at least 20 minutes for easier un-molding. To un-mold, run a knife around the edge of each tart. Use the side of the knife to nudge the pie up and then gently pull it out of the tin. Serve tarts warm or at room temperature.
*Make Ahead Tip: Potatoes can be boiled, cooled, covered with plastic wrap, and stored in the fridge overnight. Then just peel, grate and proceed with the recipe.
Prep Time:

45 mins

Cook Time:

1 hour

Category:

breakfast, brunch, lunch, appetizer

Method:

Bake

Cuisine:

Out of this World
Keywords: Mini savory tarts made with potatoes, cauliflower and gruyere cheese