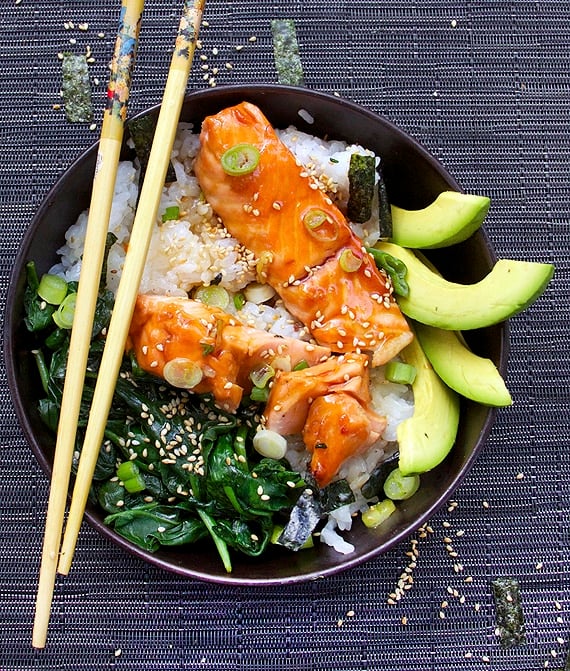 This past week has been a whirlwind of family, friends and food. I was in Texas for a wedding last weekend and then returned to Boston in time for Passover.  From venison sliders to gefilte fish, it was all delicious, but I'm stuffed!
So with the major festive events of the month behind me I was thinking about what to cook that would be delicious (always a requirement) but also healthy and relatively low in calories. Japanese food came to mind – a rice bowl filled with good stuff. This teriyaki salmon rice bowl has healthy Omega-3 fatty acids from the salmon and a good dose of iron & fiber from the spinach.  It has the gestalt of sushi but the salmon is cooked, the nori is toasted and sprinkled on top and everything is drizzled with tasty homemade teriyaki sauce.
Japan always ranks high for countries with the best longevity.  This has been attributed to the fact that their diet is generally low in fat, with fish being the most common form of protein.  The tradition of serving seasonal vegetables with steamed rice, fish and other tasty things from the sea such as nori, has been central to Japanese cuisine for thousands of years.
If you want to make a quick weeknight dinner out of this, make the teriyaki sauce and toast the sesame seeds and nori in advance – you can keep both in airtight containers in the fridge for a week or so.  The rice is best made fresh.  This is a very adaptable recipe.  Eat it hot, cold or at room temp. Try it with different vegetables like sautéed snow peas, sugar snap peas or asparagus (cut on the diagonal into bite-sized pieces). Use tofu or chicken instead of salmon. I'm sure you can think of lots of other variations – let me know if you come up with something really good!