Grilled glazed Japanese Chicken Yakitori is hard to resist! Chicken and scallions are skewered and glazed with rich sweet and savory sauce as they cook and caramelize on the grill.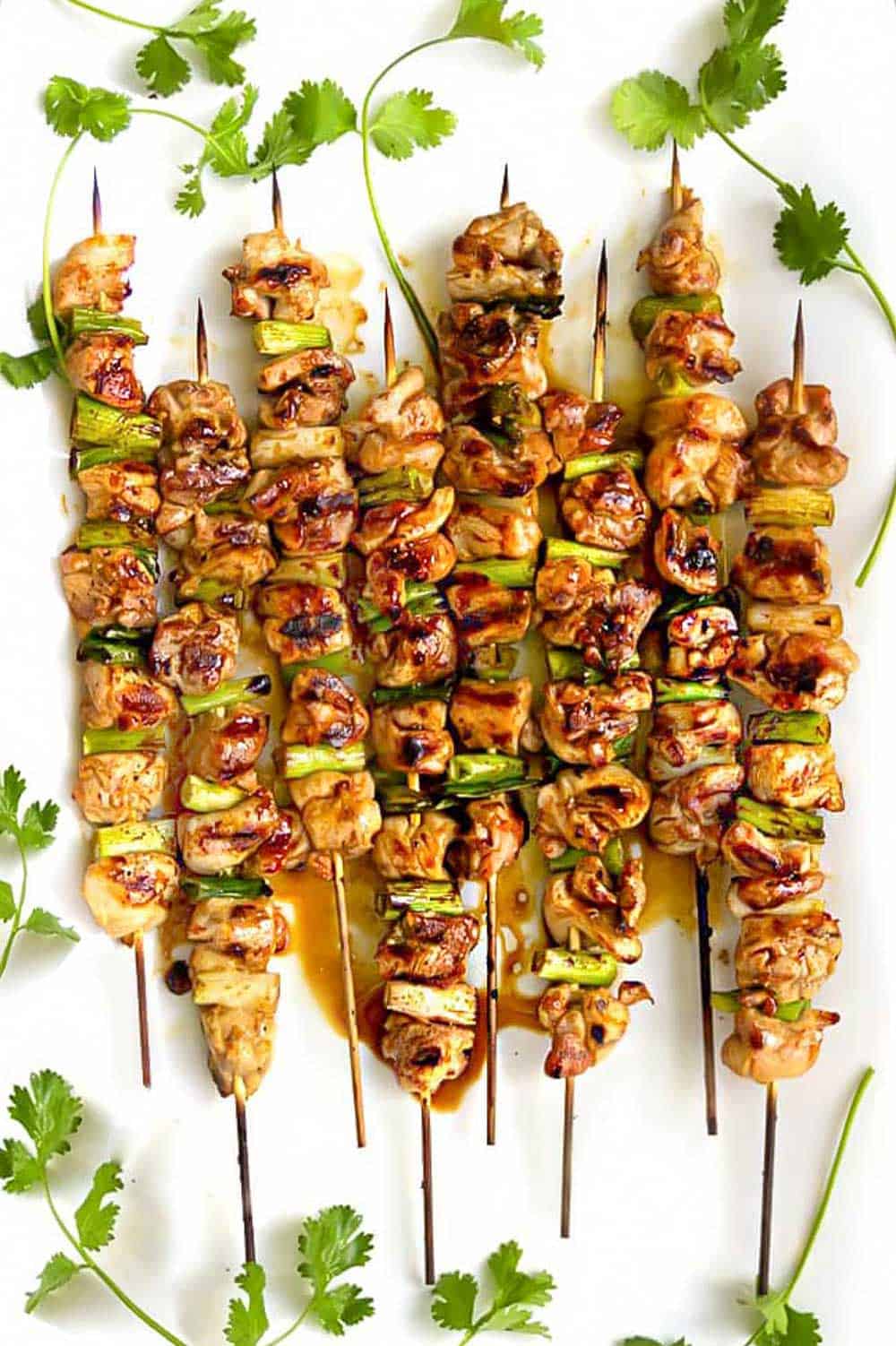 Yakitori (Japanese for "grilled chicken") is one of the oldest and most popular traditional Japanese dishes. It's casual fare, enjoyed after work with a beer or for serving at a laid back party. Bite-sized pieces of chicken, meat or vegetables are skewered and cooked over a charcoal grill or an open flame, and glazed with a sweet teriyaki sauce. If you're looking for something tasty and festive to throw on the grill and enjoy with family and friends, this yakitori chicken recipe is a great choice.
Types of Yakitori
In Japan there are restaurants fully dedicated to yakitori. At these 'Yakitorias' you're likely to find a variety of skewered offerings, with yakitori chicken being the main attraction - not just the thigh and breast meat - all parts of the chicken, from the tongue to the cartilage to the uterus.
If you're feeling adventurous, here are some common varieties of Yakitori:
Torinuki: white meat Yakitori chicken
Negima: Yakitori chicken with Scallions or leeks
Sunagimo: chicken gizzard
Reba: chicken liver
Nankotzu: chicken cartilage
Shiro: chicken intestine
Hatsu: chicken heart
Butabara: pork belly
Tsukune: chicken meatballs
Yakitori Sauce
Yakitori skewers are basted with a savory sweet and tangy sauce called a 'tare' or salt 'shio'. To make the yakitori sauce, combine saki (rice wine), mirin (sweet cooking wine), garlic, ginger, crushed red pepper flakes, sugar and soy sauce. The mixture is simmered to thicken and intensify the flavors. You'll use sauce to glaze the yakitori chicken skewers as they cook on the grill.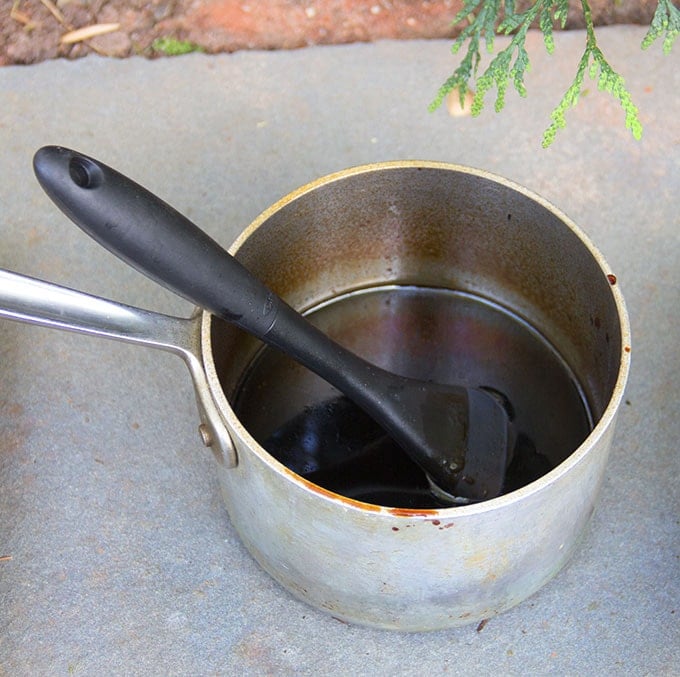 How To Make This Yakitori Recipe: Chicken & Scallion (Negima)
Boneless skinless chicken thighs are the best choice for yakitori. They're deliciously juicy and flavorful when grilled. Cut them into 1-inch pieces. Trim the ends off the scallions and cut them into 1-inch pieces.
Make the yakitori sauce: simmer all the ingredients until the sauce is reduced by about a third: soy sauce, mirin, sake, garlic, ginger, sugar and red pepper.
Skewer the chicken and scallions with one or two pieces of scallion between each piece of chicken.
Grill the skewers, basting with sauce every couple of minutes, until the chicken is glazed and cooked through.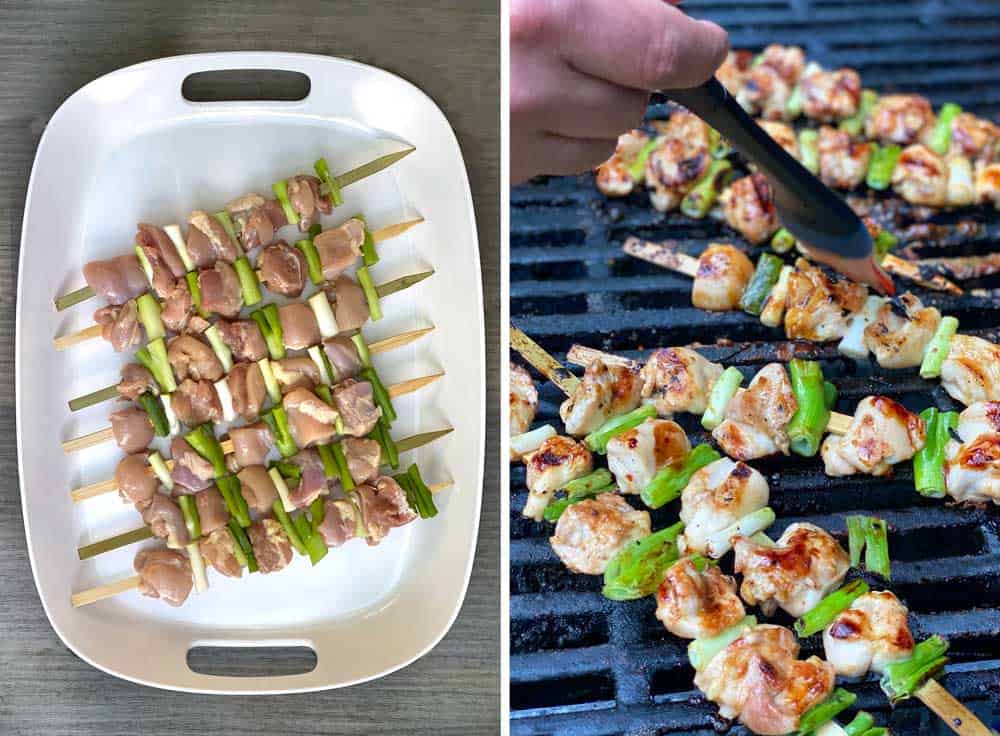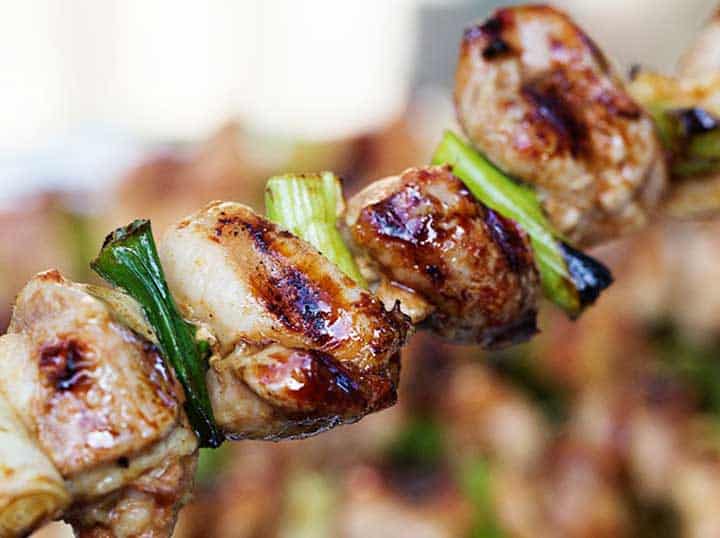 How To Serve Yakitori
Yakitori can be served on or off the skewers. I like to lay all the skewers on a large tray or platter. They're easy to grab and can be eaten right off the skewer or with the skewer removed.
It's common practice serve condiments with yakitori. Sansho and 7 spice chili powder are traditional accompaniments for sprinkling on top of yakitori. Szechuan pepper also works well. Salt and pepper is also a good choice.
For a deliciously authentic side dish with yakitori, serve this Japanese potato salad. For drinks, go with ice cold Japanese Sake or beer.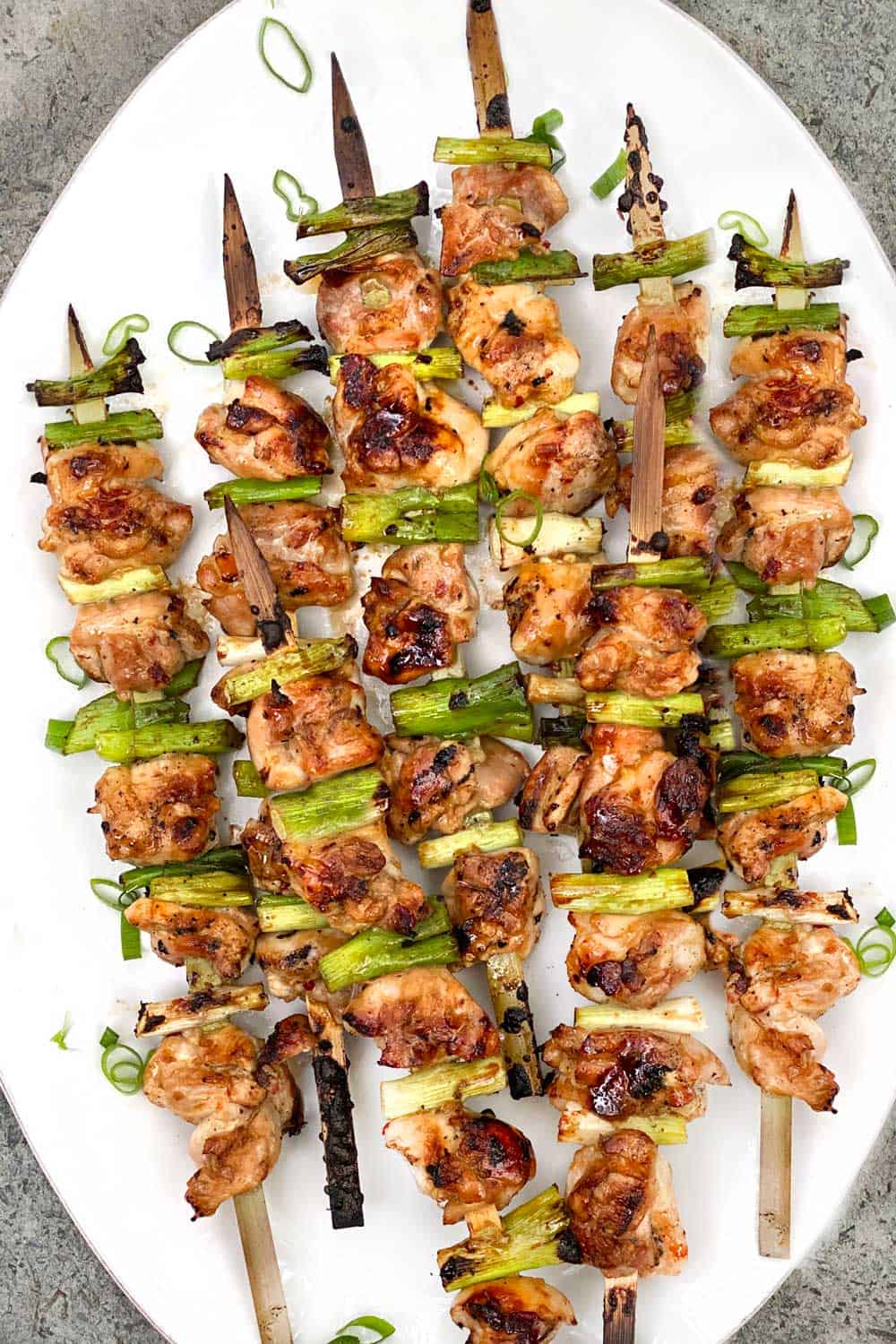 If you want to add another yakitori dish to your menu, try this Cooking Light recipe for Tsukune (Japanese chicken meatballs).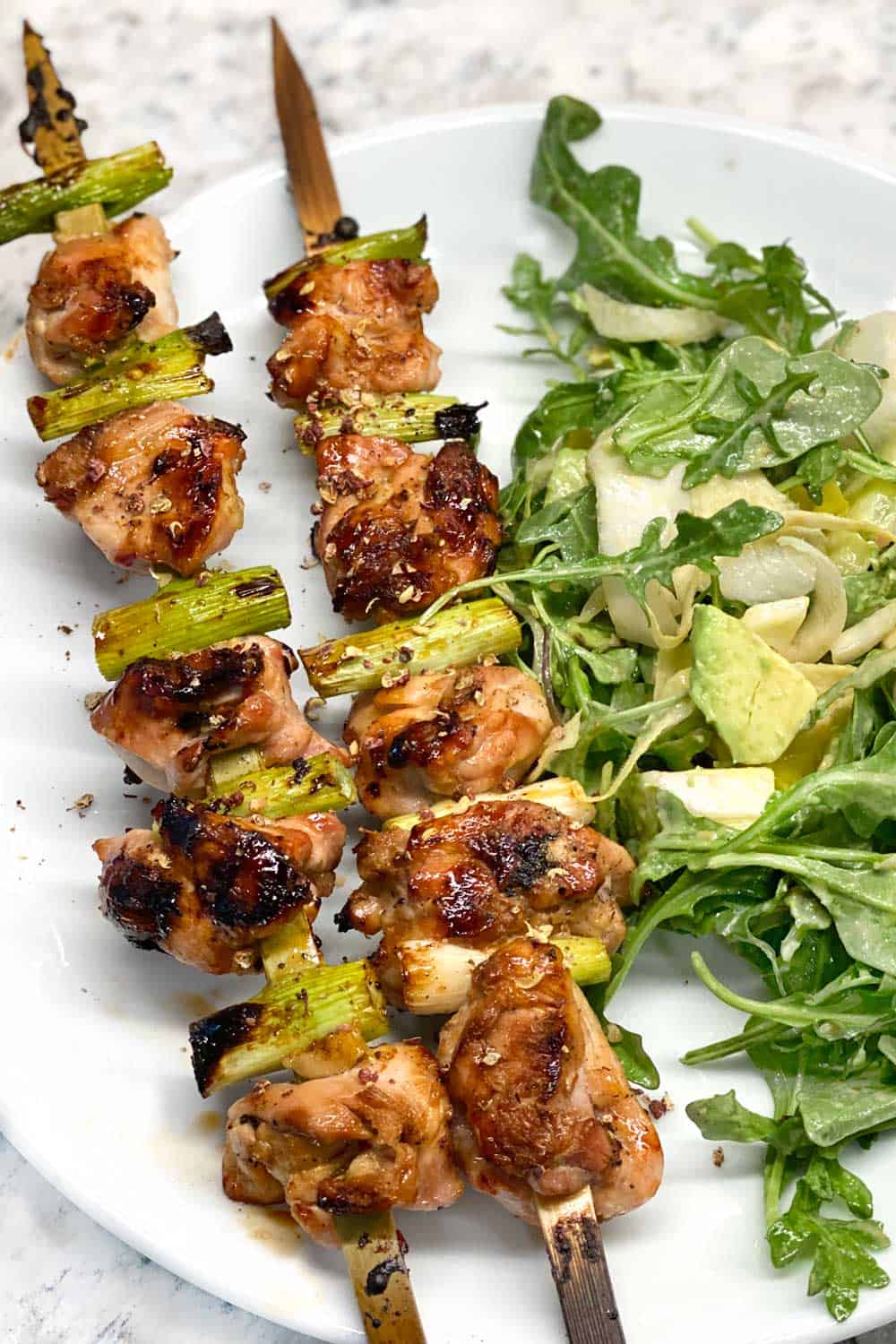 Here's the Yakitori Chicken Recipe. If you try this recipe I hope you'll come back to leave a star rating and a comment. I'd love to know what you think.
Print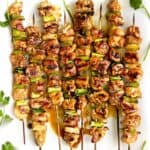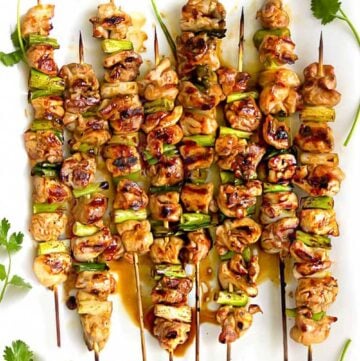 Yakitori Chicken
---
Author:

Lisa

Total Time:

50 minutes

Yield:

5

-7

1

x
Description
Japanese-style grilled chicken and scallion skewers.
---
You will need 8 12-inch or 16 8-inch skewers. If using wooden or bamboo skewers, soak them in water for a half hour or more, before using.
For The Sauce:
1

cup

saki

½

cup

mirin

½

cup

soy sauce

3 tablespoons

brown sugar

2 tablespoons

dark soy sauce (see below for substitutions)

2

garlic cloves, finely minced or put through a garlic press

1 teaspoon

minced fresh ginger

½ teaspoon

crushed red pepper flakes
For The Chicken and Scallions
2

pounds

boneless skinless chicken thighs, cut into bite-sized (¾-inch) pieces

10

-

12

scallions (

1

or

two

bunches) cut crosswise, into 1-inch pieces. The white and light green part of the scallion in best for grilling. Reserve the darker thinner parts for another use or slice them thinly sprinkle them over the platter of cooked skewers as a garish.
Suggested Condiments:
Ground sansho pepper
Japanese 7 spice powder
If you can't find sancho or 7 spice, you can use szechuan pepper.
A sprinkling of salt and fresh ground black pepper works well too!
---
Instructions
Heat the grill. Thread chicken and scallion pieces onto the skewers, alternately
In a small pot combine the saki, mirin, garlic, ginger, red pepper, sugar and soy sauces. Simmer for 10-15 minutes, until sauce is reduced by about a third.
Place the skewers on the hot grill, cover and cook for 2 minutes. Brush with sauce and turn, brush with sauce on the other side. Grill for 5-8 minutes more with the cover closed, opening it to brush skewers with sauce every 2 minutes, until the chicken is cooked through and glazed.
Serve chicken yakitori on or off the skewers. Pass around the toppings.
Notes
Dark Soy Sauce Substitute: Dark soy sauce is thicker, sweeter and more viscous than regular soy sauce. It's mostly used to add a deep dark caramel color to a dish. If you don't have dark soy sauce, you can use an equal amount of regular soy sauce. The Dish will be lighter in color but equally delicious. Or, if you have molasses on hand, use 1 tablespoon of molasses and one tablespoon of regular soy sauce as a replacement.
[This post first appeared on Panning The Globe in May 2015. It was updated in May 2020 with new photos, a few tweaks to the written post and a some clarifying details to the recipe.]
Prep Time:

40 mins

Cook Time:

10 mins

Category:

Main Course

Method:

barbecue

Cuisine:

Japanese
Keywords: Japenese grilled chicken kebabs, grilled chicken and scallion kebabs