Did you know you can toast quinoa?  I never thought of doing it until recently, when I noticed quinoa topping on pasta I had at a restaurant.  It was crunchy and great and I decided I had to try toasting some myself.  For this parfait I toast raw quinoa with sliced almonds and shredded coconut in a dry skillet.  The quinoa turns golden brown and gets a delicious nutty flavor.
The toasted quinoa with nuts and coconut takes the place of the granola that I usually put in a yogurt parfait.  I'm a big fan of granola but this quinoa mix, in addition to tasting good & having a nice crunchy texture, is also quite healthy: it's high in protein; gluten free; and it's toasted in a dry skillet with no added fat or sugar.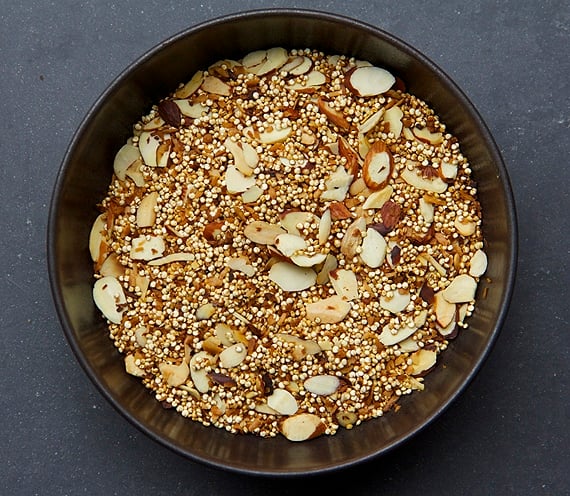 You can prepare all of the components for this parfait in advance. The coconut quinoa mixture can keep in an airtight container for about 5 days.
The gingered maple syrup can also be made ahead and stored in the fridge for a few days.  Fruit can be washed and cut up in advance.  If everything is ready ahead, you can assemble the parfait in just a couple of minutes.
I have to thank my sister in law Jen for inspiring this recipe.  She and I talk about food a lot! Jen has mentioned, many times, an amazing yogurt & granola parfait with gingery simple syrup that she had on one of her family vacations.  She got me craving it, so here's my version!