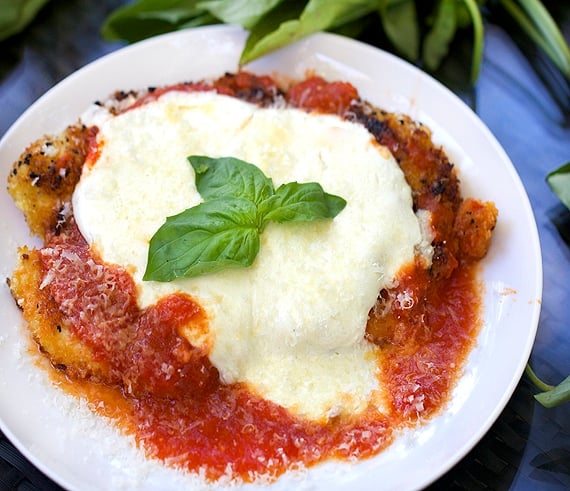 Making people happy with food is something I love to do and chicken parmesan is one of those dishes that has a high happiness probability curve, if there is such a thing for foods.  The extra bonus for me is that I love it too! In truth, Italian food has always been my favorite – especially southern Italian.  I have a thing for tomato sauce – really good intensely tomatoey tomato sauce – made with great tomatoes, fruity olive oil, a hint of garlic, a touch of crushed red pepper and fresh, slivered basil stirred in at the end.  So here's what chicken parmesan has going for it: tender scallops of boneless chicken breast coated with crisp breadcrumbs, covered with a velvety rich tomato sauce and two kinds of melted cheese… add to that some pasta to soak up some more of that delicious tomato sauce and I'm getting happy just thinking about it.
I have made tomato sauce from scratch – using fresh plum tomatoes.  It can be great if the tomatoes are ripe.   But I've found it difficult to find good tomatoes consistently when I need them.  If you use the right canned tomatoes for sauce, you can get amazing results – much better than trying to make a fresh tomato sauce with underripe, flavorless tomatoes.  I've paid close attention to taste tests over the years and the consensus is that the best canned tomatoes are either those from San Marzano, Italy or Muir Glen Organic tomatoes, grown in California's San Joaquin Valley.  In both cases the tomatoes are picked at the peak of ripeness, so they are fruity and deep red and make delicious sauce.
While the sauce is simmering, pound the chicken to make thin scallops: put the chicken breast half into a large baggie and pound it evenly with a meat mallet or a rolling pin until you get the desired thickness.
Then the scallops are breaded in the traditional way – dipped first into flour, then into egg, then into bread crumbs or Panko crumbs.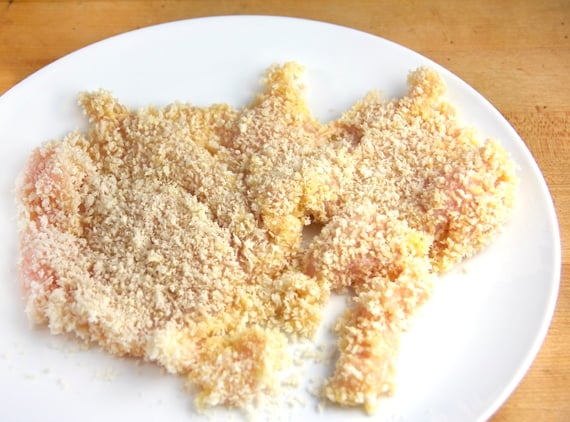 The breaded scallops are browned in oil for a minute or two per side.
The chicken parmesan is assembled in layers – sauce, chicken, more sauce, parmesan and mozzarella.  Then it goes into the oven, where the chicken finishes cooking and the cheese melts.
Bella cucina!
Here's to making people happy with food!