White Chicken Korma is a creamy, yogurt based curry that's beautifully spiced yet mild enough for the whole family. Serve with steamed white rice to soak up all the delicious sauce. It's a quick easy recipe. Dinner can be on the table in 35 minutes.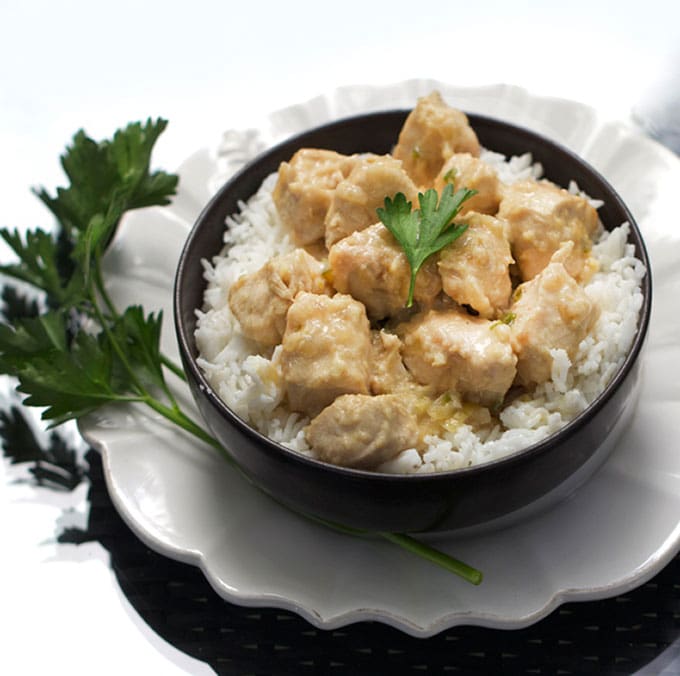 This white chicken korma is a creamy, mild curry with wonderful delicate spices. The chicken is browned and then braised with yogurt. I love how quick and easy it is to throw together this tasty dish.
Lately I've been immersed in the cookbook "At Home with Madhur Jaffrey." There are so many wonderful, accessible Indian recipes in the book but her recipe for "Bangladeshi White Chicken Korma" caught my attention. It looked simple and delicious but also, whenever I hear about Bangladesh, I think back to a memorable event in my early childhood: "The Concert for Bangladesh."
Back in 1971, in my home town of New York City, a big concert at Madison Square Garden was organized by George Harrison and Ravi Shankar to raise relief money for the people of Bangladesh. It was all over the news - masses of Bangladeshi people were injured, starving and homeless following a bloody civil war for independence from Pakistan on top of flooding and devastation from a cyclone.
The Concert for Bangladesh was the first concert of its kind - a large-scale effort by famous musicians to raise money for humanitarian aid. I'll never forget the amazing music and the images of starving children and the good feeling that we were all part of a big plan to help.
A "Korma" is defined as a dish in which meat is braised in water, broth and yogurt. The flavors depend on the spices used.
Yogurt is a great way to make a sauce thick and creamy, but there are a few things to keep in mind when doing so. If you heat the yogurt too quickly you run the risk of the curds and whey separating. Also, if you want to keep yogurt's healthy active cultures alive, you can't heat it above 120 degrees Fahrenheit - a low simmer is safe.
Adding yogurt towards the end of cooking, over gentle heat, and with minimal stirring, will get the creamiest results. If you'd like to know more, Stonyfield Farm offers detailed tips on cooking with yogurt.
The Concert for Bangladesh was a huge success. Through concert ticket sales, movie ticket sales and album sales, it raised over $12 million for the cause. The country has seen significant progress from that time, with per capita income climbing, the rate of poverty falling and positive trends in human rights issues.
I hope you enjoy this White Chicken Korma from Bangladesh. And if you're interested, you can find the album "The Concert for Bangladesh" on iTunes. The album won the Grammy Award in 1973 for the best album of the year. Though it's been forty years since the concert - when you buy the album, the money still goes to the George Harrison fund for UNICEF, which continues to support the people of Bangladesh.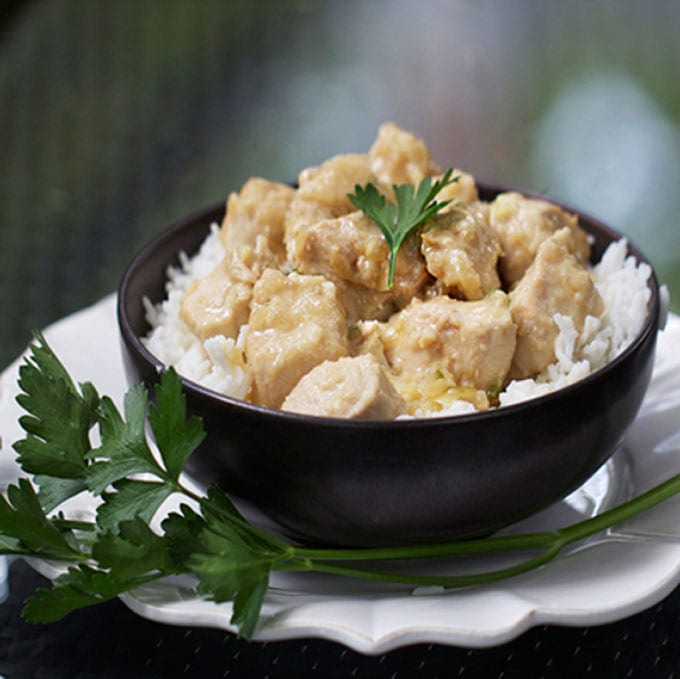 MORE DELICIOUS CURRY RECIPES
Here's the recipe for White Chicken Korma. If you try this recipe I hope you'll come back to leave a star rating and a comment. I'd love to know what you think!
Print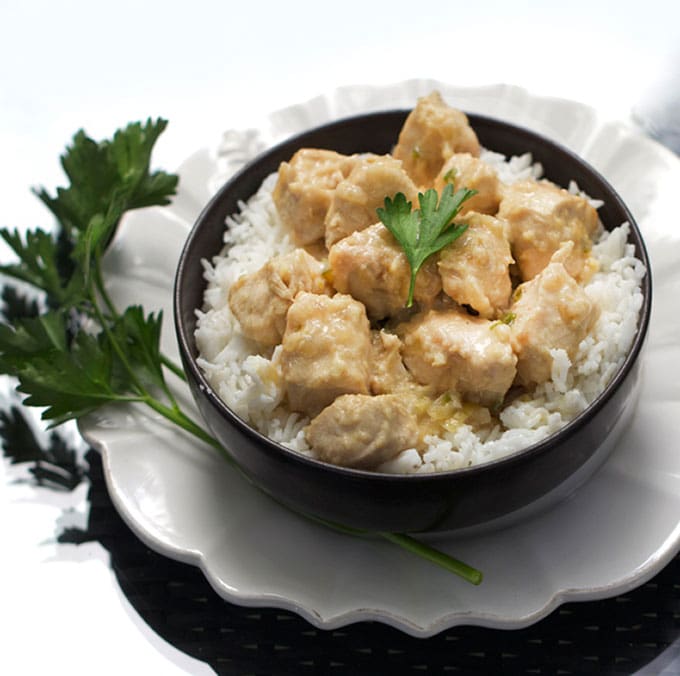 White Chicken Korma
---
Description
Mild yet exquisitely flavored chicken curry. Easy to prepare and both kid-friendly and company worthy.
---
1

cup

whole milk Greek yogurt (divided)

¼

cup

water
Kosher salt

2 tablespoons

mild flavored cooking oil or ghee (clarified butter)

2

pounds

boneless, skinless chicken breasts, cut into 1 ½-inch pieces

3

bay leaves

3

cinnamon sticks

12

green cardamom pods

1

large yellow onion, peeled and finely chopped (about

2 cups

chopped)

6

cloves garlic, peeled and crushed in a press or finely minced

3 tablespoons

grated or finely minced fresh ginger root

1

jalapeño pepper, seeded, deveined, and finely minced
Toasted slivered almonds to garnish
Chopped cilantro or parsley to garnish, optional
---
Instructions
In a small bowl, mix ½ cup yogurt with ¼ cup water and ½ teaspoon salt. Set aside.
Sprinkle chicken pieces with ½ teaspoon salt and set aside.
In a Dutch oven or large heavy lidded pot, heat the oil over medium-high heat. Add bay leaves, cinnamon sticks and cardamom pods and toast, stirring, until sizzling and fragrant, about 30 seconds. Add the chopped onions and cook, stirring, for 2-3 minutes, until the onions just start to brown around the edges. Add the chicken pieces and stir-fry for 3-4 minutes, until chicken is no longer pink and has started to brown a bit. Add garlic and ginger and stir-fry for two minutes more. Add Jalapeños and yogurt/water/salt mixture. Lower heat and simmer, stirring, for a minute or so. Cover skillet and cook at a very gentle simmer (barely bubbling) for 8 minutes. Turn off the heat and use a fork or tongs to remove bay leaves, cinnamon sticks and cardamom pods.
Put the remaining ½ cup of yogurt into a bowl and add a tablespoon of the hot cooking liquid from the korma pot. Whisk through and repeat with another tablespoon of hot liquid. Now stir the warmed yogurt into the korma and simmer, very gently, for a minute or two, until hot.
Serve korma with steamed basmati or jasmine rice. Garnish with toasted slivered almonds and chopped cilantro, if desired.
Prep Time:

15 mins

Cook Time:

20 mins

Category:

Main Dish

Method:

stovetop

Cuisine:

Bangladeshi
Keywords: easy mild boneless chicken curry