Salty, sweet, buttery, addictively delicious Sesame Cashew bars with caramel and shortbread. You can make Sofra bakery's most popular recipe at home. Bake up a big batch ahead for your party or for delicious holiday gifts. They keep for two weeks.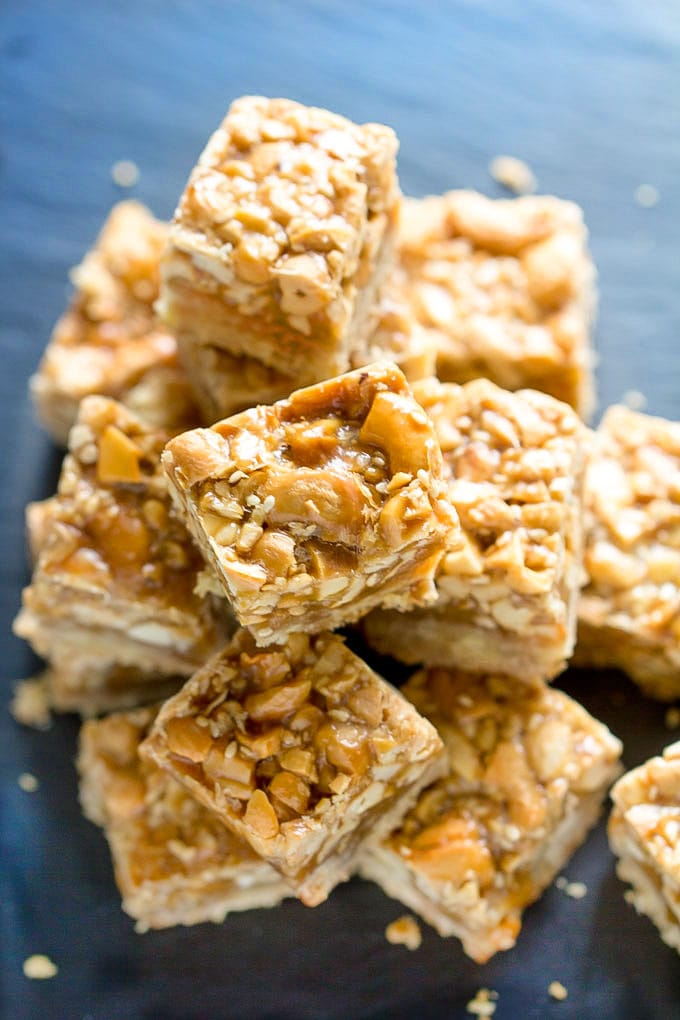 How excited would you be if one of your all time favorite restaurants came out with a cookbook of all their recipes? That just happened to me. Sofra is a small Middle Eastern bakery/cafe in Cambridge MA, not far from my house. The food is insanely good and like nothing you can find anywhere else – at least not in this country.
I like to meet up with friends at Sofra on weekday mornings for coffee and Turkish breakfast. My family and I often head over to Sofra on a Saturday or Sunday at lunchtime for lamb shawarma wraps with pickled cabbage and tahini. But it doesn't matter what you're planning to eat when you go to Sofra because once you walk in the door, you want more.
The freshly-baked confections are too tempting to pass up. You only live once so how can you not indulge in a piece of chocolate hazelnut baklava or a morning bun with orange blossom glaze or a couple of sesame cashew bars?
The cookbook is called Soframiz. Like the cafe, it has both sweet and savory recipes: breakfast, meze (small plates), flatbreads, savory pies, cookies, cakes and pastries.
My copy is exploding with yellow sticky notes marking all the recipes I can't wait to try: Flower Pogaca Rolls (stuffed with feta & parsley), Olive Oil Granola (flax, sesame, dates), Dragon Bean Plaki (Beans stewed in tomato sauce with corn and herbs), Whipped Feta with Sweet and Hot Peppers (dip), Homemade Pita bread, Syrian-Style Lentils with Chard, Lamb Shawarma(!), Earthquake Cookies (they will rock your world!)….. The list goes on.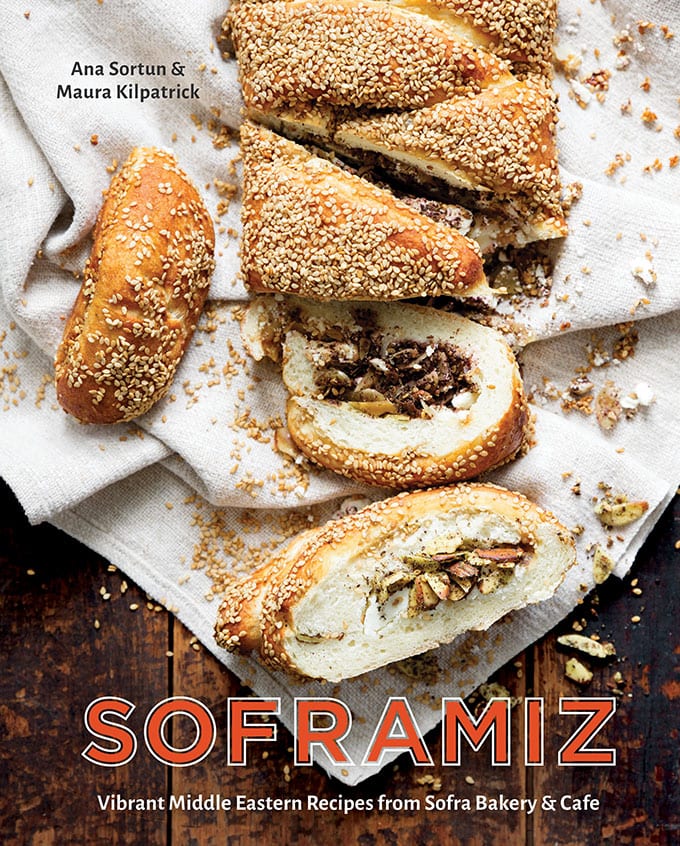 I found it difficult to pick just one recipe to share here. I decided on these sesame cashew bars because it's that time of year when many of us want to bake delicious confections for our parties or for home-baked holiday food gifts. I also love that they keep for two weeks in the fridge so you can make them ahead of time.
Here's what Chef Maura says about these Sesame Cashew Bars :
These sesame bars are our best seller, by far. Lots of brown sugar combined with a thick, raw honey produce the caramel that holds the nuts and sesame seeds together over a thick shortbread crust. Cut them into small pieces; they are very rich and one or two bites is enough. Read the instructions carefully: the bars come out of the oven very under baked and set up as they cool. Don't be tempted to bake them longer because the caramel will be too hard and not chewy. 
I can see why these are so popular at Sofra, and so will you, if you make them. They are spectacular: a beautiful balance of nutty, sweet, buttery, salty, crunchy and chewy. They are a tribute to the incredible talent of Sofra's award-winning pastry chef Maura Kilpatrick who co-authored Soframiz with James Beard award-winning chef Ana Sortun.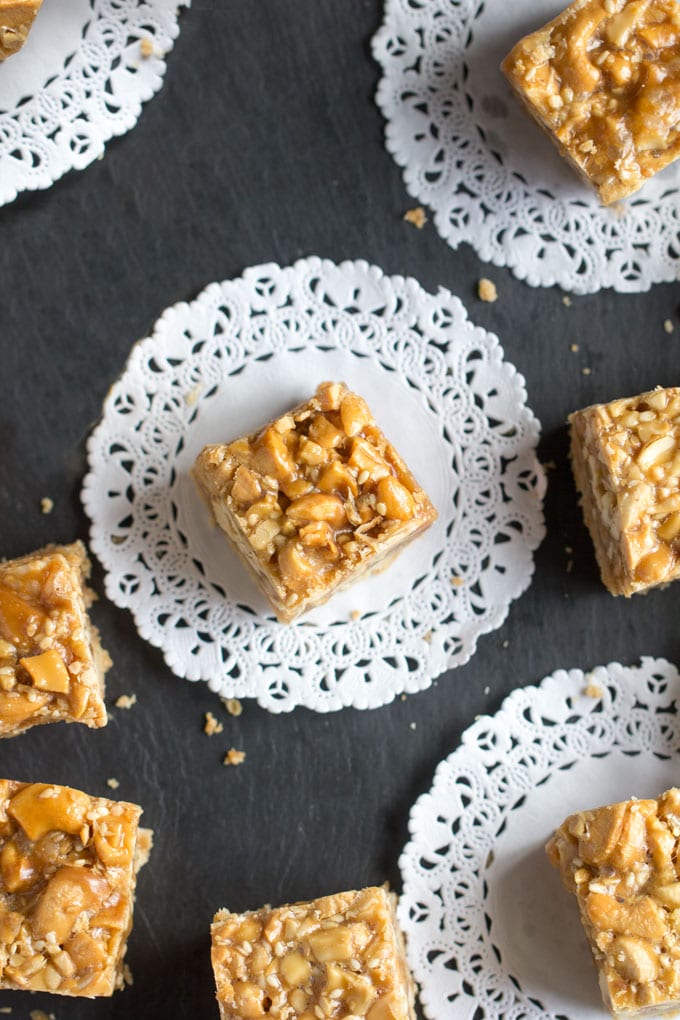 The recipe is easy. The most challenging part for me was making sure the foil that lined the pan, didn't leak, and that's easily remedied by using a double layer of foil.
Here's how the sesame cashew bars recipe goes:
Line a 13 x 9-inch baking pan with foil and lightly butter it. For the crust, mix flour, butter, brown sugar and salt in a food processor and press the crumbs into the prepared pan and bake until golden, about 25 minutes.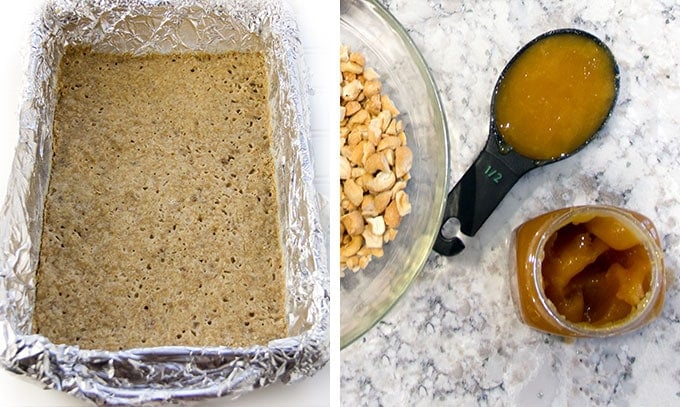 In a large saucepan melt butter, add sugars and honey, and cook, stirring, to make caramel. Add cream and vanilla. Fold in toasted sesame seeds and cashews.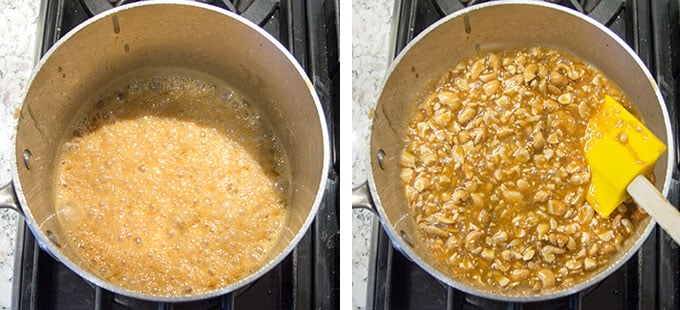 Pour the mixture on top of the baked crust. Bake, chill, slice and enjoy.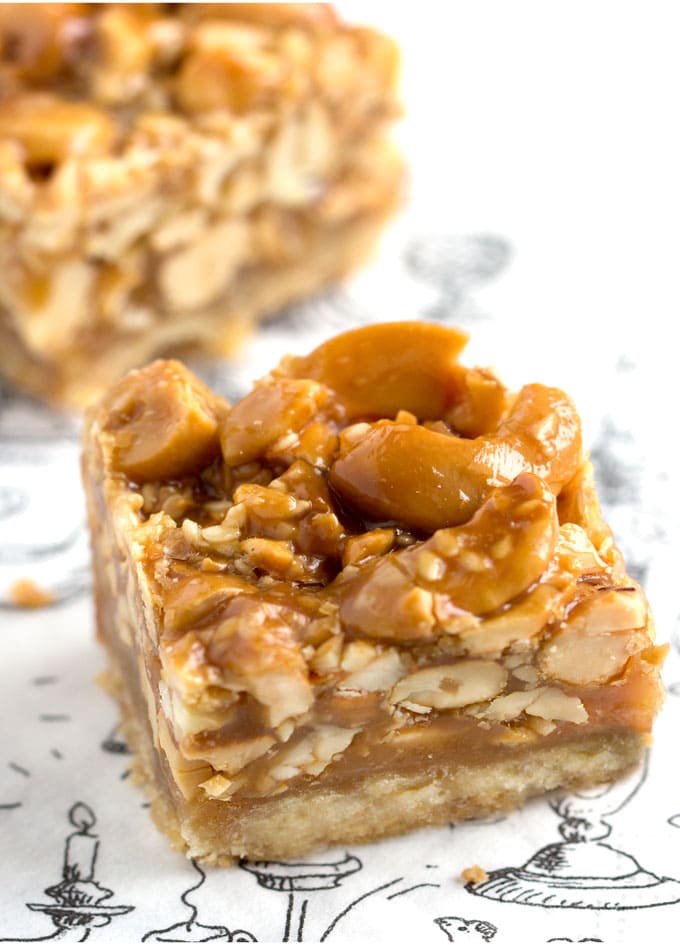 Here's the recipe for Sesame Cashew Bars from Sofra Bakery. As always, I'm hoping to hear from you after you make these. Please come back to rate the recipe and leave a comment to let me know how you liked the cashew bars.
Recipe reprinted with permission from 
Soframiz
 by Ana Sortun and Maura Kilpatrick, 2016.
Published by Ten Speed Press, an imprint of Penguin Random House LLC.
Print
Sesame Cashew Bars from Sofra Bakery
Luscious squares of shortbread topped with cashews and sesame seeds in honey and brown sugar caramel.
Author:
Yield:

3 dozen

Category:

Dessert

Cuisine:

Middle Eastern
Ingredients
For The Crust:
2 cups plus 1 tablespoon all-purpose flour
1 3/4 sticks (7 ounces) unsalted butter, chilled and cut into 1/4-inch cubes
2/3 cup firmly packed light brown sugar
1/2 teaspoon kosher salt
For The Filling:
3 1/2 cups salted cashews, coarsely chopped
2 tablespoons toasted sesame seeds (see note below)
1/4 teaspoon kosher salt
2 sticks (8 ounces) unsalted butter
1/4 cup granulated sugar
1 1/2 cups plus 2 tablespoons firmly packed light brown sugar
1/2 cup raw honey
5 tablespoons heavy cream
1 teaspoon vanilla extract
Instructions
Line a 13 by 9-inch pan with aluminum foil, making sure it extends over the sides. Very lightly spray or butter the foil. (see note below)
Make The Crust: Combine the flour, butter, brown sugar, and salt in a food processor fitted with a metal blade. Pulse until the butter forms pieces the size of small pebbles, 20-30 seconds. Pour the crust crumbs into the prepared pan and press down to form an even layer. Cover and refrigerated for at least 30 minutes, or up to overnight.
Preheat the oven to 350ºF. Bake the crust until golden, about 25 minutes. Set aside to cool.
Make The Filling: While the crust is cooling, make the filling. Combine the cashews, sesame seeds, and salt in a large bowl. Mix well and set aside.
Melt the butter in a large saucepan over low heat. Add the granulated sugar, brown sugar, and honey, and cook over medium heat, whisking constantly, until the sugar dissolves and begins to turn to caramel, forming large bubbles and thickening, or reaches 240ºF on a candy thermometer. Remove from the heat and whisk in the cream and vanilla. Add cashew mixture to the pot. Using a rubber spatula, fold the cashew mixture into the caramel until well combined.
Pour the filling on top of the baked crust in an even layer. Return the pan to the oven and bake until the caramel bubbles along the sides of the pan only and the center is still liquid, 26 to 28 minutes. The filling will appear unbaked. It is very important not to over-bake. The filling will set up as it cools.
Set aside to cool completely and then cover and refrigerate overnight.
Lift the foil out of the pan to remove the bars in one large block. Cut into thirty-six 1 1/2-inch squares.
Store in an airtight container in the refrigerator for up to 2 weeks.
Additional Note From Soframiz: SESAME SEEDS: Sesame seeds may be the oldest condiment known to man. They have a high oil content and are the main ingredient in tahini. You can buy them toasted or un-toasted. We prefer to buy them toasted for baking purposes because they are drier and will stick to what you are baking more easily. To toast your own sesame seeds, use a small nonstick pan over medium-low heat and spread sesame seeds in an even layer in the pan. Stir them every 30 seconds and continue to toast them until they are golden brown, about 4 minutes.
Note on Lining the Baking Pan: When lining the baking pan with foil, if your foil isn't wide enough to cover the whole pan without any seams, I suggest you use a double layer of foil. The first time I made these some of the caramel slipped between the foil seams and glued the foil to the sides of the pan. It took some knife work before I could lift the foil out of the pan.
You might also enjoy reading about my culinary trip to Instanbul with Chef Ana Sortun.
Here's a link if you'd like to purchase a copy of Soframiz on Amazon.
Panning The Globe has affiliate links that help support this site. When you click on a link to an Amazon product and make a purchase, a small percentage is payed to Panning The Globe, at no cost to you. Your support is greatly appreciated.