This delicious creamy Greek Lemon Chicken Rice Soup - Avgolemono - is made with no cream at all. The creaminess comes from eggs which are tempered and added to the broth.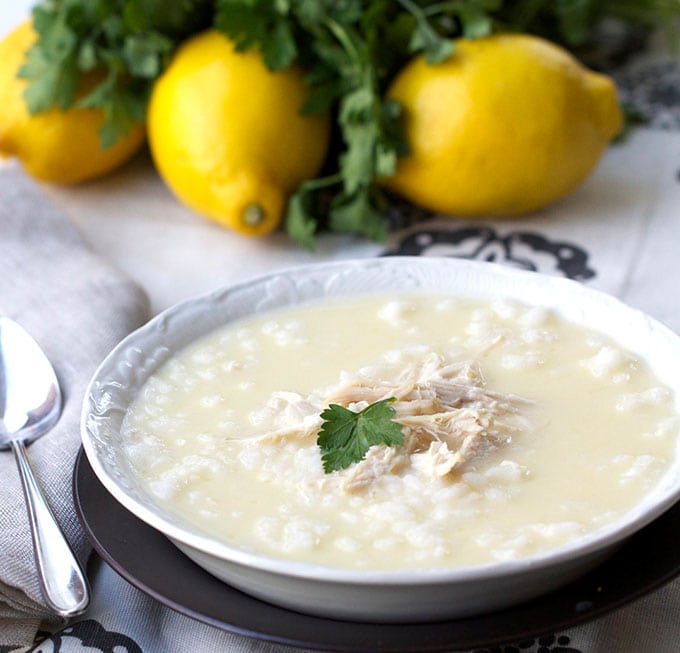 Lemons are a defining flavor in Greek cuisine. They're squeezed over meat, fish and seafood, mixed with olive oil and oregano in Greek Salads and Dressings, combined with eggs for rich egg-lemon sauce or in Greek Lemon chicken Soup. There are endless Greek recipes where lemons play a central role. So when life gives you lemons....cook up some Greek food [sorry, I couldn't resist :)]
I love soup in the winter and this one is both hearty and light. I'll explain. It has plenty of chicken and rice and a rich creamy texture, despite having no cream in it. The lightness comes from the lemon. I think lemon juice makes all foods taste lighter and brighter, like a sunny day on the beach on a Greek Island. Ok, I'm getting carried away - I clearly need a vacation!
How to make Greek Lemon Chicken Rice Soup (Avgolemono), from scratch
Homemade chicken soup is a nutritious and delicious foundation for avgolemono, and it's easier than you might think to make. You throw a chicken and veggies into a pot with water, simmer it for an hour or so, and you end up with a rich tasting broth plus plenty of poached chicken to shred and add to the Greek lemon chicken soup.
Plain old chicken soup has lost a little of its glamour in my house because I'm always making it as soon as someone gets sick. Avgolemono is just a few eggs and 2 lemons away from Jewish penicillin, yet it has a whole different gestalt. The egg-lemon mixture clouds, thickens and enriches the broth. The rice and chicken add body. Every spoonful is lemony and substantial.
Quick and Easy Avgolemono
No time to make chicken soup from scratch? No worries! You can make delicious chicken lemon rice soup using your favorite store-bought chicken broth (I recommend Swanson's low salt) and a rotisserie chicken. Heat the broth, add the flavorful egg-lemon mixture, cooked rice and shredded chicken. That's it!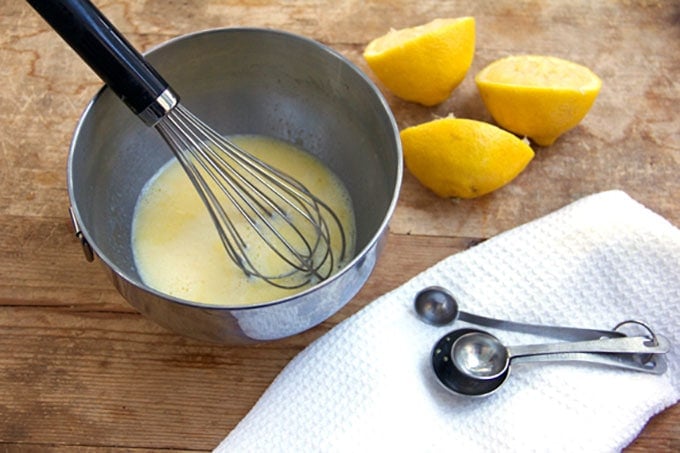 How to temper eggs for Greek lemon chicken soup
The key to making creamy Greek lemon chicken soup is properly tempering the eggs. Tempering is the technique for adding the eggs to hot soup so they don't curdle. If you use a proper tempering technique, the eggs create a creamy thick broth. If you don't temper the eggs, you'll end up with a thin broth that has scrambled eggs floating in it.
Eggs cook quickly and easily when they come into contact with heat. They must be tempered before they are added to the hot soup pot. Tempering means bringing the temperature up...slowly.
By combining the eggs with lemon juice and whisking them first with just a small amount of hot broth to heat them, you can then whisk them into the hot soup pot and they won't curdle.
When reheating Greek lemon chicken soup, don't let it fully boil. Heat it slowing, keeping it at a gentle simmer, barely bubbling, to prevent it from curdling.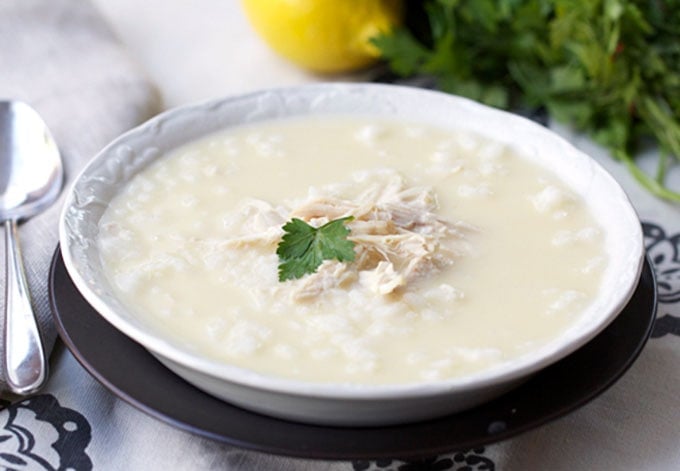 Here's the Greek Lemon Chicken Rice Soup Recipe. If you try this recipe I hope you'll come back to leave a star rating and a comment. I'd love to know what you think!
Print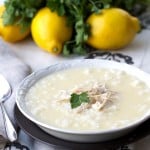 Greek Lemon Chicken Rice Soup: Avgolemono
---
Author:

Lisa

Total Time:

1 hour 30 mins

Yield:

4

-5

1

x
Description
Delicious creamy Greek lemon chicken soup with rice is made with no cream or dairy at all. The creaminess comes from tempered eggs added to the broth.
---
For The Chicken Broth (For the quick version, skip this section and use store-bought chicken broth and rotisserie chicken. You'll need 8 cups of chicken broth and 2 cups of shredded cooked chicken)
1

small chicken (about

3 ½

pounds) cut into 8 parts

1

carrot, chunked

1

onion, quartered

2

stalks celery, sliced into thirds

½

bunch parsley, washed

2 teaspoons

kosher salt

12

cups

cold water
For the Greek  Lemon Chicken Soup:
8

cups

of homemade or store-bought chicken broth

3

large eggs

3 tablespoons

lemon juice (from

1 ½

or

2

lemons)

3 ½

cups

cooked white rice

2

cups

shredded cooked chicken
Salt and pepper, to taste
---
Instructions
Make the Chicken Broth: (For the quick version, skip this step and use store-bought chicken broth and rotisserie chicken) Put the chicken, carrot, onion, celery, parsley, and salt in a large Dutch oven or stock pot. Add 12 cups of water. Bring to a boil. Lower to a gentle simmer and cook uncovered. After 10 minutes, skim the white solids that rise to the top. (this will ensure a clearer broth) Simmer gently for an hour more. Remove the chicken from the pot. Take the meat off the bones. Shred or cut into bite-sized pieces and set aside. Pour the soup and vegetables through a strainer, reserving the broth. (The cooked vegetables will not be needed for this recipe). Using a large spoon, skim the fat that pools on top of the broth. If you have time to make a broth a day early, a night in the fridge makes it easy to remove the fat. The fat becomes a thin hard layer, sitting on top. Return 8 cups of chicken broth to the pot and heat to a simmer before continuing.
Make The Greek Lemon Chicken Soup: Whisk the eggs and lemon juice in a small bowl until fully mixed. While whisking, slowly drizzle one cup of hot broth into the egg-lemon mixture. Then pour egg-lemon-soup mixture into the heated pot of broth while whisking to combine. Reheat gently but don't allow the soup to boil or the eggs will curdle.
Scoop ½ to ¾ cup of hot rice into the bottom of each soup bowl. Add some shredded chicken. Pour in 1 to 1 ½ cups of broth. Season, to taste, with salt and fresh ground pepper. Garnish with a lemon slice and some parsley, if you like. Enjoy!
Prep Time:

20 mins

Cook Time:

1 hour 10 mins

Category:

Soup

Method:

Simmer

Cuisine:

Greek
Keywords: lemon chicken soup, Greek chicken soup, lemon rice soup, lemon chicken soup with rice