This flourless chocolate truffle cake is rich, delicious, elegant and naturally gluten-free. The recipe comes from Susan Axelrod, chef and entrepreneur. Susan runs a multimillion dollar dessert business called "Love and Quiches," selling her desserts to some of the finest restaurants and retail stores around the world. This truffle cake has been one of her most popular recipes for over 40 years.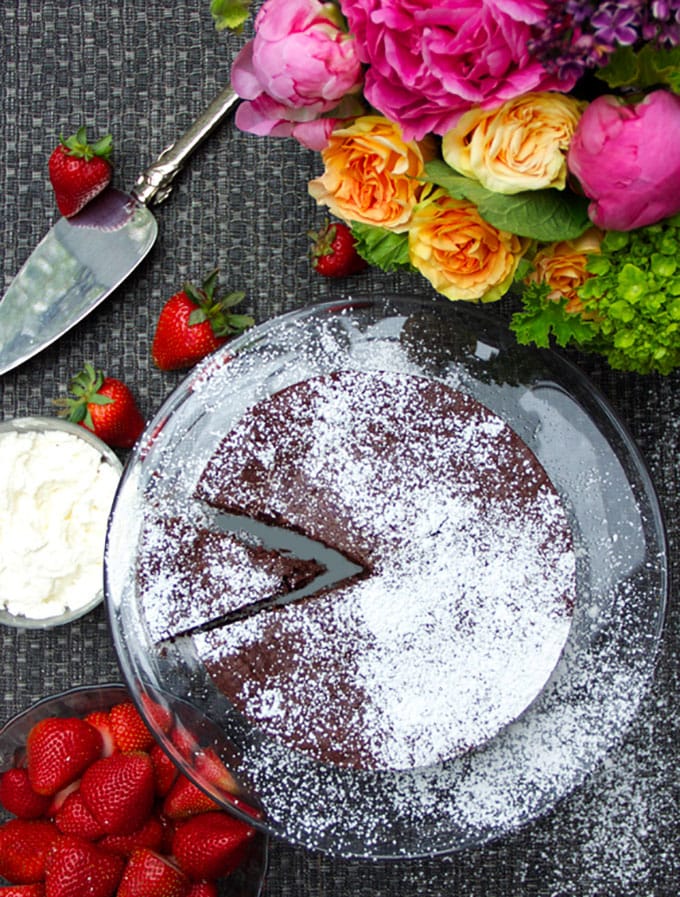 With Love and Quiches
 is a new book – a business memoir – written by an extremely successful businesswoman and someone I've know for a long time – Susan Axelrod.  Susan was a good friend of my mom's from the time they were in grade school.
Today Susan's company, Love and Quiches, is one of the nation's leading gourmet dessert and quiche manufacturers. Their baked goods can be found top restaurants and retail stores around the world. Years ago, when Susan was just starting out, I can still remember my mother one day excitedly announcing: "Susie is moving into a factory and she bought a truck!"
As I grew up, it was always thrilling to hear about the ever-growing success of Susan's business. Just last week I had the thrill of reading Susan's new book that chronicles her amazing journey from suburban housewife to seasoned entrepreneur and founder of a multi-million dollar global brand. It's an incredible success story and a really fun read!
Forty years ago Susan began baking quiches in her small family kitchen and peddling them to nearby restaurants and gourmet shops.  She'd make all the deliveries herself, out of the trunk of her Chevy. She had no knowledge of the business world, but her quiches were scrumptious and she had an uncanny knack for sales. As she got more and more orders for her amazing baked goods, Susan would scramble to find some way to get the orders filled.  She often employed her kids, her friends, and her neighbors to crack eggs and roll dough. Then she would have have to ask friends and neighbors for space in their refrigerators so she'd have room to store everything.
In her book, Susan describes the chaos and hilarity of the early days in which she admits she was "utterly clueless."  It's fascinating and inspiring to learn how Susan built her business and the lessons she learned along the way.
By the way, at the end of the book With Love and Quiches
 Susan shares some of her incredible recipes for the first time ever. This Flourless Bittersweet Chocolate Truffle Cake was one of Love and Quiches' first desserts and has remained one of their most popular items 40 years later. I hope you enjoy the cake as much as my dinner guest and I did!
Print
Flourless Bittersweet Chocolate Truffle Cake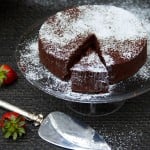 This flourless chocolate truffle cake is rich, delicious, elegant and naturally gluten-free.
Author: Panning The Globe
Prep Time:

40 mins

Cook Time:

30 mins

Total Time:

1 hour 10 mins

Yield:

8

1

x
Category:

Dessert

Cuisine:

American
Scale
Ingredients
1

pound bittersweet chocolate, chopped or broken into pieces

8 tablespoon

s butter, sweet-unsalted (

1

stick) softened

1/4 cup

ground almonds (I used my mini food-processor)

1 tablespoon

cocoa powder

1/2 teaspoon

salt

1 tablespoon

strong brewed coffee or espresso

6

eggs, separated and at room temperature

2 tablespoon

s granulated sugar

1 tablespoon

rum

3/4 teaspoon

cream of tartar
Confectioner's sugar for dusting
Instructions
Preheat the oven to 325ºF. Prepare an 8 or 9-inch springform pan by wrapping the bottom with a double layer of tinfoil, sealing the bottom well. Butter the inside of the pan and line the bottom with buttered parchment paper. Set aside.
Melt chocolate & 1 stick of butter, using a double boiler or the microwave, being careful not to boil or burn the mixture. For more about melting chocolate here's a great tutorial from Fine Cooking.
With a rubber spatula, fold almonds, cocoa, salt and coffee into the melted chocolate and butter mixture. Set aside.
In a separate deep bowl, whisk the egg yolks, sugar and rum until they thicken and ribbon, and are creamy and light in color (about 3 minutes whisking by hand) Then gently fold in the chocolate mixture, being careful not to deflate the egg mixture.
Meanwhile, with an eggbeater or in a stand mixer with the whisk attachment, whip the egg whites with the cream of tartar until stiff but not dry. Fold the whites gently into the chocolate mixture, being careful not to deflate the whites. The mixture should remain soufflé-like in texture.
Gently transfer the batter into the prepared springform pan. Set the pan on a cookie sheet and bake it in the preheated oven for 30 minutes. Remove from the oven. Don't worry if it appears a bit wobbly and undercooked in the center. The cake will continue to cook and firm up as it cools. Once it has cooled to room temperature, tent with foil and refrigerate, still in the pan, for a few hours to aid in the unmolding process.
About 30 minutes before serving, run a thin knife between the sides of the pan. Carefully unmold and remove parchment paper. Transfer to a serving platter, sprinkle with confectioner's sugar, and serve at room temperature.
Suggested accompaniments: whipped cream, vanilla or coffee ice cream, Crème fraîche, berries.
 There are affiliate links in this post