Fresh horseradish sauce with beets is a dazzler! If you want to bring some hot, zingy excitement to the dinner table, look no further!! All you need is 15 minutes, a horseradish root, a can of beets, some vinegar, salt and sugar.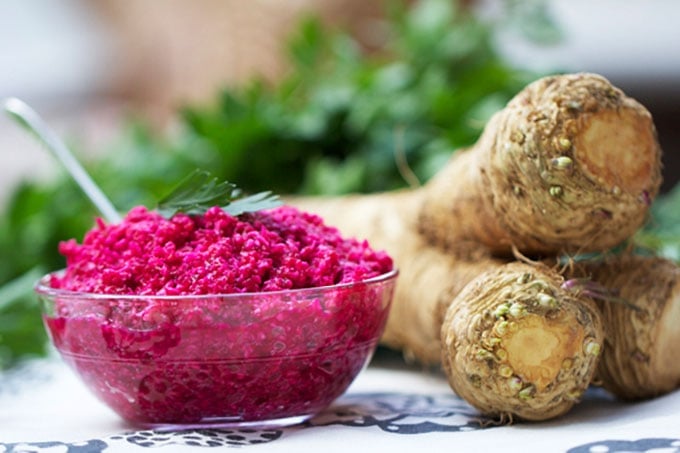 Fresh horseradish sauce with beets is an explosion of color and flavor. It is a perfect accompaniment to roasted or braised meat, and baked or smoked fish.
You haven't really tasted horseradish if you haven't had it fresh from the root. And I'm not just saying that because I like it better (which I do). There's a scientific explanation as to why fresh horseradish is not the same as the stuff you buy in a bottle.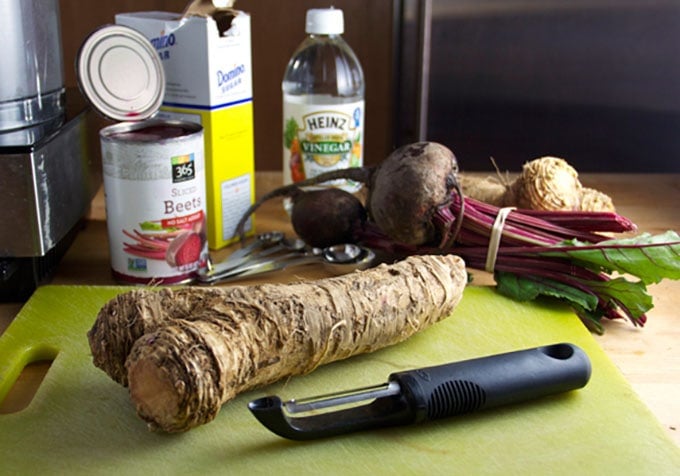 WHAT IS HORSERADISH?
Horseradish is a plant with some interesting qualities. It's a root vegetable from the same family as mustard, wasabi, broccoli and cabbage. When unpeeled it appears like any other root, with no particular smell. But when you peel it, stand back or prepare to cry!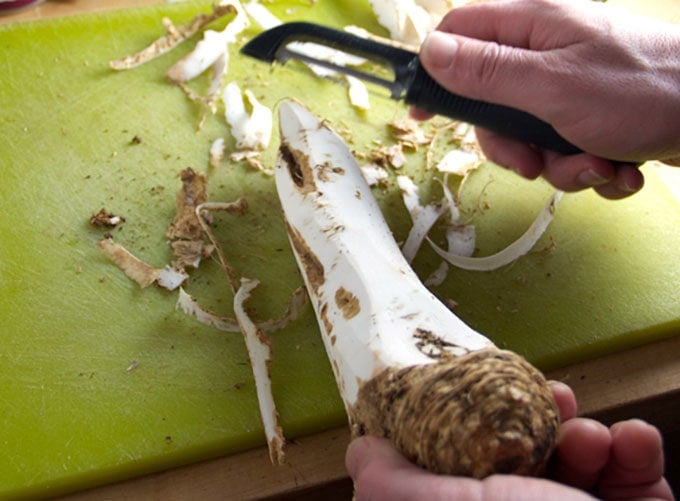 Horseradish undergoes a chemical transformation when its flesh is broken. The cutting activates enzymes and causes the formation of mustard oil which transforms horseradish from an odorless, ordinary-seeming root, into something that can clear your sinuses!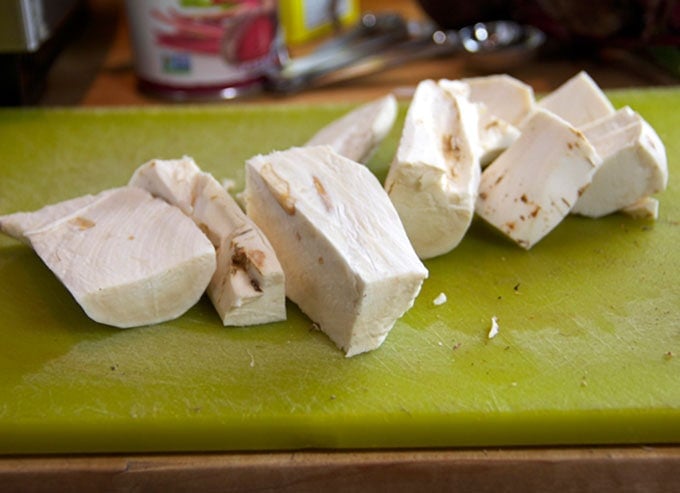 Seriously, when you grate the horseradish in your food processor for this horseradish sauce recipe, close your eyes, hold your nose, and take the top off with caution. It's very strong.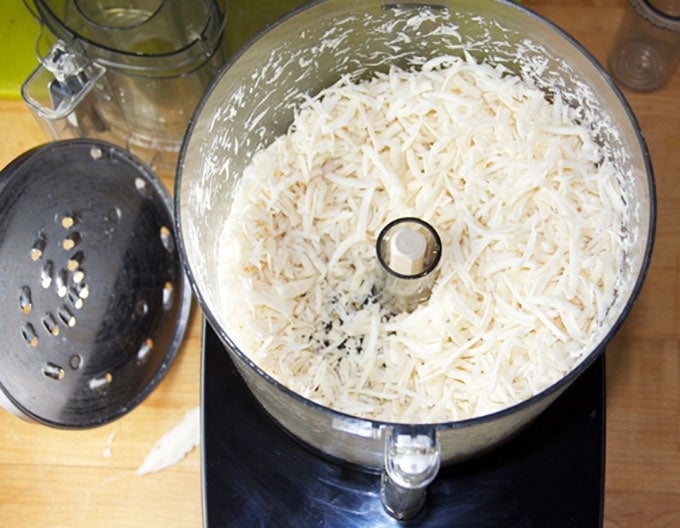 WHAT IS PREPARED HORSERADISH?
Grated horseradish mixed with vinegar is know as "prepared horseradish." Vinegar must be added to slow the enzymes and stabilize the horseradish after it's grated. For this recipe, in addition to vinegar, we add cooked beets and a little sugar, salt and pepper.
By the way, if you don't add vinegar to grated horseradish, the enzymes will continue to act and the horseradish will slowly get more and more bitter and will eventually turn brown.
Prepared horseradish is best consumed fresh because the horseradish will slowly lose its pungency over time.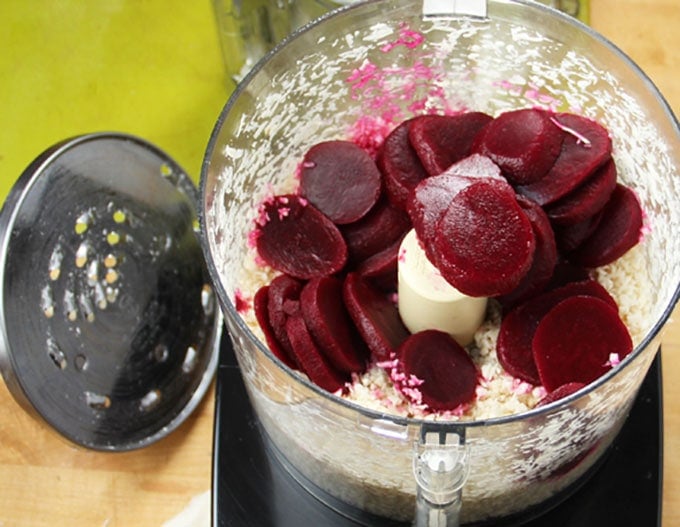 HOW TO MAKE FRESH HORSERADISH SAUCE WITH BEETS
Here's an overview of how to make it. For exact amounts and detailed instructions, see the recipe card below.
Peel the horseradish root and cut it into chunks
Grate the horseradish in your food processor with the grating blade attachment.
Add vinegar, canned or cooked beets, sugar, salt and pepper.
Roughly chop everything in your food processor using the multipurpose chopping blade.
Store the horseradish sauce in a tightly sealed container in the fridge. Horseradish sauce will keep in the fridge for a day or two but for maximum flavor and zing, eat it within three hours after you prepare it.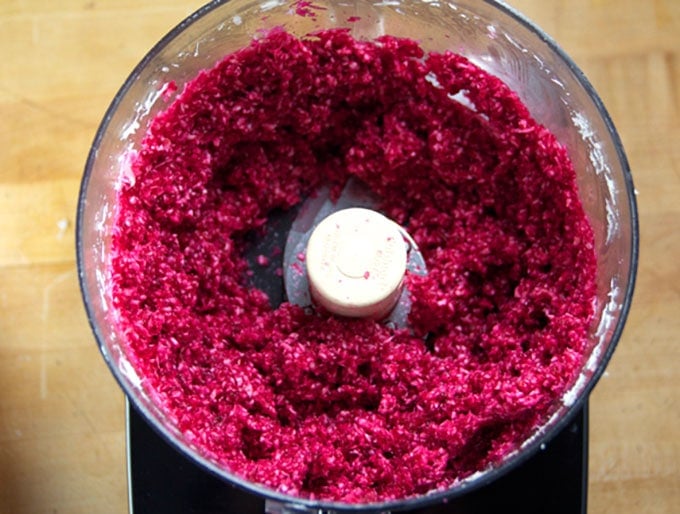 IS HORSERADISH HEALTHY?
Centuries ago horseradish was believed to have medicinal powers that help the body clear mucous. I am quite sure that it does, based on the few times I got too close to the food processor when I lifted the cover. Plus, it clears my sinuses every time I take a bite.
According to some current day sources, horseradish root has healing powers.
Horseradish is fat free and low in calories and sodium.
Many types of horseradish sauce add mayonnaise but not this one. This horseradish sauce is healthy!
HORSERADISH SAUCE FOR PASSOVER AND EASTER
At the Passover seder hot pink horseradish is delicious on matzo and gefilte fish and brisket. But it also has a symbolic importance. The bite of fresh horseradish sauce is a reminder of the harsh bitterness of the Jews' lives as slaves in Egypt.
Fresh horseradish sauce with beets is commonly served at Easter dinner in parts of Eastern and central Europe, as an accompaniment for lamb.
It's also beautiful!
Here's the recipe for Fresh Horseradish Sauce with Beets. If you try this recipe I hope you'll come back to leave a star rating and a comment. I'd love to know what you think!
Print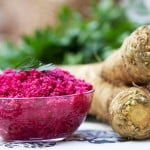 Fresh Horseradish Sauce with Beets
---
Author:

Lisa

Total Time:

15 mins

Yield:

8

-

1

0

1

x
Description
Hot and zesty condiment for fish, beef or lamb. Or add delicious zing to a sandwich.
---
Equipment: Food processor with a shredding blade and an s-shaped chopping blade
1

horseradish root, at least 4 inches, peeled and brown spots removed

2

medium beets, cooked and peeled, or a 15-ounce can cooked beets, drained

4 tablespoons

white vinegar

1 teaspoon

white sugar

1 teaspoon

kosher salt
---
Instructions
Set up your food processor with the shredding blade. Using about 4 inches of the peeled horseradish root, cut into chunks that will fit into the feeding tube of your processor, shred the horseradish and then transfer it to a bowl. Remove the shredding blade from the processor and attach the chopping blade.
Return shredded horseradish to the food processor, along with all the rest of the ingredients. Pulse several times, scraping down the sides, if need be. Process for 30 second or so, or until you get a nice finely-textured consistency. Enjoy!
Notes
STORAGE: Horseradish sauce will keep in a tightly-sealed container in the fridge for 3 days but it will lose heat over time. If you like it hot and zingy, eat it within a few hours after you prepare it.
WARNING: do not breathe in too close to freshly grated horseradish, as it is blindingly hot. Also, start with a very tiny bit when you first taste it to ensure you know what you are in for.
Prep Time:

15 mins

Category:

Side dish, condiment

Method:

no cook

Cuisine:

Central Europe
Keywords: fresh horseradish and beet sauce