Pasta with prosciutto, arugula and feta. This not your typical pasta dish – there's no sauce that uniformly coats the whole thing –  it's more like artistic composition of exciting textures and flavors: strands of al dente spaghetti are intertwined with bright green shredded arugula and dotted with crisp bits of prosciutto, salty green capers, and hunks of marinated feta cheese. Lime juice and fresh ground pepper add even more pizzazz!
I adapted this recipe from one of my favorite cookbooks: Donna Hay: Flavors
. If you're not familiar with Donna Hay, she's an Australian author and food stylist. Her recipes use simple and fresh ingredients combined in the most wonderful ways.
I did some research in hopes of being able to define 'Australian food', but no such luck. What I came away with is that Australian food is extremely diverse due to a long and rich history of indigenous cooking practices as well as multicultural influences from European and Asian immigration. A typical Australian meal might include grilled kangaroo or vegemite on toast or it could be fish 'n chips, spring rolls or chicken parmigiana.
Even though you're likely to find lots of familiar foods and ingredients in Australian cuisine, you might not always recognize their names.  It's not a surprise that many Aussie food and cooking names are rooted in English terminology.  Even this recipe that I call: Pasta with prosciutto, arugula and Feta – Donna Hay calls: "Spaghetti with lime and rocket."Rocket is the Australian-English name for arugula. Here are some other examples of Austraian-English cooking terms: eggplants are aubergines; sausages are called bangers; potato chips are crisps; french fries are chips; zucchinis are courgettes; and a barbecue is a barbie.
The first step of this recipe is to make a simple marinade for the feta: olive oil, garlic, salt, red pepper flakes and a bit of thyme.  This step can be done up to 3 days in advance.
The arugula leaves are sliced into thin ribbons.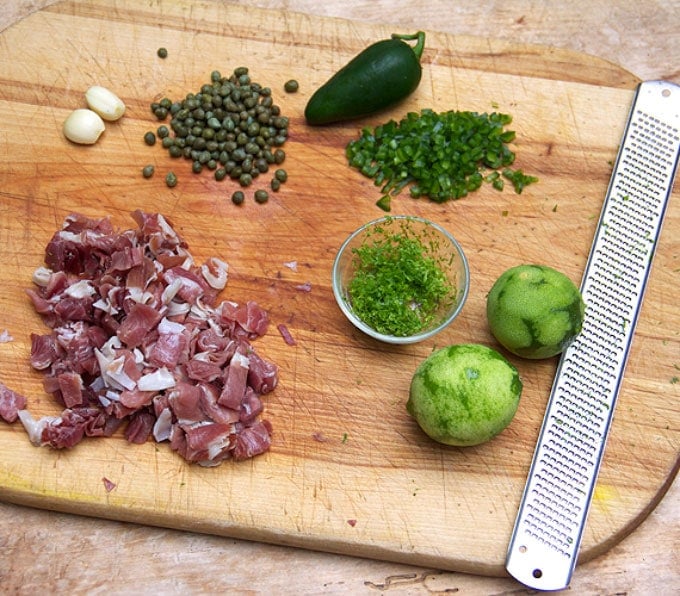 While the pasta is boiling, garlic, lime zest, capers, jalapeños and prosciutto are sautéed briefly.
Once the feta is marinated, this recipe comes together in less than 15 minutes, making it a good choice for entertaining.
Here's the recipe for pasta with prosciutto, arugula and feta. If you try this recipe I'd love to know what you think. I hope you'll come back and leave a rating and a comment!
Print
Pasta with prosciutto, arugula and feta
Delicious, colorful pasta with bright flavors of arugula, prosciutto, feta and lime juice. Company worthy!
Author:
Prep Time:

1 hour 10 mins

Cook Time:

15 mins

Total Time:

1 hour 25 mins

Yield:

5

Category:

Pasta

Cuisine:

Australian
Ingredients
Marinated Feta
8-ounces feta cheese (packed in brine)
4 tablespoons extra virgin olive oil
1/4 teaspoon kosher salt
1/4 teaspoon crushed red pepper flakes
1 clove crushed garlic
A pinch of fresh thyme leaves (optional)
Pasta
1 pound spaghetti or linguini
Kosher salt
2 tablespoons extra virgin olive oil plus extra for adding to cooked pasta.
2 large cloves garlic, pressed or finely minced
The zest of 2 limes
3 tablespoons capers, rinsed
1 jalapeño pepper, seeded and finely chopped
6 ounces of sliced prosciutto, cut into 1/2-inch dice
5-7 ounces arugula, leaves stacked and slivered (if using baby arugula, you can chop the leaves or just add them whole)
4 tablespoons fresh lime juice
Kosher salt and fresh ground black pepper, to taste
Instructions
Marinate the Feta Dice the feta into 1/2-inch cubes and place a non-reactive bowl or plastic container. In a small cup, whisk oil, garlic, salt, red pepper flakes and thyme (if using). Pour over feta and turn to coat. Cover and store in the fridge for at least 1 hour and up to 3 days. (leave feta out if preparing the recipe immediately. If not allow feta to come to room temperature for 20 minutes or so before serving)
Pasta Fill a large pot with salted water. Bring to a boil. Add pasta and cook until al dente. Drain. Meanwhile, heat 2 tablespoons oil in a large skillet over medium heat. Add the garlic, lime zest, capers, and chopped jalapeño. Cook for a minute or so, until the garlic is fragrant. Add the diced prosciutto and cook, stirring, until the prosciutto is crisp (2-3 minutes). Add the cooked pasta to the skillet plus 1 tablespoon olive oil. Toss for a minute or two, until everything is combined and heated through. Pour in the lime juice and a the shredded arugula. Toss to combine. Season with salt, to taste.
Serve pasta topped with marinated feta and a sprinkling of fresh ground pepper.