These burgers combine so many of my favorite tastes, starting with the basic pleasure of a delicious juicy grilled hamburger.  Add to that the complex flavors of sesame, soy, brown sugar, scallions and ginger.  The sugar helps the burger caramelize on the outside when grilled.  Drape some pickled onions and radishes on top for a kick of vinegary crunch. For the final touch, smear some miso mayonnaise on the bun  – creamy and intensely umami.  Mmmm!  This is a very special treat for the tastebuds. I apologize in advance for the sadness you're likely to experience when you take your last bite.
Korea is renowned for their marinated meat dishes, such as Bulgogi.   Bulgogi is made from sliced, marinated and grilled prime cuts of beef.  The marinade ingredients for Bulgogi are the same as the ones in this burger recipe.
It takes little effort, and just an hour in the fridge, to make delicious spicy pickled onions and radishes.
I've been making a version of these burgers for years, adapted from a recipe I found in a 2007 Cooking Light Magazine.  I've tweaked it a bit and added the pickles and the sauce. The pickles add a lot and burgers need some sort of sauce on top. I've tried ketchup, but found that it overpowers the wonderful flavors of the meat.  Miso mayonnaise is the perfect complement.  Miso is a thick paste made from fermented soy beans, rice or barley.  It's a very important ingredient in Japanese cooking, valued for its intensely savory and unique flavor. It's available at Whole Foods and Asian grocers.  I strongly recommend that you try it – it's a flavor that can't be replicated. And you can save the jar for future recipes.  Miso, because it's fermented, can be stored in the fridge indefinitely.  If you can't find it, here's a good substitute:  In a small saucepan, simmer 2 tablespoons brown sugar with 2 tablespoons soy sauce for 2 minutes, until it gets thick and syrupy.  Cool.  Add to 1/2 cup mayonnaise with 1/4 teaspoon Srirachi hot sauce and whisk until combined.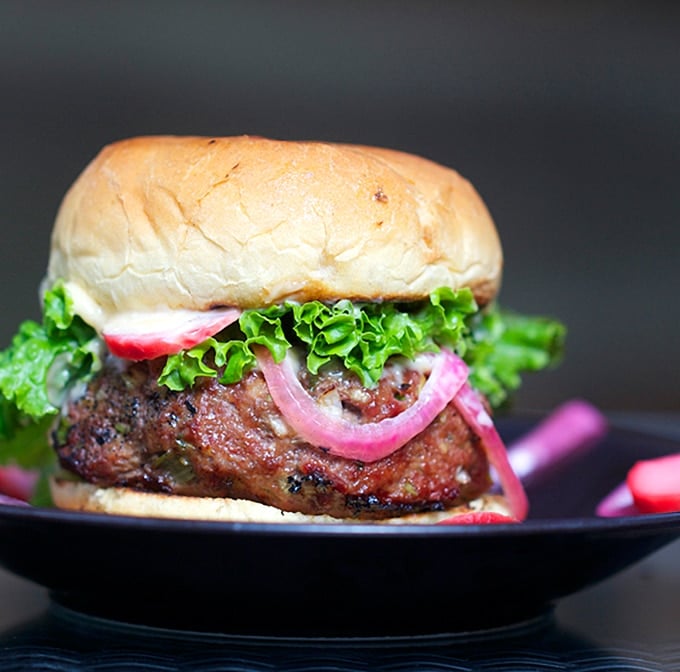 Happy grilling!