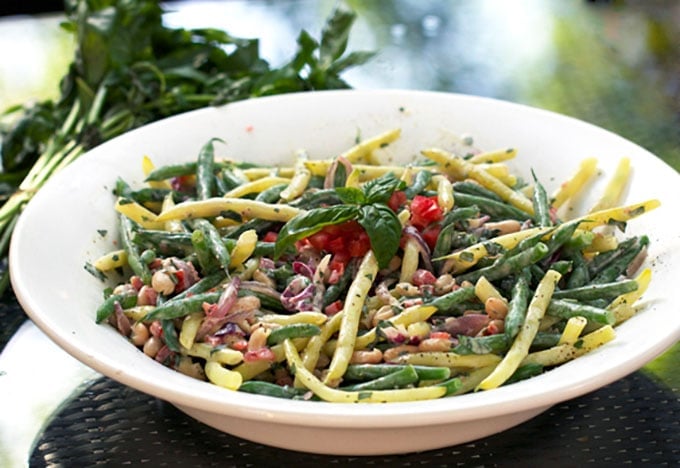 I just discovered Matt Wilkinson – a Melbourne-based chef with a flair and passion for vegetables.  His cookbook –  Mr. Wilkinson's Vegetables – jumped off the bookstore shelf at me. It's so appealing – from the beautiful typography to the healthy, interesting recipes. Wilkinson's philosophy is to build a meal around fresh seasonal produce.  His recipes are not strictly vegetarian – fish and meat make an appearence here and there – but they take a back seat to the veggies. Wilkinson also shares interesting veggie history and advice for the gardener.  For example, I learned that the roots of bean and pea plants are loaded with soil-enriching nitrogen. After you harvest beans, you should let the plant wither in your garden for a couple of weeks.  Once the plant dies, Wilkinson says to cut off the top and stir the roots around.  This releases nitrogen and dramatically improves the soil for future crops.
When green and yellow beans are in season, they are hard to resist.  I like to keep them whole for salads. I just wash them and snip off the root tip.  Then I cook them for just a few minutes – enough time to tenderize them without dulling their bright colors.
Cooking red onions for a short time in a little olive oil brings out their natural sweetness.
Fresh basil is a key flavor in this salad.  Plum tomatoes add color and texture.
This salad salad has a wonderful combination of crunchy and tender vegetables, brightly-flavored with lots of minty basil and tangy lemon-yogurt dressing.  Serve it for a casual picnic, a weeknight dinner, or a fancy buffet. Enjoy!

THREE BEAN SALAD WITH CREAMY LEMON DRESSING
Fresh seasonal salad featuring crisp yellow and green beans, lots of basil, and a tangy lemon-yogurt dressing
Recipe type:
Salad, Side Dish
Ingredients
Dressing
½ cup plain greek yogurt - whole milk
¼ cup extra virgin olive oil
3 tablespoons fresh lemon juice
½ teaspoon finely minced garlic
½ teaspoon kosher salt
Salad
1 pound green beans, washed, root end trimmed
1 pound yellow beans, washed, root end trimmed
2 tablespoons olive oil (to sauté onions)
2 medium red onions, sliced in half through the root. Each half thinly sliced crosswise
¼ teaspoon salt (for the onions)
3 ripe plum tomatoes
1 15-ounce cans cannellini beans, drained and rinsed
½ cup, packed basil leaves, washed, dried, finely chopped
Kosher salt and fresh ground pepper, to taste
Instructions
Dressing In a small bowl whisk yogurt and olive oil until creamy. Add lemon juice, garlic and salt, and whisk until creamy and fully combined. Set dressing aside.
Salad Fill a large pot halfway with water and 2 teaspoons of salt. Bring to a boil. Add beans and cook until crisp-tender, 4-5 minutes. Using tongs, transfer beans to a large bowl of ice-water to stop the cooking process. Drain and refill the bowl with cold water. Drain and set aside.
Heat 2 tablespoons of olive oil in a medium skillet. Add onions and cook, over medium-low heat, stirring occasionally, for 10 minutes, until soft. Sprinkle with ¼ teaspoon salt. Set aside to cool.
Slice tomatoes in half lengthwise. Pull out the seeds and watery pulp. Dice the flesh. Set aside.
In a large bowl, combine green and yellow beans, onions, tomatoes, basil, and cannellini beans. Pour dressing on top and toss to combine. Season with salt and pepper, to taste. (Can be made a day ahead. Let salad warm at room temp for 15 minutes or so and toss, before serving)