These Turkish sesame fried chicken bites are designed for maximum crispy coating in every bite. They're the perfect size and shape for grabbing in hand and dunking in creamy, garlicky, lemony tahini yogurt remoulade.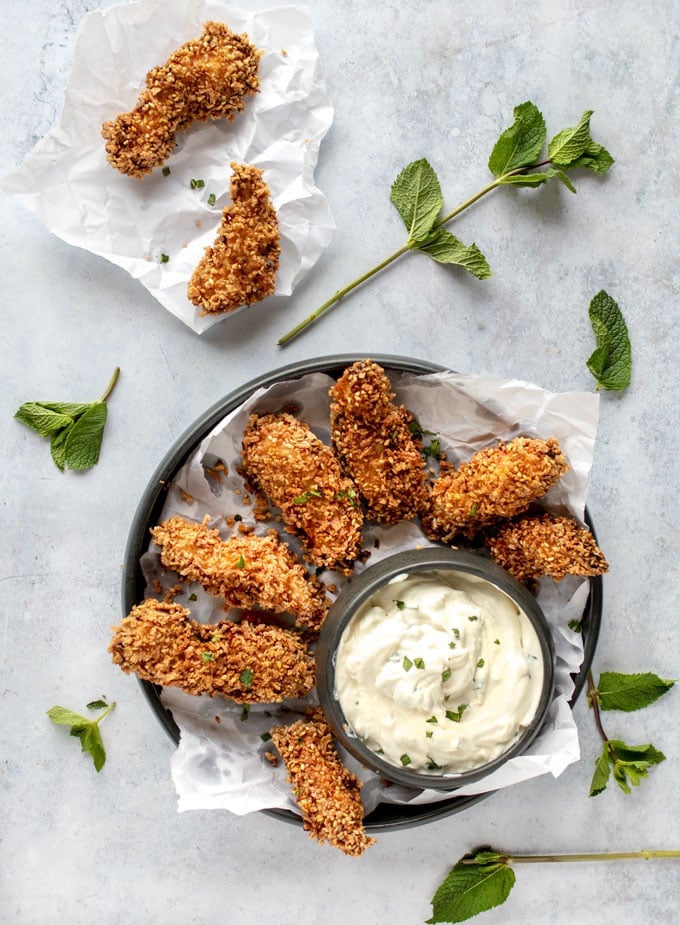 Fried chicken is one of life's great indulgences. Crisp and crunchy at first bite, extremely tender and juicy inside, especially if the chicken has had an overnight soak in buttermilk.
I tested this recipe two ways - oven-baked and frying in oil. Both methods yielded delicious results and I've included instructions for both in the recipe. If I had to pick a winner, actual frying in hot oil yielded the crispiest, crunchiest coating the most tender and juicy interior (I know - what a shocker!)
In Turkey these sesame fried chicken bites would likely be served as part of a meze spread. Turkish meze, if you haven't heard of it, is a festive style of dining where the whole meal consists of assorted small plates that are meant to be shared.
Sesame fried chicken bites also make an awesome family meal, with maximum happiness at the dinner table.
And if you're looking for a great party appetizer or game day treat - delicious and dippable finger food - make these!
Buttermilk is the best marinade for fried chicken
Buttermilk is a great marinade for chicken. If you haven't experienced the magical tenderizing powers of a buttermilk marinade on chicken, prepare to be amazed. This recipe uses boneless, skinless white meat chicken. The buttermilk, plus salt, garlic and spices, acts as a brine, tenderizing the meat and infusing it with great flavor.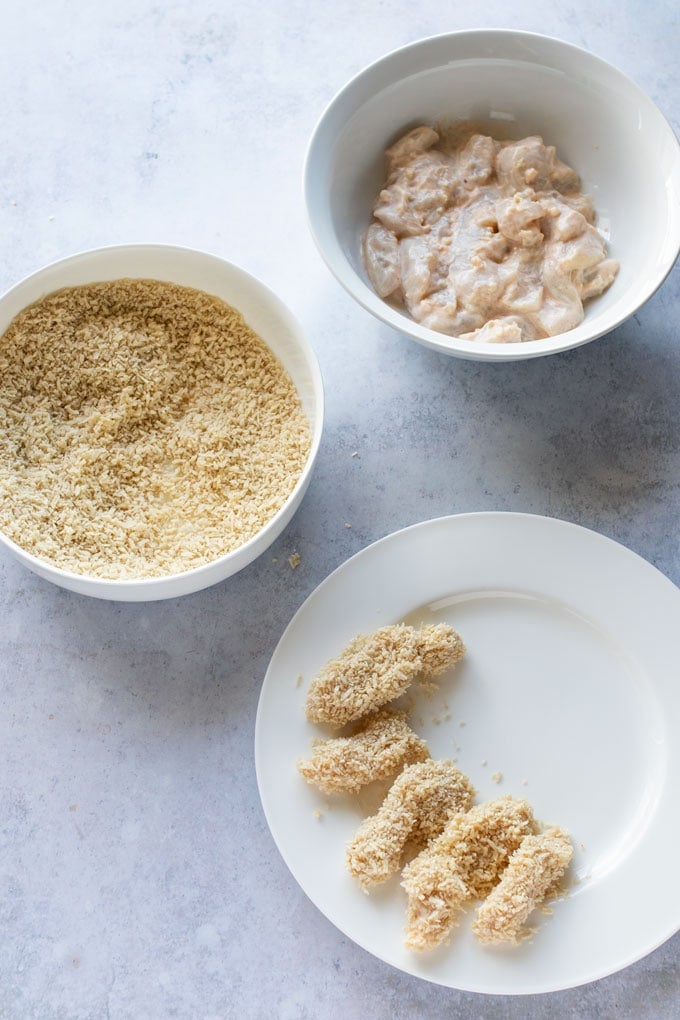 The marinade takes about two minutes to throw together. It's just buttermilk, mustard powder, garlic, paprika, salt and cayenne.
Cut the boneless skinless chicken breasts into thin slices and add them to the marinade. If you're in a hurry you can marinate the chicken for just an hour. But I highly recommend that you plan ahead so you have time to give the chicken a good 12-24 hours to soak in the buttermilk marinade and spices. You'll be rewarded by the extremely tender and flavorful chicken.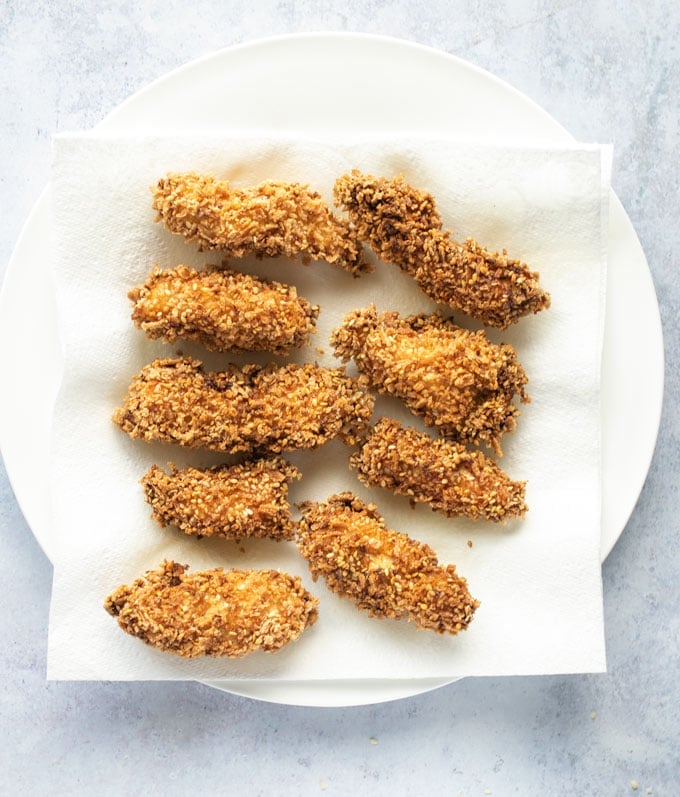 While the chicken is marinating you can make the remoulade. The main ingredient here is thick Greek yogurt. There's also tahini, fresh garlic, chopped cornishon pickles, lemon juice, salt and pepper.
I'm in love with this remoulade, so much so that I always double the recipe so I can douse my sesame fried chicken bites in it and still have some left over for dipping crudités, spreading on sandwiches or burgers or anything else that might do with a delicious creamy dollop.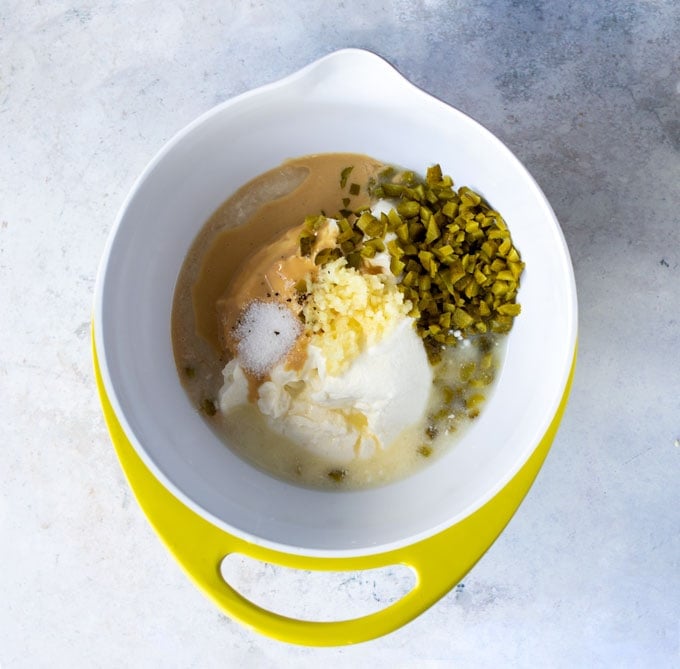 When you're ready to bread and cook the chicken, combine the Panko bread crumbs, sesame seeds and salt. Remove the chicken pieces from the marinade and coat them in the panko mixture, one at a time.
Oven-baked sesame fried chicken will need about 12 minutes in a 450ºF oven.
If you're frying the chicken, you'll need to cook it in batches so as not to overcrowd the skillet. Still, it only takes about two minutes to fully cook each morsel of chicken so you'll only be standing at the stove for about 10 minutes.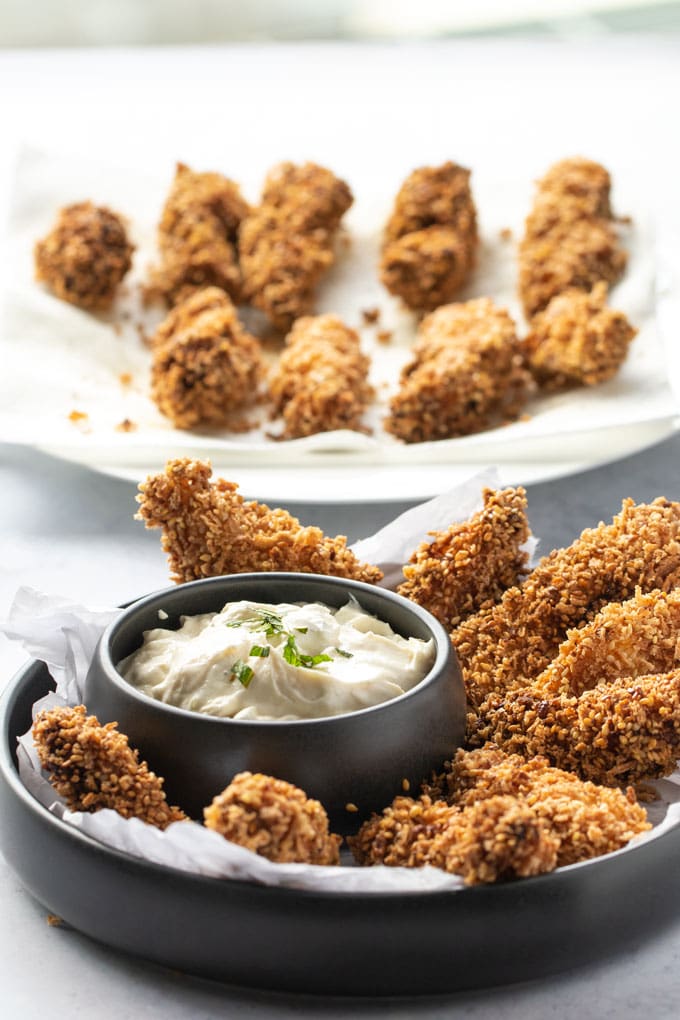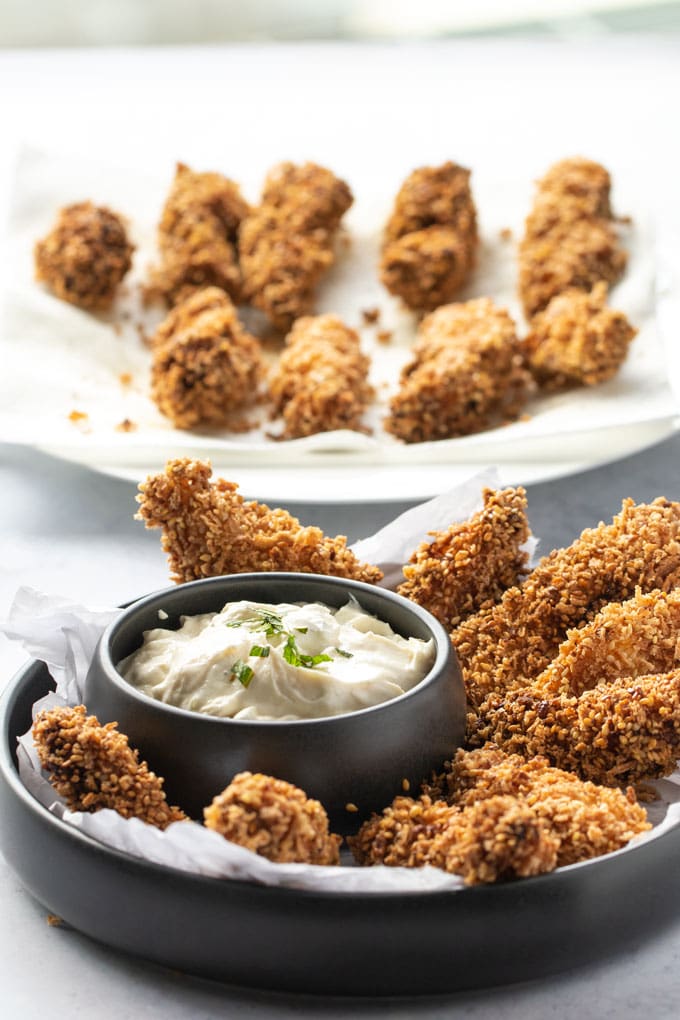 Serve these sesame fried chicken bites right away, piping hot, for maximum crispness, juiciness and deliciousness. If you want to serve these Turkish meze style, with other delicious small plates, you might want to include baba ganoush, Turkish hot layered humus, or Turkish sigara borek in your spread.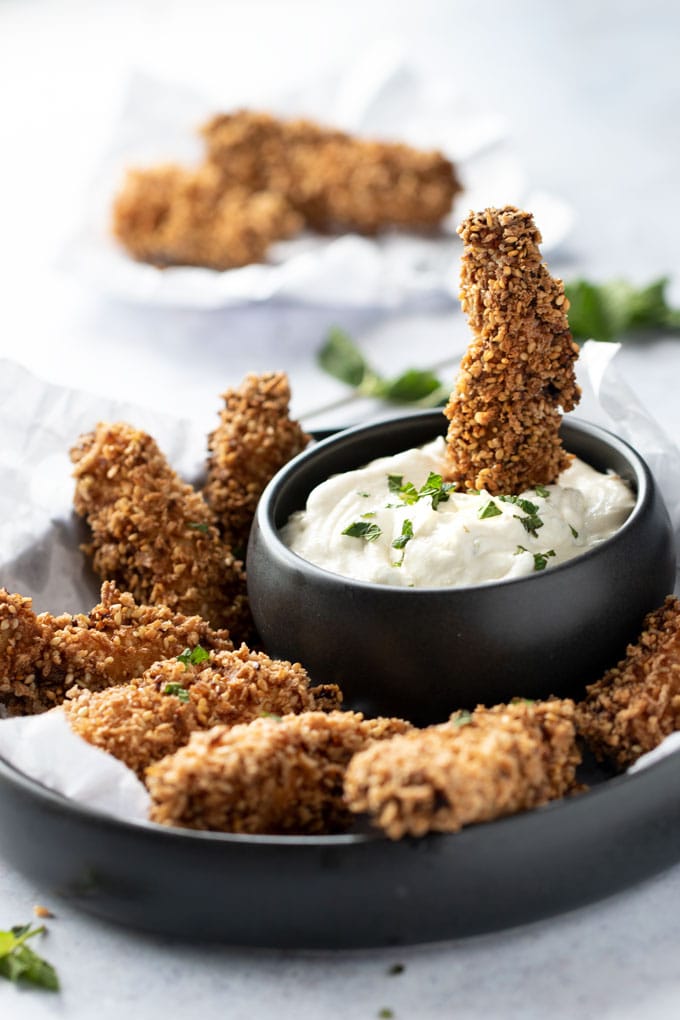 I want to give a big shout out to Sarma, one of my all time favorite Boston restaurants, for inspiring this recipe with their amazing Turkish-style fried chicken. Sarma's fried chicken is made with skin-on chicken thighs. They're seasoned, dunked in buttermilk, fried to a crisp, and amazing!
Turkish fried chicken is not on the menu at Sarma - it's a chef's special. At Sarma, waiters come around intermittently with trays of surprise meze offerings that the chef has concocted. It's a happy day if you're lucky enough to be there when the waiter comes around with a tray of Turkish fried chicken. Just say yes!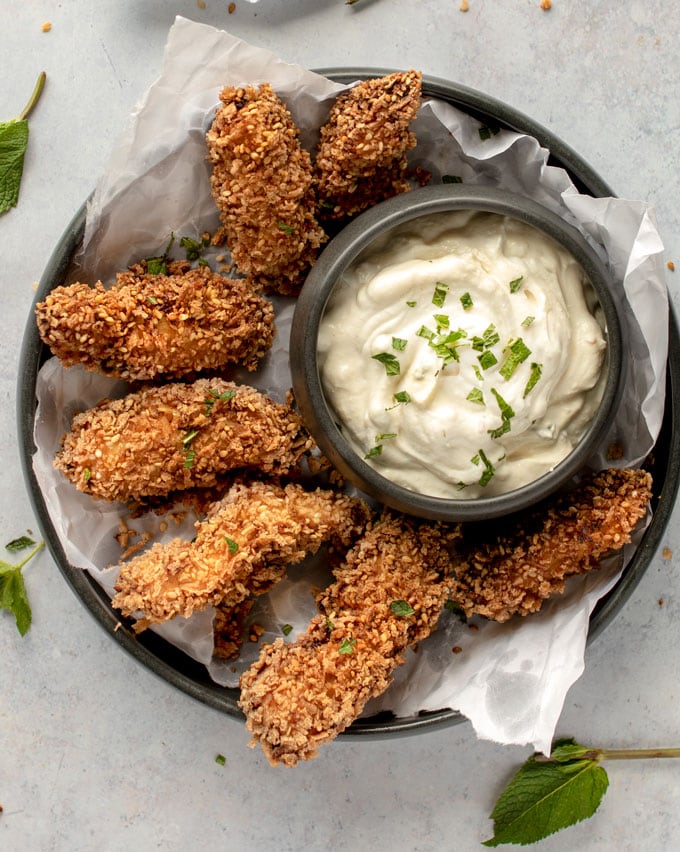 Here's the recipe for Turkish Sesame Fried Chicken Bites with Tahini Yogurt Remoulade. If you try this recipe I hope you'll come back to leave a rating and a comment. I'd love to know what you think.
Print
Turkish Sesame Fried Chicken Bites with Tahini Yogurt Remoulade
Crispy, crunchy, savory fried chicken bites with a scrumptious sauce for dunking. Perfect for family dinner. Also makes a great party appetizer, meze or game day treat.
Author: Panning The Globe
Prep Time:

40 mins

Cook Time:

12 mins

Total Time:

52 minutes

Yield:

4

-

6

servings

1

x
Category:

appetizer or main dish

Method:

stove top or oven

Cuisine:

Turkish
FOR THE TAHINI YOGURT REMOULADE
1 cup

full fat Greek yogurt

2 tablespoons

tahini

5

-

6

cornichon pickles, chopped

2

cloves garlic, pressed

2 tablespoons

fresh lemon juice

½ teaspoon

kosher salt

¼ teaspoon

ground black pepper
FOR THE CHICKEN AND MARINADE
1 ¾

pounds boneless skinless chicken thighs or breasts, cut across the grain, in 1-inch intervals, which should give you approx. 1-inch by 3 inch strips.

2 cups

buttermilk

2 tablespoons

dry mustard powder

2 teaspoons

kosher salt

3

large garlic cloves, crushed

1 teaspoon

paprika

¼ teaspoon

cayenne pepper or

½ teaspoon

black pepper
FOR THE SESAME PANKO CRUMB COATING:
2 ½ cups

Panko bread crumbs

¾ cup

sesame seeds

2 teaspoons

kosher salt
FOR FRYING OR OVEN-BAKING:
1½

to

2

cups of neutral high smoke point oil such as peanut, canola, grape seed or sunflower seed oil, or enough oil to come up to about an inch in your skillet.
If baking the chicken, you'll only need a tablespoon or so of oil.
GARNISH (optional)
A tablespoon or two of dry mint or fresh chopped mint leaves
Instructions
MAKE THE TAHINI YOGURT REMOULADE: Mix all the ingredients together and store, covered, in the fridge until ready to use. Can be made a day ahead.
MARINATE THE CHICKEN: Mix the marinade ingredients in a large non-reactive bowl or plastic container. Add the sliced chicken and toss to coat. Marinate chicken for at least an hour and up to 24 hours, covered, in the fridge. I highly recommend an overnight soak for maximum tenderness.
COAT THE CHICKEN WITH SESAME PANKO CRUMBS: In a large shallow bowl combine Panko, sesame seeds and salt. Remove chicken from the fridge and drain the marinade. I recommend pouring the chicken and marinade into a large colander over the sink. Toss chicken around with a large spoon to get the marinade off. It's fine to leave a light coating of marinade on the chicken. Transfer chicken to a bowl. Place a piece of chicken in the crumb bowl. Toss it in crumbs a few times and press crumbs into it with your fingers. Place coated chicken piece on a plate. Repeat with all the chicken pieces.
FOR OVEN-BAKING: Preheat oven to 450ºF. Oil a large non-stick rimmed baking sheet. Arrange breaded chicken on the sheet so pieces aren't touching. Turn pieces so they are lightly coated in oil. Alternatively you can spray the tops lightly with cooking oil. Set rack in the top third of your oven, near the heating element. Bake for 12-14 minutes or until the chicken is golden brown and cooked through.
FOR PAN-FRYING: Line a large plate or tray with a triple layer of paper towels. Pour enough oil into your skillet to come up to an inch or more. Heat oil over high heat until hot but not smoking. Cook the chicken in batches so as not to overcrowd the skillet. Carefully place the chicken pieces into the hot oil one by one using tongs. Chicken should start to sizzle immediately. Cook chicken pieces for about 2 minutes or until they are rich golden brown and cooked through, turning each piece after a minute or so for even browning. Transfer chicken to prepared plate and repeat with remaining chicken pieces until all are cooked.
Set chicken on a platter with remoulade on the side. Sprinkle chicken and remoulade with dry or fresh mint, if you like. Chicken is most delicious if you serve it immediately.
Store leftover chicken in a airtight container in the fridge. Reheat on a baking sheet in a 450ºF oven for 4-5 minutes, until heated through.
Keywords: chicken, dip, party food