Ottolenghi's Turkey Zucchini Meatballs are out of this world! They have no bread, no flour and no milk. Just ground turkey, veggies, herbs, spices and eggs in this genius recipe! Great as an appetizer or entrée!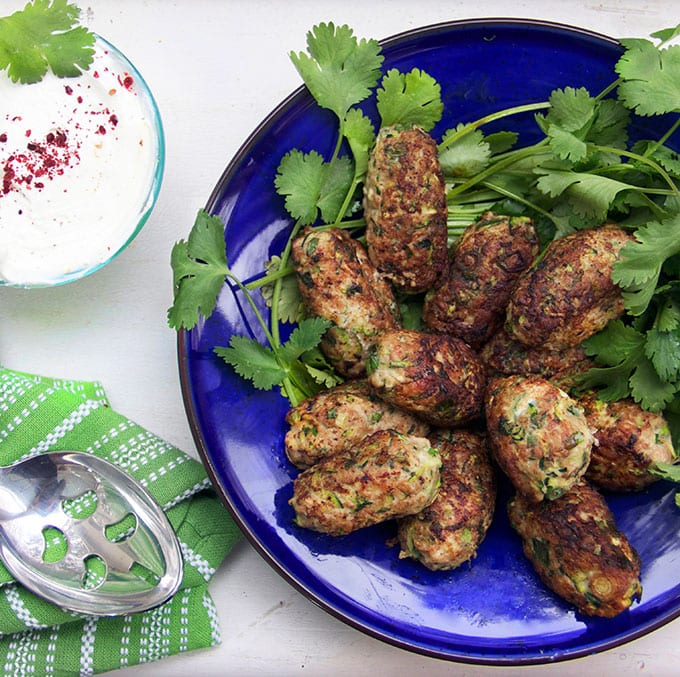 Do you have any foods that make you swoon? Maybe for you it's chocolatey desserts or macaroni and cheese? Meatballs do it for me! Whether they're stuffed or glazed, Swedish or Asian or on spaghetti with tomato sauce, I find them utterly irresistible. I don't make meatballs very often because I end up eating waaaayyy too many.
But these turkey zucchini meatballs from Ottolenghi are different, lighter and healthier than most, made mostly from lean ground turkey, vegetables and herbs.
The recipe comes from Ottolenghi's cookbook Jerusalem. If you have the book, you'll notice that Ottolenghi calls them burgers. I call them meatballs. They don't look quite like either one. They're small – two or three bites apiece. They're served with a lemony yogurt dip and no bun.
I like rolling them in an oblong shape because it makes them more like finger food that you can hold and dip. In fact I often serve them as an appetizers, with lemony yogurt sauce for dipping. I've had them out for many a Super Bowl party.
HOW TO MAKE TURKEY ZUCCHINI MEATBALLS
Considering that these turkey zucchini meatballs are made without bread crumbs, it's surprising how well they hold together and how nicely they brown up. However, rolling them does require a little technique. The mixture is pretty wet so you're in for some serious frustration if you try to "roll" them like you normall do with meatballs. Here are some tips:
Scoop up about 2 1/2 tablespoons of the mixture and toss it from hand to hand, giving little squeezes to form it into an oblong shape.
Three or four tosses and squeezes per meatball should do it.
Set each formed meatball onto a plate.
Heat oil in a skillet. When it's hot, tip the plate towards the pan and use a spatula or a knife to gently slide a few meatballs into the pan.
Cook the meatballs in batches, turning them until they're brown on all sides. They brown up quickly.
Set the browned meatballs on a parchment-lined baking pan.
Finish cooking them in a 425º oven for 6-7 minutes.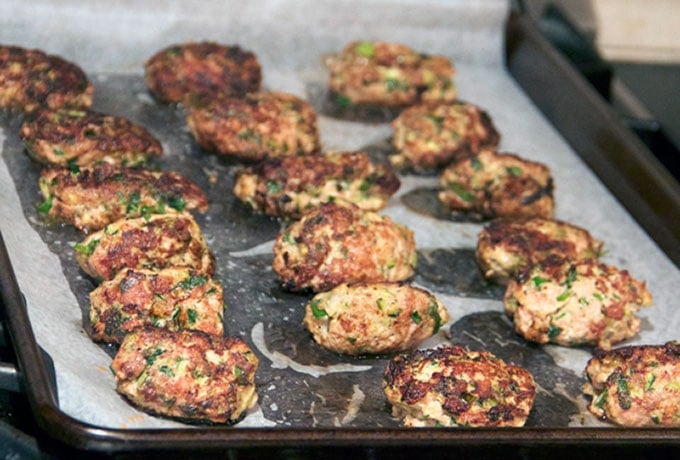 I love to serve these with lemony yogurt sauce on the side. This yogurt-based dip features sumac, a beautiful deep red spice with a lemony flavor that's very popular in Middle Eastern cooking.
When you pass by the fridge looking for a quick tasty snack, these are hard to resist. They even taste great cold.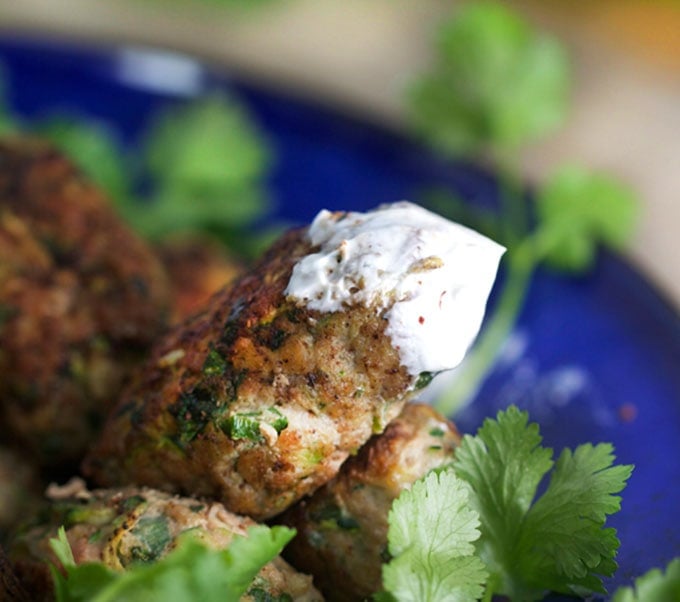 Here's the recipe for Ottolenghi's Turkey Zucchini Meatballs with Lemony Yogurt Sauce. If you try this recipe, I hope you'll come back to leave a star rating and a comment. I'd love to know what you think.
Print
Ottolenghi's Turkey Zucchini Meatballs with Lemony Yogurt Sauce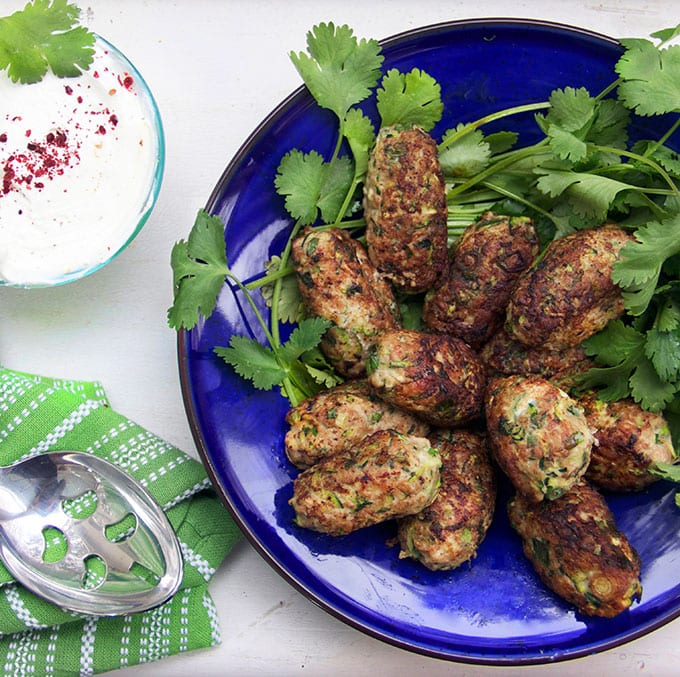 Healthy, delicious turkey meatballs from chef Yotam Ottolenghi
Author: Panning The Globe
Prep Time:

30 mins

Cook Time:

20 mins

Total Time:

50 mins

Yield:

6

-

8

1

x
Category:

Appetizer or Main Course

Method:

oven baked

Cuisine:

Israeli
Scale
Ingredients
Yogurt Sauce

1/2 cup

sour cream *

2/3 cup

lowfat plain Greek Yogurt

1 tablespoon

lemon juice

1

small garlic clove, pressed or finely minced

1 1/2 tablespoon

s olive oil

1 tablespoon

sumac

1/2 teaspoon

salt

1/4 teaspoon

fresh ground black pepper
Meatballs

1

pound ground turkey (white or dark meat)

1

large egg

1

large zucchini, grated

6

scallions, sliced thin

2 tablespoon

s chopped mint leaves

2 tablespoon

s chopped cilantro leaves

2

large cloves garlic, pressed or finely minced

1 teaspoon

ground cumin

1 teaspoon

salt

1/2 teaspoon

cayenne pepper

1/2 teaspoon

fresh ground black pepper
Vegetable oil for sautéing
* For a lower fat sauce you can swap out the sour cream for low fat yogurt. The taste is a bit more tart but still delicious.
Instructions
Make the Sauce Combine all ingredients. Set aside or refrigerate for up to 3 days, until needed.
Meatballs Preheat oven to 425F. Line a baking sheet with parchment paper. In a large bowl combine turkey, zucchini, scallions, egg, mint, cilantro, garlic and spices. Using your hands, shape the meatballs (about 2 1/2 tablespoons per ball) by gently squeezing them and tossing them from hand to hand. Set formed meatballs on a large plate. (makes about 18)
Heat 2 tablespoons oil over medium heat in a large skillet. Slice half the meatballs into the pan and brown them on all sides, about 4 minutes. Carefully transfer them to the baking sheet. Repeat with the rest of the meatballs, adding extra oil to the pan, if needed. Slide the tray into the center of the oven and cook for 6-7 minutes, until cooked through. Serve with lemony yogurt sauce.
Keywords: meatballs, gluten-free meatballs, ottolenghi meatballs
Relevant links:
Jerusalem: A Cookbook
On occasion I provide links in my posts to cookbooks or other products, available for purchase on Amazon. If you purchase a product through these links, I receive a small commission with no extra cost to you.