Risotto cakes are great for dinner parties because you can do all the cooking in advance. Then you can enjoy socializing with your guests while your delicious risotto cakes and roasted vegetables are heating in the oven.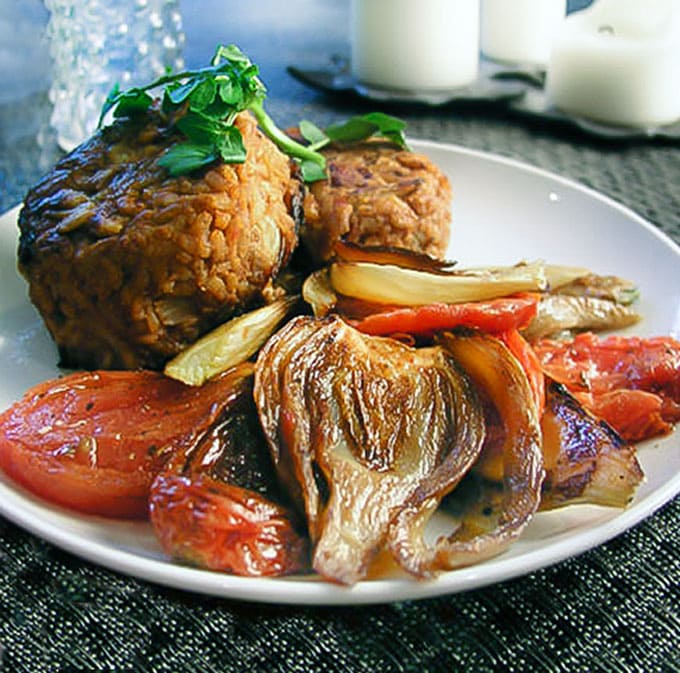 Risotto is comfort food that is exciting and special enough to serve at a dinner party, but I never do, because it has to be cooked just before you serve it, and it's a workout standing over steaming pots of rice and broth for 30 minutes of vigorous stirring - not what I want to be doing while my guests are sipping cocktails and enjoying hors d'oeuvres. If you don't mind sweating it out in the kitchen a day or two before your party, you can make the risotto into "cakes" by shaping them into patties, lightly dusting them with flour, and browning them in a little oil. They can be stored in the fridge for a day or two and reheated in the oven during your party, while you are enjoying your friends.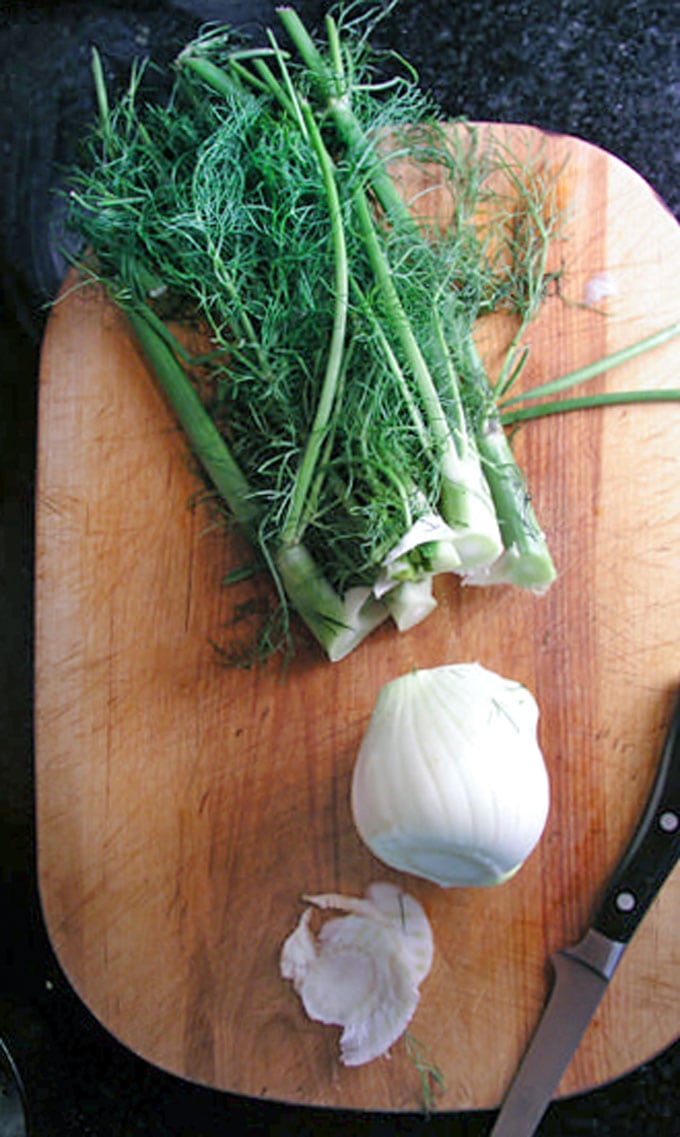 Fennel can be challenging to cut if you're not familiar with it. First cut off the dark green fronds - those are not edible, though the frilly parts are sometimes used as a garnish. Trim off a thin slice from the bottom, to remove the brown end. Pull off any damaged outer leaves or use a vegetable peeler to remove discolored areas from the bulb.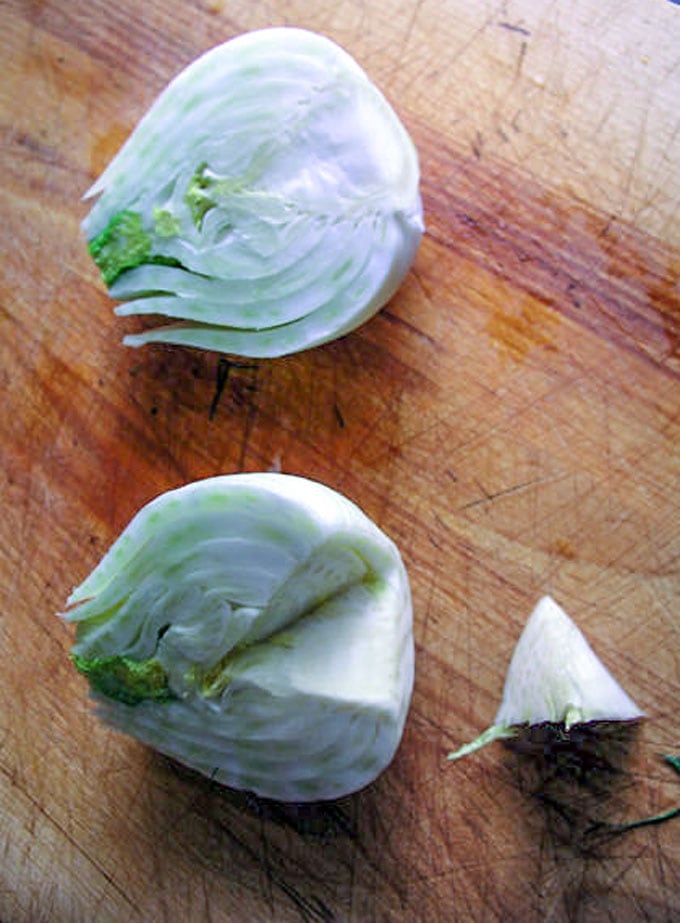 If you are chopping the fennel for sautéing, cut the bulb in half vertically. Then cut out the core, which is a little triangular part near the root end. Place the halves face down and slice vertically. Then turn and slice horizontally.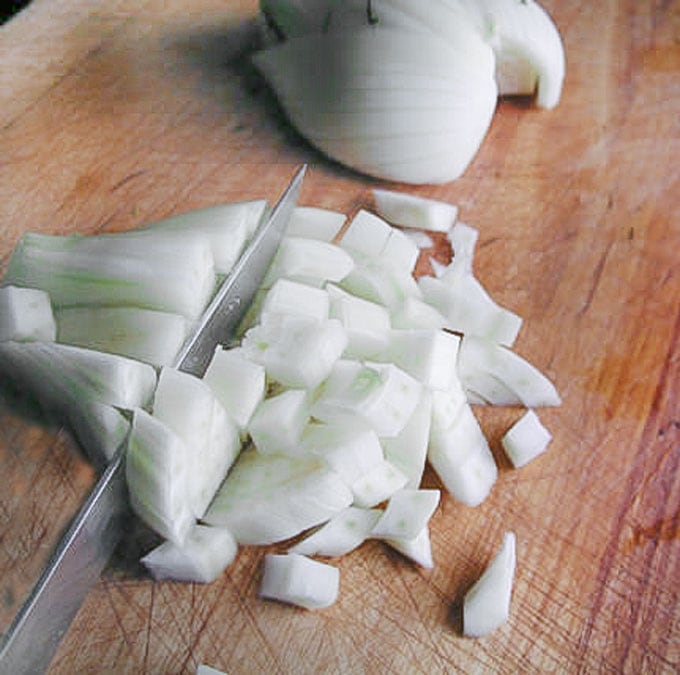 If you are slicing fennel for roasting, do not remove the core. You'll need that to hold the slices together. First slice the fennel bulb in half vertically. Then lay the halves down and slice vertically through the core.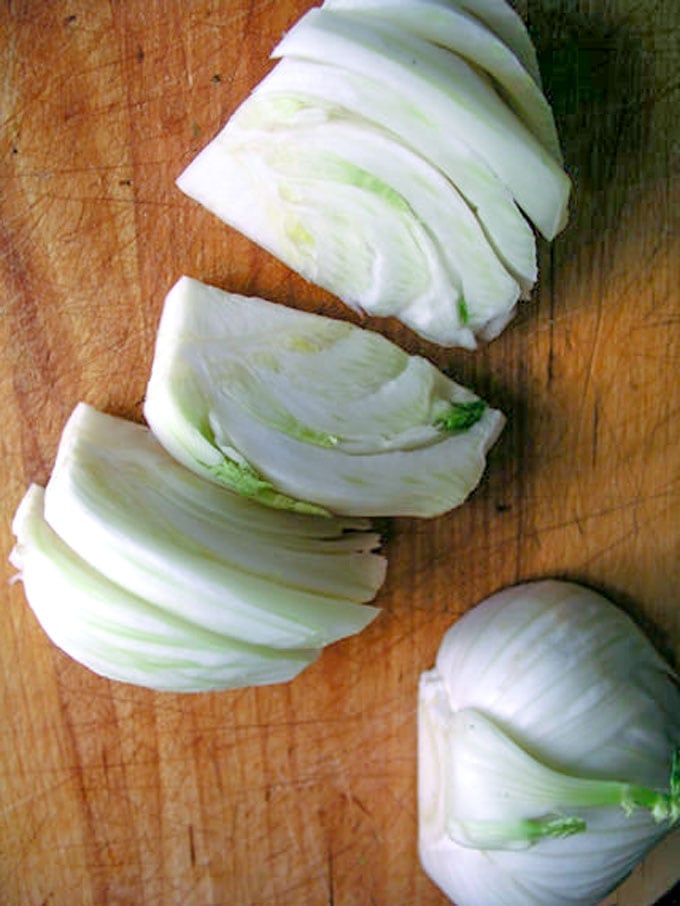 This recipe is adapted from a cookbook called "Marie Claire: Cooking" by Donna Hay.
If you aren't familiar with Donna Hay, she's the Australian chef and food stylist behind Marie Claire and Donna Hay magazines. She's also the author of many wonderful cookbooks.
I highly recommend a visit to The Donna Hay Website and you also may want to consider getting your hands on one or two Donna Hay Cookbooks!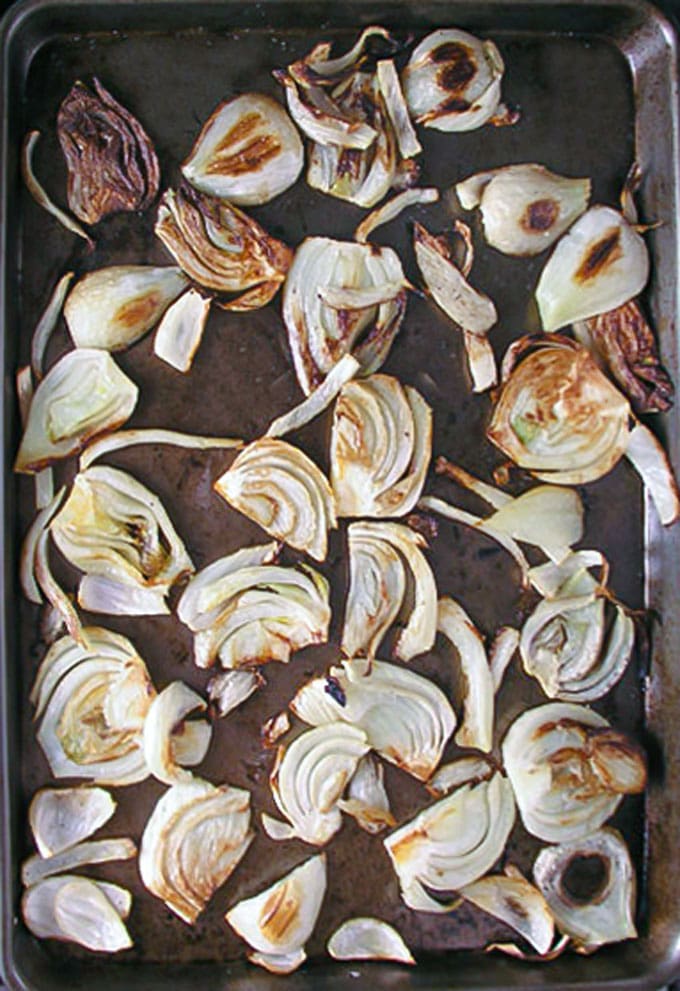 Roasting the vegetables brings out their sweetness, tenderizes them, and makes them irresistible.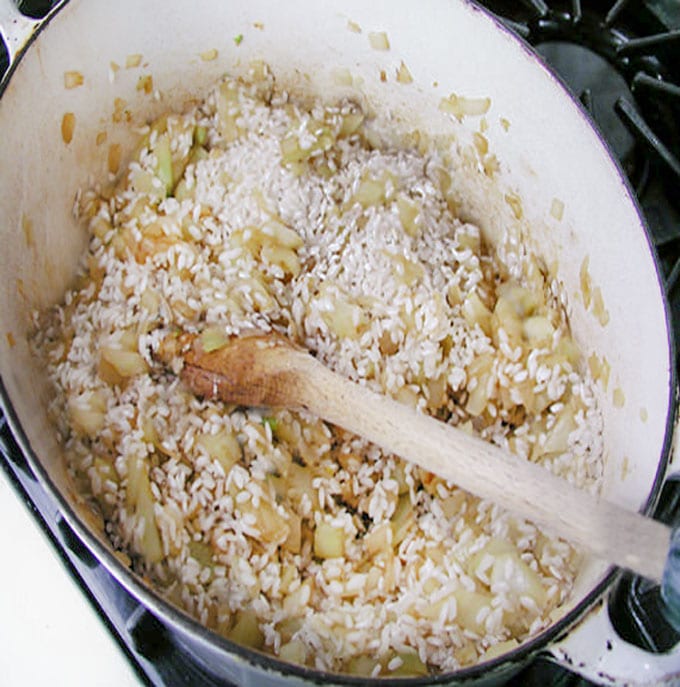 I suggest putting on some good music and pouring yourself a glass of wine while you're stirring the rice.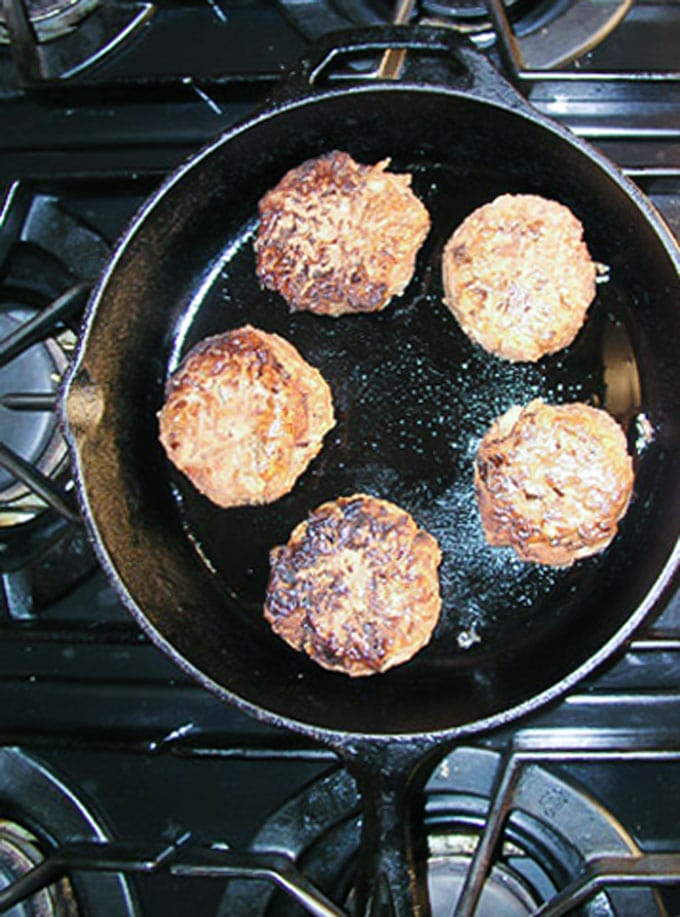 This is a special dish for a special occasion!
Other 'Special Occasion' Dishes from Panning The Globe
Here's the recipe for Risotto Cakes with Goat Cheese, Roasted Fennel and Tomatoes. If you try this recipe I hope you'll come back to leave a rating and comment. I'd love to know what you think!
Print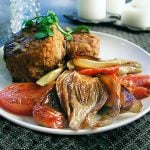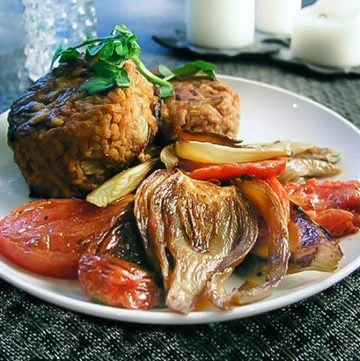 Risotto Cakes with Goat Cheese, Roasted Fennel and Tomatoes
---
Author:

Lisa

Total Time:

2 hours

Yield:

10

as a side dish

1

x
Description
Hearty risotto cakes, richly flavored with onion, garlic, red wine and goat cheese, are delicious on their own and even better with oven-roasted fennel and tomatoes alongside.
Adopted from a recipe in Marie Claire Cooking
---
For The Roasted Tomatoes and Fennel
10

plum (Roma) tomatoes, halved lengthwise

5 tablespoons

olive oil, divided

3

Fennel bulbs, stems and fronds removed, halved vertically, and each half cut into about

8

slices, through the root
Salt and pepper, to taste
For The Risotto
2 Tablespoons

olive oil

2

onions, chopped

2

cloves garlic, minced

2

fennel bulbs, trimmed, cored, and roughly chopped.

2 cups

arborio rice

4 cups

low-salt stock (your choice of beef, chicken or vegetable)

2 cups

(

16 ounces

) tomato puree

1 cup

dry red wine (such as a Pinot noir or Chianti)

½ cup

grated firm mature goat cheese
Salt & pepper to taste
For the Risotto Cakes
½ cup

all-purpose flour for dusting
Canola oil for sautéing
---
Instructions
Roast The Fennel and Tomatoes Preheat the oven to 400ºF. Arrange the tomatoes halves on a rimmed baking sheet, cut sides up, in a single layer. Drizzle with olive oil and sprinkle with salt and pepper. Toss fennel with oil, salt and pepper and arrange on another rimmed baking sheet. Roast vegetables for 35-40 minutes in top and bottom racks of oven, switching position of trays and turning the fennel after 20 minutes, until they soften and begin to caramelize. Remove vegetables from the oven, and set aside.
Cook The Risotto Combine stock, tomato puree and wine in a medium saucepan and bring to a boil. Reduce heat low enough to keep broth hot but not bubbling. Heat oil in a heavy pot or Dutch Oven over medium heat until hot but not smoking. Add onions and garlic and cook, stirring occasionally, for 2-3 minutes, until soft. Add chopped fennel and cook for 8-10 minutes longer, stirring occasionally, until fennel is soft. Add rice to the pot and cook, stirring for a minute or two, to coat grains. Add hot broth, ½ cup at a time, stirring with a wooden spoon, until all the liquid is absorbed into the rice. Repeat until all the broth is used and the rice is tender but still firm to the bite (25-30 minutes). Stir in cheese, salt and fresh cracked pepper. Remove from heat.
MakeThe Risotto Cakes Allow risotto to cool for 15 minutes, or until cool enough to handle. Shape into 10 patties. Spread flour onto a plate, dip patties in flour and shake off excess. Heat oil in a large skillet over medium-high heat, until hot but not smoking. Brown cakes, in batches, for about about 2 minutes per side. Drain on paper towels.
Reheat risotto cakes and vegetables in a 400ºF oven for a 8 minutes or so, if necessary. Serve hot.
Notes
Make-ahead Notes:
Risotto cakes can be stored for 2 days in an air-tight container in the fridge. Put wax paper between them. Before serving, bring to room temp. Preheat oven to 400. Heat cakes on a baking sheet till hot, about 8 minutes.
Roasted Tomatoes and Fennel will taste and look their best if you roast them on the day you plan to serve them. If necessary you can reheat them on a baking sheet in a 400ºF oven for 8 minutes or so, before serving.
Prep Time:

45 mins

Cook Time:

1 hour 15 mins

Category:

Side Dish

Method:

Sauté

Cuisine:

Australian