The Cuban Frita burger is a food fantasy come true. A juicy, well-seasoned pork and beef hamburger is piled high with crisp shoestring fries and onions, slathered in smokey spicy ketchup, and packed into a toasted bun. If you like a good burger, this one will knock your socks off!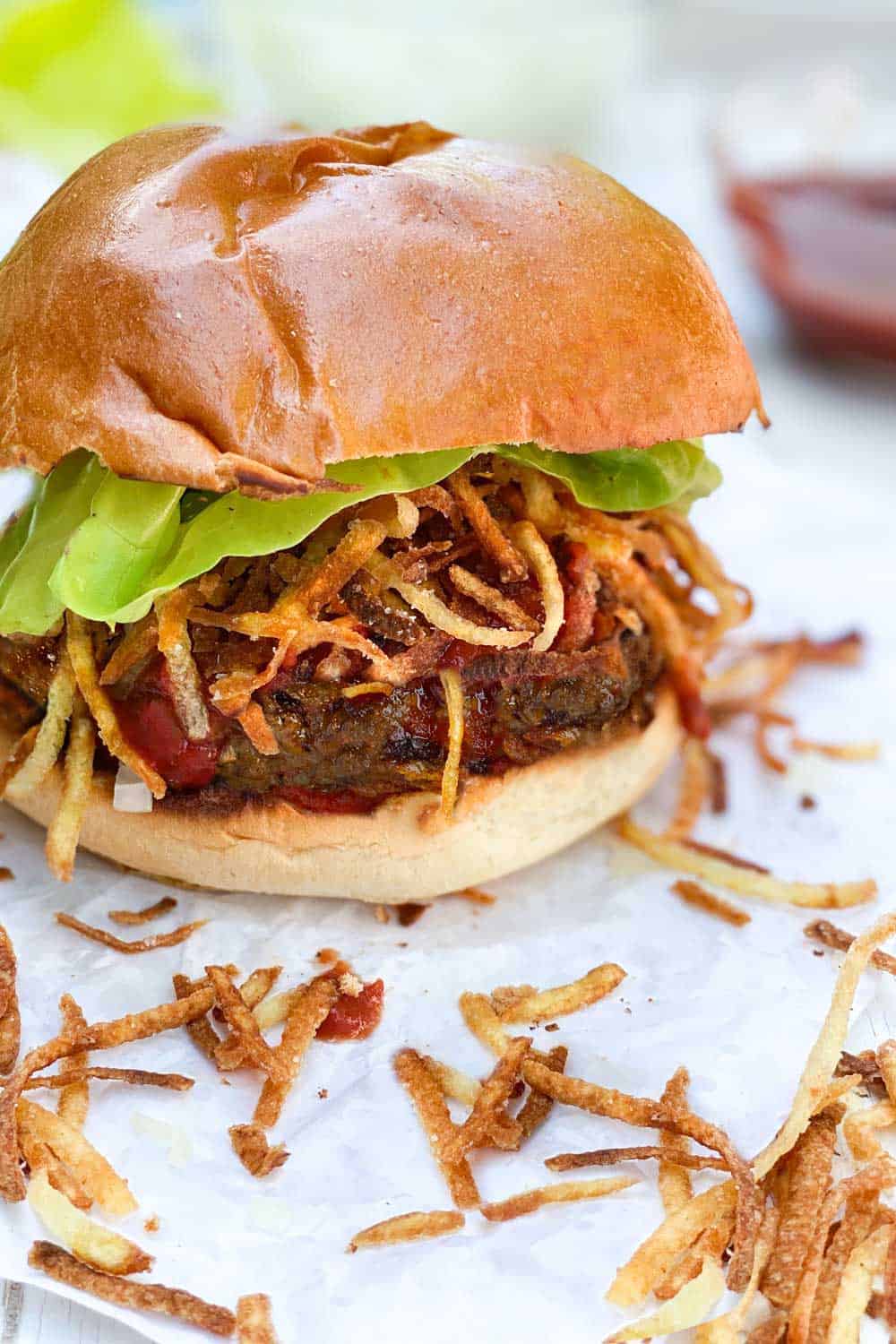 A Little History of the Cuban Frita Burger
Some time in the early to mid 1900's (the exact decade is unclear) Frita burgers became a popular street food in Havana Cuba. Back in the day, the frita was cooked by friteros (frita makers) and sold at sidewalk puestos (food stalls). As legend has it, meat was scarce after Castro became president, and frita cooks started adding more and more flour to the meat mixture and decreasing the amount of meat, until the frita burger became so sticky and tasteless, it fell out of favor.
In the early 1960's, the original meaty frita burger found its way to the Little Havana neighborhood of Miami where it had a resurgence in popularity. Today you can enjoy frita burgers at many Miami cafes. And when you're not in Miami, you can make this fun, tasty burger at home.
How To Make Cuban Fritas
Here's how to make authentic, flavor-packed Cuban frita burgers.
The frita burger is made from a mixture of ground pork and ground beef. Some variations use chorizo instead of ground pork. To season the meat, mix in ketchup, onions, garlic, cumin, salt and a good amount of Pimentón, the smokey Spanish paprika that gives the frita its distinctive flavor.
Form the meat mixture into thin patties and cook them on a flat griddle or in a skillet. Frita burgers are best when cooked to medium rare or medium, so they're nice and brown on the outside, juicy and flavorful inside.
To assemble the frita burger, place it on a toasted bun, spread special sauce on top and some finely chopped raw onions and a heap of shoestring fries. (Yes, WOW!) The shoestring fries that are packed into the bun with the frita burger, are crisp, salty and golden brown. They remind me of French's Potato Sticks, one of my favorite childhood snacks. In fact, if you don't feel like frying potatoes, I'm sure French's will work well as a substitute.
The special sauce is SOOOO delicious! Definitely a key flavor component of this epic burger. It starts with ketchup, which is mixed with vinegar, salt and Cuban spices: paprika, cumin and oregano, and a dash of sriracha for heat.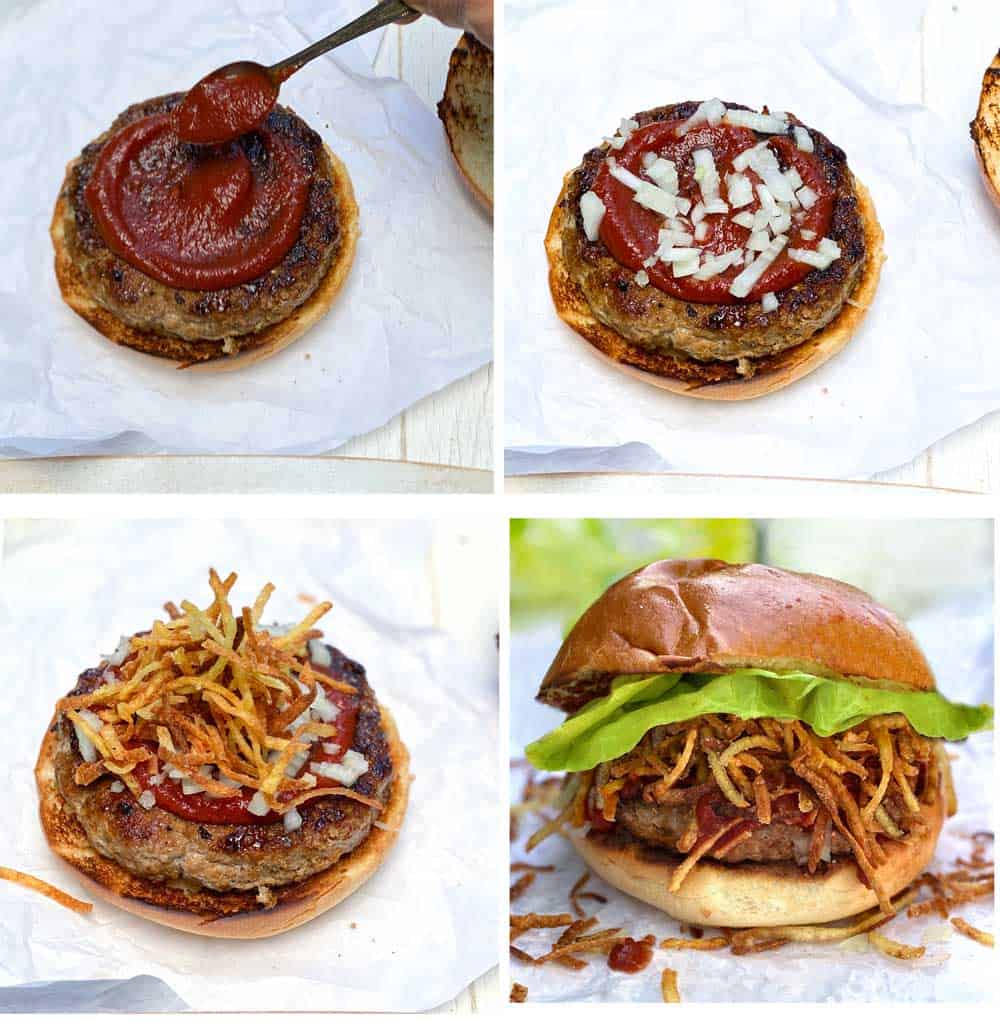 You can make the meat mixture for fritas in a big bowl, kneading it by hand, or in the food processor (as I did). If you do it by hand be sure to chop the onions and garlic extra fine.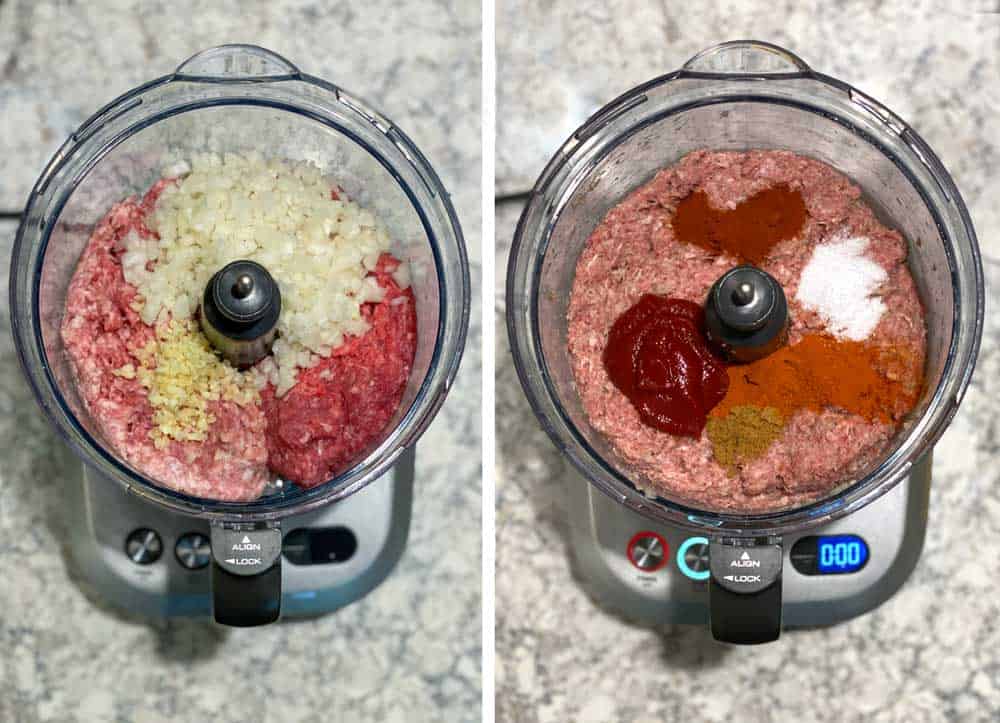 If you have a deep fryer, you will be able to fry up the shoestring potatoes quickly. If not you can shallow fry them in batches, in a frying pan.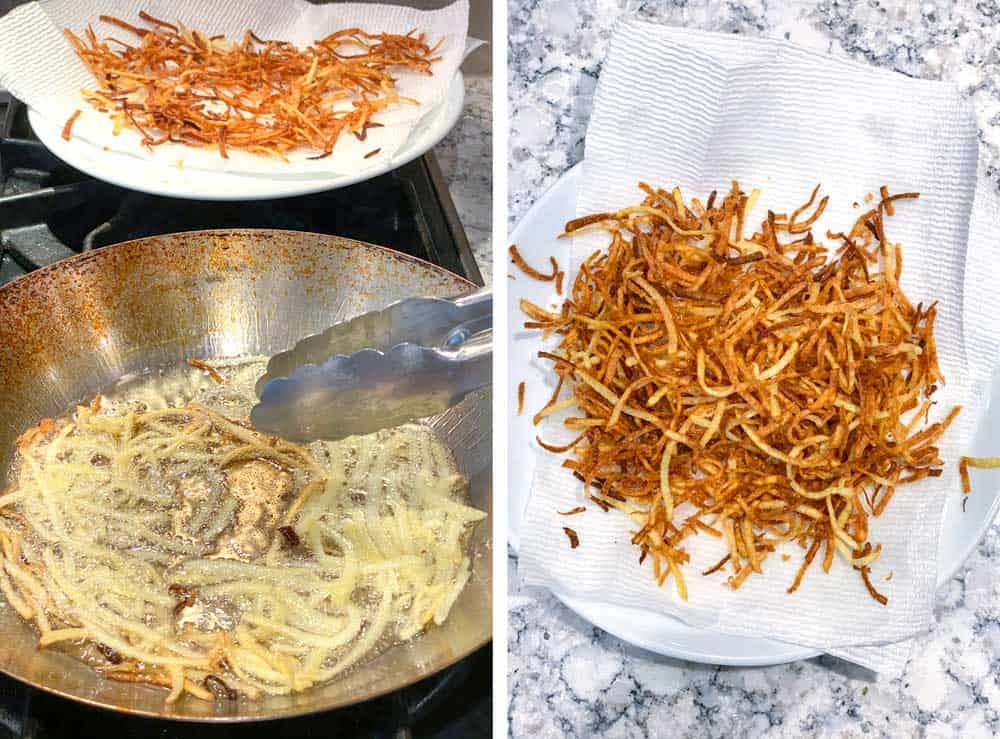 I discovered the frita Cubana in my own backyard. My son Paul and his girlfriend Nicollet cooked dinner for us one night, as they often like to do when they come to visit. Nic had heard about the frita Cubana and thought it sounded delicious so she wanted to try it out. After one bite I asked Nic if she would collaborate with me to get this blog-worthy burger up on Panning The Globe. We got to work the next day retracing her steps.
A big THANK YOU to Nicollet for helping me with this post. For more cooking inspiration check out Nic's Instagram where she documents her favorite culinary creations.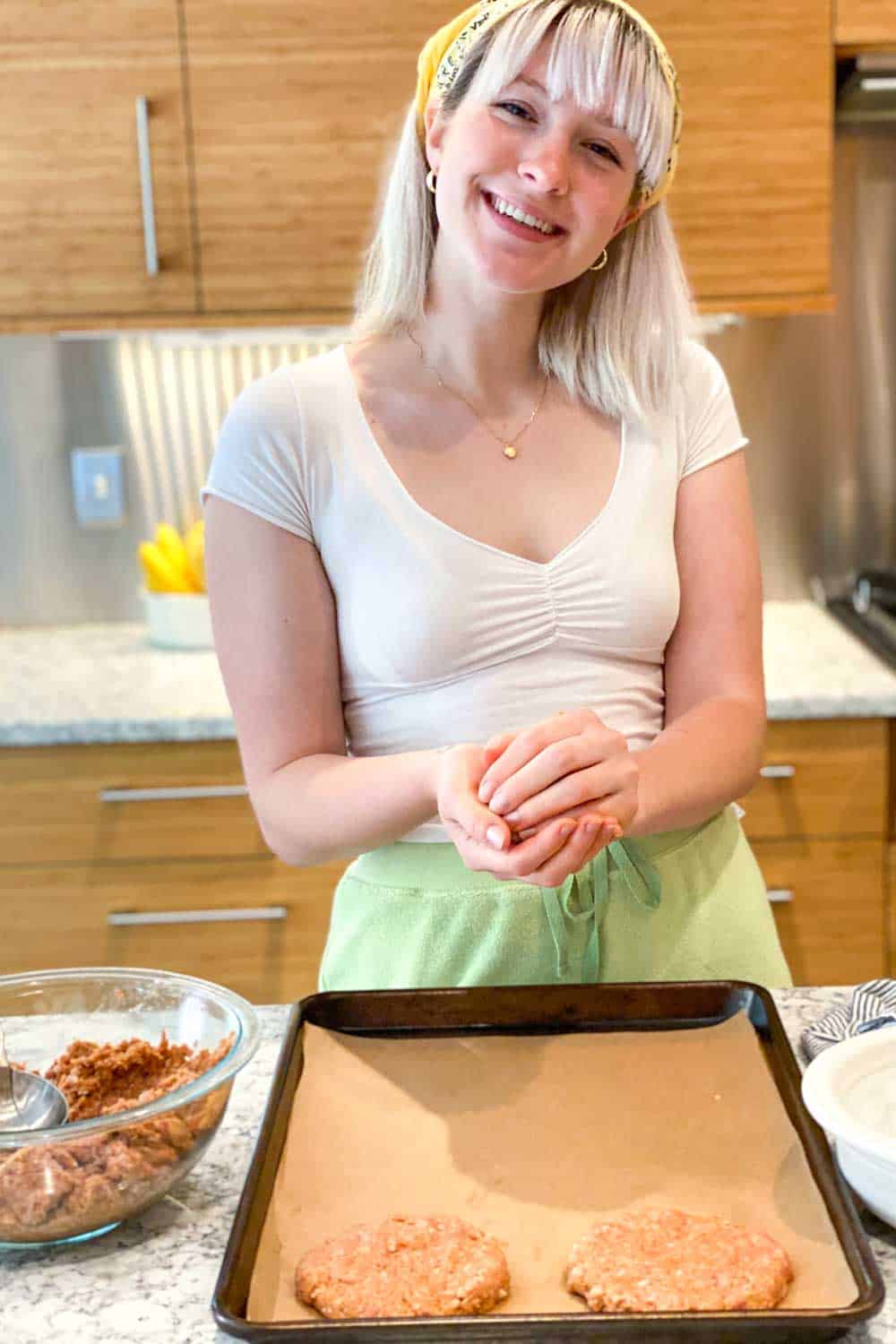 You may also like: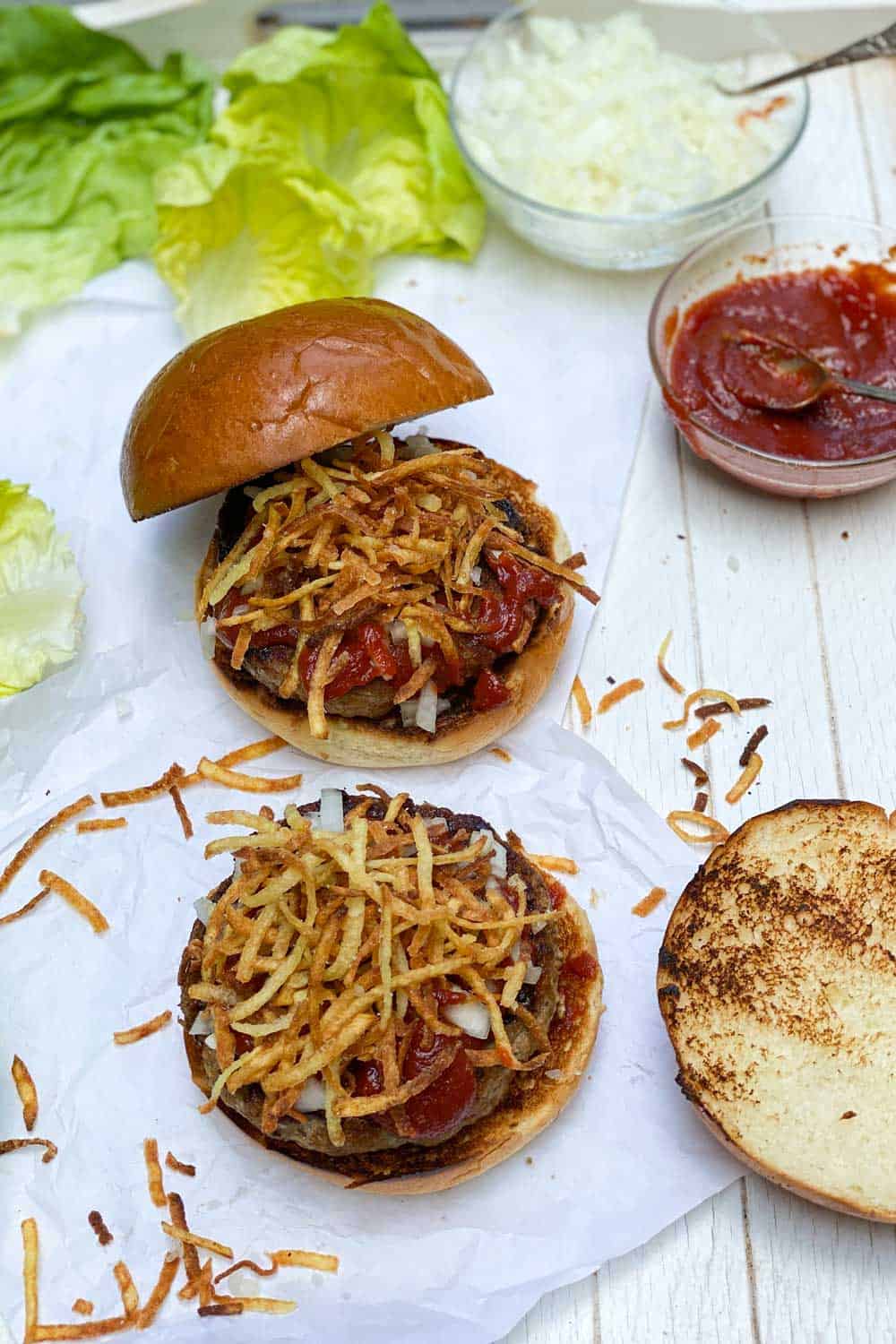 There's definitely some time and effort involved in making the frita Cubana burger but the payoff is big. As burgers go, these are exceptionally festive and delicious.
Here's the Frita Cubana Recipe. If you try this, I hope you'll come back to leave a star rating and a comment. I'd love to know what you think!
Print
The Cuban Frita Burger: Frita Cubana
---
Author:

Lisa

Total Time:

1 hour 10 minutes

Yield:

8

burger patties

1

x
Description
A flavor-packed, epic burger that shares its bun with shoestring fries!
In collaboration with Nicollet Laframboise and adapted from a recipe by Three Guys from Miami.
---
For the Special Sauce
1 cup

ketchup

¼ cup

water

1 tablespoon

apple cider vinegar (or white vinegar)

1 ½ teaspoons

sweet Spanish paprika

1 teaspoon

ground cumin

1 teaspoon

salt

½ teaspoon

dried oregano

½ teaspoon

sriracha or to taste
For The Shoestring Potatoes (see notes for substitution)
4

russet potatoes

1 cup

of vegetable oil for frying, or more as needed
For the Burgers
1 pound

 

ground beef

1 pound

 

ground pork

2 tablespoons finely minced garlic (about 4 cloves)

1 ½ cups finely minced yellow onion, divided (½ cup will be used to top the cooked burgers) 

3 tablespoons

 

ketchup

1 teaspoon

 

ground cumin

2 teaspoons

 

sweet Spanish paprika

2 teaspoons

smoked  paprika (sweet not spicy)

1 ½ teaspoons

kosher salt

Black pepper, to taste
Also:
8

Cuban rolls, brioche rolls or hamburger buns, toasted
Lettuce leaves, optional
---
Instructions
To make the sauce, m

ix all of the ingredients together in a small saucepan: ketchup (1 cup), water (¼ cup), vinegar (1 tablespoon), sweet paprika (1 ½ teaspoons), cumin (1 teaspoon), salt (1 teaspoon), oregano (½ teaspoon) and sriracha (½ teaspoon). Cook at a gentle s

immer, partially covered, for 5 minutes. Sauce can be made a day ahead and refrigerated until ready to use.

Peel the potatoes and shred them on a box grater or in your food processor with the coarse shredding blade. Swish them in a bowl of cold water, pour out cloudy water, and repeat until the water is clear. Just before frying, drain them in a colander and dry them well by squeezing them between several clean absorbent dish towels. The dryer the better for getting them crisp and brown. Pour oil into a heavy, non-stick skillet over medium-high heat and fry the potatoes, in small batches, until they're golden brown. Transfer to a paper towel-lined plate and sprinkle with salt.

Make the meat mixture in a large bowl or in a food processor. Combine ground meats with 1 cup of the onions and the garlic (2 tablespoons). Mix by hand or pulse a few times in the food processor, to combine. Add ketchup ( 3 tablespoons), cumin (1 teaspoon), paprika (2 teaspoons), smoked paprika (2 teaspoons) and 1 ½ teaspoons of salt. Mix by hand or pulse just until combine. F

orm the meat into 8 thin patties.

Cook patties in batches, on a preheated flat griddle or in a frying pan coated with a little vegetable oil, over medium heat, for 2-4 minutes per side or until they're cooked to your liking. (I suggest medium rare to medium). Season with salt and pepper, to taste.

To assemble the fritas, spread some special sauce over the bottom half of a bun. Place a patty on top, add more sauce, some finely chopped raw onion and a big pile of shoestring fried potatoes. Spread a little sauce on the inside of the top bun and place it on top. Repeat with remaining burgers. Serve immediately.
Notes
If you don't feel like frying potatoes you can substitute crunchy store-bought potato sticks such as French's.
Nutrition Information: The information shown is an estimate provided by an online nutrition calculator and is not a substitute for the advice of a professional nutritionist.
Prep Time:

40 min

Cook Time:

30 min

Category:

Dinner

Method:

Sauté and fry

Cuisine:

Cuban
Keywords: Cuban style pork and beef burgers with shoestring fries and spicy ketchup