Spanish Romesco Sauce is a vibrant condiment from Catalonia in northeastern Spain. Roasted tomatoes and red bell peppers, toasted nuts and bread are pureed with roasted garlic, mild chili pepper, and vinegar to create a thick luxurious texture and a flavor-packed sauce that I want to put on everything.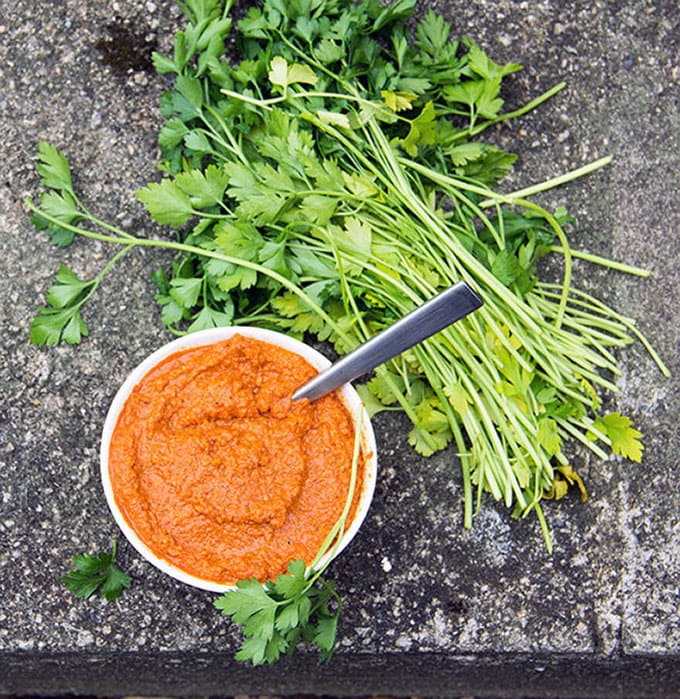 It takes some effort to make Romesco Sauce, but it's so worth the fuss. I suggest you make a big batch. Romesco sauce will keep for a couple of weeks in the fridge. This recipe is enough for a couple of dinners for four, with enough left over to spread on several sandwiches or burgers.
How to make Spanish Romesco Sauce
Start by toasting the hazelnuts, almonds, bread cubes and garlic in a 350ºF oven. While they're in the oven you can prepare the tomatoes and the ancho chile pepper.
Unless you find skinned hazelnuts, you'll have to rub the skins off. It's easy to do. After roasting the hazelnuts, rub them through a dish towel, over a bowl, and the skins will come loose.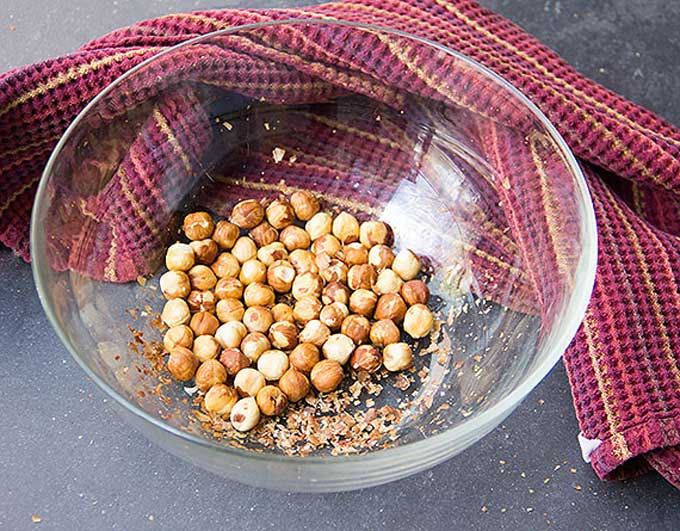 Next sear the tomatoes. Use the ripest plum tomatoes you can find. Sear them in a heavy skillet in some olive oil until they get some black spots and the skins start to split. Once they're cool enough to handle, peel off the skins and slice them in half.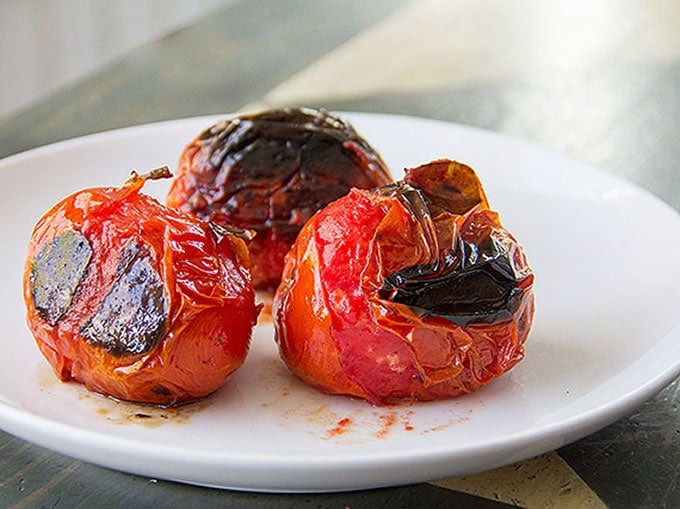 Prepare the Chilies: Ancho chilies are dried poblano peppers. They have a mild, sweet and fruity flavor. You can find dried ancho chiles at many grocery stores in the international food aisle, or you can order them online.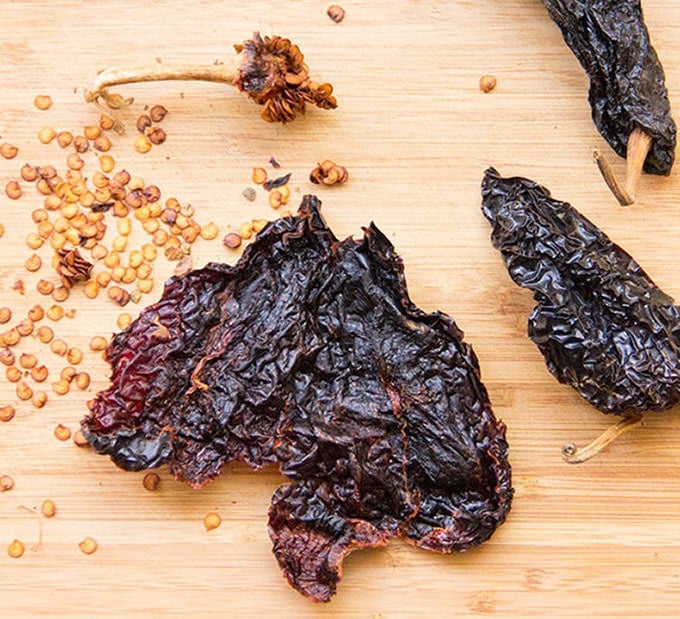 It's easy to reconstitute anchos with a short soak in hot water. For this recipe you'll sear them in a hot pan to enhance their flavor, then soak them in water for 15 minutes and then chop them roughly.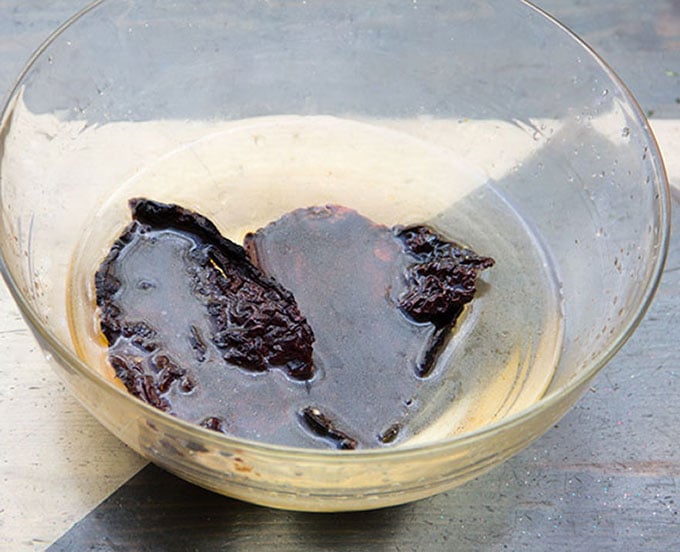 Once everything is roasted and seared and soaked, it all goes into the food processor: bread, nuts, garlic, tomatoes and chilies, plus a jar of roasted peppers, some red wine vinegar, salt, pepper and olive oil.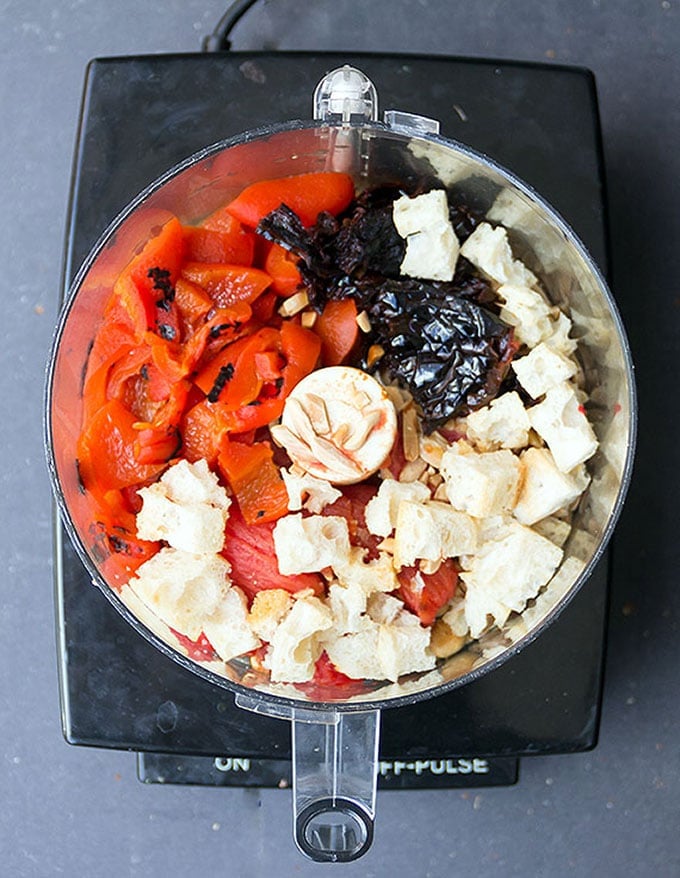 Whizz the mixture until it's roughly chopped. The texture can be modified by adding more olive oil or water. I like it on the thick side - so it's almost spreadable.
Romesco Sauce is great on the simplest piece of grilled or roasted meat, chicken, fish or vegetables. It's got enough pizzazz to transform an ordinary dinner into a spectacular meal.
What To Serve with Romesco Sauce
If you're wondering what to serve with your homemade romesco sauce, I've got a recommendation: sheet pan Spanish spice-crusted pork tenderloin, potatoes and vegetables. It's a fantastic one pan dinner and romesco sauce is the perfect condiment to give it an added layer of deliciousness.
Here's the recipe for Spanish Romesco Sauce. If you make this recipe I hope you'll come back to leave a star rating and a comment. I'd love to know what you think!
Print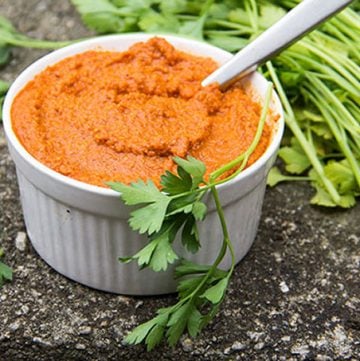 Spanish Romesco Sauce
---
Author:

Lisa

Total Time:

1 hour

Yield:

1 ½ cups

1

x
Description
A vibrant sauce of roasted peppers, garlic and tomatoes, thickened with toasted bread and nuts. Perfect with meat, fish, chicken or vegetables. Great on Sandwiches and burgers.
---
1 cup

bread cubes from a thick slice of country bread or French baguette

½ cup

blanched almonds (whole or slivered)

¼ cup

hazelnuts with or without skin (without skin is quicker and easier)

4

large garlic cloves, peeled
Olive oil

3

ripe plum tomatoes or other ripe tomatoes

1

dried ancho chili, sliced in half, seeds and stem removed

12

-ounce jar roasted red peppers, drained and roughly chopped (

1 ½ cups

)*

3 tablespoons

red wine vinegar

1 teaspoon

kosher salt

⅓ cup

plus 2 tablespoons extra virgin olive oil
---
Instructions
Prepare The Toasted Ingredients : Preheat oven to 350ºF. Line a baking pan with parchment. Place hazelnuts, almonds, bread cubes, and garlic cloves on the prepared pan. If using hazelnuts with skin, set them apart to one side of the pan. Set the pan in the oven for 12 minutes, until nuts, bread and garlic are lightly toasted. If using skinless hazelnuts, transfer all the toasted ingredients into the bowl of a food processor, fitted with the s-shaped chopping blade.
If using hazelnuts with skin, drape a dish towel over a medium sized bowl, scoop the toasted hazelnuts into the dishtowel fold it over the nuts. Leave for 10 minutes. Transfer the rest of the toasted ingredients to a large bowl and set aside. After 10 minutes, skin the hazelnuts: drop them into the bowl. Through the dishtowel, squeeze them and rub them against each other and down against the bowl vigorously for a couple of minutes, to remove the most of the brown skins. Scoop the skinned nuts into the food processor with the other ingredients.
Sear the Tomatoes: Heat 2 tablespoons oil in a small heavy skillet over medium high heat. Sear the tomatoes on all sides, for about 7 minute total, until they have some large black spots and the skins start to separate. Transfer them to a plate to cool for 5 minutes or so. (keep the pan - you'll use it for the ancho chili) When tomatoes are cool enough to handle, peel off the skins, slice them in half, and add them to the food processor.
Sear and Soak the Ancho Chili: Put the ancho chili in the hot pan over medium high heat, and cook for about 15 seconds per side, pressing down on it with a spatula, until you see some smoke and some blistered spots. Transfer to a small bowl and cover by an inch with hot tap water. Leave for 15 minutes to soften. Chop roughly and add to the food processor bowl. Add the roasted peppers, vinegar and salt.
Process the Sauce: Whizz everything in your processor, scraping down the sides of the bowl when necessary, until the mixture is very finely chopped (not a smooth puree). With the motor running, slowly pour in the oil.. If you want a thinner consistency, add a couple tablespoons of water with the motor running. Romesco sauce can be stored for 2 weeks in an air-tight container in the fridge.
Serve warm or at room temp with grilled or roasted fish, chicken, meat or vegetables, or on sandwiches or burgers.
Notes
*If you'd prefer to roast your own red peppers from scratch, here's how to do it.
**If you can find hazelnuts without skins, omit this step.
Prep Time:

30 mins

Cook Time:

30 mins

Category:

Sauce

Method:

Stove top

Cuisine:

Spanish
Keywords: Spanish Romesco Sauce, Roasted pepper sauce for meat, fish or vegetables