Stuffed Cabbage is one of my all time favorite dishes. The recipe takes some time, but it's so worth the effort. Ground beef is mixed with rice and vegetables, rolled up in cabbage leaves, and cooked for several hours in a sweet and sour tomato sauce until it is juicy and tender and irresistibly delicious.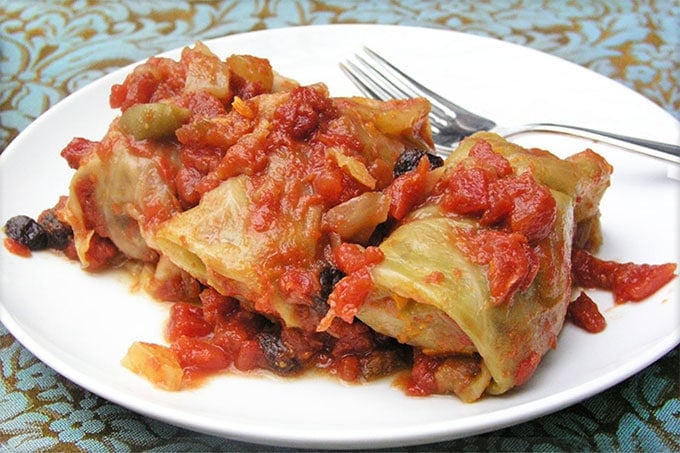 Russian stuffed cabbage is a great dish to make for a crowd. You can cook it ahead and it tastes even better the next day. One cabbage roll makes a great appetizer. Two or three are a perfect meal.

Stuffed cabbage evokes thoughts of my grandmother Fay (pictured with me, below, circa 1963), who immigrated from Russia in the early 1900's and eventually landed in the Catskill Mountains of NY, where she and my Grandpa Myles ran a small hotel called Sunny Oaks (pictured below).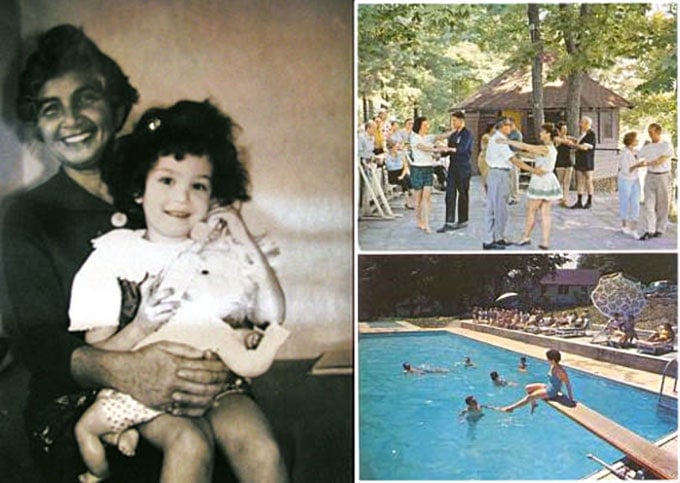 Sunny Oaks was one of the many Jewish summer resorts in that region of upstate New York, which came to be known as The Borscht Belt. Growing up, I spent at least one happy week every summer at the hotel, swimming, playing scrabble and shuffleboard, and enjoying the delicious food.
We'd make the 2-hour drive from Manhattan to Woodridge. I remember my excitement when the roads got hilly and we'd start to see bungalow colonies and I knew we were just minutes from Sunny Oaks.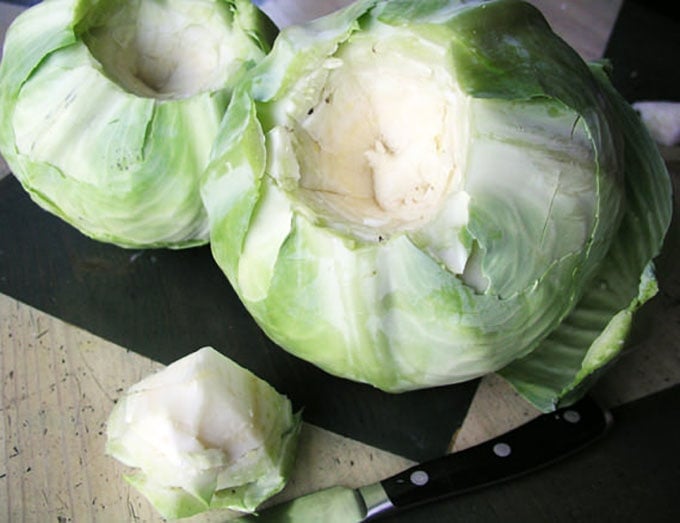 Upon my arrival, my grandmother would barely even say hello to me before pulling me around by the hand to show me off to everyone. Most guests were summer regulars so they'd marvel at how much I'd grown and many of them would grab me by the cheeks and give a good squeeze and say something in Yiddish.
After a while, I'd be led to a table in the empty dining room and presented with a huge plate of my favorite food in the world - Grandma's Russian stuffed cabbage. Typical of a Jewish grandmother, she would watch me eat, clearly thrilled by my every bite.

Meals at Sunny Oaks were announced over a PA System just like in the movies "Dirty Dancing" and "A Walk On The Moon" . "Ladies and gentlemen, dinner is now being served in the main dining room. Will everyone please come in for dinner". That message was repeated twice and slowly the 100-seat dining room would fill up.
It was a tough crowd. Seemed like almost everyone had a food sensitivity and a special request, but my grandmother made it her business to make everyone happy. That is probably the reason that the same crowd came back to Sunny Oaks summer after summer for over 60 years.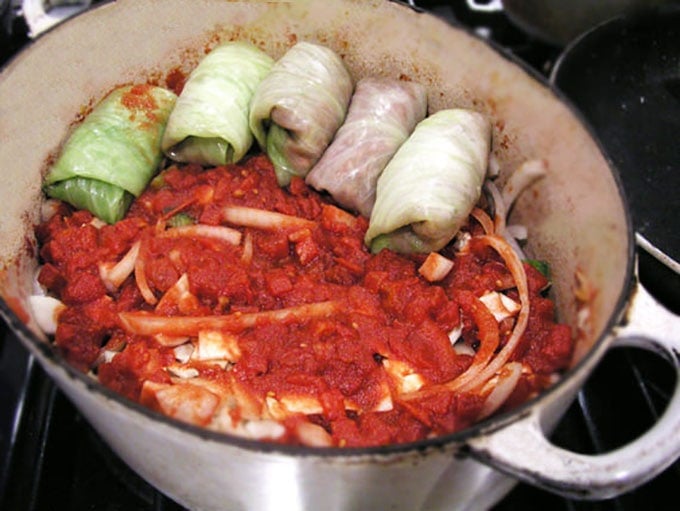 I wish I had been interested in cooking back when Grandma Fay was still alive and busy in the Sunny Oaks kitchen. But the good news is that my Aunt Cynthia, who inherited the hotel from my grandparents, recently dug up the old file containing all of the hotel recipes, and sent it to me.
I probably won't be blogging about "Beef Tongue Polonaise" or "Boiled Beef Flanken", both popular items on the Sunny Oaks menu back in the day. But there are some real treasures in that file, including Fay's Russian stuffed cabbage recipe. I hope you enjoy it!
WHAT TO SERVE WITH STUFFED CABBAGE
I like to serve stuffed cabbage with a healthy green salad or with this shredded carrot salad or both.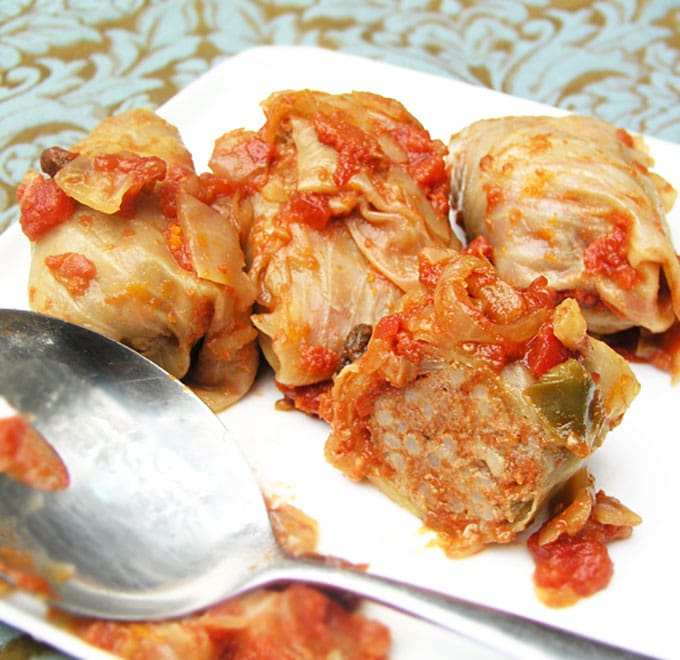 One note of interest: Russia has one of the coldest average temperatures of any country in the world. The long cold winter impacts the type of crops that are grown. Cabbage prefers a cool growing season and is one of the world's hardiest vegetables. It's not surprising that cabbage is a popular vegetable in Russian cuisine.
Here's the recipe for Russian Stuffed Cabbage. If you make this, please come back to leave a star rating and a comment. I'd love to know what you think!
Print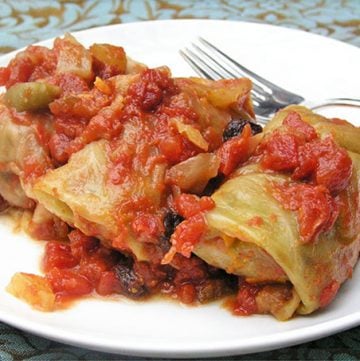 Russian Stuffed Cabbage
---
Author:

by Lisa

Total Time:

4 hours

Yield:

6

-8

1

x
Description
Ground beef with rice and vegetables, wrapped in cabbage leaves and cooked in a sweet and sour tomato sauce. Naturally gluten-free. Make ahead. Tastes even better the next day.
---
CABBAGE AND VEGETABLES:

2

large heads green cabbage, cored (you'll need a sharp knife)

¾

of a green pepper, roughly chopped (save

¼

for meat mixture)

2

stalks of celery roughly chopped

2

onions, sliced
SAUCE:

2

28-ounce cans crushed tomatoes

½ cup

, packed, brown sugar

¼ cup

fresh lemon juice (about

2

lemons)

½ cup

dark raisins
MEAT:

2

pounds lean ground beef

2

eggs, beaten

½ cup

raw rice

⅓ cup

very finely chopped green pepper (

¼

of a pepper)

⅓ cup

very finely chopped onion (

¼

of a medium onion)

⅓ cup

very finely chopped celery (

1

stalk)

1 tablespoon

salt

½ teaspoon

black pepper
---
Instructions
PREPARE THE CABBAGE: Unless you have an extremely large pot, you will need to boil each cabbage separately or use two pots. Boil the cabbages for 5 minutes. Scoop cabbages out and cool under cold running water. When cool enough to handle, peel away the large softened leaves and set aside. After you peel off 6 or 7 leaves, you may need to put the cabbage back in the boiling water for a few more minutes to soften the inner leaves. When you have 25 leaves, set them aside and roughly chop the rest of the cabbage and put 8 cups of chopped cabbage into a large bowl. (if there is any remaining cabbage, use for salad or another recipe) Add the roughly chopped green pepper, celery, and sliced onion to the bowl with the chopped cabbage and set aside.
MAKE THE SAUCE: Combine tomatoes, lemon juice, brown sugar and raisins in a medium saucepan. Cook over medium heat, stirring, until sugar is dissolved, 2-3 minutes. Turn off the heat and set aside.
MEAT MIXTURE: Put the ground beef in a large bowl. Add eggs, raw rice, finely chopped vegetables, salt and pepper. Mix until just combined.
ASSEMBLE THE DISH: Put half of the chopped and sliced vegetables into the bottom of a large heavy pot or Dutch oven. Pour half of the sweet and sour tomato sauce over the vegetables. Stuff the cabbage leaves by scooping a heaping tablespoon of the meat mixture onto the center of a cabbage leaf. Fold the thick end of the leaf over the meat (if the end is extremely thick, cut off a bit). Fold in the two sides until they almost meet in the middle. Then roll up and place onto bed of vegetables, seam side down. Continue until all the meat is rolled, making two layers of cabbage rolls, if necessary. Cover the cabbage rolls with the rest of the chopped vegetables or as much as can fit in the pot. Pour the rest of the sauce on top. Bring to a boil. Lower heat, cover, and simmer for 3 hours. Serve cabbage rolls with sauce spooned over them and enjoy!
Stuffed cabbage can be made a few days ahead and kept in the fridge. Stuffed cabbage also freezes well. One cabbage makes a great appetizer. Two or three make a perfect meal.
Prep Time:

1 hour

Cook Time:

3 hours

Category:

Main Course

Cuisine:

Russian