This Korean Beef Lettuce Wraps recipe is one of my favorite party appetizers. Juicy beef tenderloin is marinated Bulgogi style, with sesame, soy, brown sugar, scallions and ginger, then draped with pickled onions and radishes, dabbed with miso mayonnaise, and wrapped up in delicate lettuce leaves. The flavors are sweet-salty-vinegary-umami-amazing!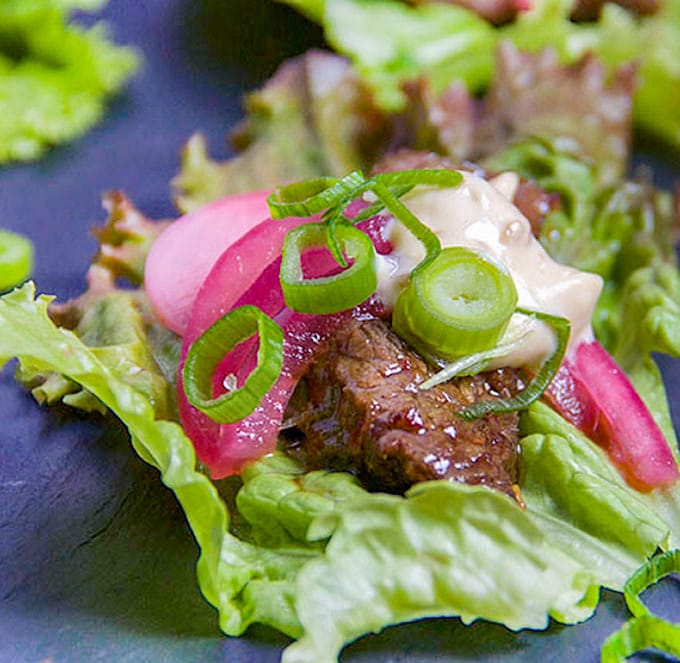 When you're looking for that very special party recipe that will have your guests swooning, Korean Beef Lettuce Wraps will do the trick.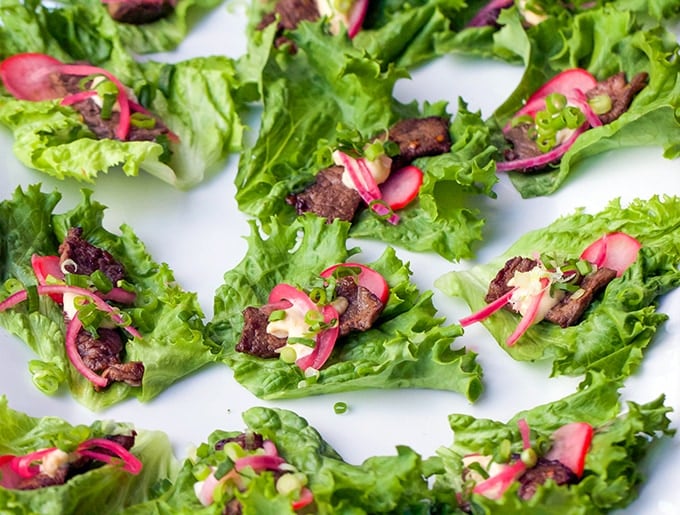 How To Make Korean Beef Lettuce Wraps:
There are a few steps to this recipe but nothing is difficult and most of the prep work can be done well ahead of time.
Marinate the beef: Korea's famous bulgogi beef takes center stage here. Bulgogi beef is absolutely delectable and surprisingly easy to make. You'll need to slice the beef extra thin and marinate it in a mixture of soy sauce, sesame oil, garlic, brown sugar, and crushed red pepper.
Prepare the lettuce; Wash the lettuce leaves and break them into 4-inch pieces. Roll them loosely in damp paper towels to keep them crisp.
Make the quick pickled red onions and radishes: Thinly slice the onions and radishes and marinate them in a heated mixture of vinegar, sugar and salt. Let them cool in the fridge. They have a wonderful bright, vinegary taste and great crunch factor - a perfect counterpoint to the tender, sweet-sesame-soy flavored beef.
Make the Miso Mayonnaise; miso mayo is just two ingredients, miso and mayo. Mix the two together and done!
Sauté the beef and assemble the lettuce wraps; Do this right before your guests arrive.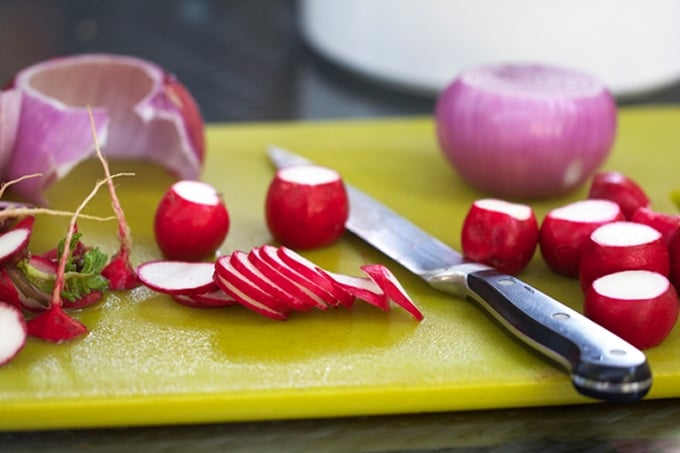 How to serve Korean Beef Lettuce Wraps
Serve these as an appetizer: I love making these as an appetizer for a party. They're such great finger food and so incredibly delicious, a great way to get the evening off to an exciting start.
Serve them for dinner: If you want Korean beef lettuce wraps as your main dish, Instead of cutting the lettuce into small pieces, keep them whole. Set out a platter of leaves, a platter of beef, and put the rest of the components in bowls. Let everyone dig in and make their own wraps.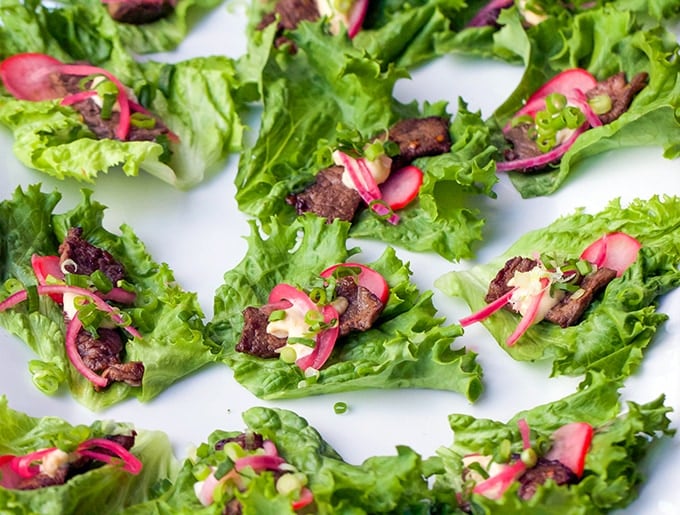 These little Korean beef lettuce wraps are so pretty....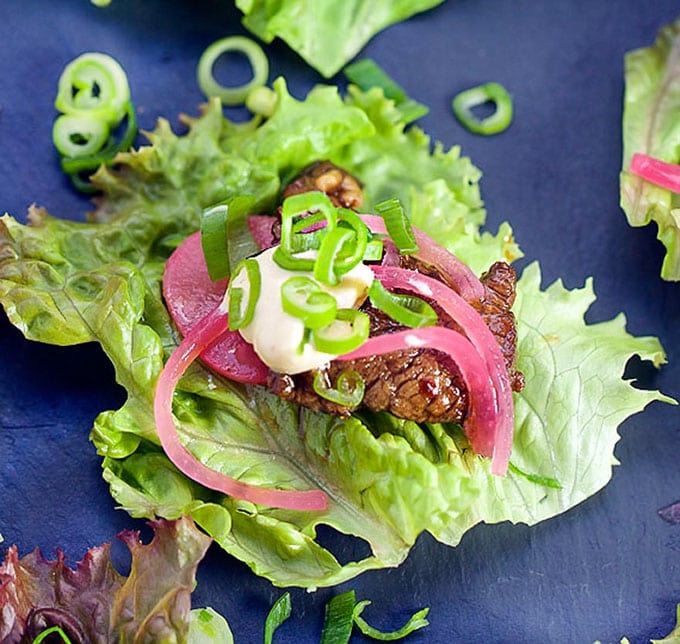 ....I couldn't stop photographing them.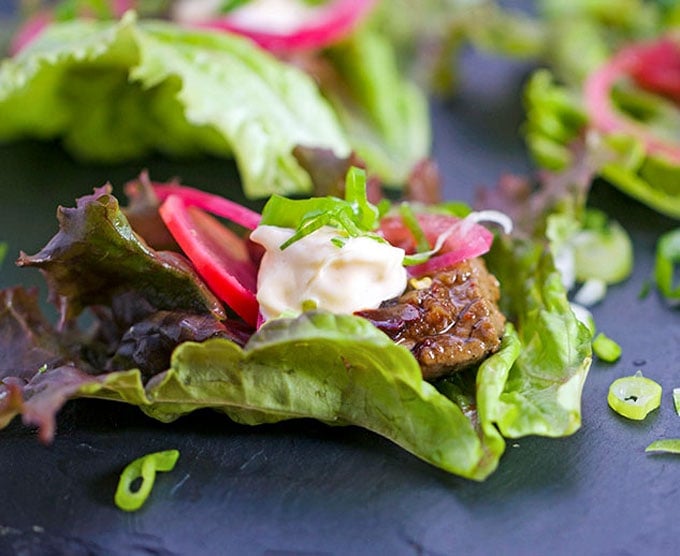 I adapted this Korean Beef Lettuce Wraps recipe from my Korean BBQ Burger recipe (aka best burger ever!).
Other delicious Korean Recipes on Panning The Globe:
Here's the recipe for Korean Beef Lettuce Wraps. If you try this recipe I hope you'll come back to leave a star rating and a comment. I'd love to know what you think.
Print
Korean Beef Lettuce Wraps
---
Description
Famously delicious Korean Bulgogi beef wrapped in little lettuce packages with homemade pickled onions and radishes.
---
For the Quick Pickled Onions and Radishes:
1

bunch radishes, washed and thinly sliced

1

medium red onion, peeled, halved and thinly sliced

1 ½ cups

distilled white vinegar

½ cup

water

2 tablespoons

sugar

1 tablespoon

salt
To marinate the beef:
14

-

16

ounces beef tenderloin (or substitute ribeye, sirloin or flank), sliced very thinly (

⅛

inch or so)

2 tablespoons

brown sugar

2 tablespoon

soy sauce

1 tablespoon

sesame oil

2 teaspoons

crushed garlic (

2

medium cloves)

½ teaspoon

crushed red pepper flakes
For The Miso Mayonnaise
½ cup

mayonnaise (I recommend Hellman's)

2 tablespoons

miso paste (brown rice miso from Whole Foods is my favorite)

¼ teaspoon

sriracha (hot sauce)
For the Lettuce:
2

heads of green leaf lettuce (or substitute Boston or red leaf lettuce)
Optional Garnish:
1

bunch green onions, sliced very thinly crosswise.
To Cook the Beef:
2 tablespoons

high smoke point cooking oil such as light olive oil or canola.
---
Instructions
Make Pickled Onions and Radishes: Bring vinegar (1½ cups), water (½ cup), sugar (2 tablespoons) and salt (1 tablespoon) to a boil in a small sauce pan. Lower heat to a simmer and cook, stirring, just until salt and sugar dissolve. Remove from heat. Put onions and radishes into a medium sized bowl, pour hot vinegar mixture over them and stir. Allow them to cool at room temp for 15 minutes or so. Cover bowl with plastic wrap and refrigerate for at least 45 minutes and up to 3 days.
Marinate the Beef In a shallow bowl, combine marinade ingredients. Add the sliced  beef and toss to coat. Marinate for at least 30 minutes at room temp or up to 24 hours in the fridge.
Make the Miso Mayonnaise: Whisk mayonnaise (½ cup), miso (2 tablespoons) and sriracha (¼ teaspoon). Store in the fridge for up to 3 days.
Prepare the Lettuce Leaves Wash and dry lettuce. Trim The thick pointy end off each leaf and cut or tear the leaf into two or three pieces that are 3-4 inches wide and tall. The lettuce can be prepared a day ahead. See notes.
Sauté the Beef Heat oil in a large cast iron or non-stick skillet or wok over high heat. Sauté half the beef, stir-frying, for 2-4 minutes, or until the beef is just cooked through. Transfer to a platter and repeat with the remaining beef.
Assemble the Wraps: Arrange leaves on platters. Add a piece of beef to each leaf. Drape some pickes on top. Add a dollop of miso mayonnaise. Sprinkle with scallions.
Notes
How to store lettuce leaves so they'll be fresh and crisp for up to two days: Wash and spin or shake leaves to remove excess water. Lay the damp leaves out, in a single layer, on a long stretch of paper towels. Cover them with another paper towel of equal length. Roll up gently from one end. Tuck the roll into a large plastic bag. Press out the air, seal, and store in the fridge. Unpack leaves and trim to size before serving.
Prep Time:

1 hour

Cook Time:

8 mins

Category:

Appetizer or Main Course

Method:

Sauté

Cuisine:

Korean
Keywords: Korean beef, beef lettuce wraps, Korean lettuce wraps appetizer, Bulgogi Beef appetizer