Lamb chops are fantastic on the grill - quick cooking and full of great flavor. This 5-ingredient Indonesian sate spice mix takes grilled lamb chops from great to spectacular. The intense heat of the grill toasts the spice-coating and seals in the juices.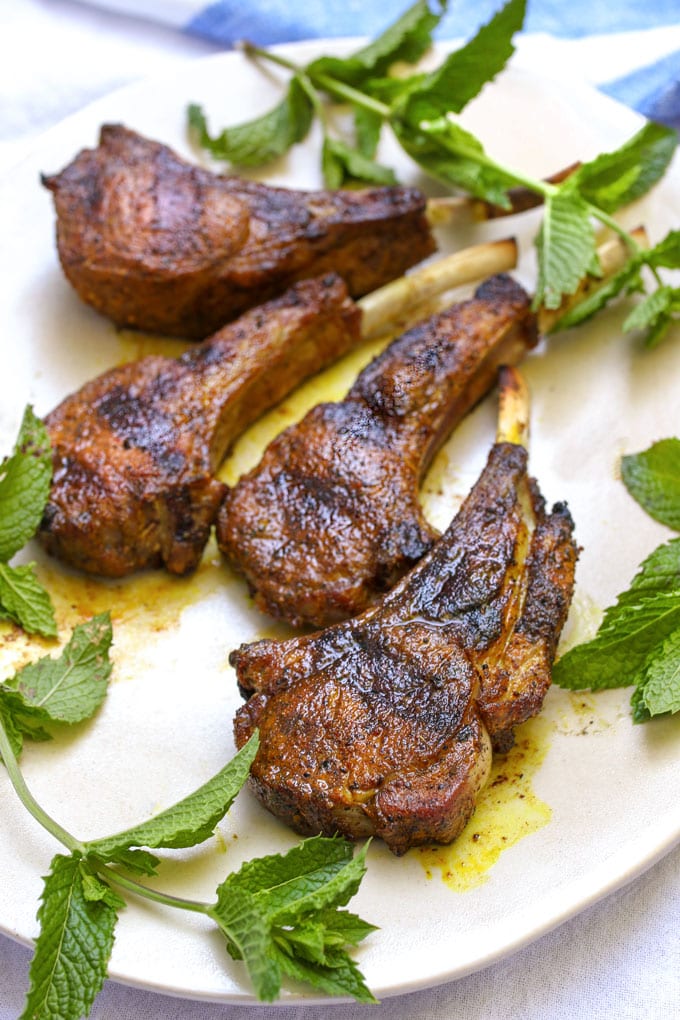 These tasty little lambies (as we affectionately call them in our house) have that sweet, salty, spicy and aromatic flavor profile that makes Indonesian cuisine so exciting and beloved.
I originally developed this homemade sate spice mix recipe for Indonesian Grilled Green Beans however in Indonesia, sate spice is more traditionally used for grilled meat or poultry than for vegetables. I think it's delicious on both!
Sate - also know as Satay – is perhaps Indonesia's most famous spice mixture. The spices in the mix can vary, but ground turmeric is always included, and gives sate its signature yellow color. This particular mix that I put together has chili powder, salt, brown sugar, turmeric and coriander.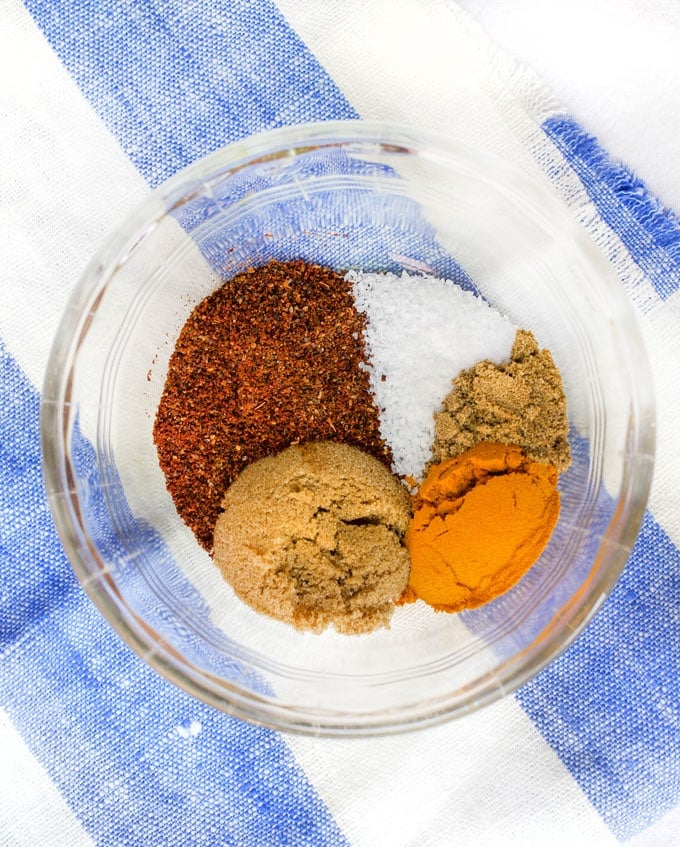 If you're interested in adding a bit more depth of flavor to the mix, one of my secrets when a recipe calls for chili powder is to combine two or three different chili or chile powders. So instead of a tablespoon of generic chili powder, I might combine a teaspoon each of chipotle, ancho and generic "mild" or New Mexican chili powder.
I don't suggest going out and buying different chile powders for this recipe but if you have them around the house, you might want to give this a try. It can also help to even out the heat if you have a very hot chili powder combined with one that's more mild.
How To Make Grilled Lamb Chops with Indonesian Satay Spice Rub
The recipe is simple. Mix the sate spices in a small bowl and then spread the mix out on a plate. Trim excess fat off the lamb chops. Press all meaty parts of each chop into the spices. Lightly brush off the excess with your fingertips, leaving a light coating of spice on the meat.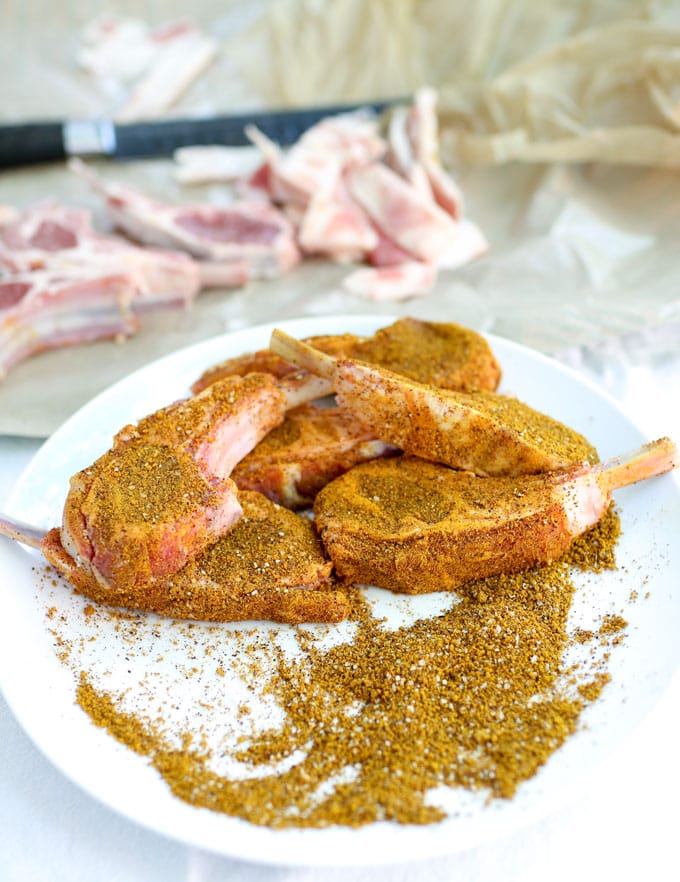 Preheat the grill to medium-high. Grill the chops for a few minutes per side until they're cooked to your liking. If you're using baby lamb chops they will only need 3 or 4 minutes per side for medium rare, which is how I love them.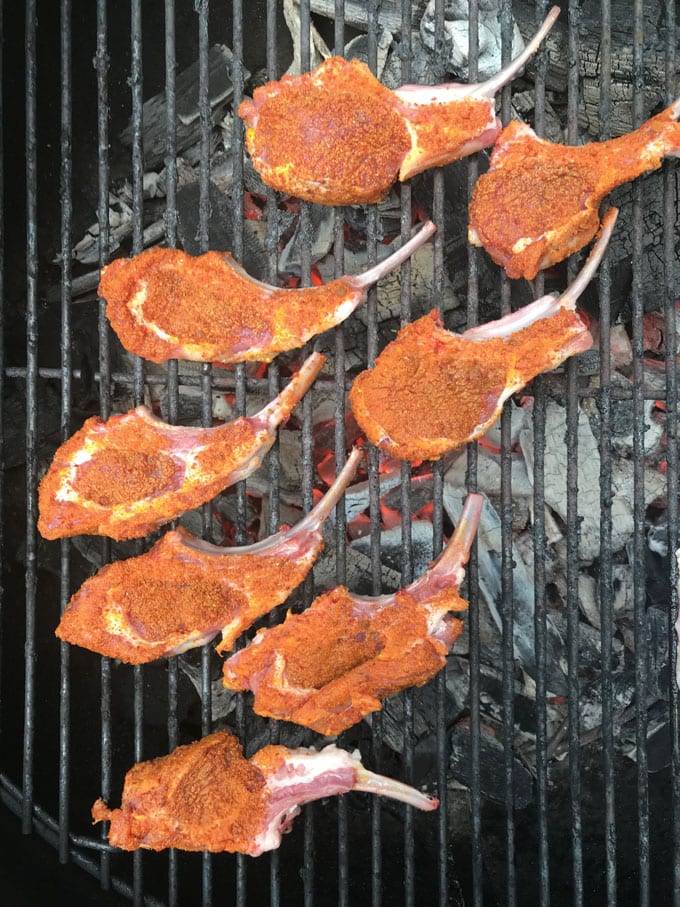 Let's talk about lamb chops cuts for a minutes. My absolute favorite lamb chops are lamb rib chops. You can buy them in a rack and cut them yourself into individual chops or you can find them at the store already cut.
"Frenched" lamb chops are the ones you see pictured here. The meat and fat at the end of the bone is neatly removed, making them perfect for grabbing in hand. I love serving frenched baby lamb chops as a pass-around starter at a summer barbecue. There's just enough meat for a one or two-bite treat!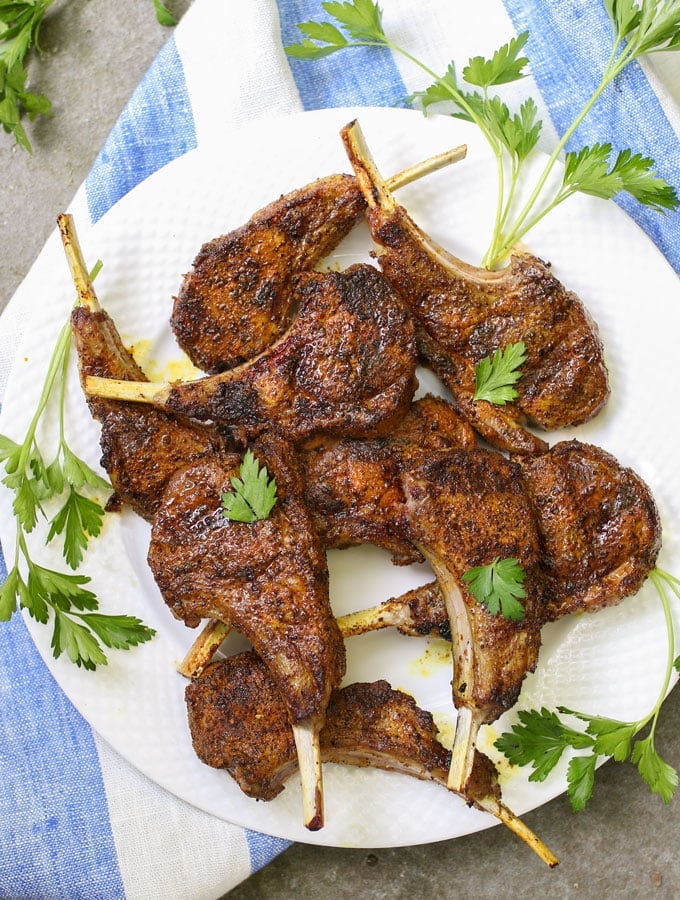 If you're cooking grilled lamb chops for a summer BBQ, this Corn Tomato Avocado salad is great on the side. I also love this Japanese Potato Salad on the side with these grilled lamb chops.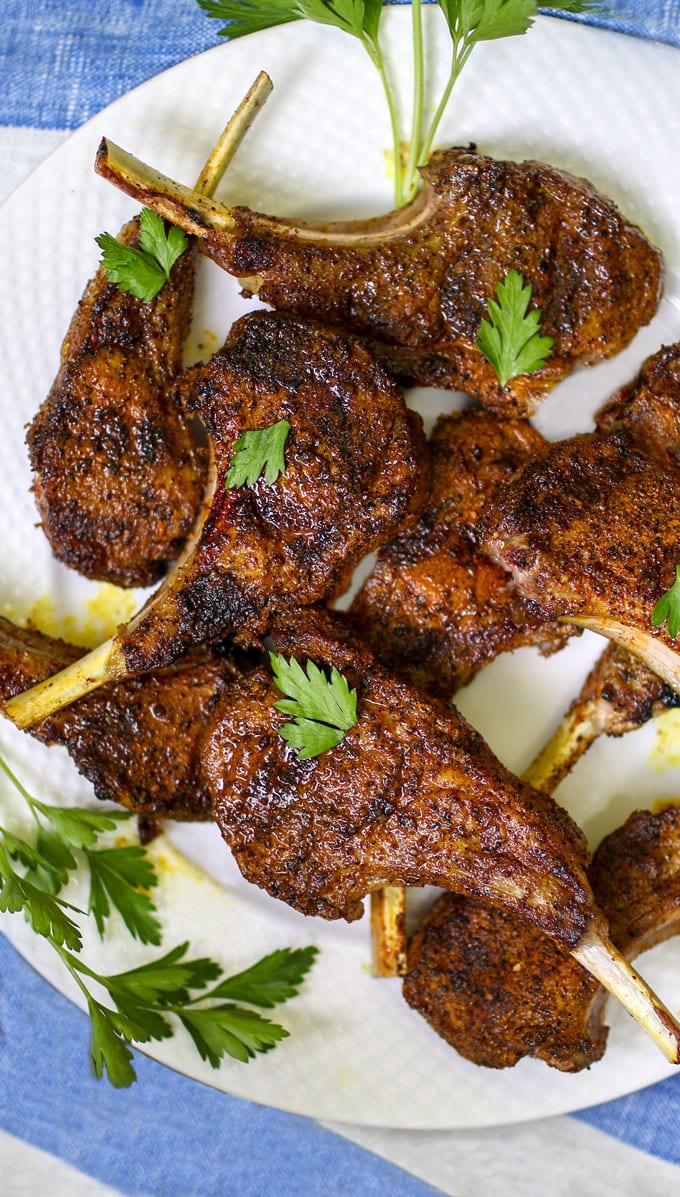 Here's the recipe for grilled lamb chops with Indonesian Sate Spice Rub. If you try this recipe I hope you'll come back to leave a rating and a comment. I'd love to know what you think.
Print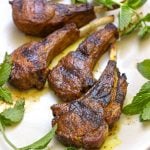 Grilled Lamb Chops with Indonesian Sate Spice Rub
---
Author:

Lisa

Total Time:

20 minutes

Yield:

6

servings

1

x
Description
A simple recipe for grilled lamb chops coated with delicious sate spice. Smaller (baby) lamb chops, also called lamb lollipops, are great to serve as an appetizer. Serve larger meatier chops as a main.
---
For The Lamb
12

lamb chops (my favorite are lamb rib chops)
For The Indonesian spice mix
1 tablespoon

turmeric powder

1 tablespoon

brown sugar

1 tablespoon

chili powder (or use a combination of chile powders for more depth of flavor and even heat)

1 teaspoon

kosher salt

½ teaspoon

ground coriander
---
Instructions
Heat the grill to medium high
Trim the lamb chops of excess fat.
Mix spices together in a small bowl. Pour the spice mix onto a plate. Press all meaty surfaces of each lamb chop into the spice mix and lightly brush off the excess with your fingers so only a thin coating remains.
Grill the chops for a few minutes per side. Timing depends on the thickness of the chops and your desired degree of doneness. They cook quickly so I suggest flipping them over after 3 minutes and checking them for doneness after another 3 minutes by making a small slice in the thickest part.
Prep Time:

10 mins

Cook Time:

10 mins

Category:

appetizer or main dish

Method:

Grill

Cuisine:

Indonesian
Keywords: lamb chops, sate spice mix