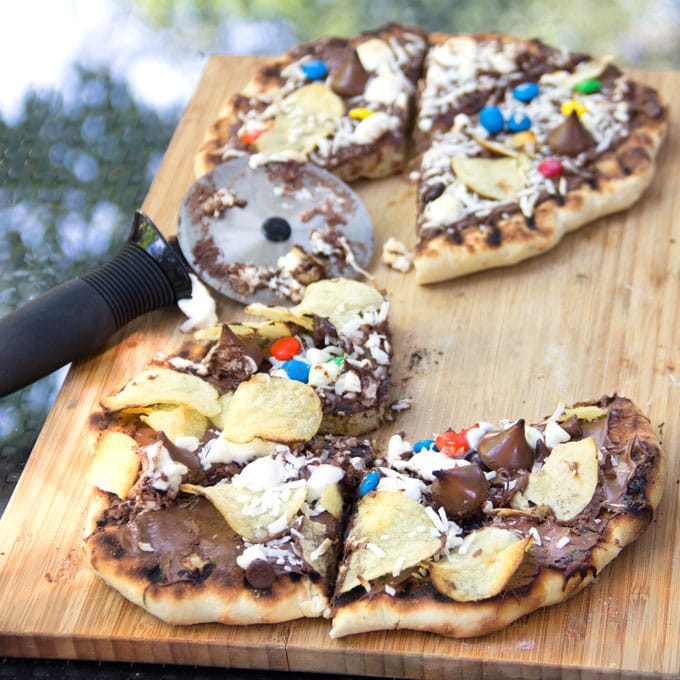 If you follow Panning The Globe, you know that this is a very different kind of post for me. I usually share recipes from specific countries and most of my recipes are savory. But earlier this summer I made grilled chocolate pizzas with my little nieces Bobby and Cassidy, and it was so much fun for them and for me that I just had to share.
It's a fun, festive dessert and a fantastic cooking project to do with kids. The grilled dough is a perfect blank canvas for creative expression with any variety of toppings.
My nieces, Bobby and Cassidy, live in Los Angeles and I don't see them often enough. But lucky for me, they fly east every summer to spend some time with the family - most of us live in the Boston area. When they're in town, we have several big fun get-togethers with aunts and uncles and grandparents and cousins. But at the end of the festivities I sometimes feel like I didn't have a chance to connect with everyone - especially the littlest ones.
So a year ago when they were in town, I invited them over to cook with me, and we made chocolate pizza. We had a great time. This year when they came I asked them if they wanted to come over and cook with me again. They said "YES!" I asked them what they wanted to cook this time. In unison, they said "CHOCOLATE PIZZA!" I asked them if they were sure they didn't want to try something different? YES THEY WERE SURE!!!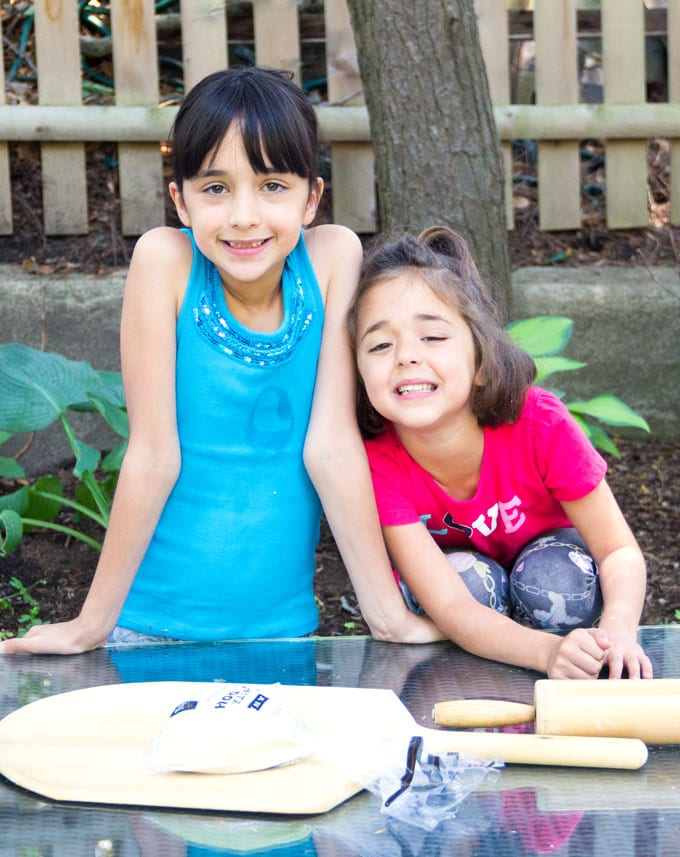 It was a beautiful day to cook outside. We started with a ball of prepared pizza dough that I bought at Whole Foods. It was ready to roll. I divided it in half so Bobby and Cassie would each have their own chocolate pizza to design.
Another good reason to make individual pizzas is that the crusts are a lot easier to slide on and off the grill when they're smaller.
After rolling.....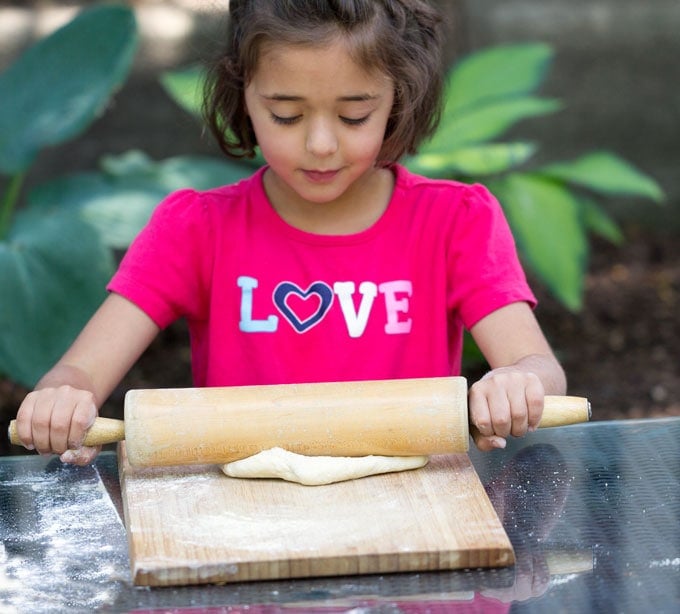 and stretching...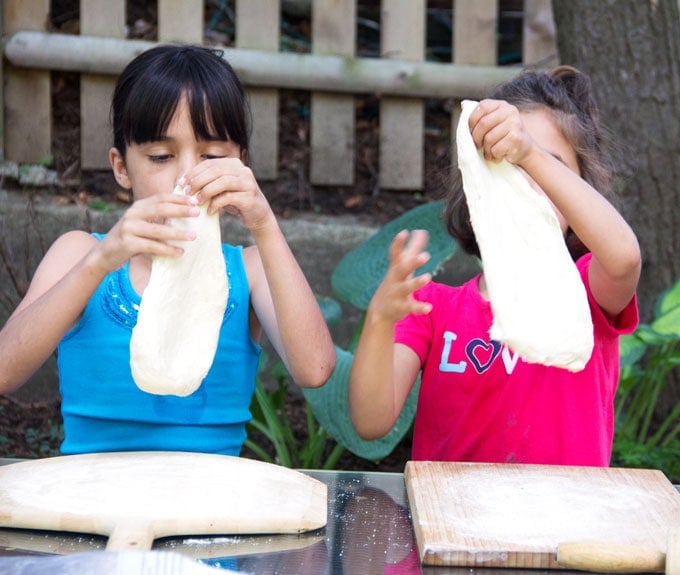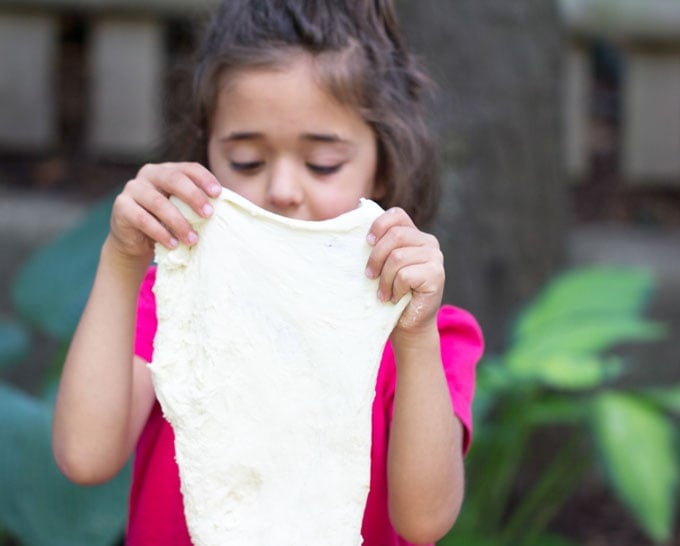 They were ready to brush their dough with oil - the final step before grilling.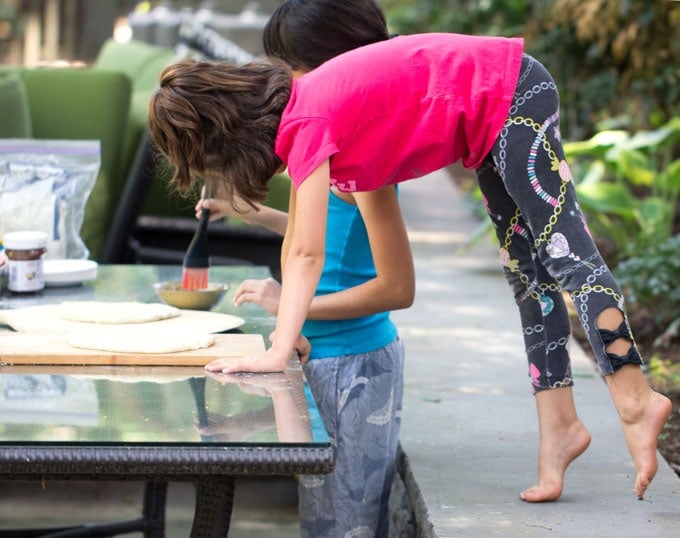 Then we (I) flipped the pizzas onto the hot grill, oiled-side down.
Once the bottom sides of the pizzas were browned, I flipped them over so the bottoms became the top, let them cool for a minute or two, and the girls spread the sauce (Nutella) on top.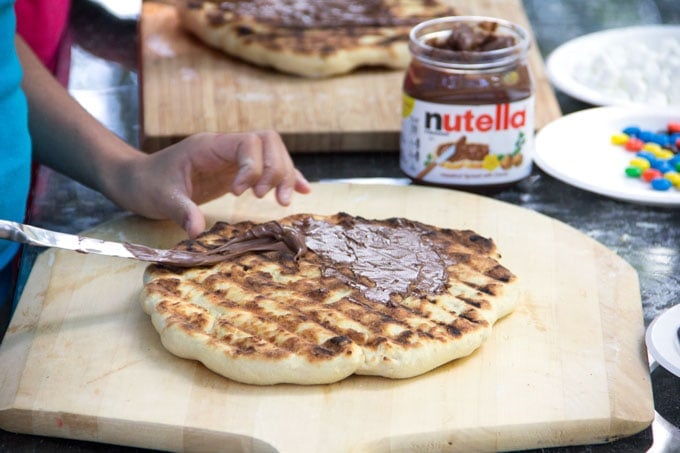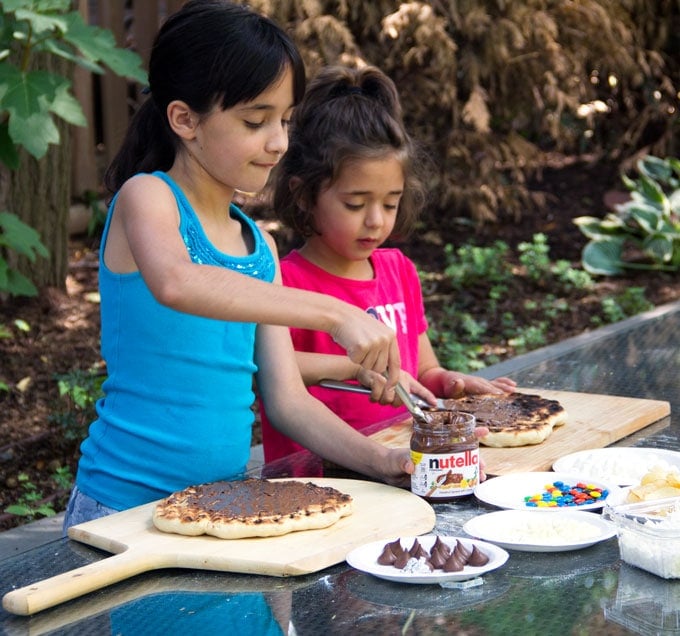 The final and most fun part of all was the decorating.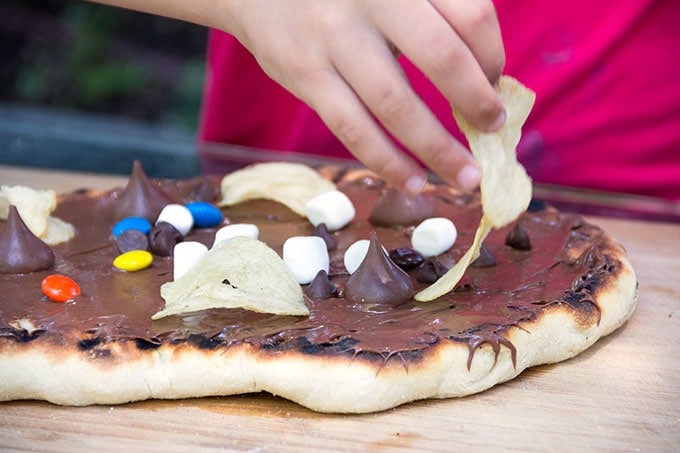 ....and sampling all of the decorations....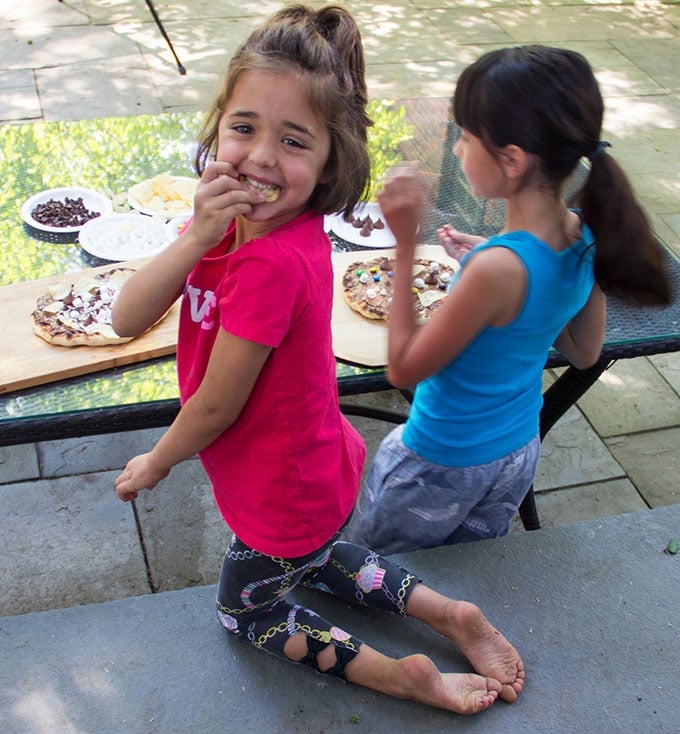 Then the chocolate pizza creations went back on the grill for just a few minutes - to brown the bottom, soften the chocolate and toast the marshmallows and coconut.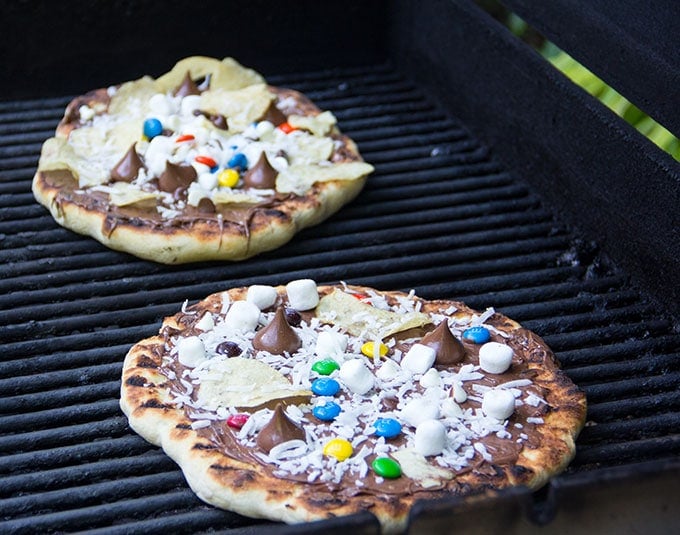 Tada!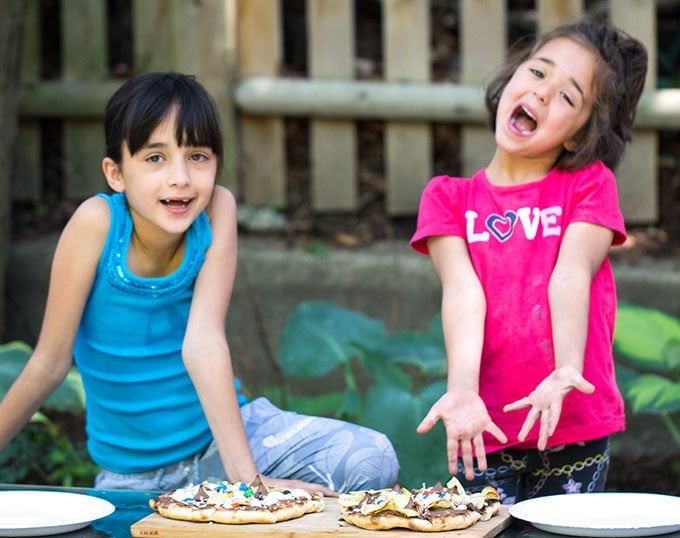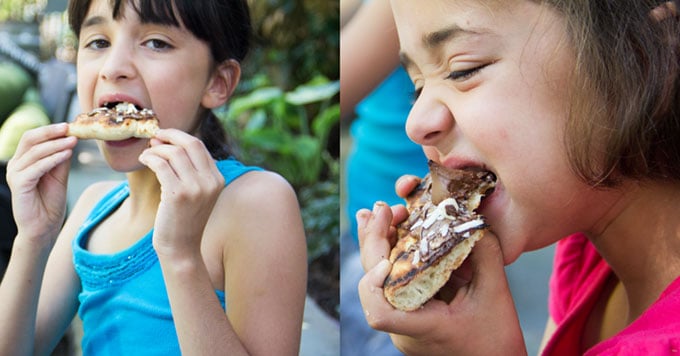 Print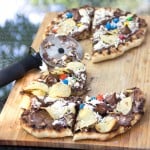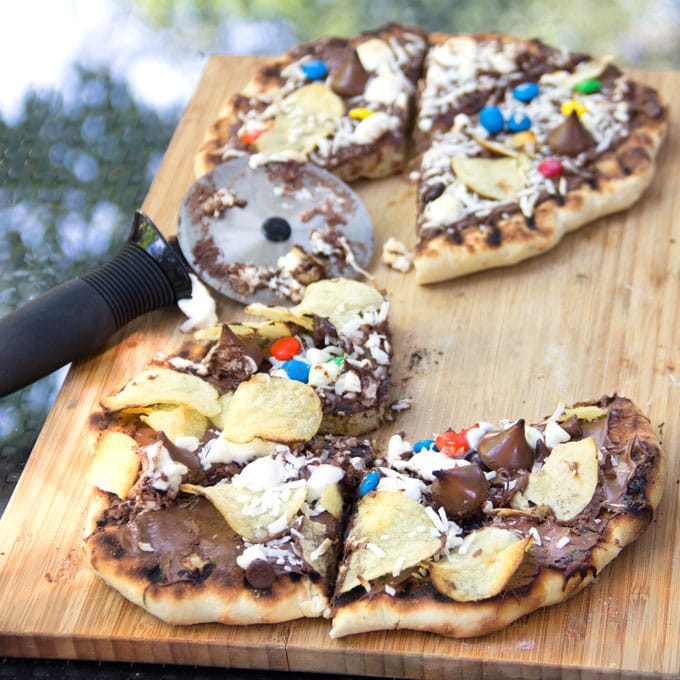 GRILLED CHOCOLATE PIZZA
---
Description
A delicious dessert pizza that's as fun to make as it is to eat!
---
1

ball store-bought fresh pizza dough (

1

pound)
Light cooking oil

1

jar of chocolate spread, such as Nutella
Toppings - any of the ones below or your own:
Chocolate chips
Butterscotch chips
White chocolate chips
Mini Marshmallows
M&M's
Kisses
Reeses Peanut Butter Cups
Shredded coconut
Sliced Bananas
Potato chips
---
Instructions
Heat the grill to medium-high. Divide dough in half. Roll and stretch out each piece on a lightly-floured surface to make two 10-inch rounds. Brush tops with lightly with oil. Place dough rounds on grill, oiled-side down. Close cover and cook for 4-5 minutes until underside is golden brown. Pop any large dough bubbles that form on top with a knife or by pinching.Transfer rounds to a heat-proof work surface, grilled side up and let them cool for a couple of minutes. Turn the grill down to medium.
Frost the tops with chocolate spread and decorate with the toppings of your choice.
Using two spatulas, carefully return decorated pizzas to the grill. Close top and cook for 2-4 minutes, until pizzas are heated through and toppings are lightly toasted.
Prep Time:

30 mins

Cook Time:

10 mins

Category:

Dessert

Cuisine:

Out of this World
I also love making grilled pizza for dinner. If you want some inspiration here's a great video from Cooking Light that shows you how to make delicious individual pizzas on the grill with savory toppings.
I hope you have a great Labor Day Weekend!