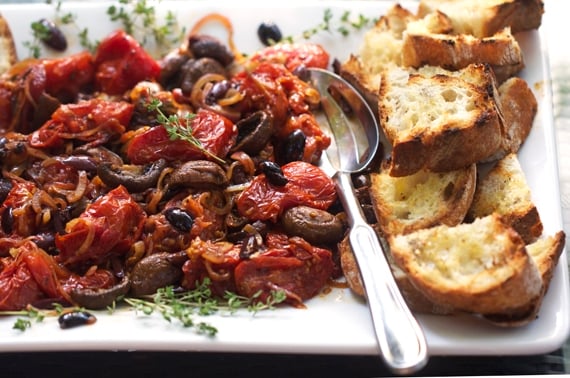 This recipe is all about enjoying the intense earthy deliciousness of roasted summer tomatoes, mushrooms and garlic.  The mushrooms have a strong savory, almost meaty flavor, that complements the delicate sweetness of the tomatoes. The roasted garlic is mellow and buttery. Slivered red onion and Kalamata olives add a counterpoint of salt and spice. I adore recipes like this, where you take simple fresh ingredients, cook them to bring out their best, and serve them in a big tempting heap that everyone can't wait to dig into.
Great if you can find perfectly ripe tomatoes.  But the roasting process will bring out their sweetest and best even if the tomatoes are not at their peak.
Crimini mushrooms shrink and intensify in flavor when they are roasted.  Just roll them in olive oil and sprinkle with salt and pepper before cooking.
Thinly sliced red onion and slivered Kalamata olives are added at the end, while the roasting pan is still hot.  They soften slightly and all the flavors meld, as they are mixed through.
You can use any firm fresh bread, but I like Ciabatta best for grilling.
I make this a lot in the summer when I'm entertaining.  And I often bring it to a friend's house when I'm in charge of appetizers – it's always a huge hit.
Try sitting around the table with family or friends on a beautiful summer evening, with a platter of roasted tomatoes and mushrooms and grilled bread and a glass of wine.  It's something I enjoy and I hope you will too.  Happy first day of summer tomorrow!