Royal Thai Crab Cakes are a mix of fresh lump crab meat and fluffy cooked rice.  The combination makes for a delicate texture and brings out the sweetness of the crab.  Tiny bits of chopped salty ham add a delicious depth of flavor.  Sweet and sour dipping sauce is the perfect accompaniment.
I threw my back out the morning of our Passover Seder, as I was rearranging tables and chairs, so I'm moving much slower than usual.  I'm not sure what to do besides wait it out.  The advice runs the gamut: Use ice.  Use heat.  Go to a chiropractor.  Don't.  Lay low.  Walk it out.  The silver lining in all of this has been that I've given in to spending the past few days in a comfortable chair, reading through old cookbooks – a favorite pastime.  True Thai by Victor Sodsook has been in my collection for years.  There are so many interesting recipes I want to try, but these crab cakes grabbed me.  The idea of a dish developed for royalty got my attention. I was also intrigued by the new twist of mixing the crab meat with cooked rice.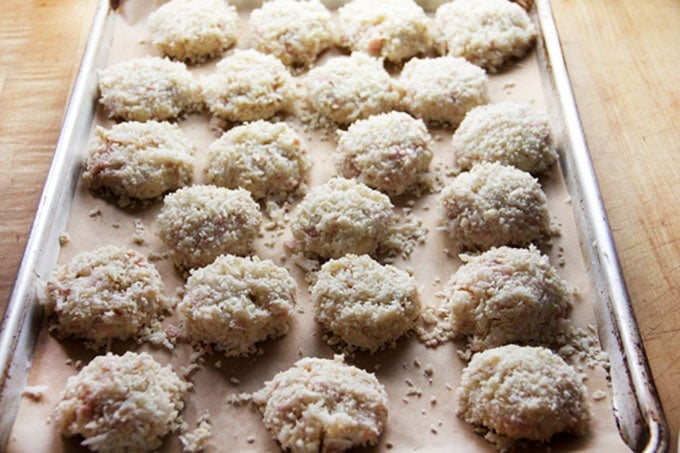 Royal Thai crab cakes are lighter and fluffier than the more conventional ones.  They're not heavy or oily.  They have a beautiful brown crispy crust and they hold together really well.
I can see why these crab cakes would be suitable for royalty.  They have that delicate balance of sweet and salty flavors that is so prized in Thai cuisine.  Plus, they make an elegant presentation on a platter!

ROYAL THAI CRAB CAKES
Light, crispy crab cakes with sweet and sour dipping sauce
Author:
Panning The Globe, adapted from True Thai by Victor Sodsook
Ingredients
Sauce
½ cup water
½ cup white vinegar
¾ cup brown sugar
¾ teaspoon salt
1 cucumber, peeled, halved lengthwise, seeds scooped out with a spoon, and thinly sliced crosswise
1 medium shallot, sliced thin
3 tablespoons thinly sliced Thai chilies or jalapeños
Crab Cakes
1 pound fresh lump crabmeat, picked over
2 cups cold, cooked, long-grain rice, such as Jasmine (rinse the rice before cooking)
¼ pound Virginia ham, finely diced
2 large eggs, lightly beaten
4 tablespoons all-purpose flour
2 tablespoons sweetened condensed milk (from a small can)
1 teaspoon kosher salt
1 cup plain Panko bread crumbs
Oil for pan-frying
Instructions
Make the sauce In a small saucepan, combine water, vinegar, sugar and salt. bring to a boil. Reduce heat to a gentle simmer and cook, stirring occasionally for 10-12 minutes, until it thickens slightly. Remove from heat and set it aside to cool.
Meanwhile put the sliced cucumber, sliced shallot, and chilies into a small serving bowl. Pour the cooled sauce on top. Stir and set aside.
Make the crab cakes Sprinkle Panko bread crumbs onto a large plate. Line a baking sheet with parchment paper. In a large bowl, add the crab, ham, eggs, flour, condensed milk, rice and salt. Use your hands to mix thoroughly. Form the crab mixture into small patties (about 2 inches across - about 3 level tablespoons of the mixture per cake) You'll have to press them together firmly as you shape them, to get them to be sturdy. As you form a cake, press it into the plate of crumbs. Coat both sides and place it onto the parchment. Continue until all the crab is used. You should have 20-24 crab cakes.
Line a large plate or cookie sheet with paper towels. Heat about ½ inch of oil in a large heavy skillet over medium heat, until it's hot enough to sizzle a Panko crumb. Cook crab cakes in batches of 4 or 5 until golden brown and cooked through, about 25-35 seconds per side. Using a slotted spoon or slotted spatula, transfer cakes to paper-towel-lined plate or cookie sheet to drain. Arrange crab cakes on a platter and serve hot with dipping sauce.
Note: crab mixture can be made a day ahead and kept covered in the fridge.